Jaylen Brown is submerged under 12 feet of water, holding 50-pound weights in both hands and panicking. He feels like he's about to drown. It's the offseason and the Boston Celtics superstar is in the middle of one of his first training sessions in Malibu, at a facility owned by legendary big-wave surfer Laird Hamilton. Hamilton, according to Brown, had given him just one strict rule to follow: Whatever happens in the water, just don't throw the weights.
But the mind has ways of playing tricks on you. It starts to sense oxygen deprivation, triggering a response to the body's nervous system. Feelings of fear and anxiety arise. But at that moment, as it started to feel like he was reaching a breaking point, what did the All-Star decide to do?
Brown chooses survival. Hurling the weights out of the pool, he accidentally tosses them in the direction of Hamilton's wife, Gabby. "Almost drowning will for sure humble you," Brown tells us while on set for his SLAM cover shoot. "Water is a great equalizer. You could have the most confidence in the world, [but] when you get in that water, it neutralizes [you]. It [doesn't] care if you're a billionaire or a normal person, that water treats everybody the same. It's not forgiving, and if you don't respect it, or think you're above it, it'll show you. You learn that you got to be humble. The humility will show in the water."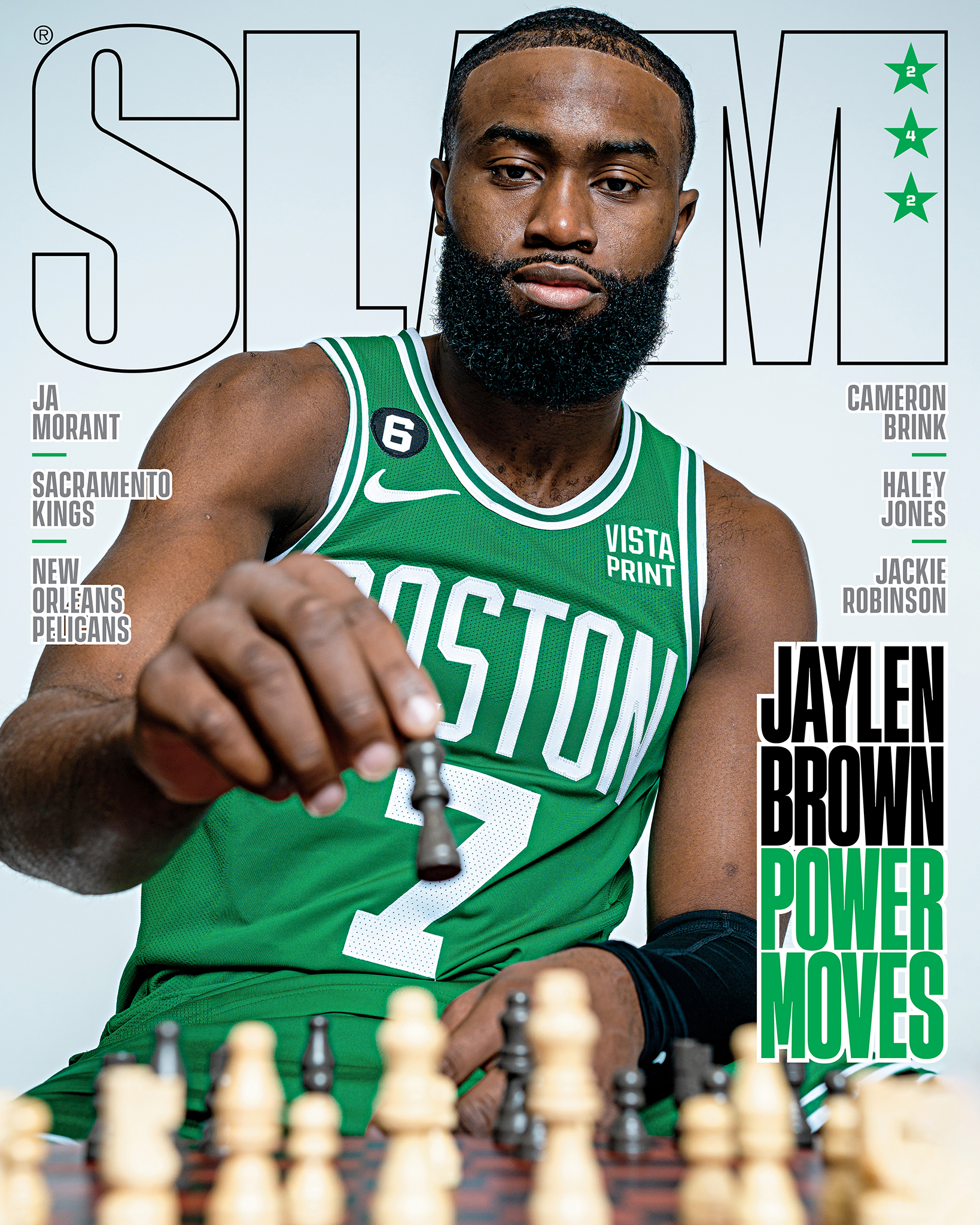 Jaylen Brown is always a step ahead. Get your copy of SLAM 242 featuring the NBA All-Star.
The idea to do underwater training came to Brown this past summer, when he initially looked to hire a swim coach (at the time, he says, he wasn't the greatest swimmer). Just a few months after losing to the Golden State Warriors in the 2022 NBA Finals, Brown shared a video on his Instagram account of one of the 20 sessions he did with Hamilton, doing everything from squat jumps to backflips. He learned how to stay calm and composed, even when his mind was telling him the opposite.
"When you feel like you're out of breath, that's your mind sending alarms to the rest of your body saying you need air, but you probably still got 40-45 seconds left in reality before you actually run out of air," Brown explains. "It just feels like that. [But] you don't panic. You got time to set the weights down [and] compose yourself. Just swim back to the top."
His words are almost prophetic for his own ascension. From averaging just 6.6 points as a rookie, to being on the bench, getting snubbed from the All-Star team last season and falling short in the NBA Finals to averaging the best numbers of his career this season: 26.9 points and 7.1 rebounds, as we went to press. Brown has been playing at a level so undeniably elite that by the time this magazine hits your hands, we expect him to be about to land in Salt Lake City for the All-Star Game. His name has even been mentioned in the MVP conversation (along with his teammate Jayson Tatum, of course). The symbolism is all there.
And yet, Brown's thinking goes way beyond just basketball. It's bigger than that. "Everybody has those moments in life where adversity hits and you think, Why me? Adversity hits and you think, Oh, my life is over. Adversity hits and you think, This is the end. When, in reality, it's just the beginning."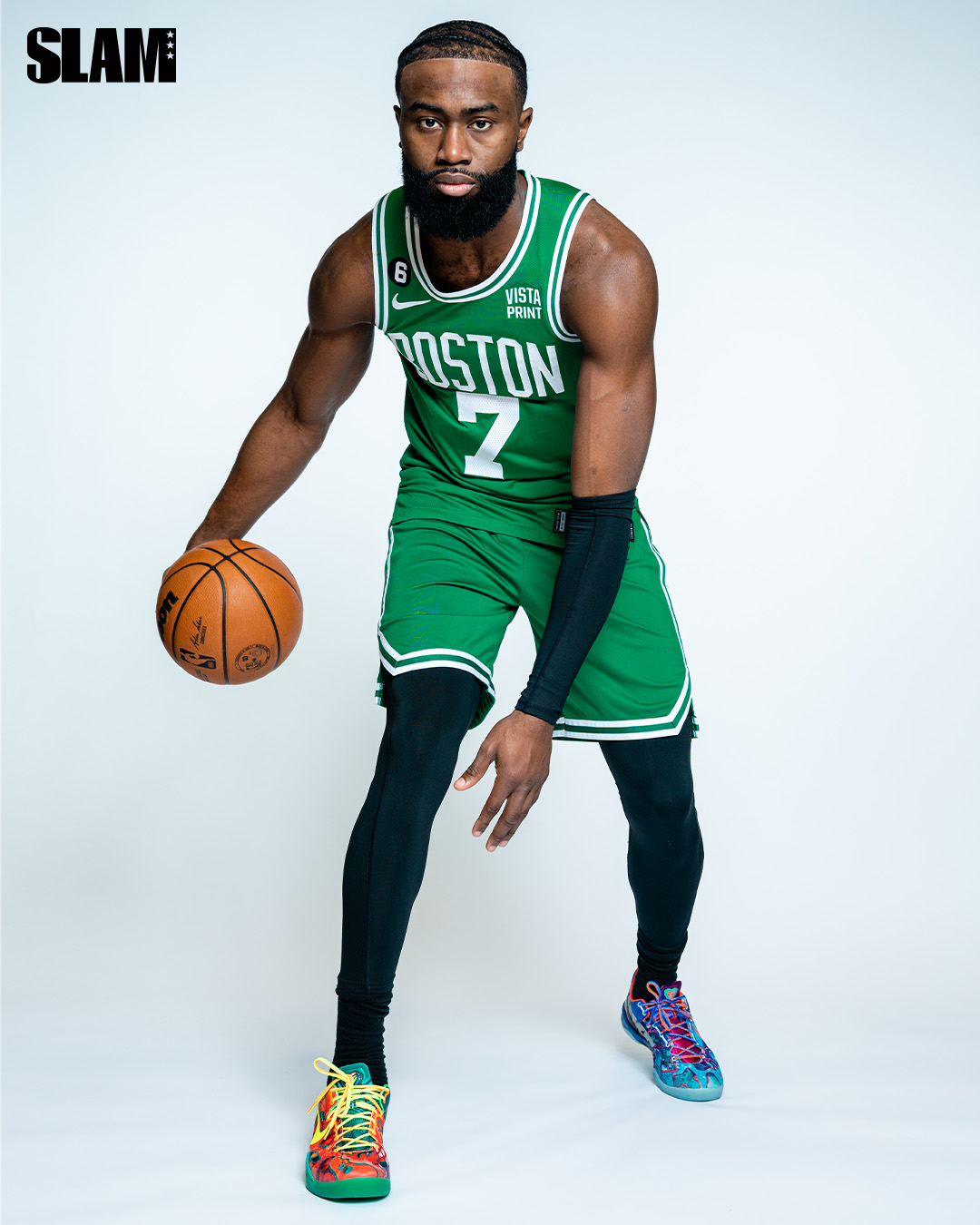 Jaylen Brown's first introduction to Boston came during the 2016 NBA Draft. As a highly touted and gifted prospect out of the University of California- Berkeley, Brown took a master class in college, choosing not to be represented by an agent. One GM labeled him "too smart," and the Celtics' fan base made it clear how they felt about their No. 3 overall pick.
"They booed me," Brown recalls. "[Owner] Wyc [Grousbeck] was calling my name and he's up there saying, Jaylen, he's gonna be one of the best players the city has ever seen. He's up there, like, defending the pitch. We're sticking with it, y'all get over it. This is who we're going with."
Any rookie might have felt some type of way, but Brown knew that there was a higher purpose for why he was selected by the Celtics.
"Before I got drafted, honestly, I told God to put me where he needed me," he says. "He chose me to be here, for whatever reason. I remember, distinctly, I didn't care where I went, you know, I could have played basketball in Alaska. But I told him to put me where I needed to be and he placed me in Boston. So, instantly, I knew that it was bigger than my personal decisions. My personal happiness is about what you can do and how you can affect the community and how you're going to use your platform. I really feel like that's the only reason why I got talent. Our creator wanted me to do something with it. Bigger than just what I do on the court."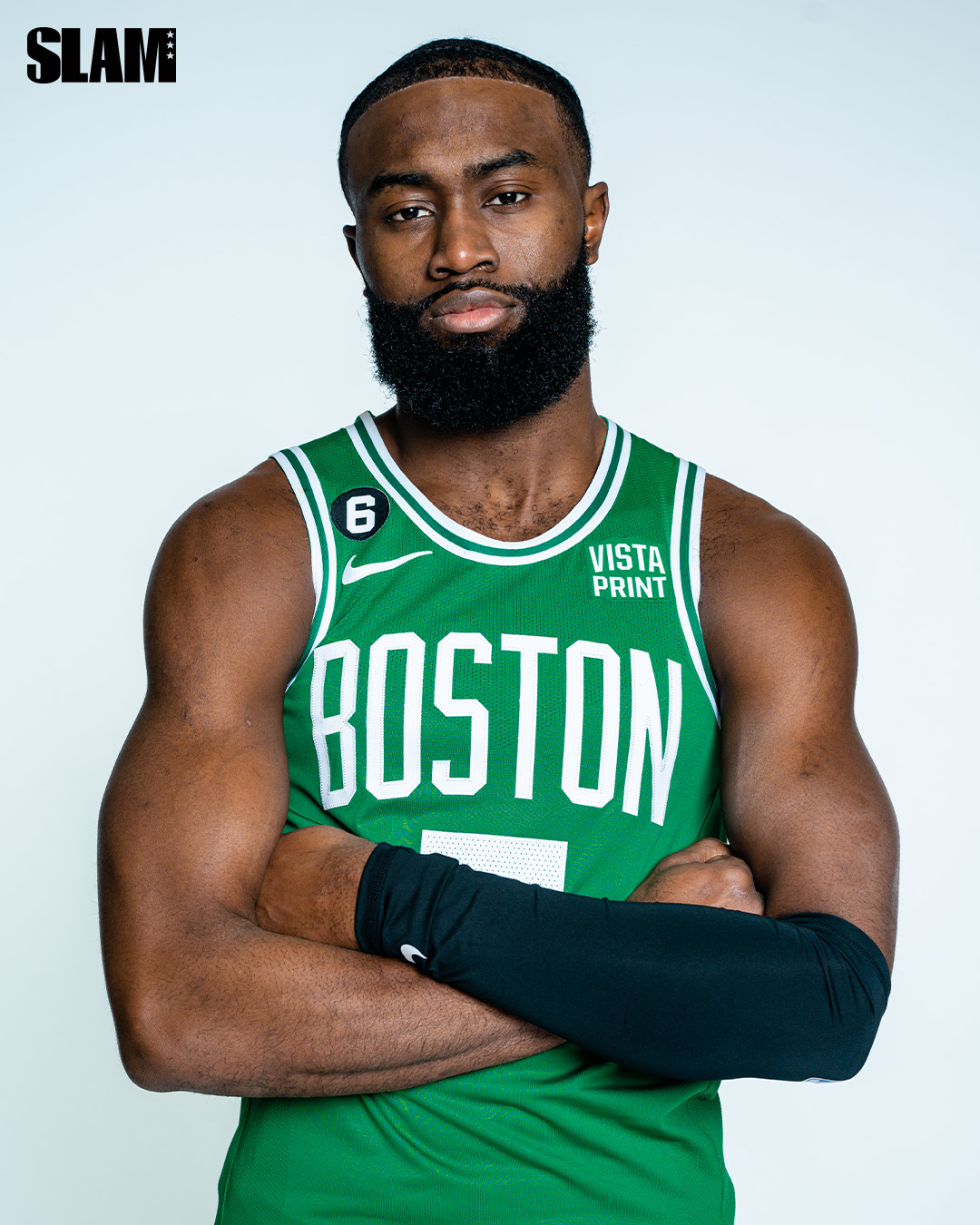 There are signs everywhere. Brown, who is into astrology and believes in angel numbers, has a specific connection with the number 7, which symbolizes intuition and inner wisdom. He wears the No. 7 on his jersey and named his foundation 7uice. "Guardian angels showing me the right way to go," Brown says.
Now, in his seventh season, in the year 2023 (whose numbers, he points out, add up to seven), Brown has become just as revered for his impact within the Boston community as he has for his dominance on the court. Back in October, he surprised middle schoolers at the Helen Y. Davis Leadership Academy in Dorchester with free backpacks. He's taken the time to get to know the city, too. One of Brown's favorite restaurants is a Black-owned Caribbean-Asian-Latin fusion spot called ZaZ, located right in Cleary Square in Hyde Park. This summer, amid trade rumors reportedly involving Kevin Durant, Brown pulled up to Harambee Park, also known as Franklin Field, for the Dorchester vs Roxbury basketball game. He even wore a green t-shirt that referenced his now-famous tweet, "The Energy is About to Shift."
While the Celtics did manage to completely turn things around last year after being under .500 midway through, Brown was actually referring to himself when he tweeted that on January 31, 2022.
"A lot of times when I tweet stuff, it's like I'm talking to myself. Posting, like, reminders for me. Sometimes it's not for the world, it's for me," Brown tells SLAM. "There was a lot going on, and you know at certain times of the year where you feel like things aren't going in your direction, where it just seems like everything is going wrong. It could be like Murphy's Law, could be a retrograde, whatever you attribute it to…At that moment, that's what was going on for me, and it felt like that not only for me, but kind of for our team. I just tweeted [it] out as a reassurance to myself. Like, don't worry, the energy is about to shift."
It's been almost a full year since then, but Brown admits that he's been tested "on different levels physically, emotionally and mentally" lately, too, but won't go into too much detail on the latter.
The Celtics have also been tested, from battling injuries and trade rumors to a very public coaching change this offseason. For Brown, though, it's about finding balance. "Experience has always been my best teacher," he says. "At times when you're feeling yourself get out of balance, just remember that I've been here before. I've seen this before. I feel like I've seen the highest of highs, being able to go to the Finals, but I've experienced the lows—losing the Finals, losing games, being on the bench, not playing, being injured…I've been trying to remove all self-limiting beliefs."
After that 33-point blowout loss to the Thunder on January 3, Marcus Smart revealed to the media that it was JB who offered him words of encouragement. He also let Smart know that he was going to shift the energy in the next matchup against Dallas. "[Brown] came out and said, Listen, this is how I want to start. I'm going to pick up Luka [Doncic] early. I'm going to get the energy going, so you can get going."
Interim head coach Joe Mazzulla said Brown told him the same thing about guarding Doncic. Despite getting in early foul trouble, Brown showed a level of composure in the 124-95 win against the Mavs, and Doncic was held to his lowest point total since December, and his lowest assist total of the season. The Celtics went on a four-game winning streak soon after, cruising past the Spurs, Bulls and then, on the night after our shoot, the Pelicans. No one could stop Brown or Tatum. The Jays proved that they are the best scoring duo in the League and combined for 72 points. Brown put up a season-high 41 points while JT delivered a smooth 31-piece.
Brown says he prepares for those big matchups by studying the rhythm of his opponent's game. "Every player plays with a certain rhythm, a certain cadence, plays at a certain pace. Luka, Steph[en] Curry plays with a certain cadence. Kyrie. When I watch the game and film, I study their rhythm."
He's always been into music, too, and at one point made his own beats. When asked about the tempo of his own game, Brown breaks it down: "I can be, like, more uptempo," he says while snapping his fingers. Snap. Snap. Snap. "I can play like I just got shot out of a cannon. It depends on the matchup, the mood, the energy of the game. I think part of my game is being able to be versatile, where I can slow it all the way down or I can be run and gun, running down in transition. Being versatile is key."
Just as Jayson Tatum described him after Game 2 in the Eastern Conference semifinals against the Bucks, it's clear that Brown sets the tone. "I could be smooth jazz, I could be hardcore rap. Gangsta rap at the same time, too," Brown says. "When that's coming out, there's nothing you can do about it."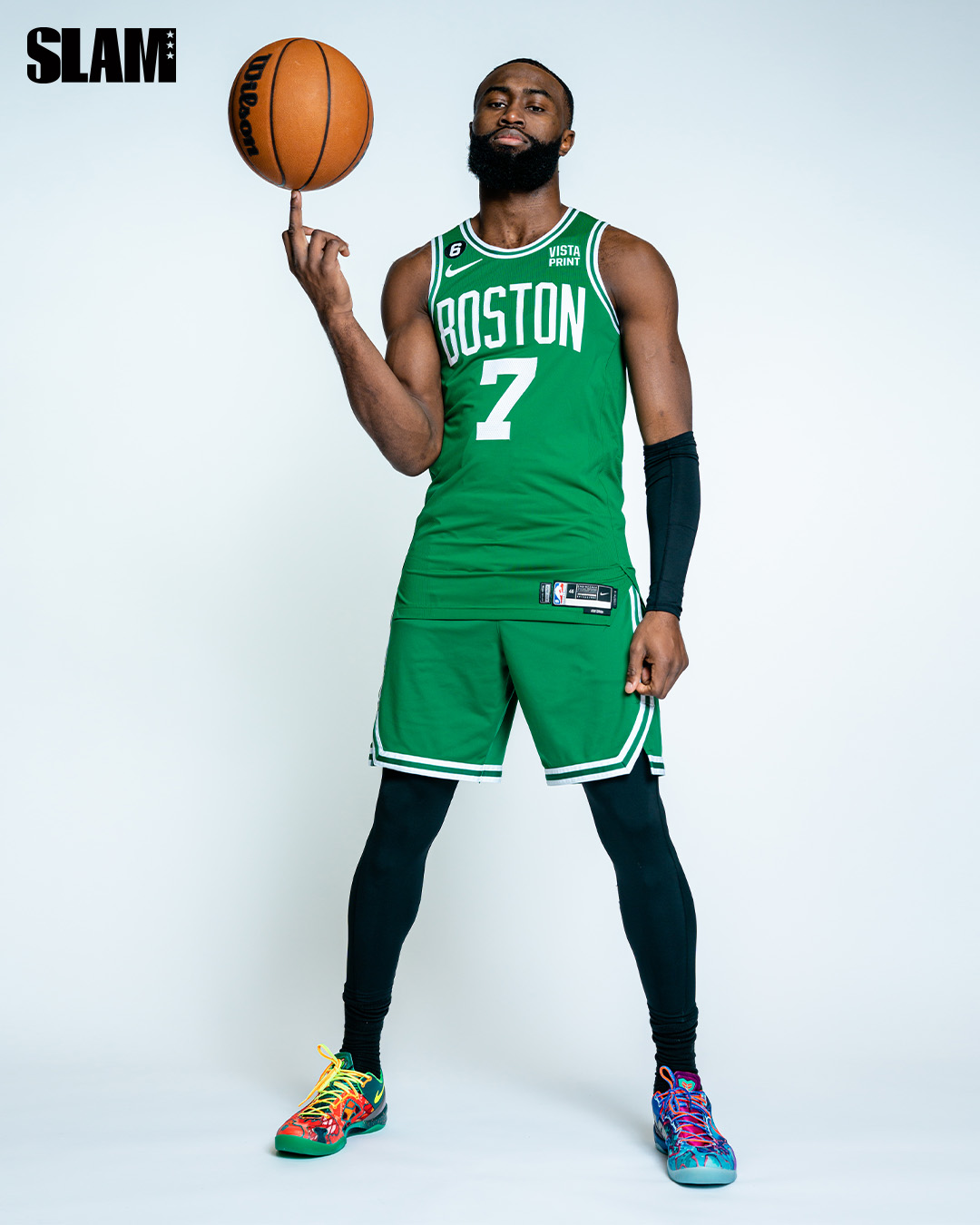 ---
Inside the Celtics practice facility, Jaylen Brown is posing for this cover shoot but dialed in on playing a game of chess entirely with himself. He once called the game "comparable to life," and it's easy to see why he's so into it—chess is all about strategy and requires winning and losing pawns and pieces in the process. Eventually, though, those wins and losses lead to even bigger moments. "Small victories," Brown says of his goals for himself right now. "It's a blessing to be considered one of the best in the game right now, [but] I don't think I've reached my peak. I have a lot to still learn, a lot to look forward to in this game."
The No. 6 patch on his Celtics jersey, in honor of the late Bill Russell, is another reminder of powering through adversity. Spiritually, the number also symbolizes high ideals. "To be able to have this six on [my] jersey means the world to me. At times when I get overwhelmed, where my spirit is just being aggravated, or I just feel weak, I just remind myself that I have one of the greatest examples, Bill Russell, [who was] able to deal with all the controversy that he dealt with when he was here," he says. He later added, "Today, you would think the way people speak on his name was that he was welcomed and he was accepted during the time that he was standing up for what he believed in. That wasn't the case. People trying to make it seem like it was, in Boston.
"Nah. Bill Russell, they was trying to run him out of town, terrorizing his family, his house, calling him all types of names, being disrespectful. And worse, right here in the city of Boston. Now he has a statue, and I think it should be twice as tall as what it is now. How things can change—sometimes you're not always gonna be accepted for what you think or what you believe, but hopefully, if people know the essence of your heart and your intentions, with time it'll equalize itself out."
Brown doesn't hesitate to keep it real about the Boston community. There are issues that still need to be addressed.
"There's misconceptions in Boston. There's a lot of Bostonians who have lived there, who are great people, into the community, who devoted their [lives] to some of the issues—incarceration and wealth disparity. Our education system. There's a lot of families that have been there for a long time in Boston that represent excellence, [but] you wouldn't hear that, or see that, if it wasn't for the narrative that there is in Boston. But there's also a part of Boston where the shoe fits—I've seen where, subliminally, there's a lot of issues that go on in our society that gets covered up…Somebody's got to say something."
Building a brighter future for Boston, and delivering the city its first NBA championship title since '08, is a lot of weight and responsibility.
But this is Jaylen Brown we're talking about. Rather than panic, he's too busy making moves on his way to the top.
---
SLAM 242 is available now in an exclusive Gold Metal Edition and Cover Tee.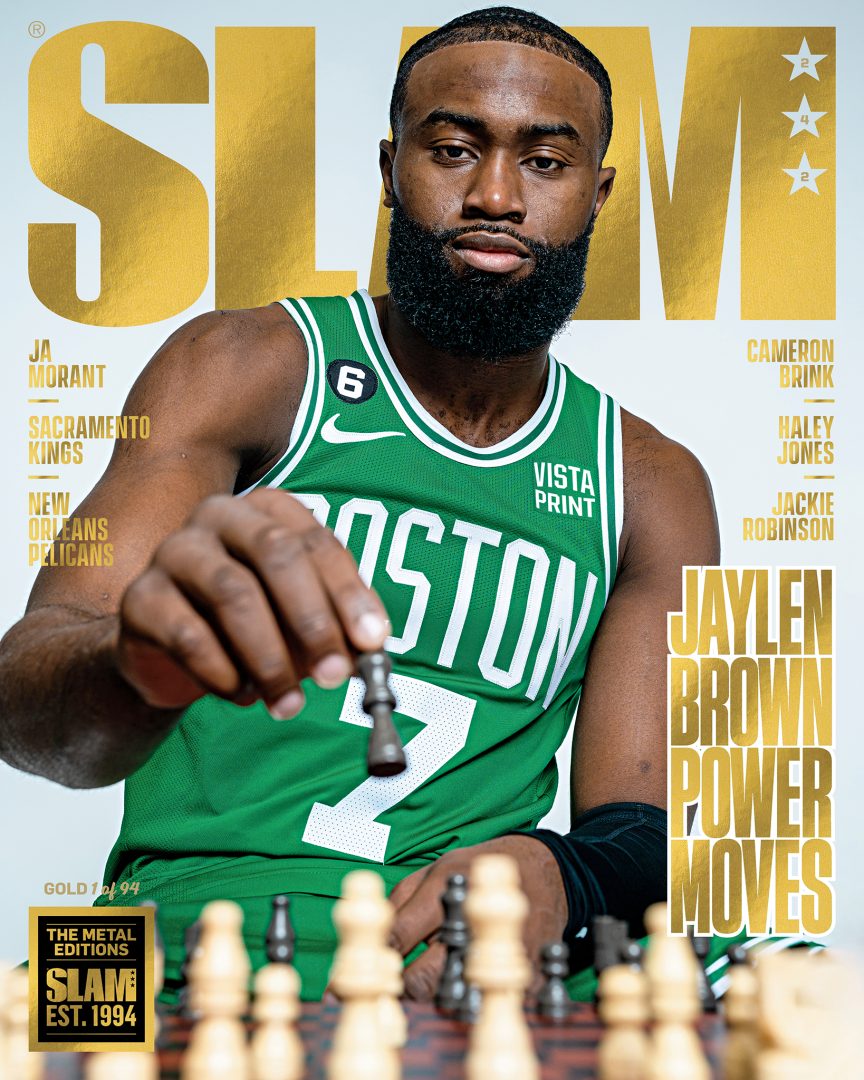 Deyscha Smith is the Associate Editor at SLAM. Follow her on Instagram and Twitter, @deyschasmith
Portraits by Marcus Stevens is a Content Producer at SLAM. Follow him on IG, @Marcus.stv