How Kevin Garnett's SLAM Presents KICKS Vol. 1 Cover Changed One Sneaker Insider's Life
"What's up with the rubber band?"
People ask me all the time. Explaining that I've worn one on my left wrist every day since middle school is always more awkward than I expect.
But that's when I saw KG on the debut cover of KICKS.
"What's up, dog?" it read.
I was 13—and that magazine changed my life.
The youthfulness of the League's first prep-to-pros player in 20 years was understood. A 22-year-old KG was also fresh off his very first signature shoe with Nike, had just inked the lockout-inducing $126 million contract and was re-defining the concept of positionless basketball for a new generation.
He represented the future of the League as it evolved into a post-MJ era—and seeing him grace the first-ever cover of SLAM's offshoot KICKS magazine was a perfect fit.
"Kevin said he wanted to be remembered as the one player that had fun every single time he went out there," former Nike exec David Bond recalled on page 11, of KG's very first Swoosh meeting.
I've always loved that quote. Hoops is fun. Sneakers are fun. I've tried to carry that same youthfulness with me ever since.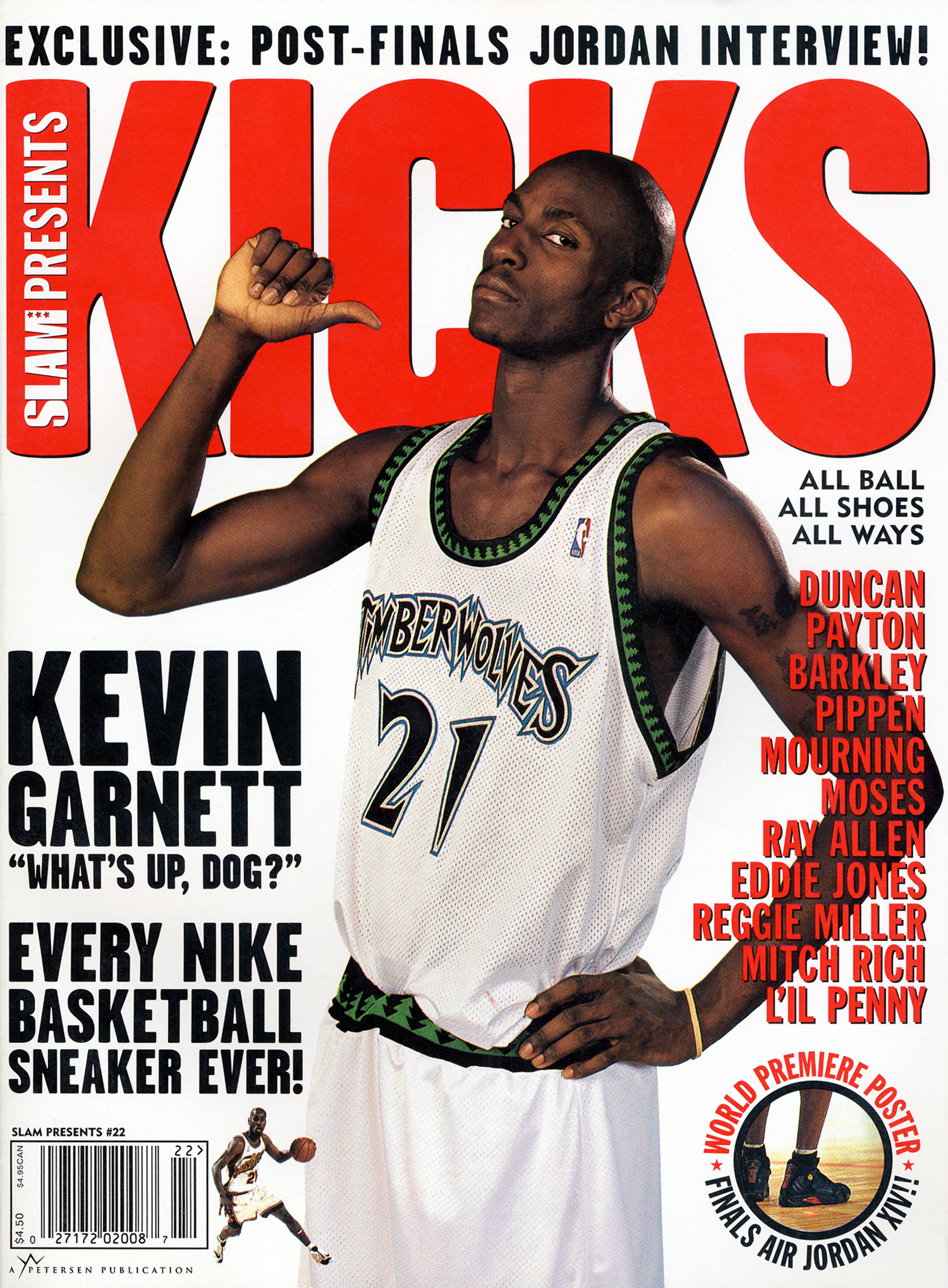 It's been a long ass time, but the rubber band—from an endless supply of 3 1/2" x 1/4" bands that I switch out weekly—has been a daily reminder ever since of why I do what I do. And I've got KG and SLAM to thank for that.
When the issue dropped in the fall of 1998, there had never been anything like it.
"You can write about sneakers?" I remember thinking, while reading about sneakers.
It was all new territory, and seeing and holding a tangible extension of that meant everything to me. The SLAM team might not have even realized it, but that single issue opened the doors to what kids around the country even thought was possible.
Our understanding of "working in sneakers" at the time was that working at Foot Locker would be cool, off the strength of just getting a discount. No one even knew an entire world surrounding the game that we all loved existed as a career path. Whether that meant working in the sneaker industry at a brand in design or marketing, or writing about the players and pairs that moved the needle, that first KICKS issue was eye-opening.
Multiple sneaker magazines, dozens of footwear-centric blogs, and seemingly millions of Instagram pages—focused just on kicks—all followed.
The issue was also insanely informative, providing every reader with a foundation of footwear knowledge that would basically supercharge the generation of kids hopping onto the Niketalk and Sole Collector forums at the start of the 2000s.
It was one thing to think "the patent leather Jordans" were a sick shoe or to have heard the legend of the Air Jordan XIII being inspired by MJ's "Black Cat" nickname, but when KICKS dropped, there was a full lineage of every Air Jordan model, all together on a two-page spread.
The 10-page stretch that followed it was a literal encyclopedia of "every Nike Basketball sneaker ever," as the cover promised. Listed out in order were product shots of all 378 of the Nike models that had hit retail by that point. (No. 278 is the greatest hoop design of all time, by the way. The very next one, the Air Thrill Flight at No. 279, was the first pair of Nikes I owned, thanks to my $40 budget growing up.)
Later in the mag, there were actual features and interviews with sneakers designers—another first. The only industry name that anyone knew was Tinker Hatfield, and here was a three-page spread, each on Eric Avar and Aaron Cooper—both with hair! The duo designed Nike Basketball's most iconic silhouettes of the '90s for the likes of Penny Hardaway, Scottie Pippen, Jason Kidd and Gary Payton.
On page 87, I found myself staring at not only Avar for the very first time, but also the shoes I had just finished my seventh grade basketball season in—a black and green variation of Dennis Rodman's Air Shake NDestrukt that I snagged for $19.99 at Ross. (Our team colors were also green—so it's quite possibly my all-time favorite find.)
The exaggerated grooves of Avar's sketch, along with a reversed Swoosh and "NIKE" text over the heel Air window were all different details than the shoe sitting in my bedroom, sparking my curiosity and imagination for what else I could uncover from Nike's archives of what-if designs and concepts.
Cooper's first-person penned piece on Pip's second shoe connected how an athlete's insight and involvement could drastically shift where a design is headed, after Coop admitted he worked up the first, more bulky, Air Pippen model without much input from Scottie.
Both of Russ Bengtson's features and framing laid the foundation of how I envisioned a designer profile reading. So I started to develop a roadmap of how I could get there. I became the sports editor of my high school's paper a few years later. Russ pointed out that Nike was located in Oregon—so I went to the University of Oregon, studied Magazine in the School of Journalism, and would make the drive north often to try and make connections in Beaverton.
From my very first "Focus: Artist" article in a 2006 issue of Sole Collector that highlighted an undiscovered talent named Justin Taylor, to the countless designer interviews I've conducted ever since with the likes of Jason Petrie, Leo Chang and the rest of the team that carried on the torch at Nike Basketball, KICKS was the blueprint all along.
Each of the first times I interviewed that celebrated trio of Hatfield, Avar and Cooper during the late 2000s, I remember thinking back to the pages of the first KICKS issue a decade earlier. Talking to Coop about his Garnett 3 design, a vibrant, fading black and blue sneaker that I wore in high school, was an all-time moment.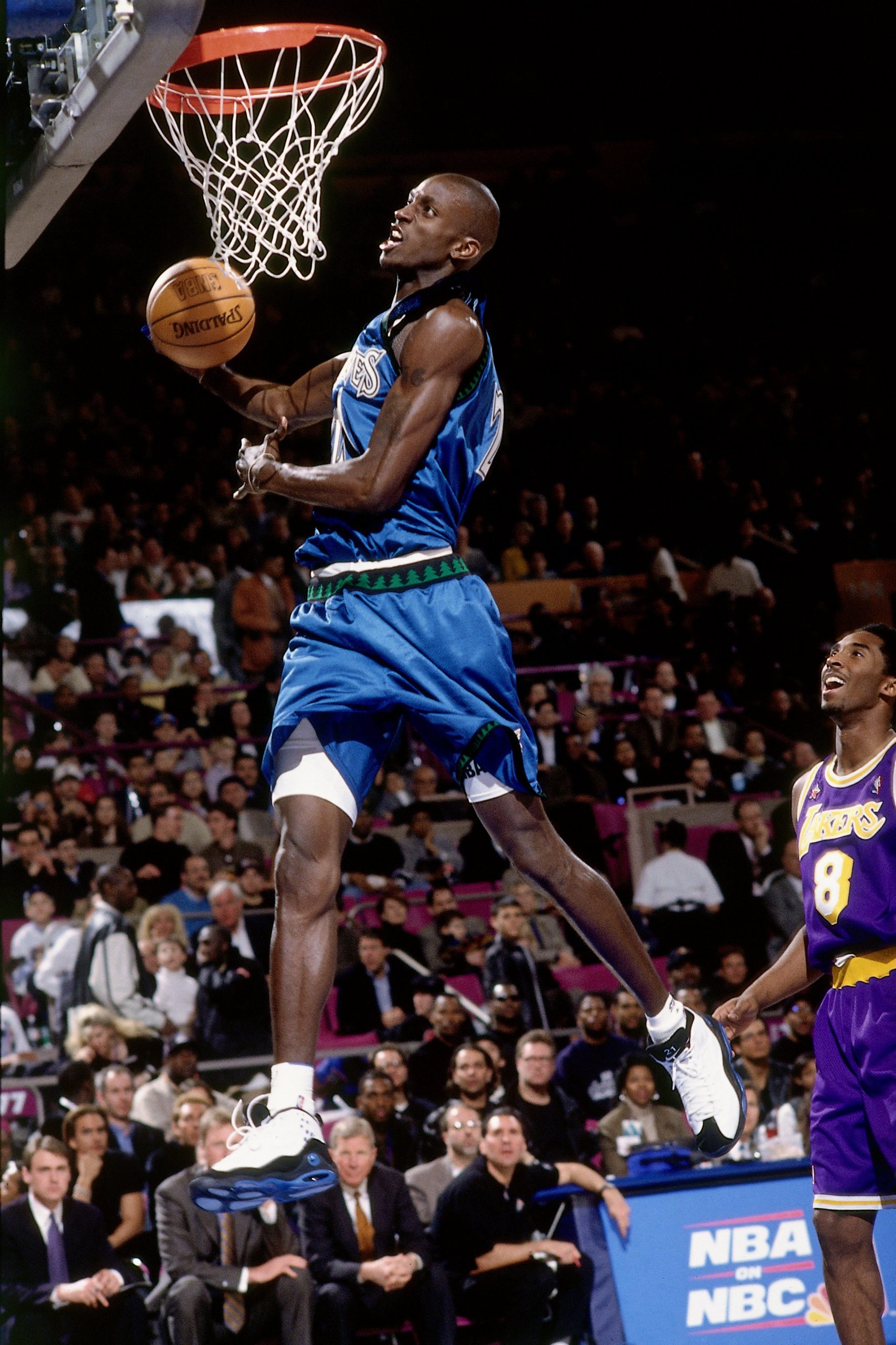 A handful of years after that first issue had dropped, in 2003, I have a pretty distinct memory from around 4 am on a spring Friday night. I was at my high school's "Grad Night," and they had a standard exercise for all of the students to participate in.
A massive white paper roll waved out in front of us over the auditorium floor, and I remember one of our teacher chaperones yelling out "Grab a Sharpie, and write down what you'll be doing in 10 years!"
I didn't hesitate for a second.
"I'm gonna write about sneakers, for SLAM," I told myself.
And it all started with a picture of Kevin Garnett and a rubber band.
---
KEVIN GARNETT: Anything Is Possible is a feature-length chronicle of Kevin Garnett's remarkable career and the pivotal moments that defined it. Stream the documentary on SHOWTIME.
Photos via Getty Images.