AND1 announced a major move in early 2018 when it revealed that Kevin Garnett was reuniting with the brand. The Big Ticket, who will serve as the company's Creative Director and Global Ambassador, originally left Nike to join AND1 in 2001 when he was a rising star for the Minnesota Timberwolves. KG has been working with the brand on a variety of soon-to-be released on-court and lifestyle silhouettes.
While release dates for those products have yet to be announced, AND1 is gearing up for the drop of its Attack 2, Tai Chi and Tai Chi Mixtape editions in September.
We recently caught up with KG to discuss what drove him back to AND1, his new role within the company and their goals moving forward.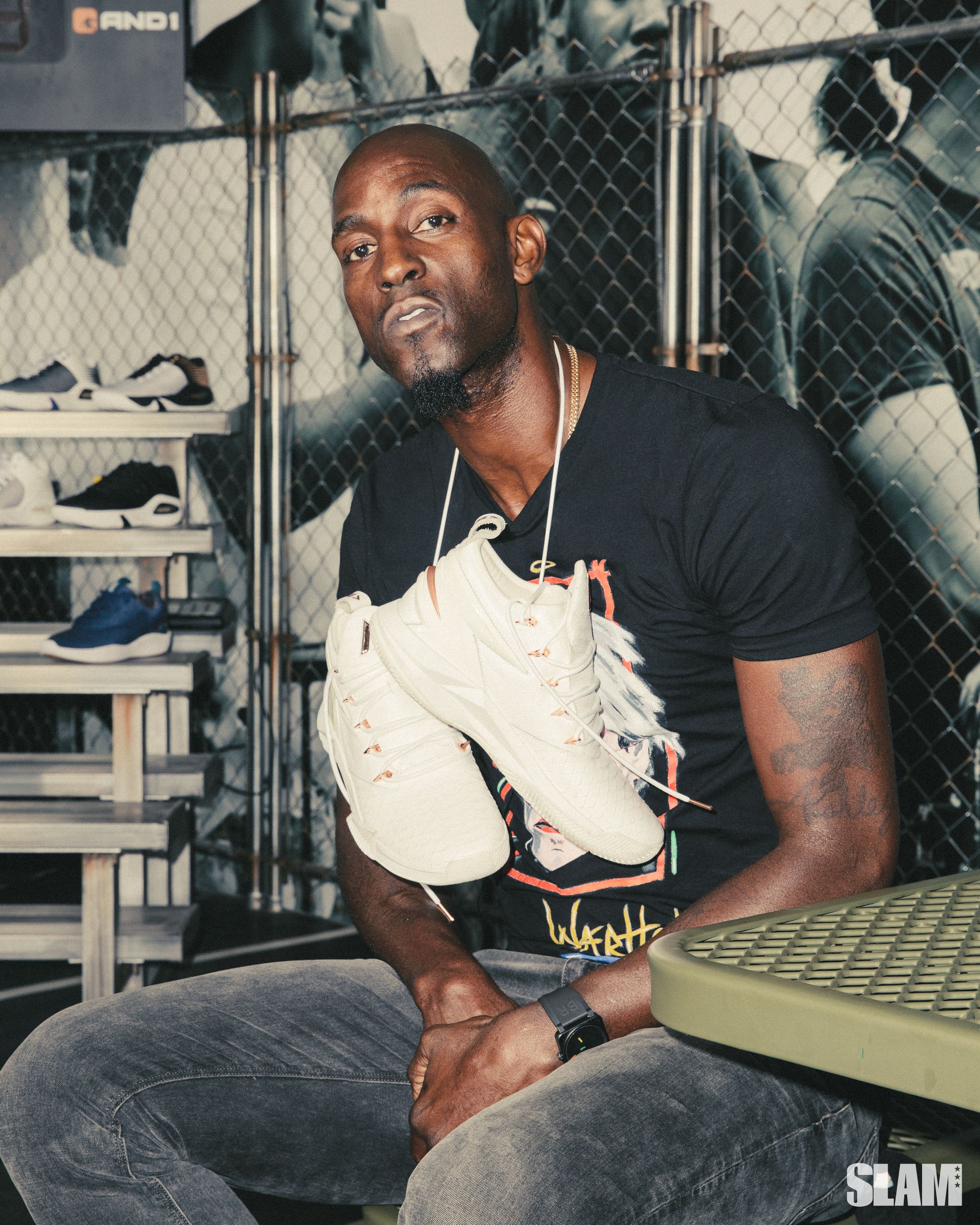 SLAM: What prompted the move to AND1 this year? What's the backstory?
Kevin Garnett: Bill Sweedler [founder and chairman of Sequential Brands Group, which owns AND1], is a dear friend. I was talking to him about some general stories and the AND1 conversation came up. And I didn't even know at the time that Bill owned AND1. We just started going into some hypotheticals on some ideas. I think he was looking for some different ideas to revamp the brand. I think the brand had a lower tier business that they were very successful with. He let it be known that he was into it. And then he was like, That'd be a dope idea to put [you] with AND1! And I was like, I don't know, whatever. He came back a couple of weeks or a couple months later and we joined up. It sounds inspirational. It sounds groundbreaking and things that stimulate me. That's when I started to look at the opportunity of coming in here and [being] the creative director. Just being able to bring a different place to the brand that I didn't see with the brand before I came here.
SLAM: How would you describe your position and role with the brand?
KG: My position here is just the overall picture of this brand and where we at with things. [From] the players we sign to the campaigns we're coming out with—different content that we're doing as far as in-house content. I'm very excited about the product that we're putting out. I like to think that the things that were done in the past—I think people know AND1 to be some of that. I like to think that the things that are coming out for the future are new stuff—innovative stuff that people wouldn't necessarily associate with the brand. I think it's going to be different and eye-popping stuff that is needed.
SLAM: Are there any particular materials or style preferences that you had as a player that you're now looking to incorporate into AND1's future designs?
KG: Absolutely. Cushioning and comfort. You know, this is a professional's feet. So we have to be very careful with that. A lot of the ideas are coming from me playing a lot of years—[so] extra cushioning, different systems that you can input to make the shoe lighter and efficient for your foot for when you're out there. I'm not an engineer—I'm a visual person. So a lot of the ideas start from there.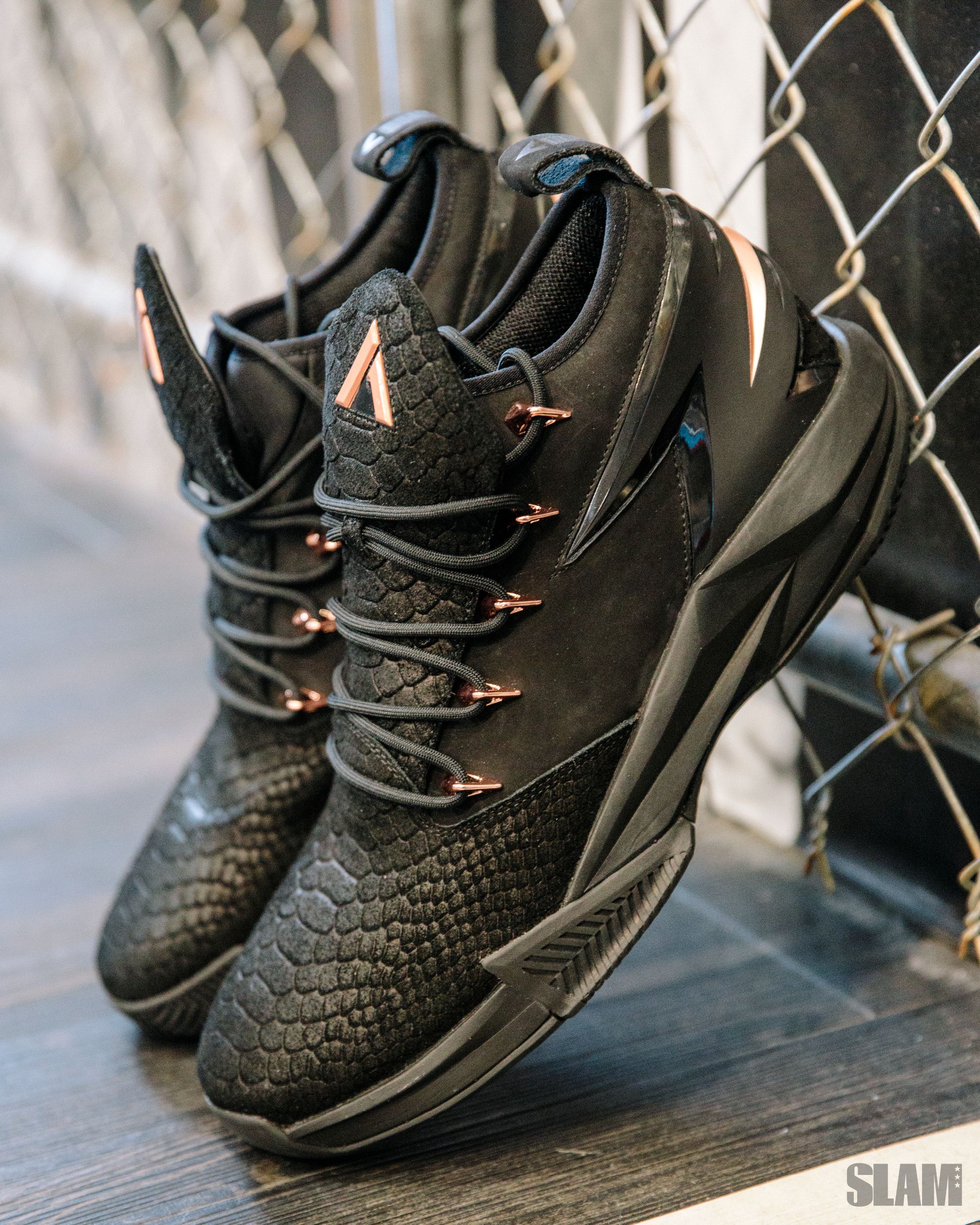 SLAM: The first time you were with AND1, you did that classic commercial with Styles P. What do you recall about that time?
KG: My favorite memories of AND1, I go straight to Styles P. Styles P was and still is one of my favorite MCs of all time. The whole LOX—Jada, Styles, all that. I was super excited about meeting Styles. I thought it flowed perfectly. They understood my story—Styles and I coming from the same background. So we had a dope introduction and it just flowed. I like to think that Chris Robinson brought us all together for a dope visual. We did a couple of AND1 spots that were just to the attitude and to the rebel of the inside of what I was. I thought the stuff we shot was different. I think it spoke to the persona of what I was. Dope shoe. One of the dopest I've done.
SLAM: You shocked the game when you left Nike for AND1 in 2001. Now 17 years later, what drew you to the AND1 brand then?
KG: I left Nike wanting more of a creative outlet, wanting more say on my own product. I had a vision for how I wanted stuff to look. I had a feel for a lot of fashion input, where I thought I was connected enough to know where I wanted to go with certain looks and certain styles. And with Nike, it was kind of cut and dry as to what you were going to do. With AND1 it was more of a collaboration and partnership. The money was right and the opportunity was even more right. And [so] I went for it.
SLAM: Lately heritage brands like PUMA and New Balance have been trying to get back in the game. AND1, a heritage brand itself, has been linked to numerous players. Do you foresee this being a trend?
KG: I will say this, with all these heritage brands coming back, it gave it a little more of acceptance for everything to come back and say that those brands you named are equivalent to AND1 as far as culturally. But I'm also culturally biased in knowing that AND1 has a mixtape outlet, has different outlets of graffiti and art, has a music outlet. I can't sit here and say that those other brands have those things. I can't say that they have a street culture or that they have a cultural influence that they can reach to. It's gotta be real for me. It has to be somewhere where it hits home to me. And the dynamic of the two work for me. Perfect time to come out as a retro brand, though. If you think about all the stuff that's going on in our world, it all just flows with the story. Being innovative. Being original. Being different. It flows.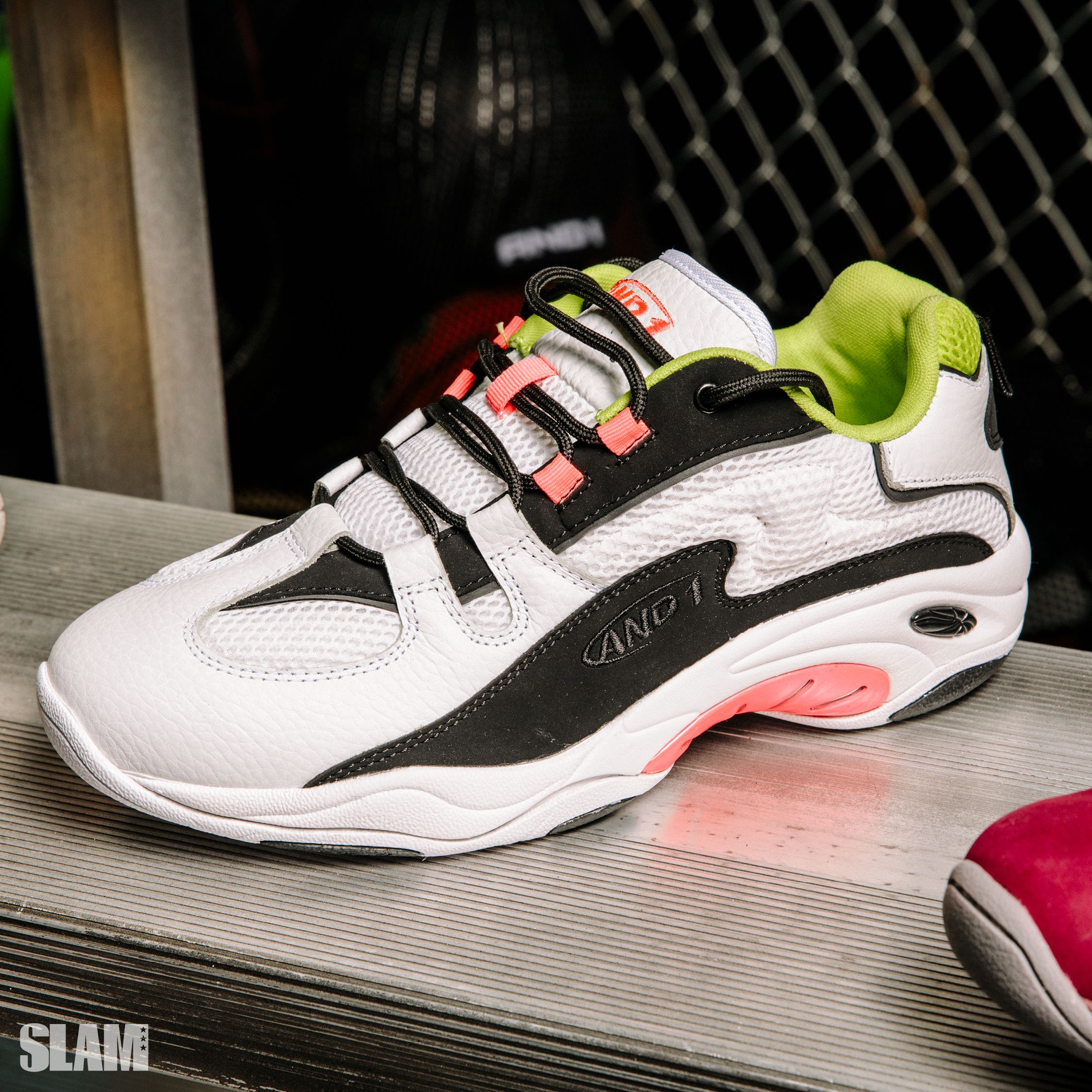 SLAM: Looking ahead, if you had to predict where you see AND1 being in two years, what goals do you have written down and hope to accomplish?
KG: I want a respect level [on par] with all the other brands. To be appreciated. I want to be able to be innovative and have new product and utilities out. I think everybody doesn't make great utilities. I want to be able to be known as a quality utility brand. Get away from the lower tier business a little bit and start really talking about the mid-tier boutique business. I'm looking to have at least four to seven guys in the League wearing our shoe. Major players and major pieces that are in our League. Maybe one or two All-Stars in the brand. That's the next two to three years.
—
Franklyn Calle is an Associate Editor at SLAM. Follow him on Twitter @FrankieC7. 
Photos by Ricky Rhodes.