This story appears in an entire special issue dedicated to the Big Ticket. Shop now.
Let's get something out of the way right up front—Kevin Garnett's No. 21 not being retired by the Timberwolves yet is some straight-up bullshit. Garnett retired in 2016 after 21 seasons, was elected to the Hall of Fame in his first year of eligibility, finished his career back in Minnesota out of respect for Flip Saunders when he could have just let the clock run out in Brooklyn. But that's not who Kevin Garnett was. That's not who Kevin Garnett is. Did he want something from it? Yes. He wanted a chance to finally get equity in the franchise that he elevated, to own part of what he built. That didn't happen. It still hasn't happened. Maybe it never happens. Maybe certain bridges that burned never get rebuilt. Because of all that, Garnett has flatly stated he doesn't even want the Wolves to retire his number. But dog, you do it anyway. You give him his day at the arena he poured so much blood, sweat and tears into. He may not have delivered the Wolves a championship, but he gave them so much more than that.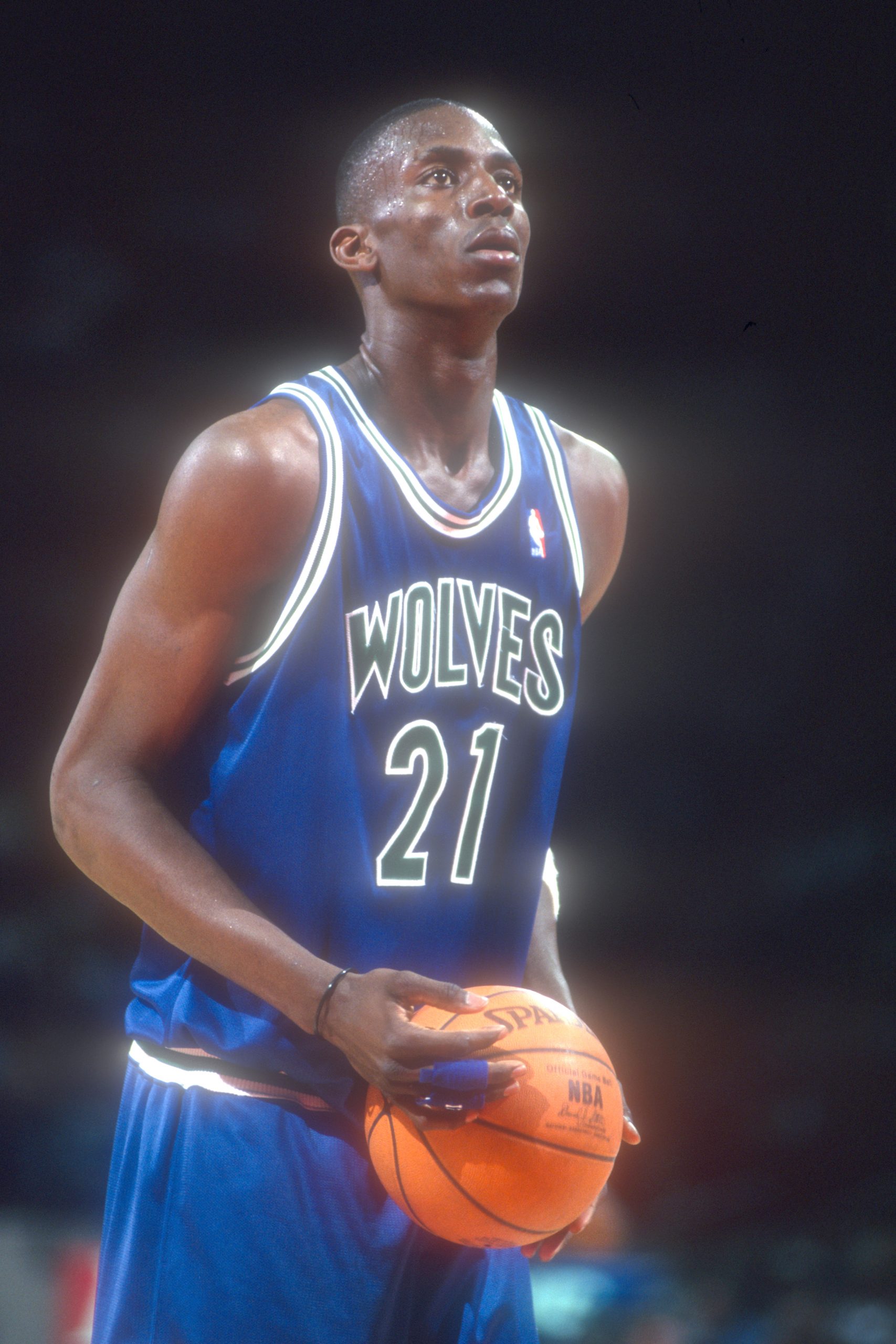 Look too closely for Kevin Garnett's legacy and you just might miss it. There's more obvious ones out there. Watch a game on any given night and you have guys pulling up from midrange like Kobe or pulling their version of Iverson's crossover. You have guys shooting one-legged stepbacks like Dirk or going glass like Timmy. More blatantly there's a lot of people wearing Michael Jordan's number or Kobe's shoes. Garnett wore 21, 5 and 2, numbers that were already common enough. Jimmy Butler wore 21 for his draft position and an old college teammate. Joel Embiid wears 21 for a guy who is entering the Hall of Fame next to Garnett—longtime foe Tim Duncan. And sneakers. KG wore a lot of sneakers, bouncing from Nike to AND1 to adidas to Anta. He doesn't have an ongoing line with any of those brands, doesn't have a retro signature model at the moment. Maybe PJ Tucker will eventually break out a pair of KG's old Nikes, assuming they can still hold up to NBA action. There's nothing super specific you can point to and say, Oh yeah, that right there, that's for KG.
But don't look even closer trying to figure it out. Do the opposite. Pull back. Take a wider view. Not to get too Obi Wan Kenobi with it, Garnett's legacy in the NBA is everywhere. So much of the NBA now is made in his image. It's younger, less position-centric, filled with players in full control of their own destiny. A lot of that gets credited to LeBron James and The Decision in the summer of 2010, when he told a national audience he was taking his talents to South Beach. And yes, that was a moment that made a difference. But the groundwork for that was laid 15 years earlier, by a mature-beyond-his-years kid from South Carolina by way of Chicago. A pickup game against some Bulls superstars, a deep conversation with a Pistons legend, and he was ready to do something no one else had done in 20 years.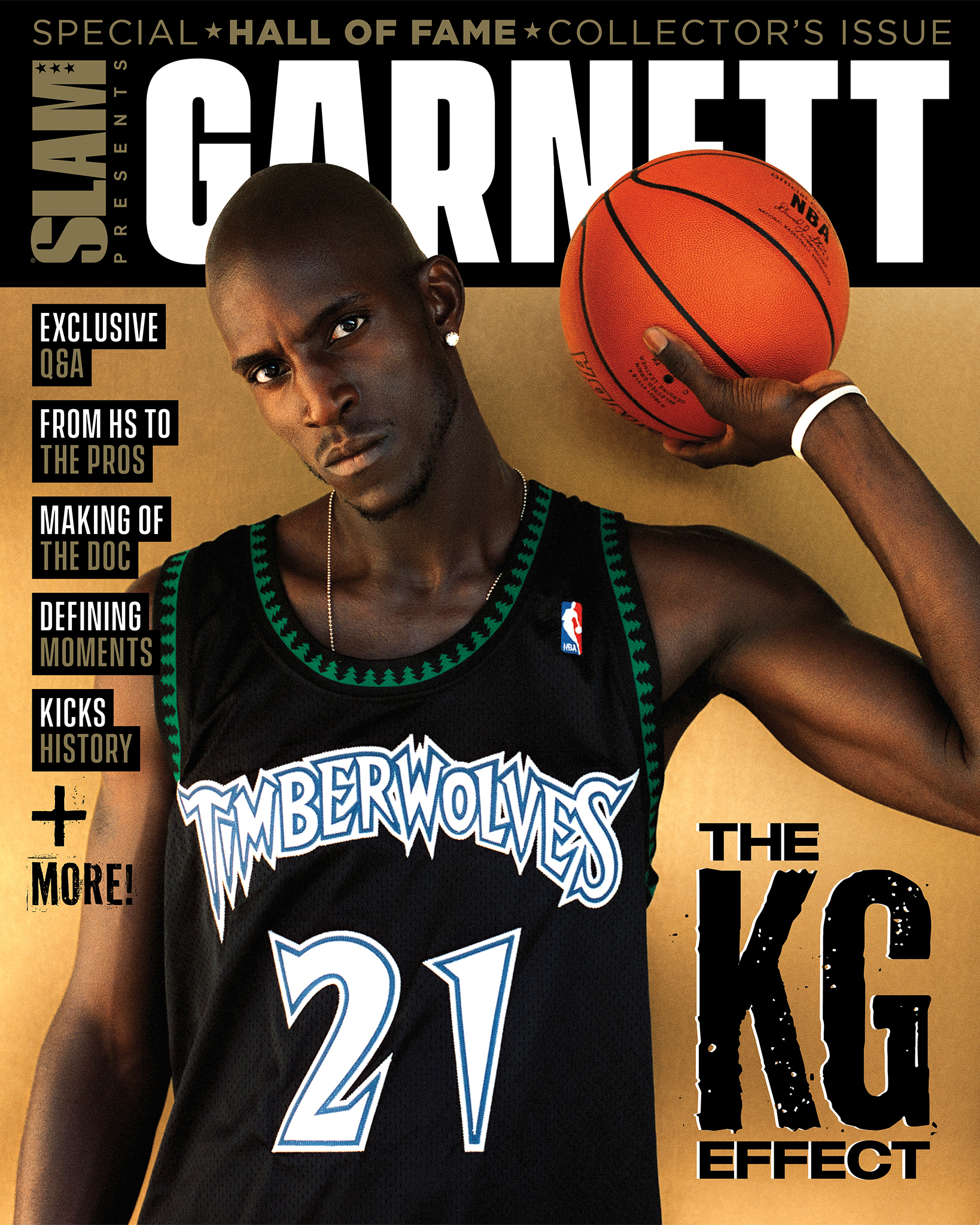 In the two decades after Darryl Dawkins and Bill Willoughby went pro straight out of high school in 1975, no one else even tried it. Which is surprising, seeing that both Dawkins and Willoughby did OK. Dawkins played 14 seasons primarily with the 76ers and the Nets, shattered a couple backboards, built up a whole mythology around himself. And while Willoughby might be remembered as a bust by some, he was still in the League for nearly a decade. Blocked one of Kareem's skyhooks, too. A confluence of events drove Garnett to follow their path. He moved to Chicago for his senior season, hooping for Farragut Academy alongside Ronnie Fields and looking after his younger sister. He got pulled into a pickup game with Michael Jordan and Scottie Pippen and held his own. He had a long conversation with Chicago native Isiah Thomas about life in The Chi and his NBA readiness. And his test scores weren't up to par. By the time they were, it was too late. He had already plotted his course. Garnett was selected fifth overall and pushed open a door that had long been shut. The following year, two high schoolers went in the first round. Six years after his selection, Kwame Brown was the first overall pick. From 1995 to 2006, when the NBA imposed an age limit, 39 high schoolers were drafted by NBA teams. Ten became All-Stars. When Garnett is finally inducted into the Hall of Fame this summer, the pandemic having scuttled last summer's ceremony, he and fellow 2020 inductee Kobe Bryant will become the second and third straight-outta-high-school Hall of Famers. They won't be the last.
Long before LeBron made his Decision, Garnett made his. The flood of high schoolers and college freshmen who followed after made it seem like a matter of course. But Garnett was the pioneer. When Garnett declared for the Draft in '95, he was doing something that hadn't been done since before he was born. He wasn't going to play at junior college, wasn't going to wait for his latest set of test scores to come back. He was ready and he was going to go. He took control of his own destiny and molded others to it.
Convinced he was ready, he convinced others. He convinced agent Eric Fleisher to take him on, used a single 90-minute solo workout to convince NBA GMs that they absolutely had to use the fifth overall pick on a high school kid. Timberwolves VP Kevin McHale and GM Flip Saunders went into that workout plotting to overstate their enthusiasm over Garnett in order to get a team picking ahead of them to bite, that way one of the four college can't-miss guys would slip to them. They came out of it with the realization that Garnett was the guy. And Garnett's faith in himself never wavered. He signed a three-year rookie deal, then two years into it turned down an extension that was worth more than Wolves owner Glen Taylor had paid for the team two years earlier. Garnett knew his worth. And when the Wolves came back with a higher offer and he signed that historic deal, he ignored all the doomsayers about what it would mean and just worked harder.
Garnett's NBA legacy is complicated, because he did things that rule changes ensured no one could do again. That huge contract he signed prompted a lockout and restructuring that imposed limits on extensions—and structured rookie deals so they couldn't sign them so quickly. In 2006, the NBA put in an age limit requiring a would-be draftee be 19 years old plus one year removed from high school. Only three active players—LeBron, Dwight Howard and Lou Williams—remain who entered the League straight out of high school. And then the way the game itself is played has changed. Garnett took 632 three-pointers over his 21 seasons. Embiid took less than four seasons to top that. Ask KG who in the League reminds him of himself these days, and he cites Embiid, along with Kevin Durant and Russell Westbrook. But then he gets to talking about someone else and woo, does it sound like he's talking about himself. "Giannis is what, Giannis is 7-foot, yo," Garnett says excitedly. "He keep talkin' about this 6-10 shit, that motherf***er's 7-1, he won't get measured, he's 7-1 and he plays like he's 8-11. You know what I'm sayin'? It's a different league, bro."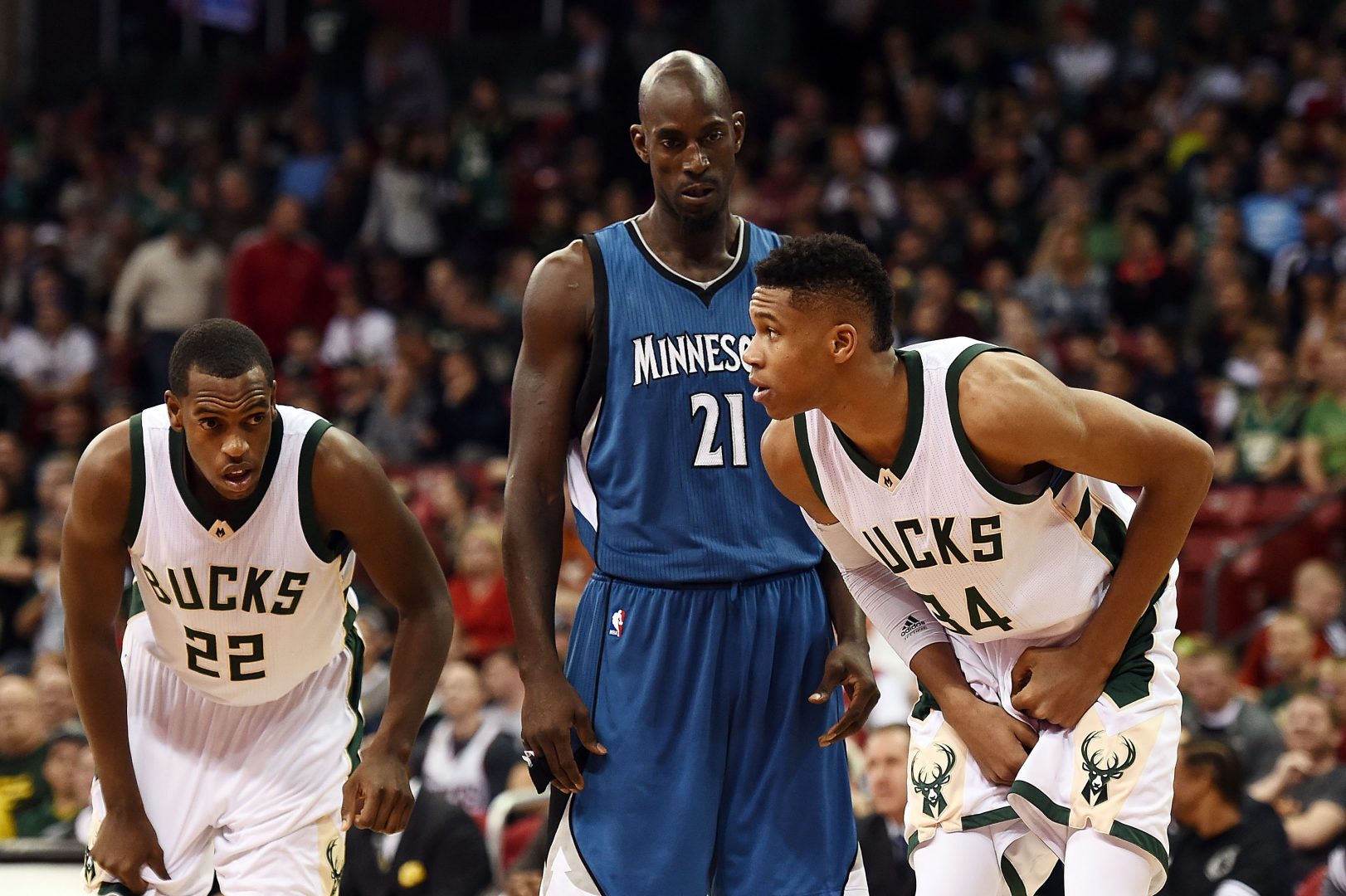 Maybe so. But a league where a 7-1 guy (not saying names here) who insists on never being measured can guard every position on the floor, both start the break and finish it, and fill stat sheets while winning an MVP in the process sounds awfully familiar, whether you're talking 2004 or 2020. Sure, Westbrook displays Garnett's ferocious intensity and Durant combines spidery length with height-defying moves on either end, and Embiid is a self-taught, self-assured terror. But if anyone singlehandedly carries forth the blueprint Garnett laid down, it's Giannis Antetokounmpo, 6-11 (lol) unicorn.
At this point it's almost a throwback, a guy who's clearly seven feet tall not being listed as a seven-footer, seeing that the NBA is a league where the openly 7-3 Kristaps Porzingis can spend a majority of his time floating around the perimeter and firing up threes like a funhouse mirror Stephen Curry. Garnett famously insisted on being listed at 6-11 since seven-footers inevitably found themselves lodged in the paint—and while he never really took to shooting threes, coming up as he did in the Jordan era, he was able to feast on face-ups and operate out of the high post while being the ultimate disrupter on defense. Get by him somehow and well, you still weren't out of his long-armed range. Garnett's true height was always the NBA's worst-kept secret, and something he could have copped to long ago—no one was going to force him to be a back-to-the-basket center—but he kept insisting he was 6-11. Still does.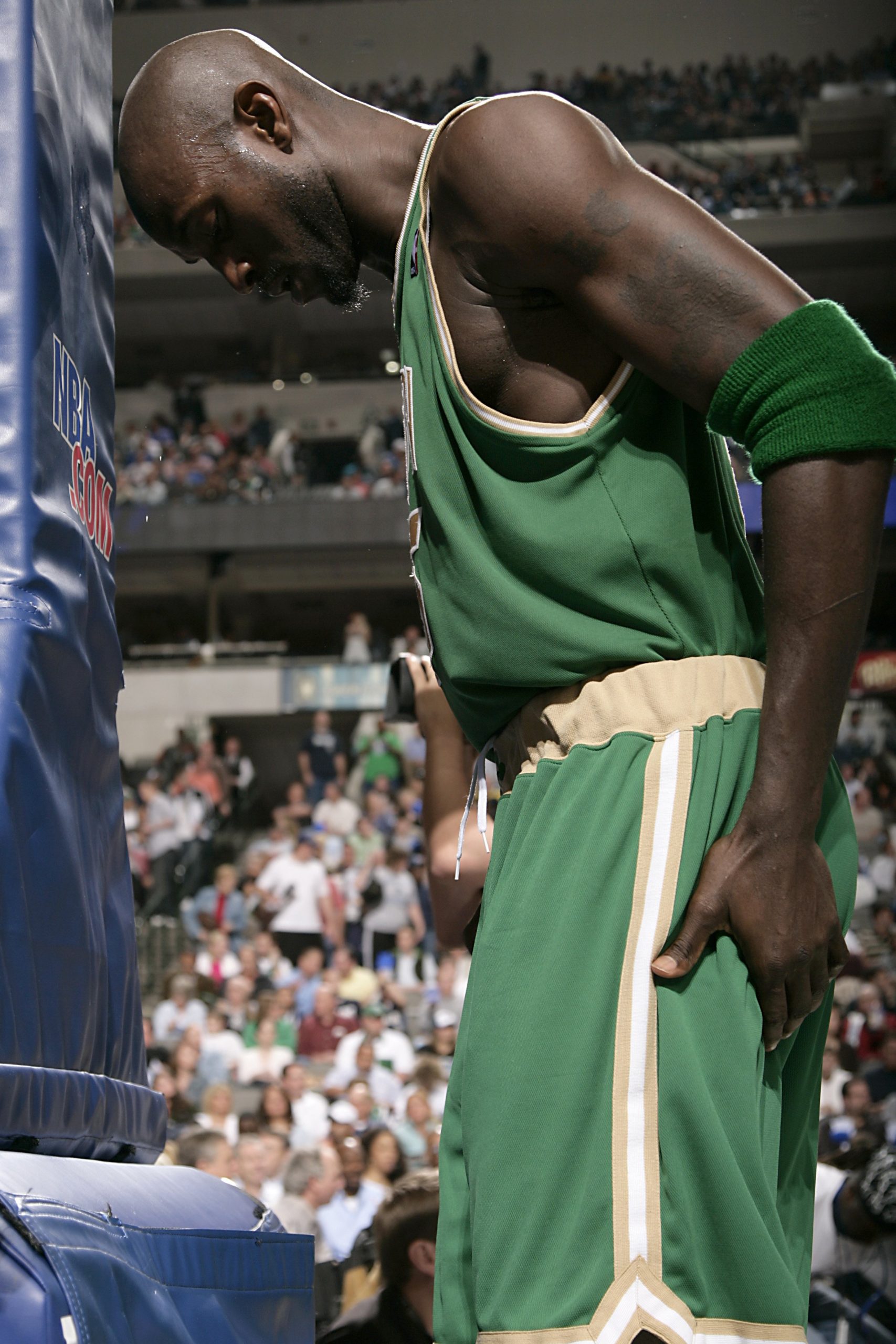 Garnett's career was bracketed by team excellence in a way no one else's was. He entered the NBA the season the Chicago Bulls went 72-10 and retired from it the season the Golden State Warriors went 73-9. Two historic teams that set records playing distinct styles. Garnett can be seen as a throughline between them, alchemizing Pippen and Jordan (and Rodman, too) into Durant and Draymond Green. Garnett was the ultimate complementary superstar, a defensive juggernaut and matchup nightmare who made everyone else's job easier. "I was really an unselfish player to a fault," he says, "and my mentality was more of, Man, if I can get everybody else involved and they get going, then I can take advantage of one-on-one opportunities."
The game changes, but the mentality stays the same. Remember to thank KG for that.
---
KEVIN GARNETT: Anything Is Possible is a feature-length chronicle of Kevin Garnett's remarkable career and the pivotal moments that defined it. Stream the documentary on SHOWTIME.
Photos via Getty Images.