Long Beach Poly's Shelton Diggs on the Importance of Black Coaches Supporting Each Other
SLAM has partnered with the Black Coaches Association on a content series that will spotlight Black coaches from every level. To learn more about the past and present of the BCA, and to register as a member of the BCA, click here.
When Shelton Diggs took over as head coach at Long Beach Poly High School, he knew what came with coaching a historic program that has been dominating since the 1920s. As an alumni of the program, Diggs was a part of the Jackrabbits' CIF championship team in '97 before going on to suit up at Western Washington University, where he was a four-year starter and spent time as a student assistant.
Diggs says his decision to return to his alma mater as a coach was a "no brainer." He was ready to give back to the program, and served as the JV coach for six years before being named the interim varsity coach going into the 2013-14 season.
"When I took [the program] over, I didn't want to be the guy in the store and there's a kid behind me in line and he tapping on his mom's shoulder like, 'Mom, mom that's the guy that messed up the Poly program.'" Diggs says over Zoom. "I'm all Long Beach, so I'm just trying to give back to these kids and keep this thing going because you know we've been around for a long time and I'm just trying to keep the ball rolling. I love my city; I love Poly. I'm trying to give back as much as I can, take a little out and you give a lot back in. That's what I live by."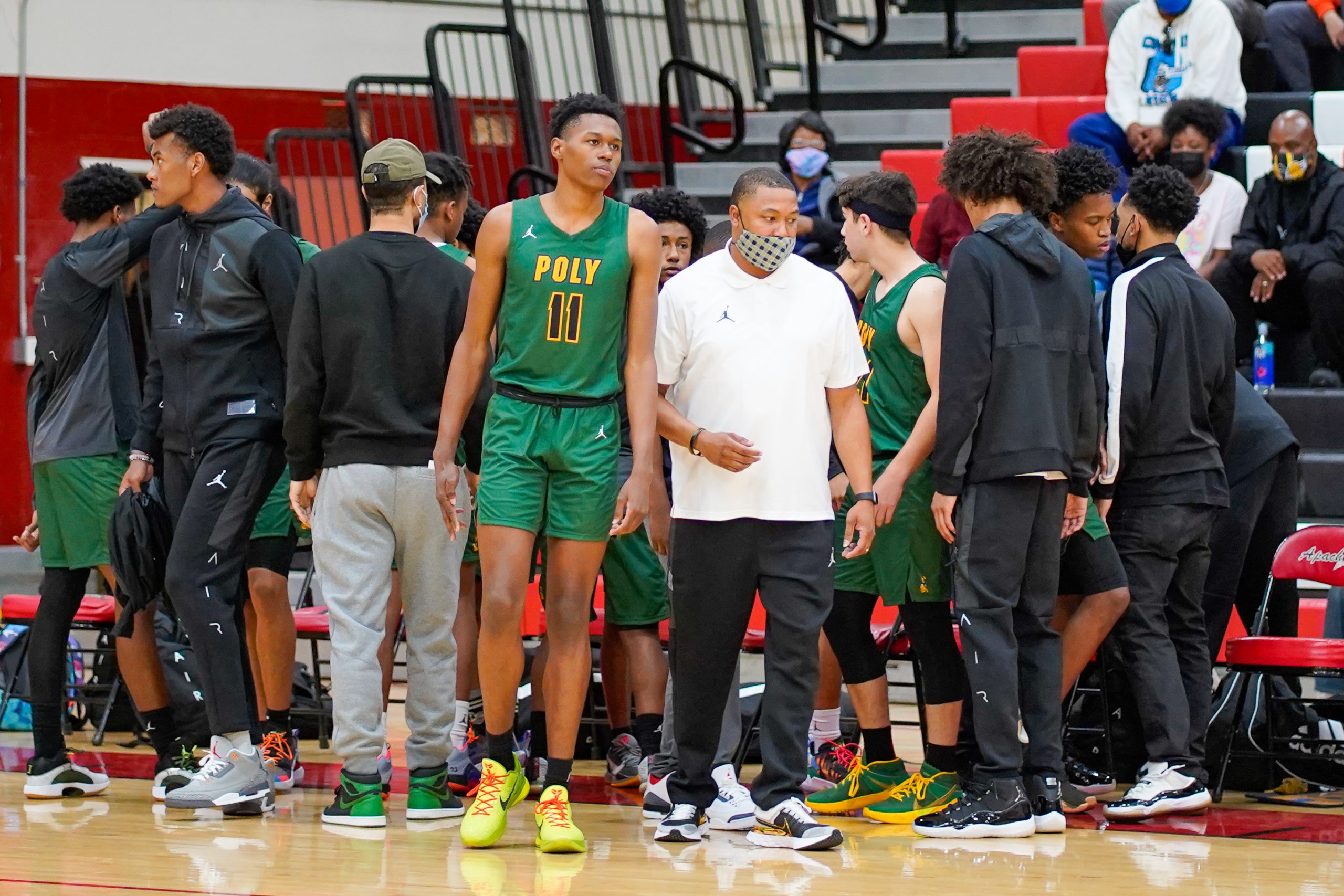 Diggs' impact on the program was immediate in his first year: he led the program to a 26-8 record, a Moore League title and the program's 20th CIF Southern Section Division 1AA Championship title. In 2016, the program came close to adding yet another title before falling to Serra.
Going into this season, the team has amassed 2,105 all-time wins (and counting) going back to 1907. For context, no other school in the state of California has more than 1,800.
Diggs says his passion for coaching goes beyond the game. Having played for legendary head coach Ron Palmer, he knows, firsthand, how impactful the program can be on the lives of young men, specifically players of color.
"Somebody did this for me so it's like my job to give it back for the kids. I mean a lot of the kids we coach it's not just about basketball it's helping them with life skills. Maybe giving them a ride home after practice because they have to walk through a neighborhood or something like that. So, that's the coaching part outside of practice."
Over the years, Diggs has had former players go on to suit up at the collegiate level, including Myles Johnson, who graduated in 2017 and spent four seasons at Rutgers and most recently five-star prospect Peyton Watson, who is currently a freshman at UCLA this season.
"That was big to me, that's all-hard work," Diggs says of Watson being honored as a McDonald's All American last year. "I feel like that doesn't have a lot to do with me. It's just my job to put him in the right environment and help him get there. But I feel like that was all his hard work and his determination that did that. I feel the same way when kids get scholarships that's not me, that's them with all the hard work that they've done. I'm just kind of a vessel to help them get there but they earned that scholarship…It's a wonderful feeling to watch him go from a freshman at 6 feet, 130 pounds wet to this now 6'8 195-pound kid, it is an honor to be able to watch that, but it's all his hard work it really don't got nothing to do with me."
SLAM caught up with Diggs to learn more about his coaching journey, how he's carrying the legacy at Long Beach Poly and what it takes to coach a successful program at the high school level.
SLAM: What made you decide to go into coaching and return to your alma mater?
DIGGS: Well, I mean I always wanted to be a coach and my college coach, when I got done playing, he always saw that in me. He asked me to come be a student assistant that first year, so I learned and I kind of fell in love with it more. I still wanted to be around basketball—I wasn't good enough to go play overseas or anything like that [but] I still wanted to be involved with basketball, so coaching was kind of like the next step for me. I mean Long Beach Poly that's my alma mater, I would give up anything to come back and coach here…Somebody did this for me so it's like my job to give it back for the kids, so it was a no brainer coming back to Long Beach Poly and helping them out.
I was never the best player on my team. I was always, you know, just a good guy; I started a lot, but I was always a guy on the team who was one of the smarter guys on the team making sure we were running the plays and stuff like that. I just always saw myself in coaching: I remember I used to work all the camps and stuff like that, and I just enjoyed being around kids, I enjoyed watching the kids learn the game. I wasn't the most talented so I had to work at the things I had to do to become good at basketball and most of these kids aren't super talented they have to work at they want to do to become better and I feel like I can help them a lot with that so that was one thing that I always looked at in coaching. I remember when I was younger, my mom would actually have us learn the game—not just have us play basketball, but she would have us learn about the game, learn about stats. I remember we made our own little stat book and if my brother [AJ] had a game, I'd be doing his stats and he'd be doing my stats. It was always good for us, she made us learn the game and not just be able to play the game of basketball and we learn the game I feel that'll lead you in the coaching realm because my brothers are coaches, too. That's what we were put here to do.
SLAM: What's your coaching style like? How do you approach coaching a high school squad?
DIGGS: I'm fiery in practice. In practice and stuff like that you'll see me doing a lot of talking, a lot moving around getting on guys a lot. In a game I feel that's their time to do what we've taught them. So, I'm a lot more calm during the game [and] I allow my players to play because I do all my craziness in practice.
In high school, every year is a different year. You got a new team, even if you got guys returning and stuff like that you got a new list so every year you have to look at what you have and kind of based what you're going to do off what you have. You can't just be [like], This is my style and I'm going to play this style every year and all that. Where I'm at, we're not getting 6'10, 6'9 [players] every year, [so] you have to adjust to what you have. That's the key for me, being able to look at what I have for that year and being able as a coach to adjust on the fly.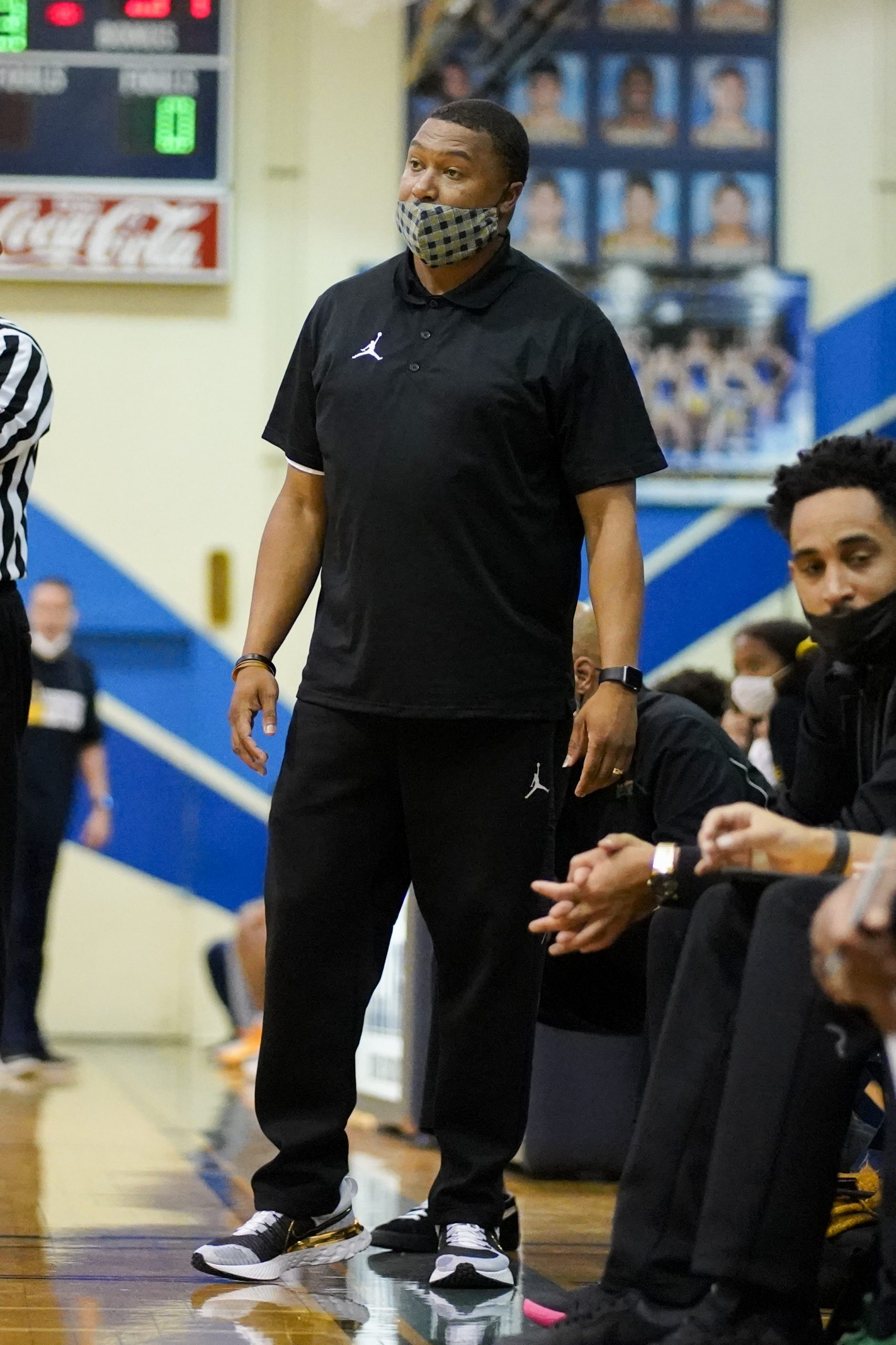 SLAM: Have you ever considered going on to coach at the collegiate level?
DIGGS: I mean I think about it, but I never really had the opportunity for that. I wouldn't even know how to get into that—I know coaches and stuff like that, but I mean I don't know if you just got to ask them, "Hey I want to be an assistant coach." I just don't know how you go about doing that. But I love where I'm at. Like I said, somebody did this for me and helped me out and it's my job to kind of give back and help the kids out.
SLAM: How have you seen your program progress from when you first started coaching there? How do you feel you've grown as a coach?
DIGGS: At Poly, we've got a good program, like we're always one of the top teams in the state. It really wasn't about making it better, it's kind of about keeping the tradition going along. Keeping it rolling, keeping things going. Since I've been the coach, I felt like I've done a great job keeping the program going along [and] keeping our dominance within our league [as] one of the top teams in the state every year. Individually as a coach, I've become a lot better—when I first took over, I felt like I was just a chicken with his head cut off, just out there being upset with every single call, every bucket I'm tripping. As I've grown, I've learned it's a long season and you don't want to be playing your best basketball at the beginning of the year you want to be playing at the end. So, kind of being able to calm down and sit back and relax and let the teachings show through the kids instead of every single play, [doing] everything to micromanage. I've just grown [to] understand what a high basketball season [is] about and being able to accomplish that goal rather than trying to accomplish that goal on day one.
SLAM: How do you think more opportunities can come about for coaches of color?
DIGGS: It probably goes both ways. Like on my end, I need to be better at talking to coaches that are in college, you know what I mean, assistants or head coaches. I think I need to be better [at] putting myself out there. I feel [that] once we can get more coaches in the head coaching ranks, that'll kind of trickle down and will be able to move up a little bit more, but we just kind of need a bigger jump in head coaches because those are the guys, in my opinion, that are doing the hiring. We got a lot of assistant coaches but the assistants are usually assisting. In the end, you're not making the final decision so we need more of those guys that are in the position to make the final decision and then I think it'll trickle down and will be able to get more coaches of color into the ranks.
SLAM: What can an organization like the BCA do to support you as a Black head coach?
DIGGS: The BCA has just helped me get to see other coaches, talk to them and learn from them, not from a competitive standpoint. You know how us Black coaches compete: I see him, he sees me [and] we kind of give each other this look…I think this'll give me the opportunity to become closer with other coaches because that's what we need. We got to do this together. It's not just me against the world, him against the world…We're so competitive as Black coaches. If I got my team, he has his team, I'm not talking to you, you ain't talking to me. I'm from Long Beach, you're from LA [and] we kind of got that disconnection [like] we're fighting each other. In the end, [through] the BCA we're able to get together, we're working together and not just fighting against each other.
In the end, we are all in this together and if we're going to try and make changes like we're trying to get, we got to do this together. It's not just Shels [being] the only one that's going to do it or Reggie Morris from LA [being] the only one that's going to do it…I think the BCA has just helped me personally with that because I have that mentality, it's me against everybody and if I want to move on, I'm going to have to have other people that are going to help me just like I have [to help] other people out, too.
---
Photo credit John Napalan, the562.org
Learn more about the BCA here. Follow them on Twitter @BCAWORLDWIDE