For the last two decades, just about every top NBA draft prospect has gone through a similar process. First come the team workouts; then media sessions; then trade rumors and mock draft predictions; then draft night; then, finally, a sneaker deal with a major brand. The first four steps remain generally the same year in and year out, but thanks to Lonzo Ball and his family's Big Baller Brand, the final piece of the journey to the League may have been flipped on its head.
As has been well documented, Lonzo and his family initially attempted to link with a powerhouse brand such as Nike, adidas or Under Armour for a partnership deal. When that didn't pan out, BBB stormed ahead as an independent family business. While the NBA has seen players start their own brands in the past, no rookie before Lonzo had ever had a signature sneaker before his name was called by the NBA commissioner on draft night.
While some have scoffed at the Ball family's practices—especially the marketing efforts of LaVar Ball—BBB has people paying attention on all levels.
"Every rising prospect is definitely closely watching to see how the Big Baller Brand venture goes for the Ball family," says Nick DePaula, who covers the sneaker industry for Nice Kicks. "The concept of owning your own likeness, and retaining full rights to any marketing or revenue by launching your own brand is something everyone has taken notice of. With how much players are able to interact and market directly to fans through social media in today's world, I definitely see another top player trying it."
The explosion of social media has been the driving force behind BBB's rise. Between Lonzo, LaVar and Zo's two younger brothers, LiAngelo and LaMelo, the family has just under 5.3 million combined Instagram followers. It's what makes BBB so different from past player-founded brands like Stephon Marbury's Starbury or Al Harrington's Protege line, which launched back in 2009 with a distribution deal with Kmart already in place.
"The difference with Big Baller Brand at this point is they don't have a distribution deal, so they really have to rely on social media to get behind it," says Harrington. "I think it's a beautiful thing. I would say, Why not try it? If it doesn't work, Nike, adidas and Under Armour will be right there to scoop 'em up. At the end of the day now, players have so much accessibility to fans and I think that more and more guys are going to take the leap of faith and start betting on themselves."
On the grassroots level, top high school prospects are already plotting on their own brands. Last year, thanks to a strong social media following, the New York City-based JellyFam movement gained major momentum and attracted attention from superstar players like Carmelo Anthony and rappers like Cam'ron. Similar to BBB, the combined social following of all the players involved—including Isaiah Washington, who was named New York State's Mr. Basketball and is readying for his freshman year at Minnesota—allowed the movement to grow out of the playgrounds of NYC to middle America. While JellyFam didn't necessarily start selling product featuring its likeness, members of the collective are thinking ahead.
"I feel like [BBB] is doing a great job of marketing themselves," says class of 2018 point guard and JellyFam member Jahvon Quinerly. "Even though everyone has an opinion on Lonzo's dad, he's still marketing his kid the right way. I would consider creating my own brand down the road. That's different—that's one of one."
Quinerly isn't the only recruit paying attention.
"I'm a big fan [of BBB]," adds class of '19 guard Cassius Stanley. "I love what they're doing. I think that the way they approach it with the dad being that outspoken, some kids now think it's a joke. But I think some kids might eventually decide, 'Hey, I want to make my own shoe.' I think it's a great idea and wish nothing but the best for them."
Just a few years ago, the thought of starting a profitable brand without the backing of a retailer like Kmart or Walmart seemed impossible. But in 2017, anyone can easily open up an e-commerce shop and start moving products almost immediately. With built-in social media audiences that can reach millions of people with a simple Instagram or Facebook post, there's less emphasis on conventional marketing tactics and even less of an emphasis on getting product in actual, physical stores from the jump. The ability to instantly access potential consumers via IG, FB, Twitter and YouTube has changed the game.
In the future, if an increasing amount of BBB-esque independent brands pop up and find success, we could see the powerhouse brands and the mom and pop brands working in harmony, so everyone eats.
"Let's say Big Baller Brand really takes off—all it's going to be is mergers and acquisitions at that point," Harrington says. "[Nike, adidas and Under Armour] will just buy those companies and treat them as their own and expand them. That's how I see it happening."
So what do the big sneaker companies think of the way Big Baller Brand moves? At this point LaVar and Co. are impossible to ignore, leading one of the more memorable media tours in recent history. The $495 price tag of the ZO2 became a hot topic, and exact sales of the sneaker are relatively unknown, but both the shoe and the marketing around it has kept the family in the news cycle since the sneaker's debut in May.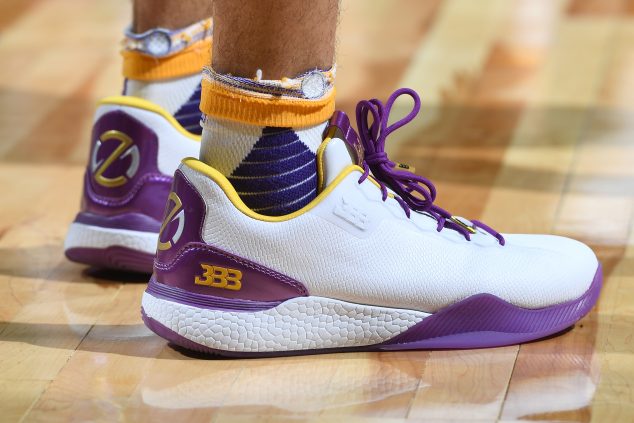 "No brand is dismissing it," DePaula says. "They're all closely watching, and I've heard from several people at multiple brands that they've all had pleasant interactions with LaVar in the past and really like his ambition. From a big-picture standpoint, brands don't consider Big Baller Brand to be a head-to-head competitor, but they're definitely aware of the interest they've generated and are taking them seriously as a niche upstart."
The next year is crucial for the development of Big Baller Brand and the future of player-owned brands in general. If Lonzo finds immediate success as the starting point guard for the Los Angeles Lakers, BBB is sure to take off. And with LiAngelo and LaMelo potentially hitting the pro basketball ranks within the next three years, BBB could have three high-profile endorsers in the League.
While we likely won't see another marketer as boisterous as LaVar, we can be sure that top prospects and their parents and guardians are out there tracking his every move and already thinking about how to utilize the BBB format in years to come.
"You see 16-year-olds already establishing a brand—now they need someone to come behind them and establish some capital to actually push it and make it a business," Harrington says. "Because of social media and the way they can get their stories and ideas out there, I think it's going to happen a lot more. For sure."
Additional reporting by Justinn Delaney
—
Peter Walsh is a Senior Editor at SLAM. Follow him on Twitter at @Peter_M_Walsh.
Portrait by Atiba Jefferson. Sneaker shots via Getty Images.
1,099