Know this: if the status quo had held at Baylor and NaLyssa Smith completed her college career playing for Kim Mulkey instead of Nicki Collen, Smith was still destined to hear her name called early on in April at the WNBA Draft.
Smith is a 6-2 forward who plays bigger than that, with a wingspan that allows her to make life uncomfortable at the defensive end for 4s and 5s alike. Her ability to finish at the rim has been pro-ready since she stepped on the floor to replace injured teammate Lauren Cox and carried her Bears to the 2019 title.
But in Mulkey's system, the many talents of Smith weren't necessarily on display. Mulkey likes her bigs playing at the rim, period. The offense is simplified. And quite frankly, it worked well. However, NaLyssa Smith is capable of doing the kinds of things that make for superstars at the next level, not just the latest center to occupy space for Baylor. So the initial conversation she had with Collen—a tinkerer and players' coach—reflected a new reality for the certain lottery pick.
"I remember explaining to her how I just want to spread the floor," Smith says. "I want to spread the floor and make things more available for me, how I want to shoot the ball a lot more than I did last year. Because last year, I remember I was in the post, mainly. This year, I wanted to expand my game to the three-point line and the free-throw line extended."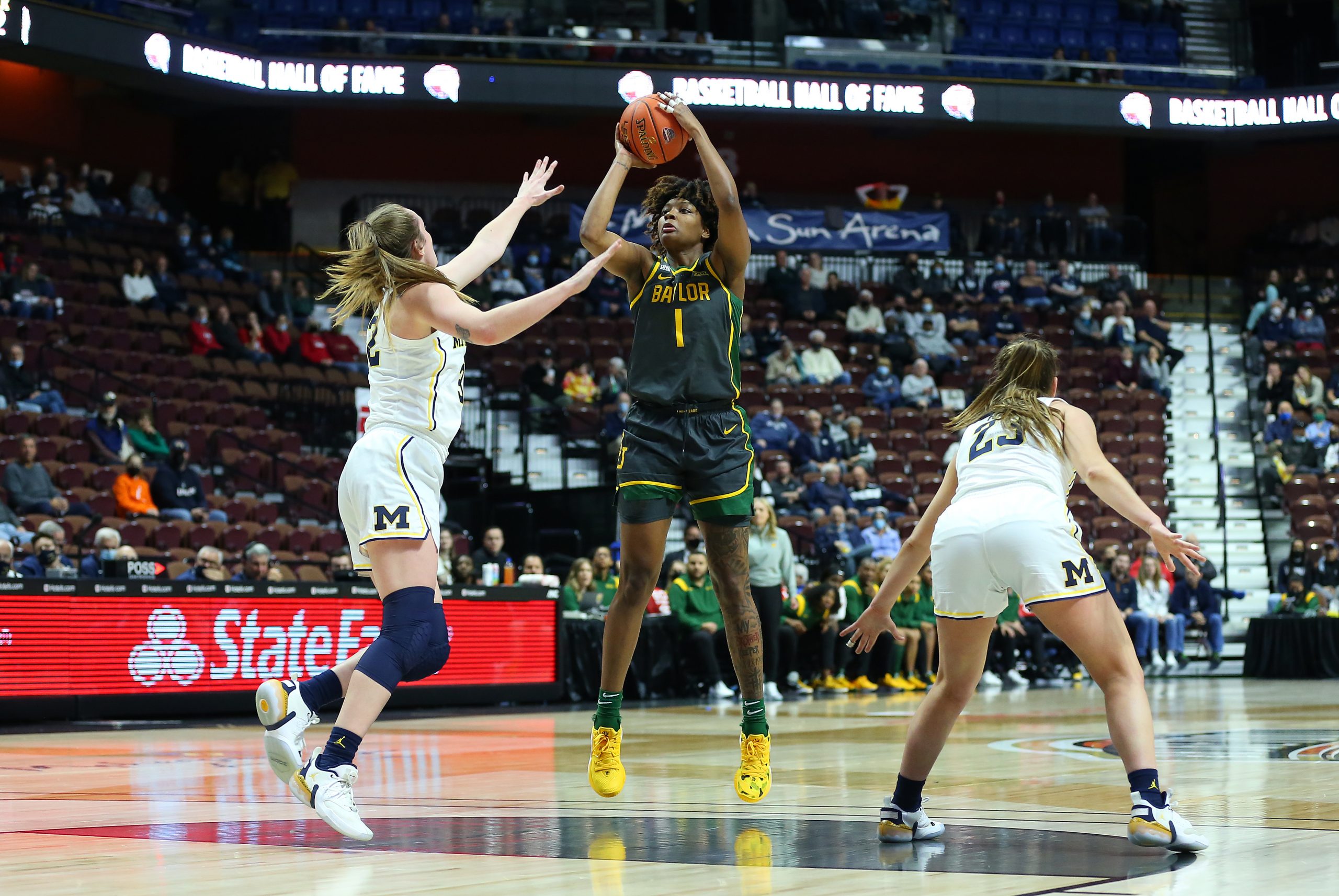 This was great news to Collen, whose free-flowing offensive schemes helped earn her the 2018 WNBA Coach of the Year honors with the Atlanta Dream, before an offer too good to refuse took her to Waco this past spring. Collen had an advantage coming in—she'd spent a lot of time breaking down film of Smith in her role with the Dream, knowing there was a good chance Atlanta would be in this year's lottery. But even so, there were unanswered questions inherent in the system Baylor had been playing.
"I just really wondered, honestly wondered: How good can she be on the perimeter?" Collen recalls. "How good is her handle? Because you just didn't see it. You saw these explosive moments. You're on an alley-oop, you bought an offensive rebound on a turnaround pull up, like actions around the rim."
So, armed with goals that not only would benefit the Baylor Bears but are set to change Smith's trajectory, the two of them got into the gym for summer workouts. And that's when Collen got a chance to get to know the real Smith, the one who has to be on any shortlist for 2021-22 NCAA Player of the Year, and whose season has WNBA talent evaluators dreaming of selecting her in April.
The good news is that playing the kind of versatile big role that the League demands is nothing new for Smith. In fact, it was a departure from her entire basketball life to get marooned in the paint for three years at Baylor.
"I kind of played like the 3 for my whole life," Smith says. "So back at AAU, I was bringing up the ball, shooting threes, free-throw line extended baseline jumpers. It's nothing that's really new to me, right? It's just, freshman to junior year, I just wasn't in that position…Coach Kim [Mulkey], she put me mainly on the block, because she felt like that's where I could excel the most. So coming into this new offense, because of Coach Nikki, it's more freedom."
The daughter of Rodney Smith, who once played a versatile guard/forward role for University of Texas-San Antonio, and high school sprinter Nikki Smith, NaLyssa has always been the kind of player who can crush opponents in a variety of ways.
Usually, the story for collegiate superstars comes down to being asked to do it all. Smith, frankly, has a higher ceiling for how much she's been able to accomplish already without getting the opportunity to show her entire repertoire.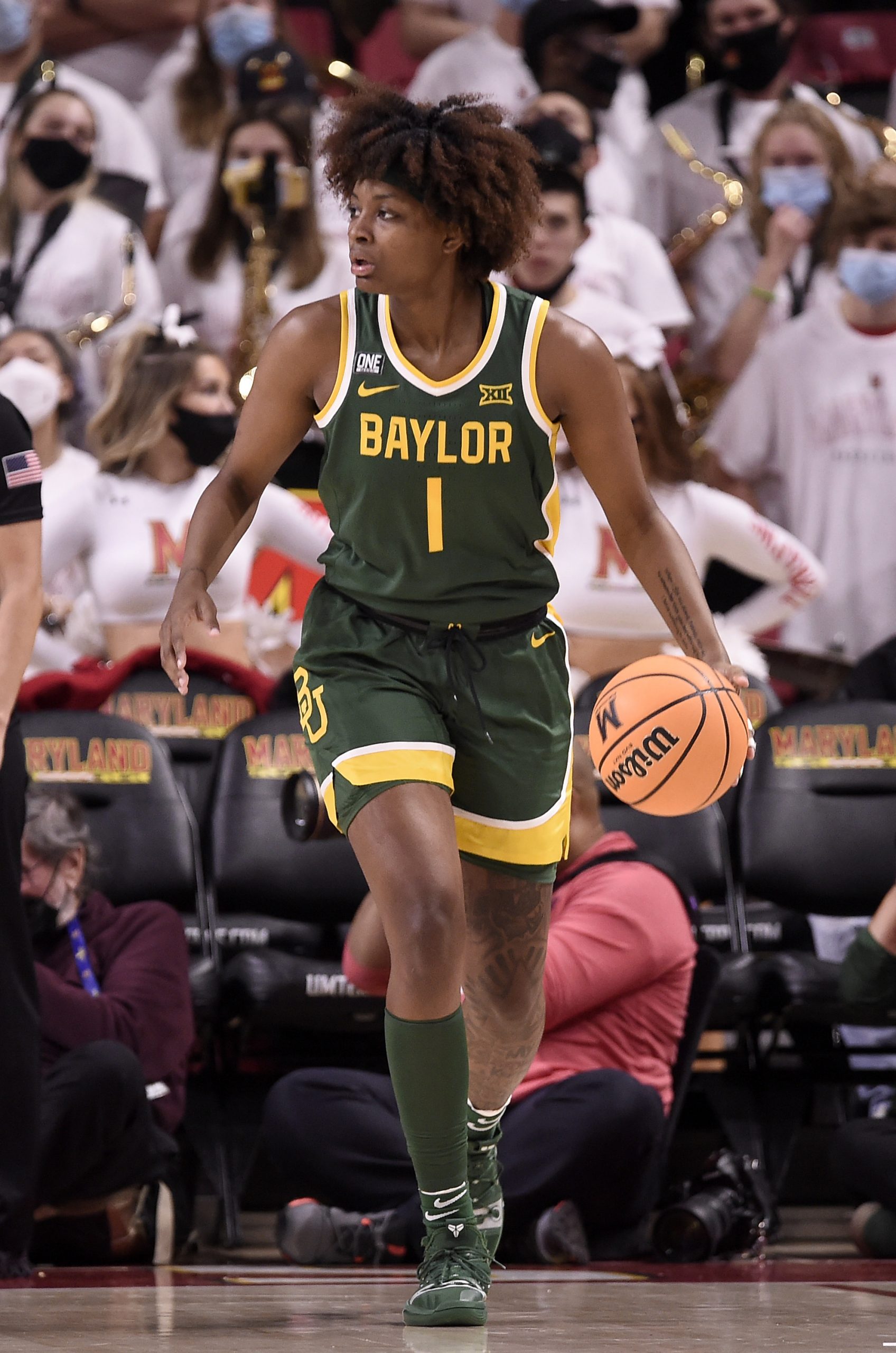 The elite recruit came to Baylor for the 2018-19 season and performed admirably as a reserve big behind future pros Lauren Cox and Kalani Brown, averaging 8.4 points and 5.1 rebounds per game. Yet a better sense of her immediate impact comes in two ways: her rate stats, where she finished the season grabbing a higher percentage of rebounds than either Brown or Cox, and her performance coming off the bench in the title game against Notre Dame, scoring 14 points on 7-9 shooting in a contest decided in the final moments, after Cox left the floor in obvious pain.
Simply put, the Baylor Bears don't win a championship without Smith stepping up, unexpectedly, when they needed her.
"I always feel like you've got to always be one step ahead," Smith says, when asked how she was so prepared for the bright lights. "Like, you can't wait until the day comes for you to want to shine. So I've always been in the gym, always working…transitioning from high school to my freshman year—that's where I put in the most work I ever did in my life, because I just knew it was gonna be a big transition. So I just knew I had to be ready for that moment. When the moment did come, I feel like I was ready for it."
All of which speaks to how effectively she's navigating this transition, too. Collen is asking her to do a lot more, but it isn't affecting her efficiency one bit. In her first 10 games, her overall shooting percentage actually rose from 56.1 to 57.1, and that understates the work she put in—hitting trail threes, stretching opposing defenders out along the baseline, with a touch inside 15 feet that Collen said compares favorably to any big she's ever coached.
Nor is it affecting the other major goal that Smith and Collen set out in their first meeting: averaging a double-double.
"The points are going to come," Smith says, "but the rebounding is really where I feel like, that's where I'm going to take it to a new level this year."
She's not wrong. Smith averaged 8 rebounds as a sophomore and 8.9 as a junior. Through her first 10 games this season, she's checking in at 13.2 rebounds per, leading the country in rebounding—again, with an offense that often pulls her away from the hoop. Well, grab 30.5 percent of the defensive boards, and you can make up for it, although she's improved on her offensive rebounding numbers, too.
There's leadership skills here for Smith, some by example, like the effort it takes to be such an elite rebounder, and other, less box score-driven ways.
Take Sarah Andrews, a sophomore guard and elite playmaker, who's become close with Smith. Not a day goes by, Andrews says, when they aren't on FaceTime together, talking basketball and life.
It's allowed Andrews to flourish Andrews said she decided she wanted to go to Baylor the night Smith took over the 2019 championship game. Andrews figured she'd rather be on Smith's team than have to play against her.
"I think you just see Lyss handling the ball more overall, like, you see in our game, just flourishing," Andrews says. "And, you know, it's something that I do enjoy to watch. I see her developing her game fully for the next level, honestly."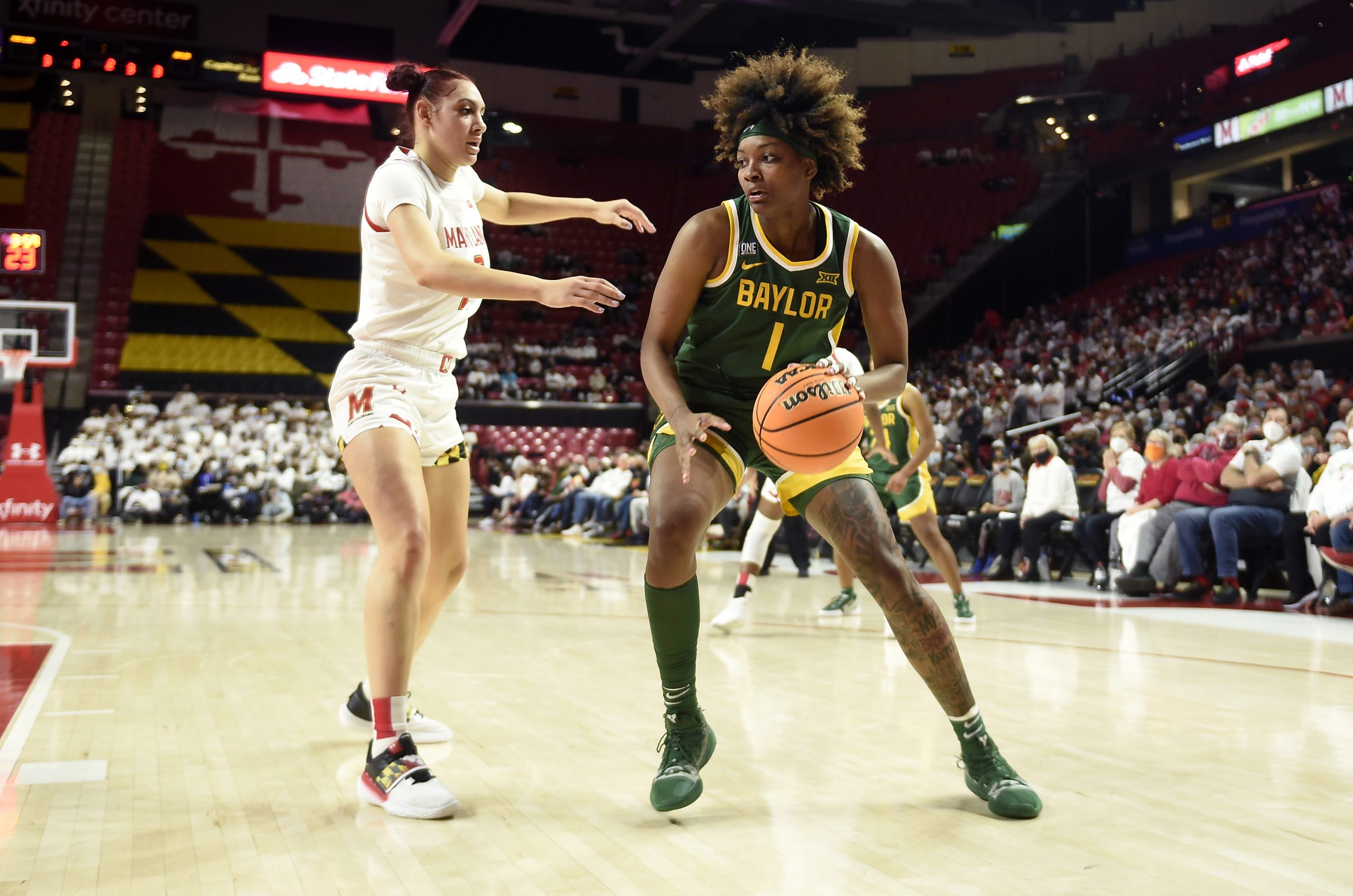 That's the part that's always been on Smith's radar, too: finding ways to become the best—in high school, in college, and then, she hopes, the top overall pick in 2022.
There's competition for that spot: Rhyne Howard of Kentucky was the early leader among WNBA talent evaluators, and both Naz Hillmon of Michigan and Mississippi's Shakira Austin have their supporters as well. All of which makes Smith's evolution this season—or really, her return to what her game has always been, now with professional refinement—so important. It's essentially a one year head start with a WNBA coach in her corner. You see it in moments like her game against Maryland, one of the elite teams in the country with future pro Angel Reese in the middle. Maryland won, but Smith was the dominant force in the game with 30 points and 15 rebounds.
"I think she's showing and having moments where you say, Wow!" Collen says. "I don't think anyone could watch the versatility of her game against Maryland, and not be like, OK, that looks like a number one pick. So I think she's gonna show moments of it. It'll be when she shows the consistency of it. Then there will be less question marks on whether she's one or two in my mind."
That is the final set of markers the duo laid down. Collen, at Big 12 Media Day, called her, flat-out, "the best player in the country."
So as Smith envisions what that moment will be like next April—all dressed up, her parents and her brother, Rodney Jr, by her side, her future laid out before her and a WNBA team's hat handed to her—she sees it as that final, unequivocal answer to everyone who ever questioned her.
"I probably won't even sleep that night," Smith says. "Because when something big happens, it's hard for me to sleep. So I know the night before draft night, I just know I might not sleep because I'm gonna be so anxious…I feel like draft night, that's when it's really going to hit me—that my time is coming, finally."
---
Photos via Getty Images.