In 1963, hundreds of thousands of Black Americans marched in Washington, DC, with one of the country's Freedom Riders John R. Lewis' words ringing in the background: "Get in and stay in the streets of every city, every village and hamlet of this nation until true freedom comes, until the revolution of 1776 is complete." Today, the same holds true for one of the biggest activists in the WNBA, Natasha Cloud.
As the game clock dwindled on October 10, 2019, Natasha Cloud and the Washington Mystics achieved what they had fought for all season long: their first-ever WNBA championship. After a grueling five-game series, Tasha stood atop the media table on the court reciting the verses to "Dreams & Nightmares," the ultimate championship song for a kid from Philly. A year filled with blood, sweat and tears resulted in what every young hooper dreams of.
When she walked away from the court that night, she had no idea what was to come. In the months leading up to the 2020 season, where the reigning champs are meant to defend their title, the world changed. We saw one viral disease spread across our society, and another disease—one Tasha has known to be alive and well for as long as she can remember—be exposed: racism.
On May 25, the world watched as those sworn to protect murdered George Floyd. For eight minutes and 46 seconds, America got a glimpse of what it's like to be Black in this country. Since then, it's been nearly impossible for Cloud to direct her attention to anything else. It's a reality that she's lived day in and day out her entire life. When it came down to whether or not she would play in the 2020 season, there was a lot on her mind beyond the game.
"It was just really hard to focus with Breonna Taylor being murdered and her murderers still not being locked up, as well as George Floyd's murder," Tasha tells SLAM. "It's really hard to think about basketball at this point, and regardless of my status as a WNBA champion, when I take that uniform off, this is my reality every single day."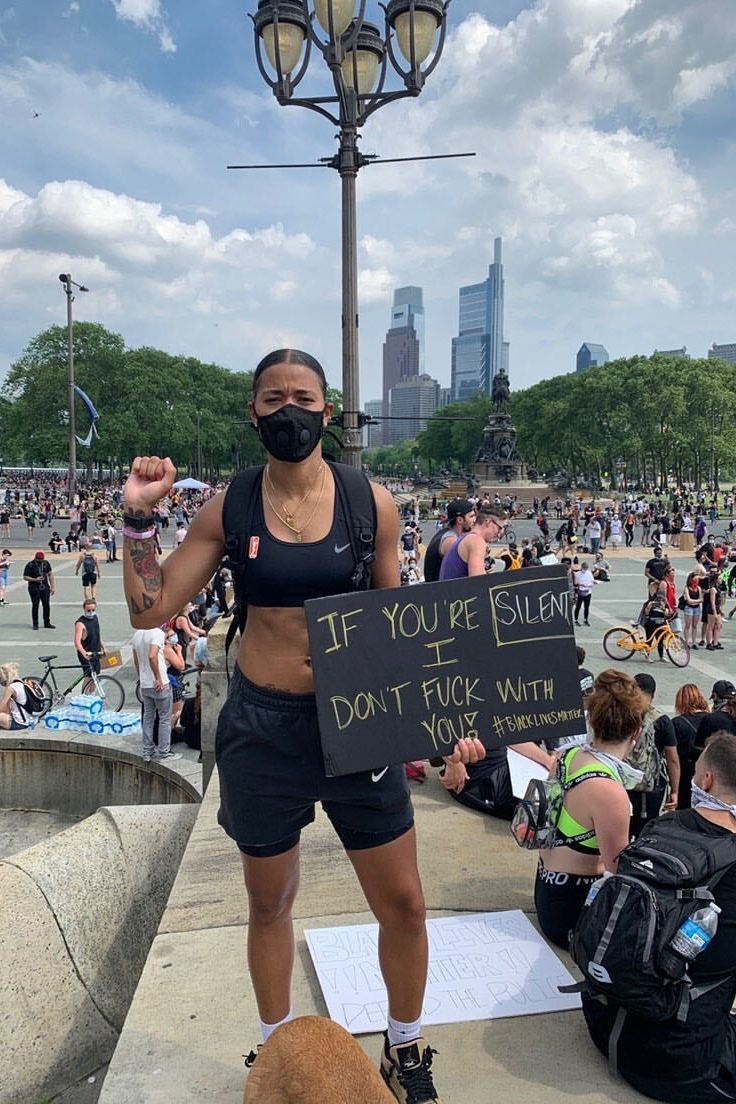 For Tasha, that reality revealed itself yet again recently.
Earlier this month, the 2019 champion had just signed a huge deal with Converse and was looking to make a new purchase. Excited to celebrate her triumphs, she made her way to a local BMW dealership in her hometown of Philadelphia. The minute she stepped in, before having even spoken to anyone about what she was looking to buy, the salesman directed her to the pre-owned section.
"I could not believe this white man. His manager actually heard him say it to me and saw my face and was like, I'm so sorry. I looked at the white man and said, 'Ask me what my fucking job is? I'm a professional basketball athlete. Fuck you, take me to the new section. You know what? I'm going to leave and go to a different dealership because I don't want my money being spent here.'"
Even through all of her accomplishments on and off the court, Tasha faces one of the toughest plights in being a Black woman in America. Over 50 years ago, Malcolm X spoke these famous words: "The most disrespected person in America is the Black woman. The most unprotected person in America is the Black woman. The most neglected person in America is the Black woman." They are as true today as they were then.
"It's been really tough. We're underappreciated," Tasha says. "We're just expected to take hits on the chin, to stand up and speak up while being a beacon of strength and hope and there is no one checking on us."
There are no boundaries in this world of racism. No matter how subtle or blatant it may be, it is the ugly truth that lies within America's history. For Tasha, it's what drove her to a greater purpose when making a decision about the 2020 season. It's a decision that weighed on her heavily. In the end, she chose to dedicate herself fully to social justice reform, opting out of the season.
"For me it was, How can I be impactful in the bubble when I'm focused on winning the championship?" Tasha says. "I need to be a champion of social reform, and that's what led to my decision, wanting better for not only myself, my fiancé and my future children, but also for our community in general. Understanding that this was the time to do so. By opting out, I would be able to be 100 percent committed to it and not doing the one foot in, one foot out thing."
This commitment to social justice is nothing new for Tasha, who has been actively involved within the DC community for years. In 2019, she organized the Mystics media blackout in response to shootings near Hendley Elementary School in Ward 8. The organization backed her as she made a concerted effort to direct attention to the gun violence surrounding youth in the DC community, and she has continually used her platform to call for social change on pressing matters.
"I just want to be a good person, and I want to be able to help where I can. I do take that responsibility in understanding that I have a platform and want to use this game in every way I can to give back to my community," she elaborates. "At the end of the day, if all I'm doing is winning championships in DC, then I failed. Making changes within our community, helping these kids in any facet, helping progress women's rights in America, those are the most important things to me."
When thinking of Tasha's march toward a more equal world for Black Americans, H.E.R.'s eloquent lyrics come to mind: "Generations and generations of pain, fear and anxiety; Equality is walking without intuition." That's exactly what Tasha is, and has been, fighting for. To create a world where future generations don't have to fear walking outside of their homes simply because of the color of their skin.
One thing many can agree upon is that this time things are different, and professional athletes across the globe are making their voices heard like never before.
"We have the ability to be the voice for the voiceless. Whether you signed up for it or not, you as a professional athlete inherit that responsibility of being a role model," Tasha says. "You inherit that responsibility of being a voice; and so I've always had a mindset of not wanting to be under a microscope as a basketball player, I want it to be a microphone.
"It's really crazy when you see how much of an impact we have by just simply speaking up. It's also a beautiful thing, because we're role models for young kids," she adds. "The next generation of kids are going to be the ones that really change things. Our generation is really just trying to pick up the pieces from the generation before us that failed, and if we can create, ignite, change and give hope and motivation, then you're seeing our impact."
Not only has Cloud used her platform to bring attention to the systemic racism in our country, she's also taken her voice to countless marches in the past few months. In June, Tasha led the march in the nation's capital along with the Washington Wizards.
"The current climate of our country is extremely saddening, but I've seen periodic times of its beauty. What I mean is, when I went to a march in Philly and another in DC with the Wizards, you see people standing up. You see our white counterparts stepping up and using their white privilege, understanding they have it and that they're doing a disservice to the Black community if they don't use it in order to enact change. Those are the beautiful things when you go to a march and see all people from all different walks of life coming together regardless of race, religion, sexual orientation, whatever it may be. There's no bias."
Being part of the best women's basketball league in the world is something that helps her every step of the way.
"The beautiful thing about being a part of the WNBA is I have sisters from every different color that continuously hold me up when I need it."
Tasha has already become a part of history for Black women in this country, becoming the first female to sign with Converse since they re-launched their basketball program after nearly a decade.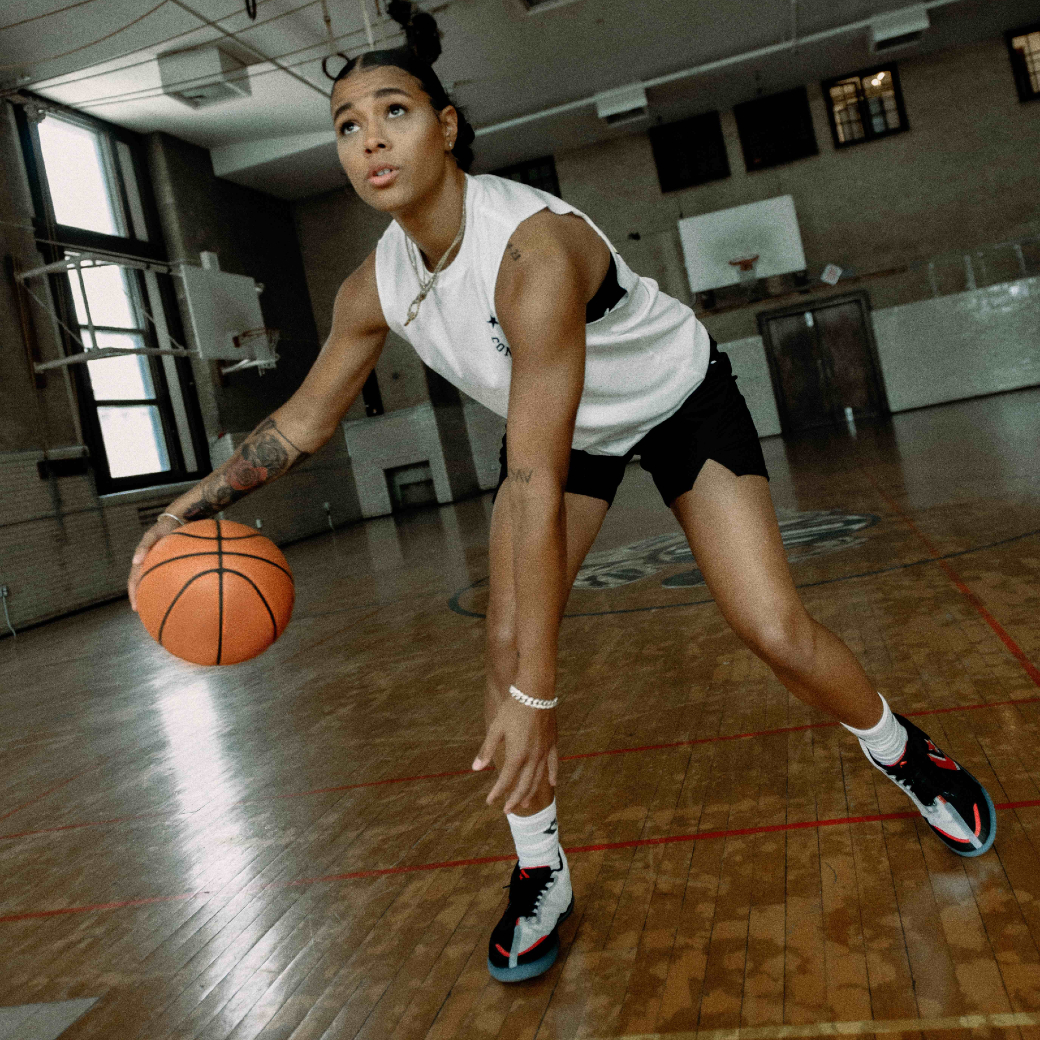 "That's huge. That's a win for our community, that's a win for every little Black girl out there, every little minority girl out there," Tasha reflects.
Through the highs and lows of what the late Rep. John Lewis called the "struggle of a lifetime," Tasha has stayed true to who she is.
"I'm going to embrace being proud to be Black, to be a woman, to be bisexual. I'm going to embrace every facet of me so that you can't dim my light, and when you have that type of mindset, and that type of motivation to keep pushing forward, it becomes a snowball effect."
As she continues building out what this next year looks like in a new environment holistically dedicated to social justice reform, she has a major message to young voters as we near the election: "Understand the power that y'all have. Your age does not define how much weight your voice holds or how much weight your vote holds. It's our responsibility to do what we can to better this country and that starts with voting and making sure we have the right leadership to lead us that way."
—
Camille Buxeda is a Senior Content Producer at SLAM. Follow her on twitter @CamilleBuxeda.
Photos via Getty.