Fans crammed into any open space available. They stood side by side, packed in uncomfortably under the blistering sun. They peaked through tiny holes in surrounding fences. Some sat perched on a neighboring building, their feet dangling freely from dangerous heights. Others climbed close by trees and clung to the branches.
On summer days at the Rucker in Harlem, NY, when stars graced the famous blacktop court, this was the scene you'd encounter.
This was, and still is, what New York basketball inspires.
It's the kind of spectacle that has rendered the Mecca one of the driving forces of basketball culture. Parks throughout the city have long been the home of some of the most authentic and entertaining hoops on the planet.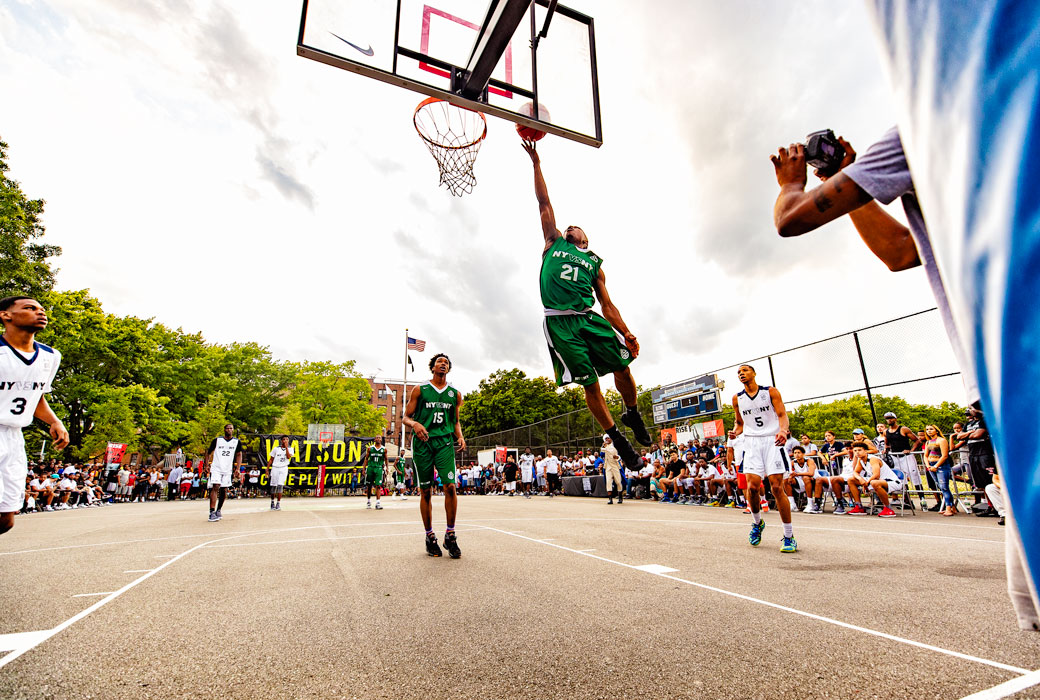 An extensive list of legends—from Kareem Abdul-Jabbar to Bernard King to Chris Mullin to Stephon Marbury—first made their names on the playgrounds of NY. This is where they proved themselves, where they honed their skills, grew their confidence, developed their swagger. This is where their journeys began.
And for so many others, dreams of following in their footsteps live right here.
—
For a second consecutive year, Nike has set the stage for a new group to emerge.
New York vs. New York is a platform built to highlight the best talent the city has to offer. The basketball landscape in NY is admittedly divided, as elite athletes are spread out in several different leagues across the five boroughs. These leagues do not typically mix, and such boundaries have led some to believe that the overall level of ball in the metropolitan area is on the decline.
The vision of NY vs. NY is to dispel this notion by bringing all of the top high school players together under one umbrella. Six distinguished Nike/Jordan sponsored summer leagues—Watson (Bronx), West 4th (Manhattan), Lincoln Park (Queens), Gersh (Brooklyn), Dyckman (Manhattan), and Tri-State (Manhattan)—were tasked with assembling an "all-star team" to compete in one massive tournament. Coaches were selected and tryouts were held for each squad, with players ranging in age from 16-19.
"New York City basketball is the lynchpin between culture and the community," says Josh Benedek, Media Relations Director at Nike. "Our goal was to hand-pick the best players from the tristate area to highlight their skills to NYC neighborhoods, where basketball matters most."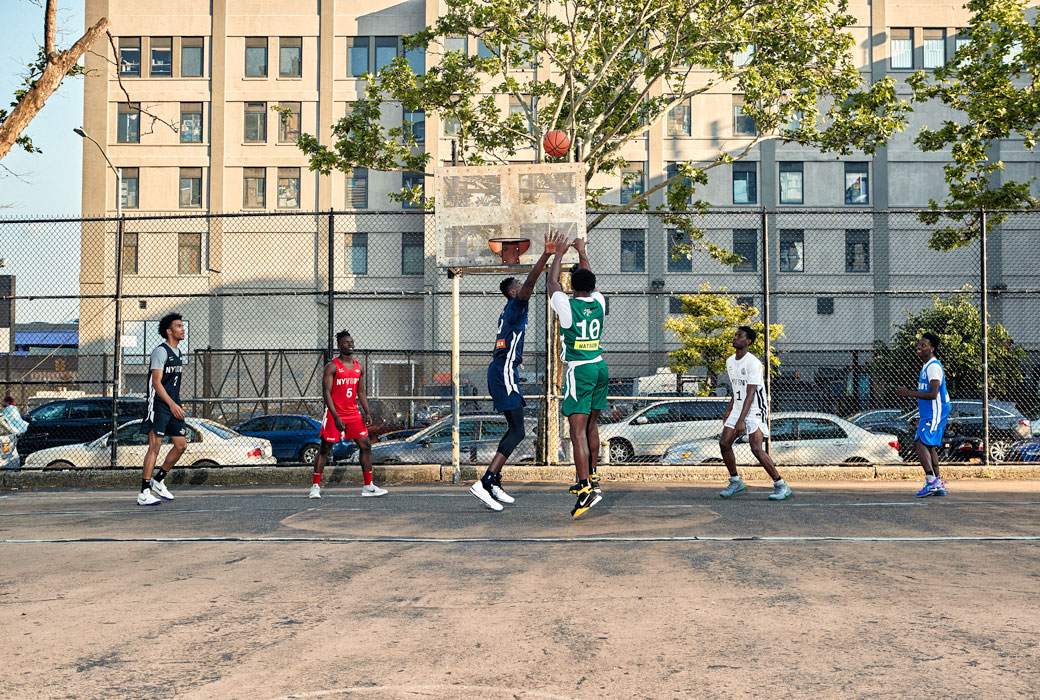 For these hand-picked hoopers, NY vs. NY provides a golden opportunity to reveal what they can do.
"We feel this is a great time to accentuate the incredible basketball talent in this city. Over the last few years you are starting to see some kids make an impact in the college and professional level and that's just the tip of the iceberg," Benedek continues. "Through NY vs NY we are empowering the high school basketball player and giving them a platform to showcase their skills."
From the end of June through early August, a new park plays host to a slate of games each week of the season. Rules vary based on where the games are held. When NY vs. NY visits Lincoln Park, for example, it follows the rules of that specific league, ensuring the program stays true to the streetball culture that influenced its creation. Only the playoffs, which begin on August 2 with the semifinals, will have typical high school regulations.
Various NBA players and celebrities are scheduled to appear at each event, and newsstands selling dope Nike merchandise will be set up near the venues. There will be moments during the summer when Nike offers "Just Do It" clinics for the local community, helping young kids from the region improve their fundamentals and strive to one day tear up the playgrounds.
The inaugural NY vs. NY in 2017 was a huge success. Massive crowds gathered to watch the tournament and prominent players showed out. The finals were held at Dyckman Park in upper Manhattan and icons such as Carmelo Anthony and Isaiah Washington rolled through. Bronx-born rapper A Boogie Wit Da Hoodie got the evening started with a performance.
The game, between Gersh and Dyckman, was announced by illustrious emcee David "Cha-Ching" Teele, who was rocking a Michael Jackson "Thriller"-themed fit. In the end, Gersh represented for Brooklyn with a narrow victory over the home team.
Now, as a new chapter of NY vs. NY takes over the summer, it's time to see if Gersh can defend its title.
After six weeks of competition, another champion will be crowned, another park will gain (or retain) significant bragging rights, and New York will have once again proven it is the true mecca of basketball.
And of course, one crucial question will have been answered:
Who from the city got next?
—
Alex Squadron is an Associate News Editor at SLAM. Follow him on Twitter @asquad510.
Photos by Jon Lopez.