When will the season resume? Should I go home? What do I do without basketball?
With leagues suspended amid the coronavirus pandemic, these are just a few of the questions that American basketball players overseas are now asking themselves. Their experiences so far have been defined by confusion, isolation, patience, NBA 2K, countless FaceTimes and a lot of unknowns.
From Italy to Germany to France to Israel, here are the situations that guys are currently navigating:
—
SLAM: What's the current state of the city/country you're in? Can you provide specific examples of the scene?
James Blackmon Jr (Guard for Aquila Basket Trento of the Italian Lega Basket Serie A, living in Trento, Italy): What happened was, we were still practicing and I had heard about other cities becoming a red zone—like Milan. I'm very close to Milan and Venice and other cities like that—where you can't leave or come in. That's when I first started hearing about it because there weren't too many cases where I'm at and I don't think there is still. But a couple of days later, the whole country went to that. My advice from the team has been don't leave the house unless you're going to get groceries, so I've been following command.
My apartment is in a usually very busy place because there are a lot of shopping and food areas around here. I look off my balcony and there's nobody outside. All the restaurants around are shut down and closed. That's really what I see. Going to the grocery store, it still looks like there are a decent amount of cars on the road. At the grocery store, there was, like, a long line, single file. They're letting one person [in at a time]. One person comes out and the other one comes in. They're keeping it like that… It's pretty organized and when you go in the grocery store, you have to be a certain distance away from everyone and the same in the line, you have to be a certain distance away from the person in front of you.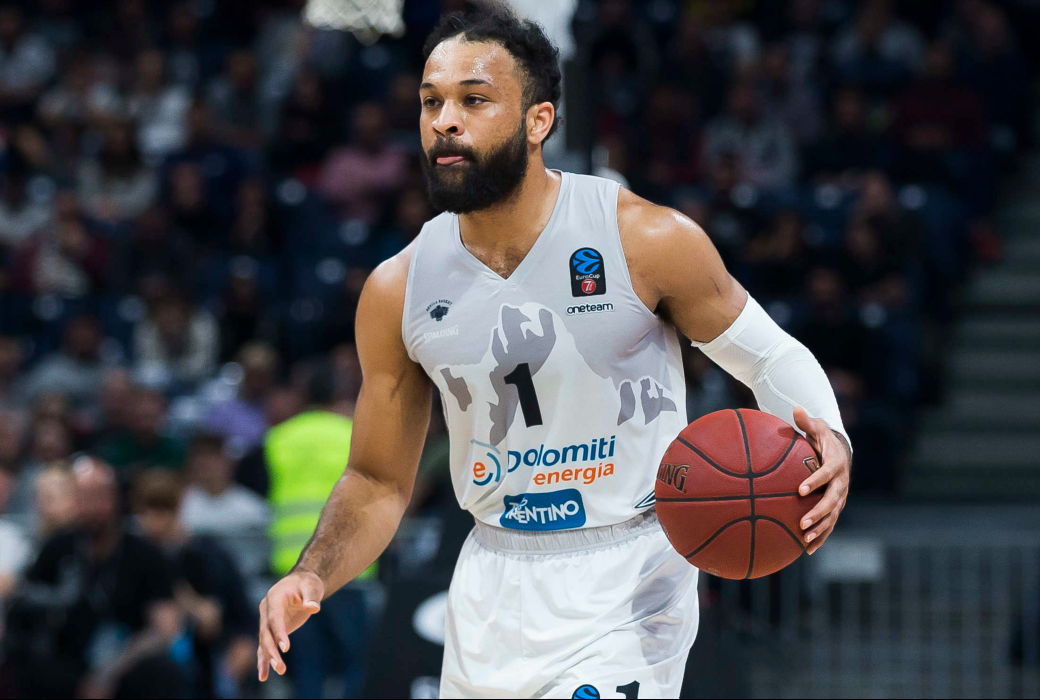 Maurice Watson (Point Guard for Forli of the Italian Serie A2 Basket, living in Forli, Italy): I'm in Forli, Italy, which is about two hours from Milan, 45 minutes from Bologna, an hour and a half from Florence, about three to four hours from Venice. I'm right on the cusp of the major cities… We are technically under complete lockdown. The weird part is that a lot of cities are affected, but Forli is not one of those cities. Thankfully, there are very few cases in Forli, which is one of the reasons I'm okay with still being here. You're allowed to leave the house to go to work but you have to have a note that says you're going there. The supermarket and the pharmacies are the only things that are open. The mall is closed, but there's a pharmacy and a supermarket in the mall so you can go there for that. Other than that, it's really quiet here now. You can't be out after 6 pm because that's when everything closes. The whole country is really in a state of panic.
Peyton Siva (Point Guard for Alba Berlin of the EuroLeague, living in Berlin, Germany): The situation here [in Berlin] isn't so bad. The league has been suspended, but the city is not on lockdown as of now. We are free to do what we want but just stay away from crowded areas. So right now, we aren't in as bad of a situation as it is in other countries.
David Lighty (Guard for ASVEL of LNB Pro A and EuroLeague, living in Lyon, France): I think we're in the beginning stages of lockdown. The last I heard we were a level 3, that's what they told us Saturday, and the highest level is 4. So tomorrow, we're supposed to have a meeting and get some more information on really what we can do and how some players are getting home and stuff like that [Via a follow-up message, David confirmed to SLAM that players are being allowed to return home. According to David, the team "hopes the season will start back and [they] can come back and finish a championship run, but it's looking less likely to happen."]. After yesterday, they closed down all restaurants, cinemas and shops, so only grocery stores are open. I believe by the end of the week, they're talking about not even going to work for a couple of weeks. Everybody has to stay home, only to the grocery store or to the pharmacy or something like that. Like, a curfew type of thing.
The masses going to the grocery stores, buying up all the toilet paper and things like that—I think we're getting to that now. I would say Italy was the craziest. They are literally on lockdown, code red. People couldn't get in and out. I have some teammates and friends who play there and the crazy part for us, we played against Madrid and we found out a guy had tested positive for it. So everyone was like, Alright, what do we do now? Do we have to quarantine ourselves? You really only get tested if you have the symptoms, that's basically what they're telling us. We went through the whole protocol with that and no one really showed symptoms so we were told to stay isolated.
Shelvin Mack (Point Guard for Hapoel Jerusalem of the Israeli Premier League, living in Jerusalem, Israel): I've been here [in Israel] for about three months. I started the year in Milan. Everything in Jerusalem is slowing down. [Right now], just no big groups of more than 10 people. Nothing too crazy has happened here. Groceries and everything are still on the shelves.
SLAM: What's the deal for the rest of the basketball season? Do you know what the plan is going forward?
Blackmon Jr: That's what I'm really waiting on because two weeks [the league has announced a suspension of at least two weeks] is a long time. It's only been two days and it's been tough. That would be the longest time, for me, without touching a basketball or going to the gym, for sure. I've definitely been getting into some new things. I've been reading a lot and writing as well… The first day, I was going back and forth with the GM. I asked him if I could even go to the gym by myself and get one ball. He basically said that I should stay at home.
The date is set for April 3 when everything's supposed to get back. That's what it's set at right now, but just based on how it started and Italy is one of the main places [for the outbreak] right now—I looked at a little chart yesterday and it looked like it was just getting worse. I'm not sure if two weeks will put an end to it.
Watson: We actually haven't practiced for about a week now. Ever since they put the entire country on lockdown, we haven't been practicing. But before, it wasn't really [affecting] us, so we were still practicing even though they were canceling games. Now, they're canceling practices and workouts. They closed the arena, the weight rooms, every park. So right now, the last seven days have been a little hard for me, because even though we didn't have games [before], we still had practice. So I could still play, get better, get some work in. These last seven days, I haven't left the apartment unless it was to go to the market, which is across the street.
I've been struggling the last two to three days because I'm fearing now that eventually it will be that I can't come back home [to the US] until who knows, if the airports shut down or certain airlines shut down. And my team, and the whole A2 division, wants to finish the season. I feel like they're trying to prolong it. They're trying to wait to see if the death toll goes down and it's not going down. So each day, I'm still here. And that's the hard part.
Siva: Right now, the basketball season has been suspended. Our domestic league games are supposed to resume in two weeks. EuroLeague is postponed until April 11. It's tough to say when the leagues will start back up, especially since more and more cases are being discovered each day. I hope we are able to finish the season out, but it is looking unlikely.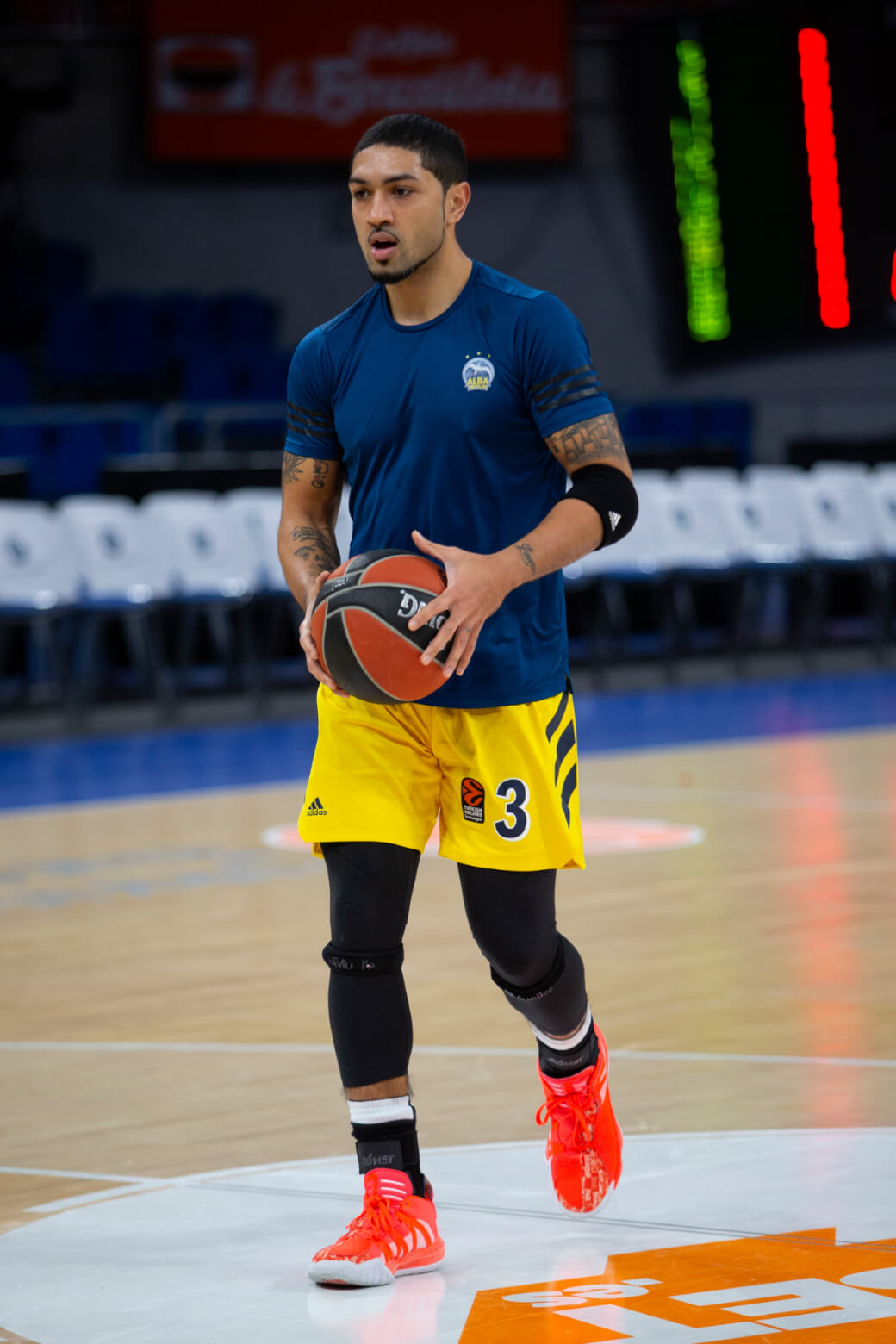 Lighty: That's the limbo part. The first couple of days, we would workout and then you get more information on—you probably shouldn't be training together and things like that. So we stopped that and they gave us the weekend off and said we would gather back up on Monday and see what everybody came up with, talking with the presidents of the league, of the country and of EuroLeague as well. Going from there and seeing what all the info can lead us to, because this is a first time for everyone. Everyone is in limbo…
Right now, the official word was that we would start back up again April 2. But the chatter that I'm getting from everyone is that we're probably going to cancel the season. That's what it's looking like it's going towards, but it's not 100% sure yet. By tomorrow, we'll know more. And then every day, every week, something changes. You get more information on the virus and how to contain it and what's best. So we basically go from there.
Mack: As of now, the season is on pause. I have a gut feeling it will be pretty hard to get back to playing this season.
SLAM: How much more difficult is it being in a foreign country at a time like this?
Blackmon Jr: It's super difficult, but talking to my family and stuff [in Indiana and Atlanta], they're like, 'You got to take this as a positive.' Like I said, I'm really getting into a lot of reading, I started a real estate course about a month ago and I've been doing a lot more of that, because with practice and stuff I don't get a chance to dive into things like that. And also just talking to people who I usually don't have a lot of time to talk to.
Watson: With the Italians, they can drive three hours to Rome where they're from or to Sienna or Venice. They can drive home. Me, I have an eight-hour trip. I have to fly and go through customs, this and that. In Amsterdam last year [where Maurice played for ZZ Leiden], they spoke mostly English as well. Here, it's very little English. So I can't read the news. I can't read what they're sending out. I've been feeling like I deserve individual communication. Even if you have no news, to reach out to me and tell me you have no news but you're trying. We had a team meeting last week and it's been six days and I don't have any news. I'm not getting called or getting updates. I get sent home workouts from our strength coach. It's kind of tough because you want to be ready to play and you love basketball, but at a time like this, it seems like the team is really gearing up [for the season to continue]. And I don't think it will, in my opinion. All I know is, everything is shut down until at least April 3 because it's a 30-day lockdown.
Siva: It's not as difficult for me because my family is with me and the city of Berlin is nice. Now, if my family was back in the states, it would make this time very difficult. The way our team management is handling this situation has been better than expected. They have taken into consideration the players.
Lighty: For me, I've been playing for awhile now. I'm used to France. I'm used to [being] here, so it's more relaxed and chill. But rookies, guys where it's their first year over here or with a new club and they don't know what to expect, I think it might be a little more hectic for them for sure. And I should say guys with families. My family just left from over here literally on Thursday. We were all nervous like, Are they going to get let into the country? Trump put the ban on Friday. We didn't know what was going on with that, if they were going to get quarantined when they get back and things like that. Luckily, they made it in okay. For me, it's just about safety now, make sure I don't have it, and if I come back home, not giving it to my friends and loved ones.
Mack: It's not difficult here for me and my family. Hapoel Jerusalm B.C. has done a tremendous job of taking care of its players. I feel very comfortable.
SLAM: Did you consider coming back to the US? Would you prefer for there to be a more definite call about the season so you can decide where to go?
Blackmon Jr: I don't know how other situations are. I've been seeing a lot of different players leaving from this league and things like that. But for me, my agent's advice, especially with how my team pays right on time and on cue with everything and still doing that, his advice was just wait it out.
Watson: There's two things with that. One, I would love that clarity. Like, Hey listen, we think we might not play until the middle of April, maybe even May, but that's what we're thinking. But then there are other teams in other countries, where the situation isn't as serious as here in Italy, and they have either canceled their season or their Americans have been allowed to go home for two to three weeks until they figure it out. I haven't specifically requested to go home, but my biggest thing is, I have a family, a wife, a newborn. And they're not with me. I'm not with them. I'm fearing that if I request to go home, there could be some financial consequences. There could be some consequences if I do get home and then try to fly back to Italy and I can't, so then I can't fulfill my contract. That's really why I haven't tried to come home. If the team wants to send me home, then that's a different thing. If the season's canceled, then that's different. I'm trying to be as compliant with my contract as possible but it puts me in a tough spot mentally just because my family's worried. They're worried about me. My parents. I'm not spending time with them just because of some fears that I have about the lasting effects it could have if I'm not compliant. And Forli is a safe city, so it's easier to be OK for the family. But it's still hard for them.
Also, I'm a two-year pro. Maybe if I was eight or nine years in and I had more money saved, had a better reputation built, maybe [going home] would be something I'd be willing to risk. But I don't want to risk my reputation for next year, I don't want to risk any negative effects or mess up my reputation with this team either. So there's a lot of things that pop into your head when you think about situations like this. I just know it's tough on every side.
SLAM: Does the pandemic change your outlook on your career at all?
Blackmon Jr: For this year, I just want to be safe, first off. Put the health first. With this going on, it's got my family worried and a lot of people worried about me so I just want to make sure I stay safe. I really haven't looked at next year or anything that's ahead really, just focusing on day-by-day and what happens because I really don't know what's going to happen.
Siva: This doesn't really change the dynamic of my career. I will still play basketball if it's available and try to provide for my family. My path isn't to the point where I'll be retiring or anything. Just have to continue to be smart with my money and take care of my family.
Lighty: It brings reality to you. Like, life comes at you fast, that commercial. If basketball stops, you got to have other things lined up. What "Beast Mode" said, you got to take care of your chicken. That's something that's real. It really comes to you. I think that's one thing a lot of guys are trying to figure out as well—if their clubs are going to uphold to their contracts. If they say they're cancelling the season, does that mean they get the rest of their checks or not? Things like that. For sure, there are a lot of unknowns.
Mack: It just shows that any moment can be your last and there's more to life than basketball.
SLAM: What have you been doing in the meantime?
Watson: I've been trying to play a little FIFA, a little 2K. I've been cooking more. I have mostly spent my time on FaceTime. My baby is six months old so I need him to be able to see my face everyday a lot, so that when I come home he remembers me. I've been cleaning. I've even started packing, just in case. I wear the same three to four outfits, so whether we play or not, I'm going to be packed up and ready to go. I've been getting some requests to start writing a book about my time on from Creighton to being a pro, so I've been brainstorming some ideas about how many chapters I want to have, what I want to discuss. I've been reading a book called The Champion's Mindset because I want to see how they write a book, what form they write it with, the order. I've just been trying to educate myself a little more, also about contracts. A lot of different things. I don't know if I'm going to get on TikTok [laughs].
Siva: I've been staying in the house with my family binge watching a lot of movies. I'll start working out again tomorrow because I still need to be ready to play if the season starts back up. In the future, I plan to continue working out and staying ready until they announce our season is officially over and then hopefully go home.
Lighty: I caught up on some sleep [laughs]. Didn't wake up until about 2 pm. But yeah man, especially at this time of year, [we're usually] getting ready to finish up the season, getting ready for a playoff push. You start locking in a little more. I'm kind of, like, in awe. What do I do? I don't really know what to do when I come home. There's confusion a little bit. I'm going on ten years playing now. I'm not used to this at all. So really, what's next?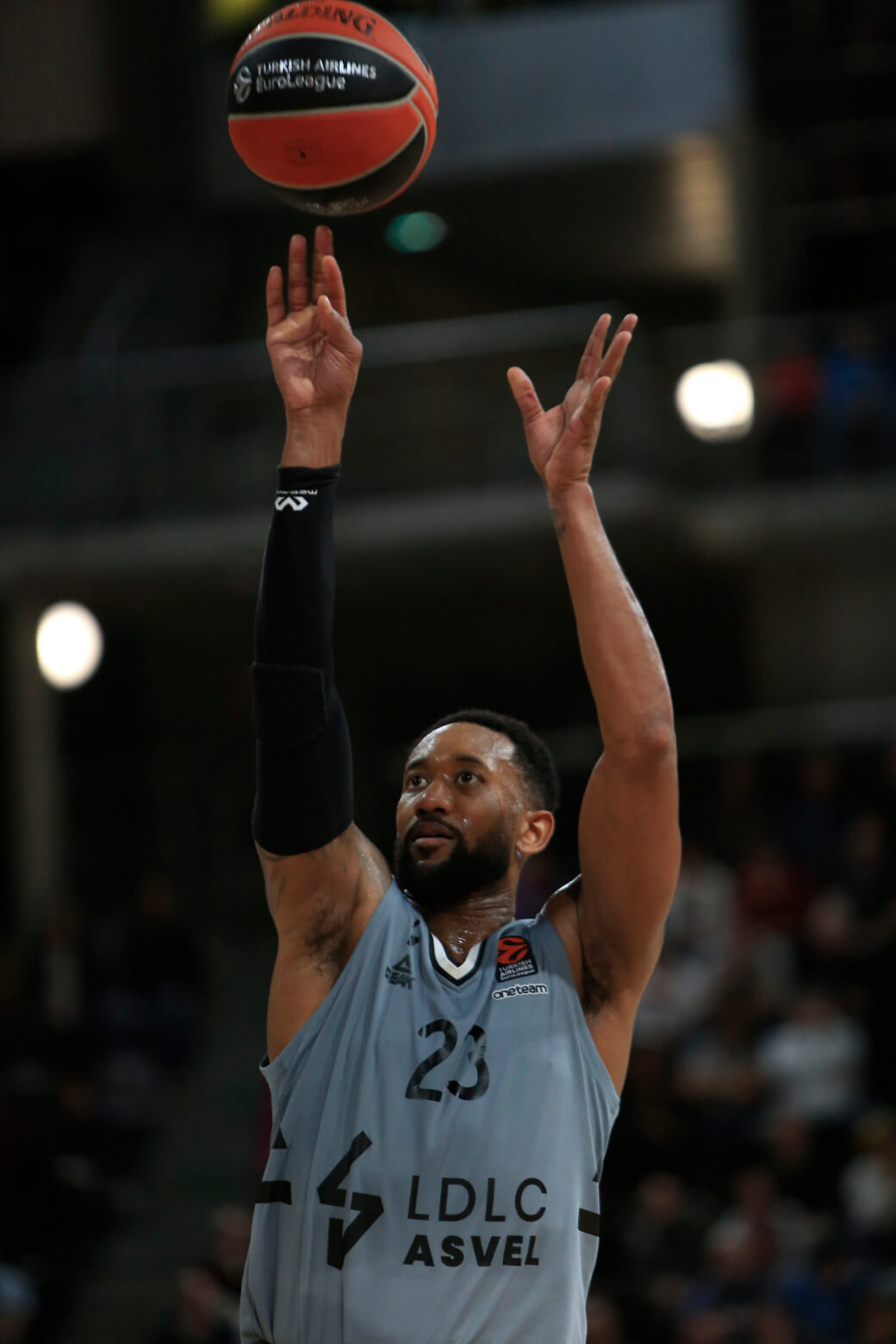 Mack: I've been spending a lot of time with the kids and wife. I think we're planning on going back home to the states.
—
Alex Squadron is an Associate Editor at SLAM. Follow him on Twitter @asquad510.
Photos via Getty.