Sunrise in Miami.
A black sky is starting to give way to a blazing orange ember horizon. Biscayne Bay's coming into focus and the breeze is picking up off the water, rolling through the air with some bite. The view of the Bay, clear and wide, is beginning to trail up into the quickly changing sky, which is now forming into a sharp blue. It's still just a little chilly, but the city's already up on this Monday morning in early March. There's some traffic on I-95, breakfast spots have their doors open, dogs are out for their walks and life's moving along like a song, like all the famous anthems about these beaches, clubs and people are actually true.
It's the sunlight that's different down here. It reacts to every corner, every turn, every move. It follows with each person, giving them their own spotlight, but still it somehow lights up the whole city at the same time.
The sunshine is stunning in Ray Allen's backyard. It's radiating off the sand and the water that's part of his property, bouncing off the house doors and furniture that dot the space. And when he pulls out his Air Jordan XI PE, the sunlight catches the toebox's patent leather angelically.
The two-time champ has his one-of-ones out because he's come to understand the significance of history. His post-playing days have given him perspective on how much of an impact basketball and sneakers have on people. His travels around the world have let him see firsthand just how big the game has become and how many people love the kicks he played in. And he wants to make sure that's documented.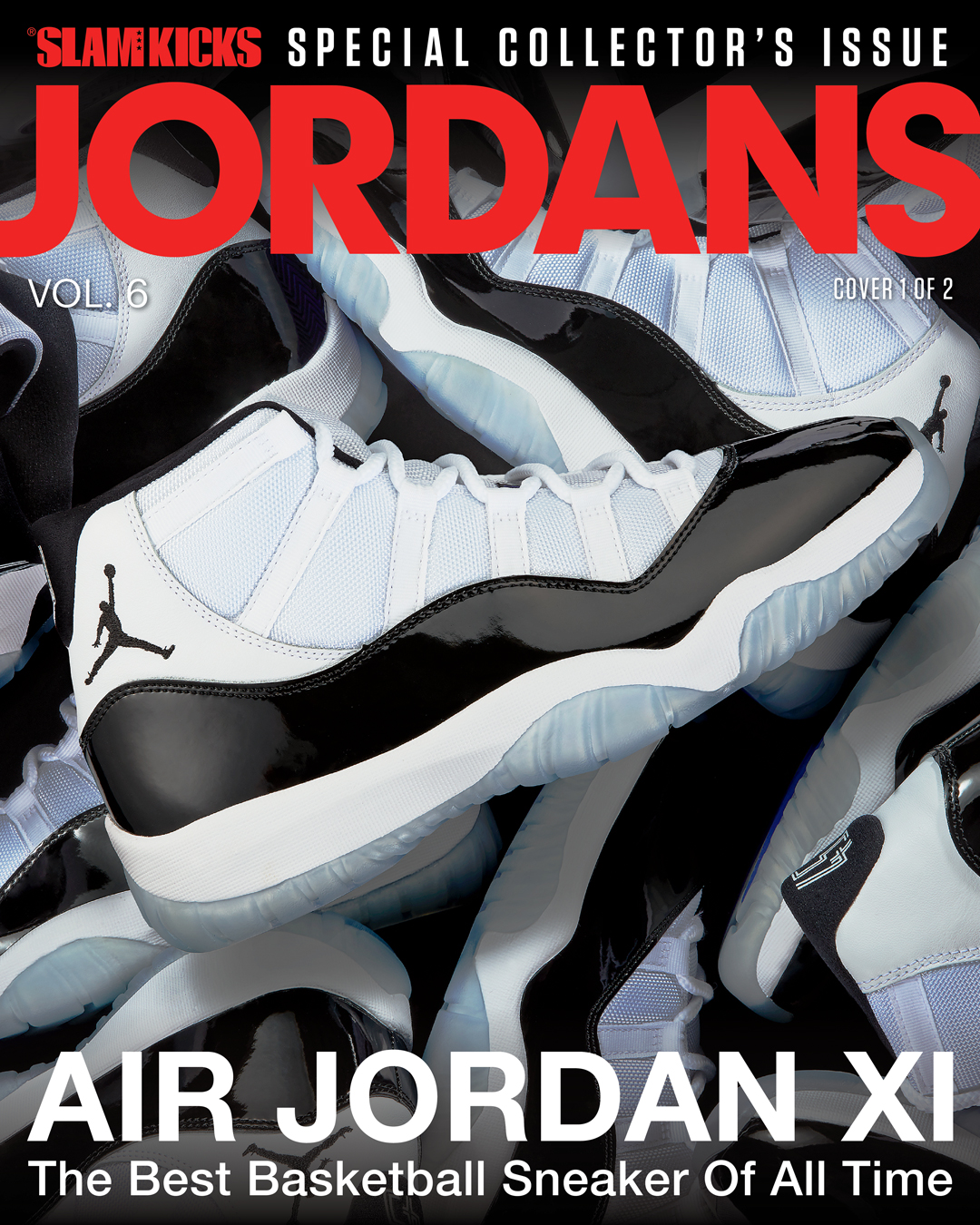 So while that early morning crispness fades into a mid-morning humidity, Allen breaks open another sneaker box, placing it right next to the XIs. It features another pair of PEs, another part of his story.
This box houses Air Jordan XX8s done up in Miami Heat colors with some championship gold accents complementing the white base. It's the colorway he had on when he made one of the biggest shots in NBA Finals history.
June 18, 2013. Game 6 against the Spurs. The Heat are down 95-92 with 19.4 seconds left. The whole building is up and singing along to an instrumental version of "Seven Nation Army" while the defending champs bring the ball down the floor. Mario Chalmers dribbles deep into the left corner. LeBron James runs an odd-angle V cut and pops off a Chris Bosh screen, one that both Tony Parker and Boris Diaw go under. He misses a three from the left wing. Eleven seconds. Bosh rises high and snatches the offensive rebound. The clock reads 8.1. He finds Allen, who swiftly retreats to the right corner, sets his feet and lets fly. Time check: 6.6 seconds.
His momentum carries him backward and it forces his right leg to kick out ahead of his left. His left arm uses Parker, the shot's defender, as an anchor, steadying the rest of his body on the landing, while that right arm holds the follow- through. Holds. Holds. Holds.
Time check: 6.3 seconds.
There's a moment, a very brief moment, of silence right before the shot drops. The singing stops after James misses the first jumper. There's shock when Bosh pulls down the rebound and finds Allen. Then the singing ends completely, even though the beat continues to play. While the Spurs' defense shuffles and Parker meets Allen at the three-point line, the crowd is collectively terrified. They're left standing still, petrified in-place.
That's when the silence is the loudest. Allen's follow-through is still up. Parker has helped him regain his balance. Forty-thousand eyes watch the ball in the arena. Millions more around the world follow it, too.
Then…
Bliss.
Each and every person in the lower bowl lifts two hands above their head while the noise crashes back into AmericanAirlines Arena. The possession was a rollercoaster and that was its peak.
The Heat went on to win Game 6 in overtime and then a hard-fought Game 7 to capture their second consecutive title. Allen's signature is left on a defining moment in League history.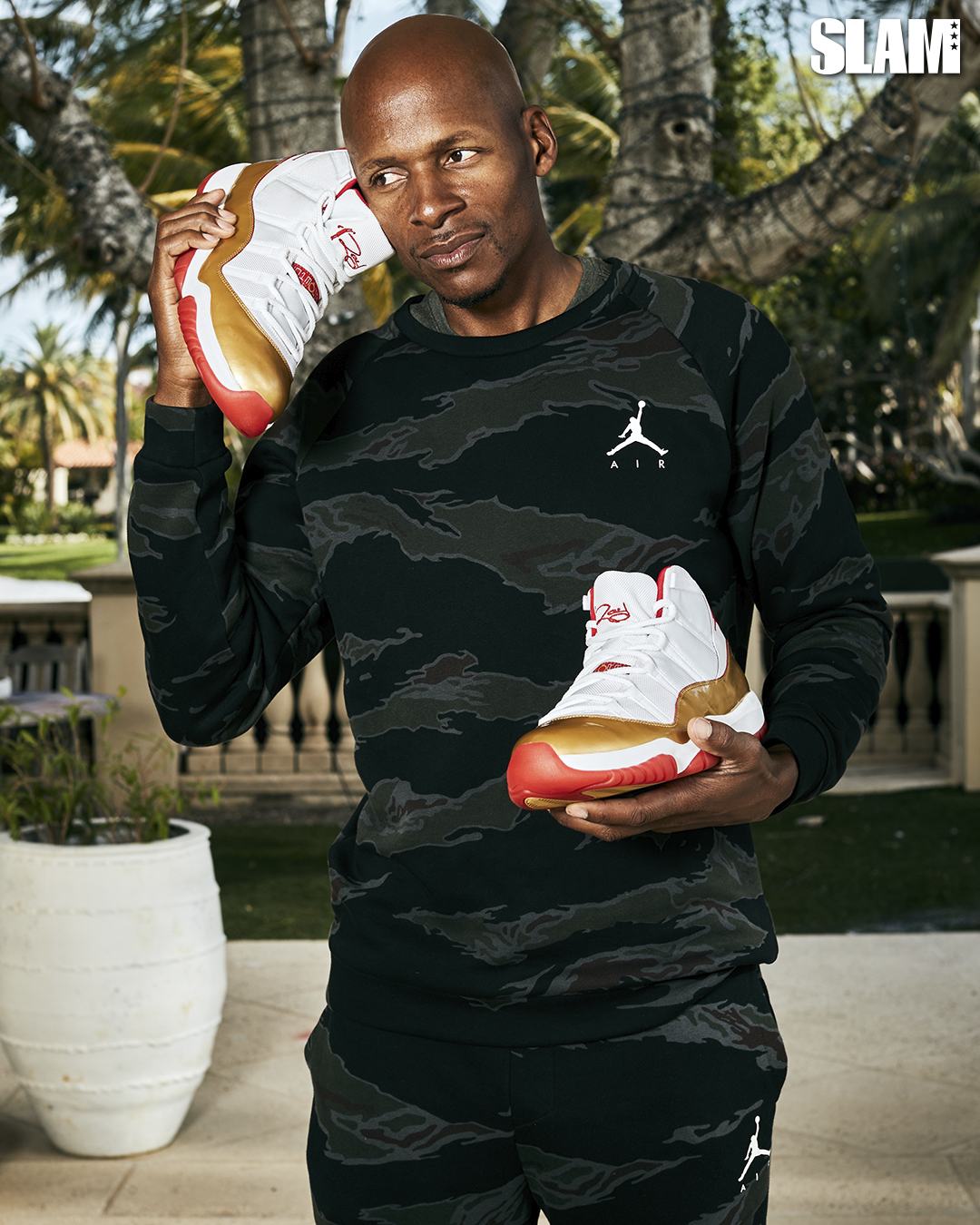 Now that he has both pairs out in front of him, he takes a look back. It's been, he says, a few years since he's even taken them out of their boxes.
"They're the end and the beginning," he tells SLAM. "I say that these two shoes are connected because this shoe was the shoe that got us to where we needed to be and ultimately the shoe that I was wearing when we won the championship in 2013.
"This is what I wore on Ring Ceremony night," he says about the XI. "Both of those shoes, to me, have a very soft spot in my heart because, obviously, winning. Obviously, I had the ones in Boston, 2008, the gold and green ones, which are at my house up north. These two represent a great deal for me. I always keep those somewhere in the house hidden."
Here comes the sun again. Palm trees line either end of Allen's backyard. The center of our solar system sits symmetrically between them. Its light has chosen the lateral side of the XIs gold's patent leather to shine. Gold to gold.
As he mentioned, Allen doesn't take these out all that often. It doesn't get old to him when he does. He says it's like watching an old movie and having the moment where its plot instantly comes back to memory.
"These represent one thing and one thing only," he says with the XI in his hand. "When you bring that out, it's like being able to relive certain moments."
Allen made acts of on-court brilliance into a habit. He hit the most three-pointers in NBA history, played in 10 All-Star Games, won an Olympic Gold medal and is the author of a vault's worth of unbelievable highlights. Those are the stories that he and Jordan Brand like to capture with his PEs.
"Ray had some pretty big moments, some record-breaking moments, some championship moments," Gentry Humphrey, VP of Footwear at Jordan Brand, tells SLAM.
Those plays and accomplishments would spark the creativity and then colorways would pop up.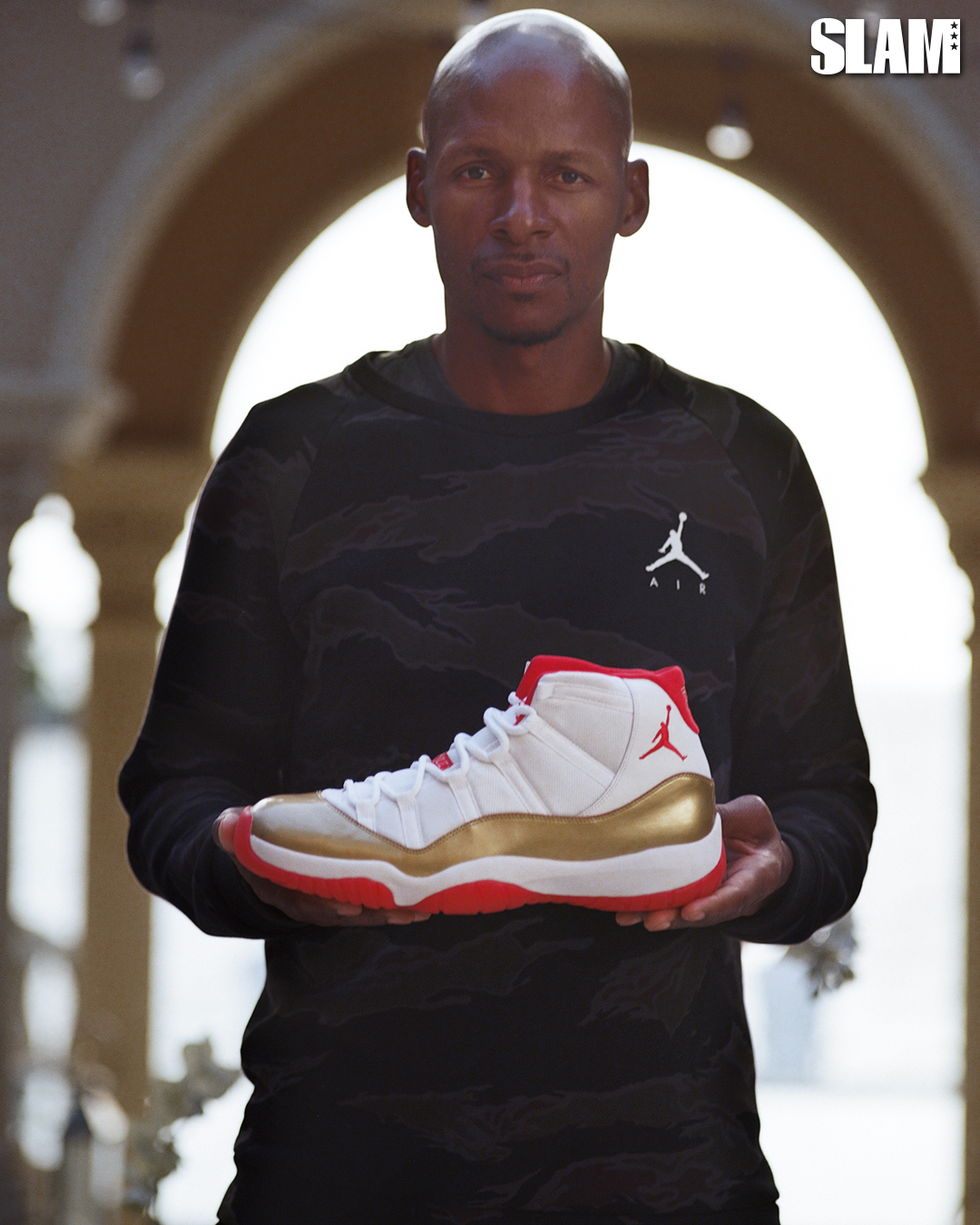 "With Ray, because he and I have such a good friendship, he would always hit me up," Humphrey continues. "You know, Hey G, I'm thinking about doing this. How about this? Or I'd come to him and say, Hey, you know what? Maybe we should create something kind of fresh for you for whatever thing was coming up. He and I would talk about it. He was down for doing whatever throughout his career. While he never had any signature shoes, even some of the PEs that we did for him, they're probably more sought after than even some signature shoes because he was just kind of like that. He's down for being different. Kids were like, What's Ray got on today? He was always like that. Sometimes he'd give us some stories. And Ray, he's not afraid to do wild stuff so it's a little easier to work with someone who's not afraid to push it."
"Gentry, he has a great eye for style, and oftentimes I would sit with his design team," Allen says.
The design process was something Allen witnessed first-hand during his days on the Sonics, spending time with the Jordan Brand team at the marina and watching them draw inspiration from the windows on boats. He'd give them feedback on everything he did and didn't like.
As Allen traveled the globe throughout his 18-year NBA career, he learned all about storytelling and the value of moments, from something as small as windows on boats to something as big as a title-saving jump shot.
"It's interesting, because having this XI just tied to my legacy, as much as I can think about the moment that I played in them, that moment is not mine anymore," Allen says. "It's about the kids that watched it and what it meant to them and how they clamor after the shoe and it forced them to go out and shoot because they wanted to be on that stage and have that celebration."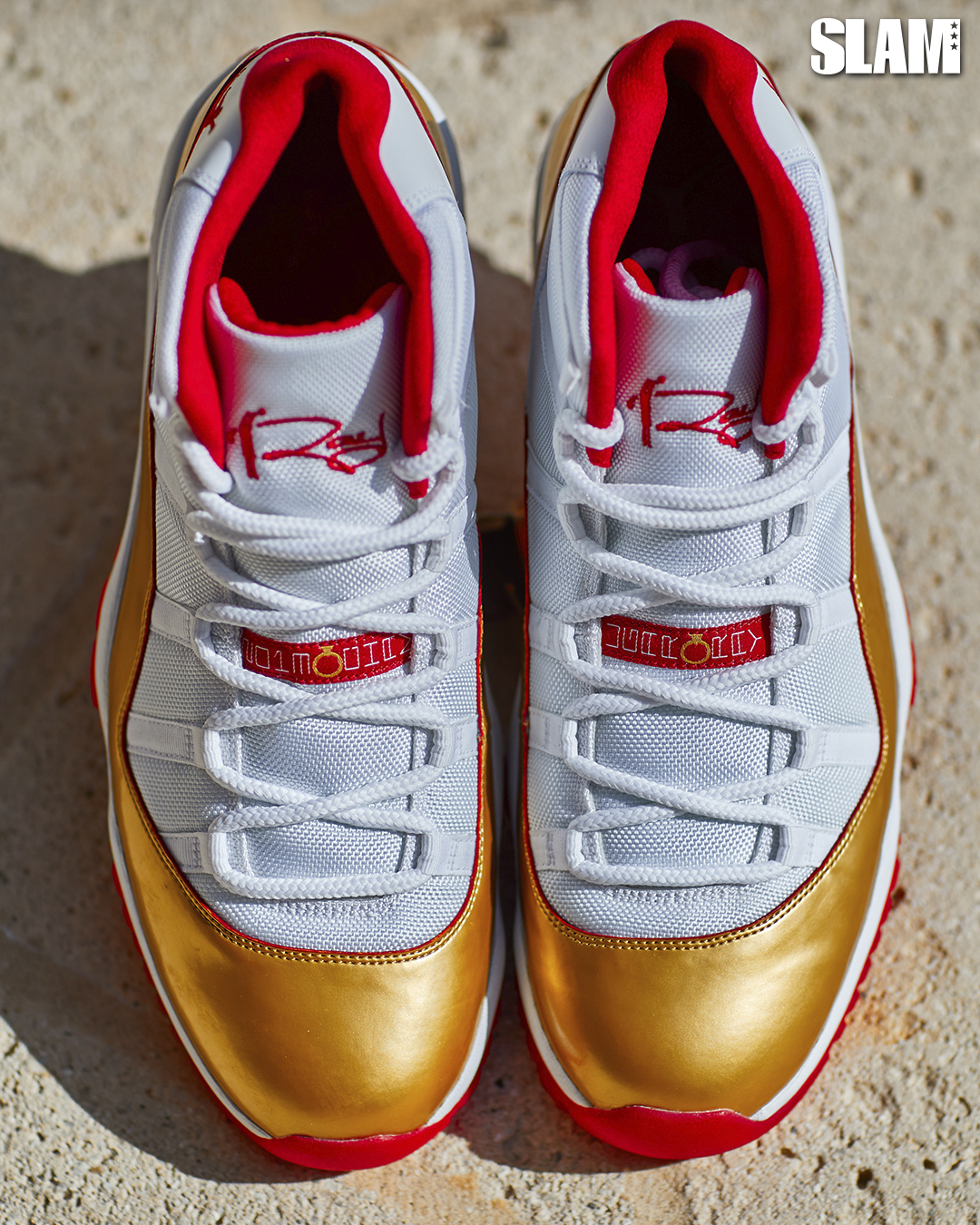 That awareness, he says, fully formed about five or six years ago when he was in China to host a camp for 15 young ballplayers. One girl traveled 11 hours by train to get there. And she stood up for the whole entire trip.
"The stories she's telling me," he says about that kid, "and you realize the impact that you have on people. You walk out of the arena and sometimes you see people leave the arena and they've got jerseys on. You go to a restaurant and they've got jerseys on. But we fail to recognize the viewership. LeaguePass is real and it's all over the world. So when you realize that, you say to yourself, Now I have an opportunity to understand the impact that you've had when you walk away from it."
Allen was one of those kids who didn't have Jordans.
"The Air Jordan XI, to me, I still think about when I was a kid not being able to afford a pair and working hard to get to that status, to that level where I was an ambassador for the Brand. I didn't own a pair of Jordans until I got to the League," he says. His first pair of XIs, he says, came with no fanfare. "Yeah, just got them in the shoebox, random shoebox."
Allen was one of the first people to sign with Brand Jordan, as it was known at the start. (Shout out to Eddie Jones, Vin Baker, Derek Anderson and Michael Finley, aka the First Five, aka Team Jordan.) Though he didn't own a pair of Js, he was watching along, referring to them as "otherworldly." He knew the formula for their releases and he always looked forward to the playoffs so he could see what next season's silhouette was. He's been a student of Michael's, like he's a student of life. He's constantly reading, continually learning. He darts from talking about examining sheet music to watching fighter jet pilots fly to describing the shooters that he considers better than him, a list that includes Mike Miller, Eddie House and James Jones.
Earlier in the morning, when he had just broke out the XIs and the sun was still rising, Allen was holding his "Championship" PEs. He had them in his hands and was looking down at them intently. He noticed something on the shiny patent leather and he started scrubbing them to make sure they were perfect. Their weight has never been lost on him. They were his idea in the first place.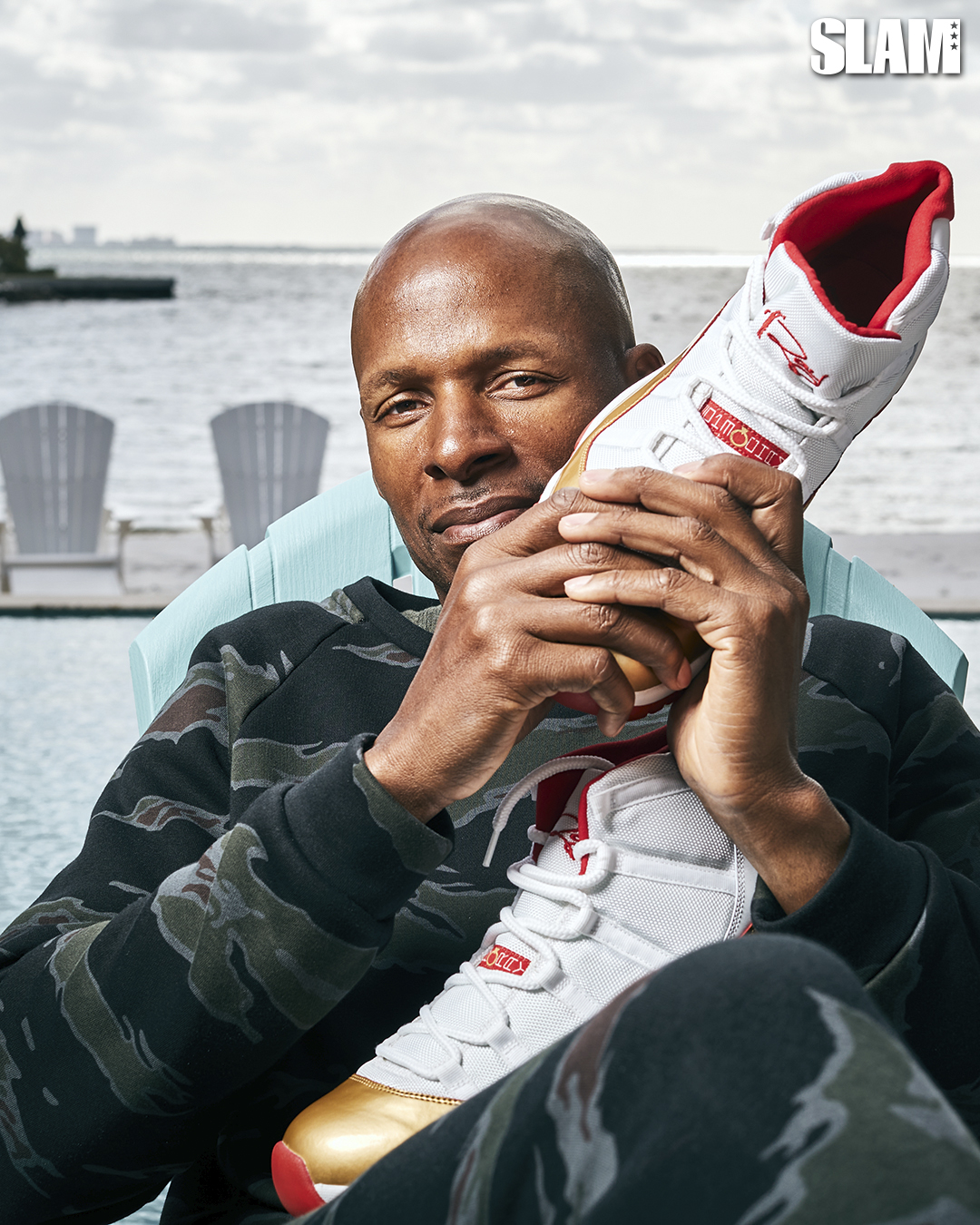 "I just knew after we won the championship in Boston in 2008 that I had to wear something special going into the Ring Ceremony," he says. "What was great about the Brand was they knew that I was right. That next year, we're playing against Cleveland on opening night and I said, I got to have something on my feet that symbolizes a championship. At the time, I loved playing in the XIs because they gave me the best grip on the court, especially as much as I'm coming tight off screens. They came up with the gold and green colorway. So 2008 happened. It's like a stamp on that moment. And then obviously 2013 was the same opportunity. And to be able to stamp those moments with these shoes, like I said earlier, it's always the shoe that tells the story at the end of the day."
His 2008 "Championship" PEs feature the same gold patent leather as his 2013 editions. But it's the 2013 joints that really stand out.
The tongues on the right and left side are both different. The left tongue's exterior reads "Sugar Ray" in the iconic Jordan XI font. The left tongue's interior has a patch that says "2008." Then the right tongue's interior is where it says "2013." And finally the right tongue's exterior also uses the XI's custom font to spell out "2013 Champ." Both exterior tongues feature little rings.
A "34" replaces the customary "23" and "45" normally seen on general release XIs. His jump shot PE logo rounds out the colorway.
"Gentry was somewhat of the brainchild behind it because we were trying to figure out a logo many years back," Allen remembers. "And it's symbolic obviously to who I am, to take my signature and then embody the spirit of my shot. If you had me running down the floor as a black shadow and the shot went up, people could tell you, Hey, I know who that was. To be able to embody that in the logo, to me, when I saw it, I was like, It's perfect."
Time keeps on slipping while Allen speaks. Miami's really bringing the heat now and that sunlight is beating down. But it keeps on finding the patent leather on every turn and every move. The sneakers are glistening with their own aura, levitating under the light.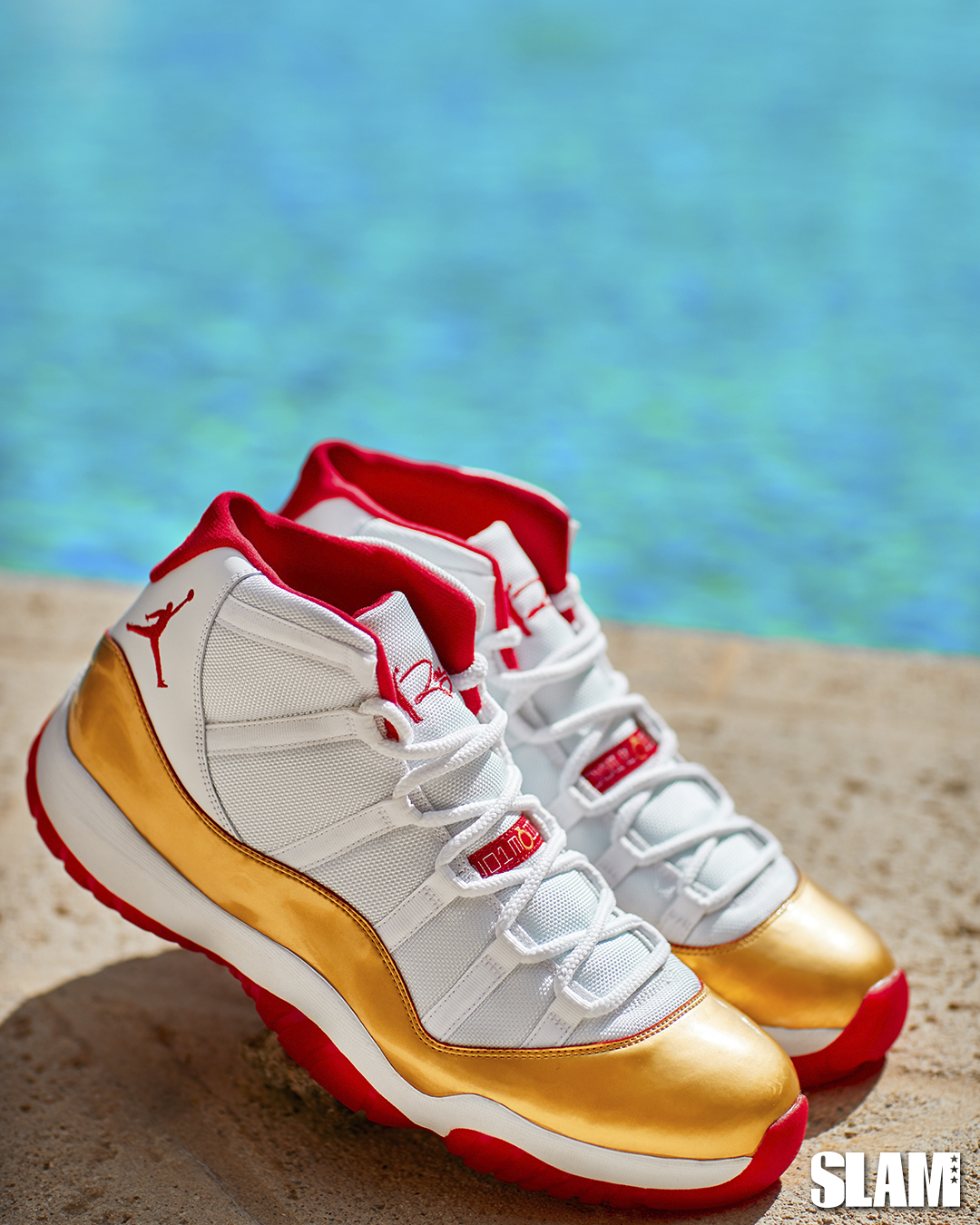 "This shoe is symbolic with greatness, and the gold represents winning," the Champ says. "Because this is a special piece and it represents…this is greatness right here. This is winning. This is a Gold medal. This is an NBA Championship. That's what the Brand has always been about. You have to be bold and you have to be a pioneer to step out there and say, I can be great and I will be great."
The XIs go back inside the shoebox after that.
A true historical artifact documented.
Yesterday can't be retold. It's cemented.
Afternoon is here now. South Beach is getting activated. Little Havana is bustling. Then the breeze starts to roll back in. Dinner spots open their doors and dogs are out for their night walks. Sunset in Miami.
—
Max Resetar is an Associate Editor at SLAM. Follow him on Twitter and Instagram.
Portraits by Jon Lopez.