Walking the streets of New York can't be described. It has to be felt. Punishing with pace, surrounded by so many on their own individual paths, moving at a ferocious speed to get to wherever they're headed. It's the place where you put in the work to become great. You keep your head down with your goals in focus because nothing else is more important. Sabrina Ionescu may not be a native of the greatest city in the world, but she's just like the people who inhabit it. A woman on the path to greatness, who is married to the grind that it takes to get there, with the keys of the city in her hand.
Sabrina Ionescu is the future of New York basketball.
The kid originally from Walnut Creek, CA, stepped onto the cover shoot set in her Liberty uniform with the "Grinch" Nike Kobe 6 Proto calm and relaxed. Something that's different than what most are used to seeing of her; a killer on the court ready to take down whoever is on the opposing side that night.
"I want to win and beat you. I'm gonna do whatever it takes to do that," the guard shares with SLAM. "No matter if I played with you in college or we were teammates somewhere down the road, at the end of the day when it's time to go, it's time to go."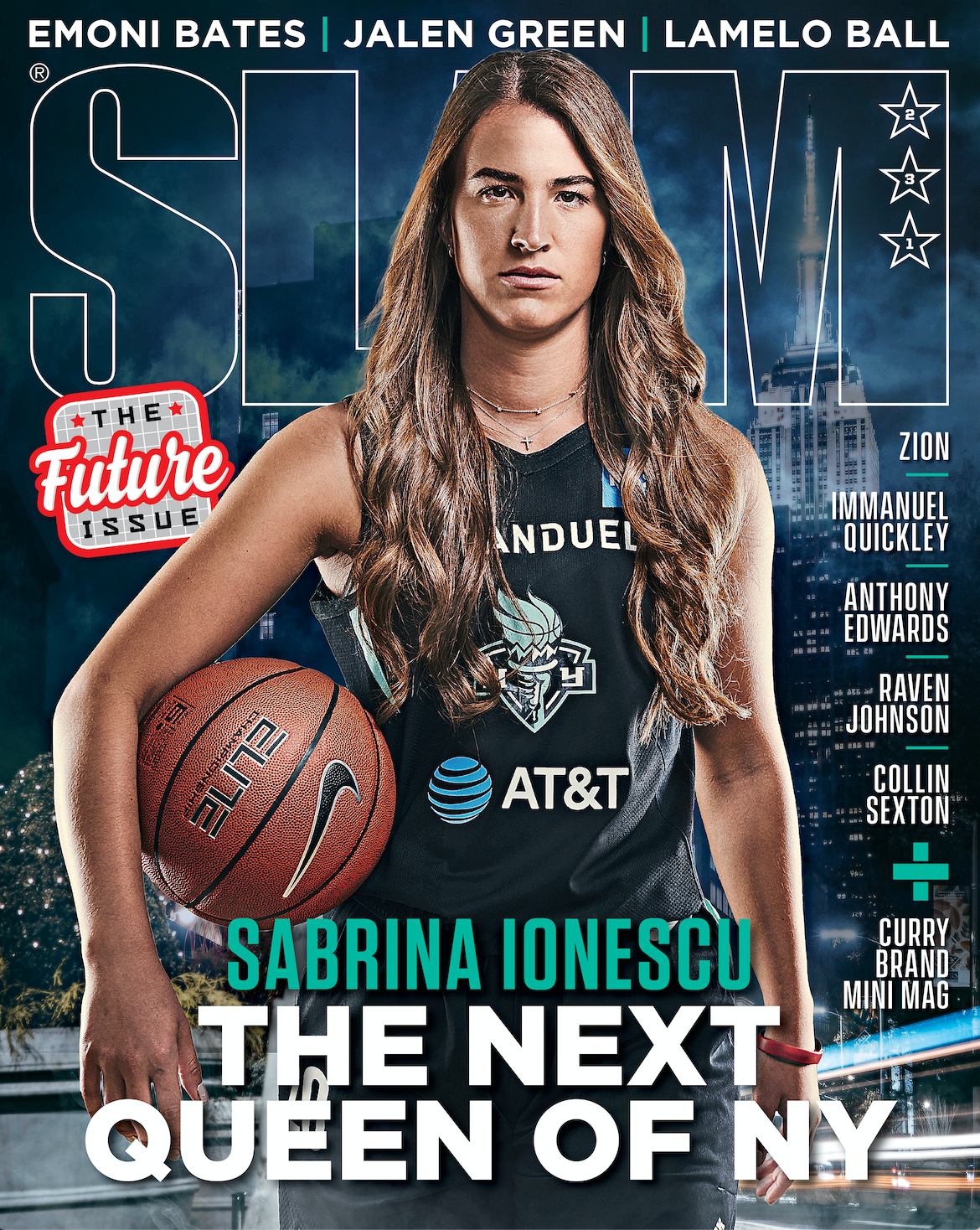 Order your copy of SLAM 231 featuring Sabrina Ionescu now.
It's a mindset she's channeled almost all of her life. A competitive spirit that began when she was young, hooping against her brothers, Eddy and Andrei, at the park.
"Growing up with brothers has definitely shaped the basketball player that I am. They never took it easy on me," she says. "They always wanted to beat me in everything, so I think it just always made me play even tougher and even harder."
It's the type of toughness that's forged in the fire of formative years. It's that toughness that made her stand out to Oregon's lead recruiter and assistant coach Mark Campbell.
"The number one thing that she's had since the first time I saw her and that everybody's come to see, it's two things actually. It's her competitive spirit, it is unmatched. And it's her fearlessness. It's the combination of those two things that make Sabrina who she is. She's completely fearless of every moment, every stage, and that goes from on the court or speaking to the world at Kobe's celebration of life," the Ducks coach says.
It's those same qualities that have put the hoops world on notice during the past four years after a historic collegiate career at Oregon, one filled with unimaginable highs and a list of accolades that could take up this entire page. First NCAA player with 2,000 career points, 1,000 career assists and 1,000 career rebounds, NCAA all-time leader in career triple-doubles, 2020 Naismith Player of the Year, 2020 AP Player of the Year. And the list goes on and on.
She even returned for her senior season when she easily could've gone pro and would have been the number one pick. But instead, she felt she had one more feat to accomplish for the Ducks: a national championship.
"Just have some business to take care of first," she penned in her Players Tribune letter announcing that she would return to Eugene for one final season.
Of course, that did not come to fruition. Come the early spring of 2020, our entire world changed when the coronavirus pandemic infiltrated society. Everything was canceled to ensure public safety, including the NCAA tournament. It was a pivotal moment in Sabrina's career, where she was forced to accept what she could not control.
"I didn't really want it to be true," she says. "I didn't believe it to be true. But seeing that it was true, though, a lot of things were getting canceled due to what was going on. At that moment it was just letting go of the past and looking on to the future."
Oregon was poised to make a historic run for the national championship and their star player knew it was their year to win. To this day, she still believes they would've won it all.
"I think we were in the driver's seat. We were all really healthy and playing really well together, so I think we had a really good chance to win," she says.
Like Curtis Mayfield's melody, she "kept on keeping on." With the WNBA Draft right around the corner, there was little time to reflect on what could've been. Instead, Sabrina chose to focus on what was yet to come.
"I was just ready to continue playing. I don't think that I was ready to take a break, like I would have if we had gone through the tournament. There was this fire inside of me that I wanted to continue playing and continue what I was doing," she explains.
Sabrina was just a hooper ready to do what she was born to do. And then, from the comfort of her living room, she heard her name called in the 2020 WNBA Draft. The New York Liberty selected her with their No. 1 overall pick. Just like that, it was back to the grind as she prepared for her rookie season, one that would look different compared to any other in the history of the League.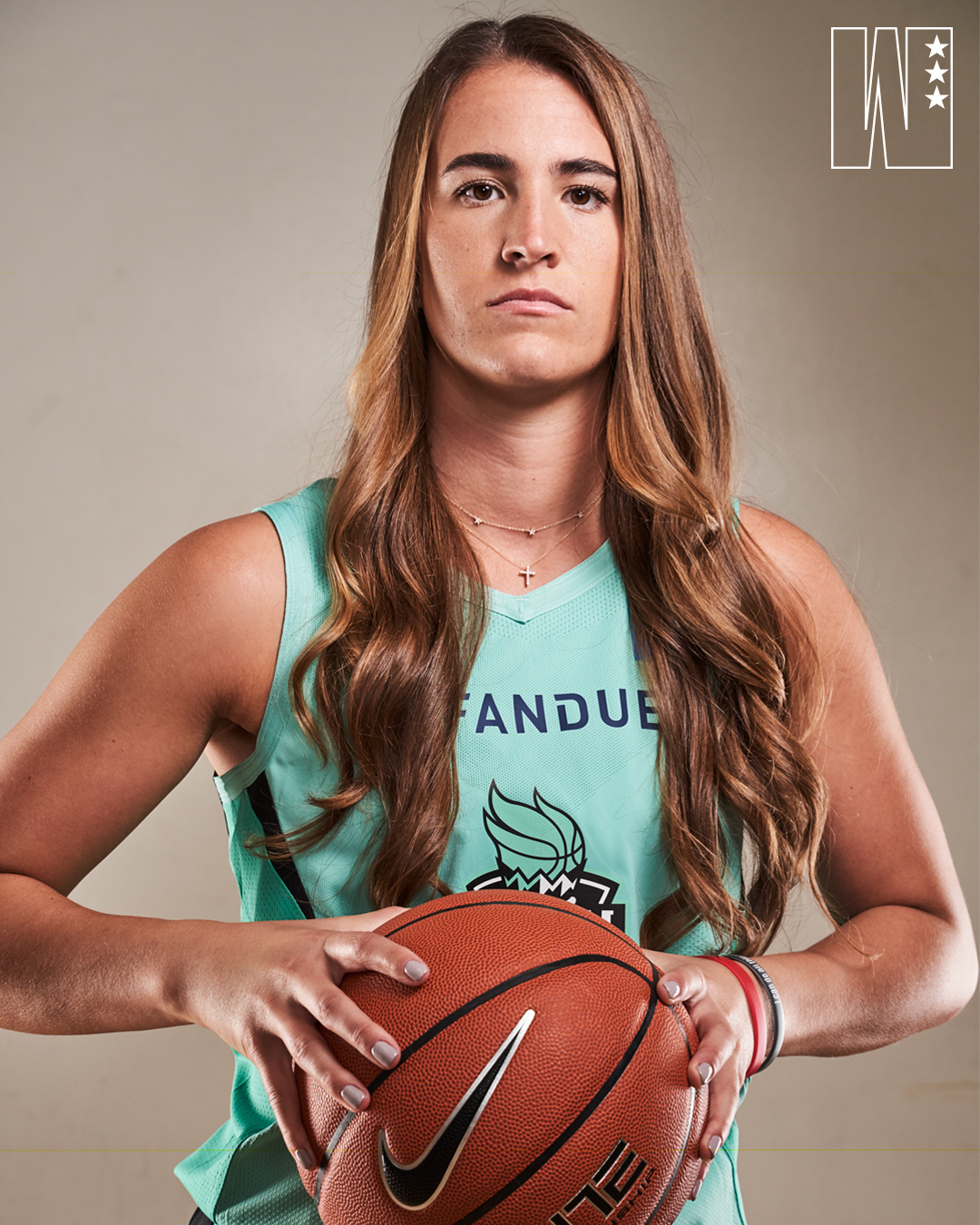 A thousand miles south of Barclays Center, where the Liberty were set to play their first season since their ownership change, was the League's bubble in Bradenton, FL, on the campus of IMG Academy.
Beyond dealing with an entirely new change in scenery, she also had to manage the vast nuances of playing in the WNBA. One thing that many casual followers of the women's game may not understand is the difficulty in transitioning from college to the pros, even for a star like Sabrina.
"The game's a lot quicker, faster, stronger, so definitely just needing to prepare a lot better, and putting myself in the best position to succeed," the then-rookie said at the time.
In just her second professional game, we got a glimpse of the greatness that is Sabrina Ionescu. Dropping 33 points, 7 rebounds and 7 assists on July 29 against the Dallas Wings, she put the whole League on notice. It was her time.
Then, every athlete's worst nightmare happened. A few minutes into the second quarter of her third-ever professional game, Sabrina suffered a grade three ankle sprain. It left her sidelined for the remainder of the condensed season.
"It was really hard not being able to play. It's really hard to be sidelined, and I hadn't really experienced that since my freshman year at Oregon," she says. "It put a lot of things into perspective just as a leader and as a teammate."
Cheering from the bench was not an easy thing to do for the star guard, but like every other hurdle in her life, she took it as an opportunity to get better. Rather than let the moment get the best of her, she faced it with that true New York mentality. She committed to the grind and used the time off to become better as a teammate. It's just who she is.
Not only did she face adversity with absolute confidence, but she used it to prepare herself for what she plans to be a long and successful career in New York.
"I think not playing this last season actually kind of gave me more fuel to the fire in my desire to really focus on what's important, the people that are important in my life, and just to be ready for the next season," the new East Coast resident says.
During our time with Sabrina, it became clear that even while she's standing for pictures or answering interview questions, she just can't stop thinking about the game and takes every opportunity she can to get a rep in. Sabrina would pose, our photographer would get the shot, and then she would shoot the ball in the air to an imaginary hoop. At one point she even physically stepped off the set toward the hoop in the gym to do some shooting in between takes. From the gleam in her eyes, it's easy to see just how much Sabrina is ready to get back on the court for her sophomore season.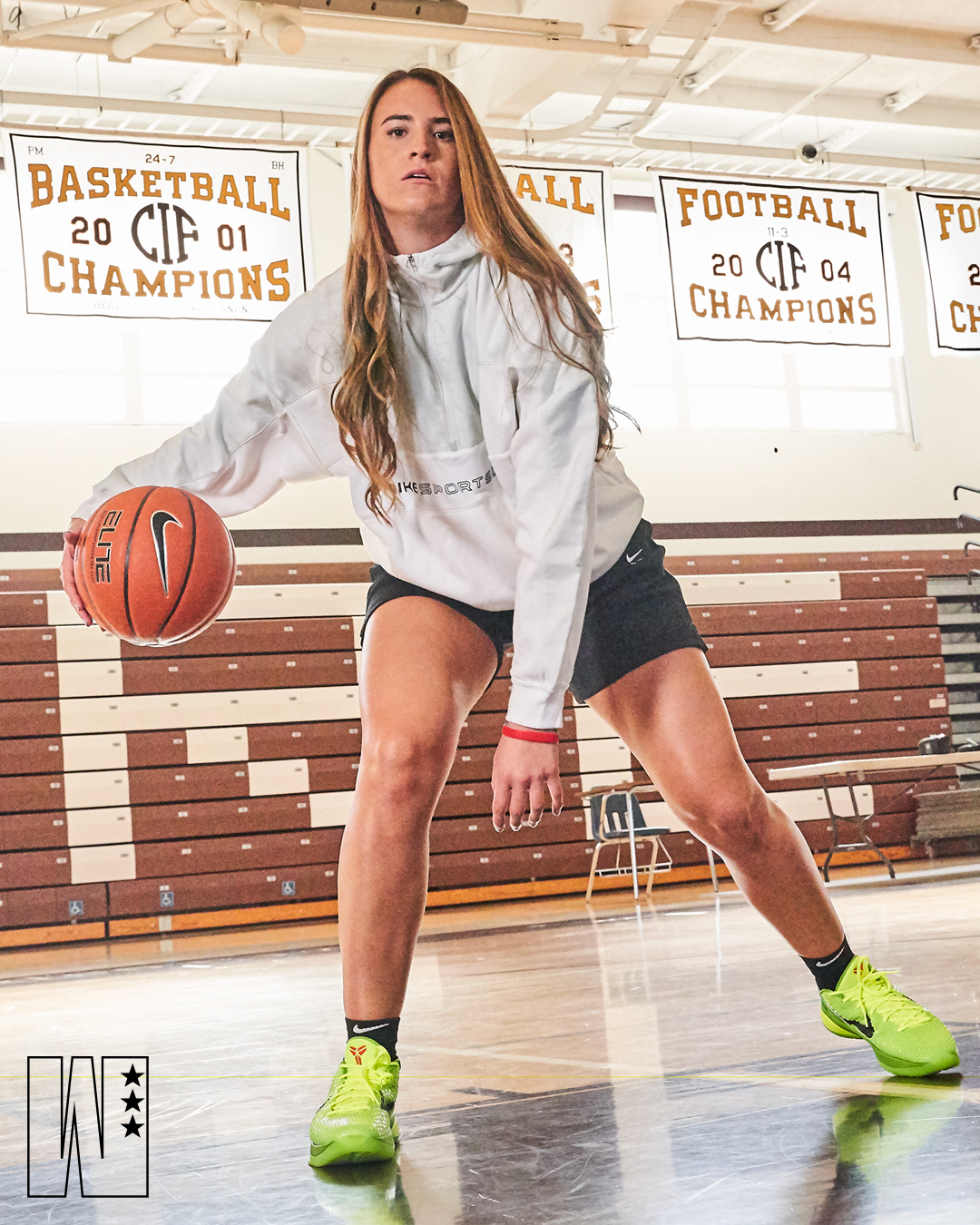 The NCAA's leader in triple-doubles is not only ready to compete again but to put in the work to get better. Her craft is something she consistently works on because she's never satisfied. There's always something she can work on.
"There's a lot of room for improvement, so that's what I'm working on in this offseason." Those were the first words out of her mouth when asked to describe what viewers should expect of her game. Just like the everyday New Yorker, she just wants to improve, put her head down and get to the grind.
Higher shooting percentage, creating better shots, continuing to improve on passing, defense, extending her range, finishing around the basket—all of it. There's not one particular thing she believes she needs to work on, it's everything. That mindset is what separates the great players from the legends. It's the exact reason that New York is the place for her to grow her legacy.
A city rooted in pushing yourself to great lengths to achieve your goals is one that Sabrina Ionescu is meant to be in. And when it comes to the biggest sports city in the world, you know there's added expectations when you're the star of the team.
"Sabrina is built for New York," Coach Campbell of Oregon adds. "Her swagger, her DNA, her belief in herself. As that city gets to know who Sabrina is, they're gonna love her. She lives for pressure."
It's a place not many can handle. Just as she worked on embracing the city of Eugene and making it her own during her college years, she'll do the same in New York. We wouldn't be surprised to hear reports of her putting up shots in Brooklyn Bridge Park or pulling up to the West 4th Street courts later this year.
"Every time I've gone there and driven by, there's so many outdoor hoops with so many kids playing," she recalls. "Seeing that now brings me back to when I used to do that. I'll probably stop by and play with some of them when I can just because I love playing outside, it's definitely a part of who I am."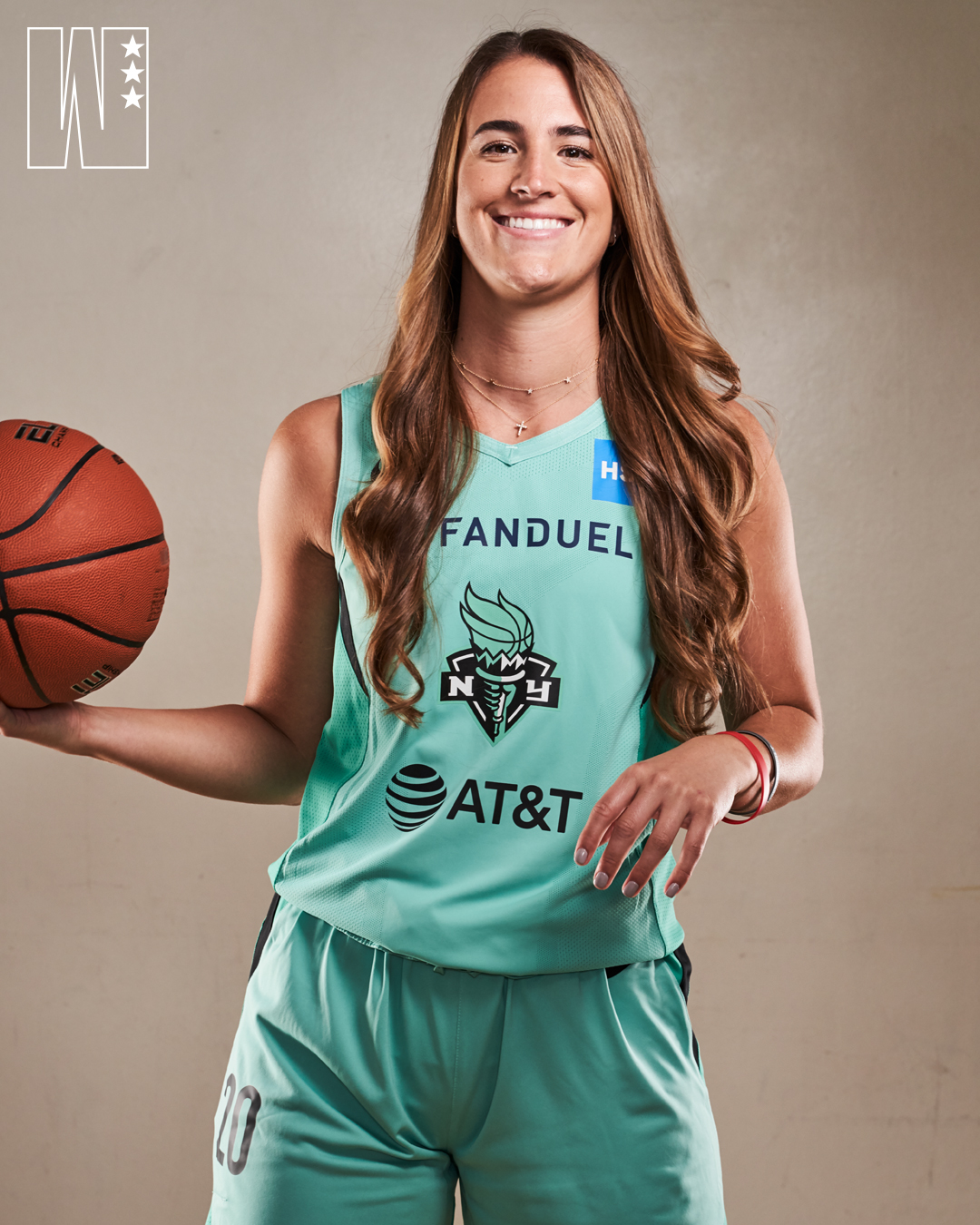 This next season is sure to be an exciting one for the New York crew, who just added two-time WNBA champion and former Defensive Player of the Year Natasha Howard, as well as last year's Most Improved Player, Betnijah Laney. The added experience is sure to help the young roster find its identity in the highly competitive League.
Sabrina has big expectations not only for this upcoming season but for the organization as a whole. One that she's building for the future of the city.
"I definitely see the future in the organization that we're building. Super excited for what's to come," she says. "It definitely takes a village, it's not gonna happen overnight, it's not something that comes easy. The vision of seeing the organization get there and then all of the hard work that it's gonna take to get there is really what's exciting. That grind is why a lot of people play; it's why I play. That's really the fun part."
The obstacles that Sabrina faced this past year would have made most people fold. From suffering a major loss of a close friend and mentor to living through a global pandemic to experiencing an injury that took her out for a year, it was a year unlike any other for the 23-year-old recent graduate. But as a believer in the process that it takes to achieve success, with the Mamba Mentality instilled into her everyday life, there's nothing she would change.
"It's all a part of my story," Ionescu reflects.
In the county of Kings, get ready for a new queen.
—
Training Video Footage: Max Gilberg. You can follow him @mxgfilms.