Inside the Creative Mind of Set Free Richardson and the 3rd Version of his Famed Creative Space—The Compound
Finding The Compound, Set Free Richardson's new studio space in Brooklyn, is hard at first. He recently relocated his creative oasis from the Bronx to BK's Red Hook section. It's the third iteration of his famed creative spot, The Compound. While The Compound 1.0 was also a creative space, 2.0 additionally served as a gallery. This new location is discreet from the outside—there's no signage, and barely an address number on the front door. You have to know where you're looking at first, or in this case, know the right people to come unlock the door and lead you up the flights of stairs to get there. But you'll know you're in the right place from the moment you walk through the doors and are greeted not by Set Free, but by a framed Minnesota Timberwolves No. 21 jersey hung up on the wall. It was given to him by Mr. Big Ticket himself.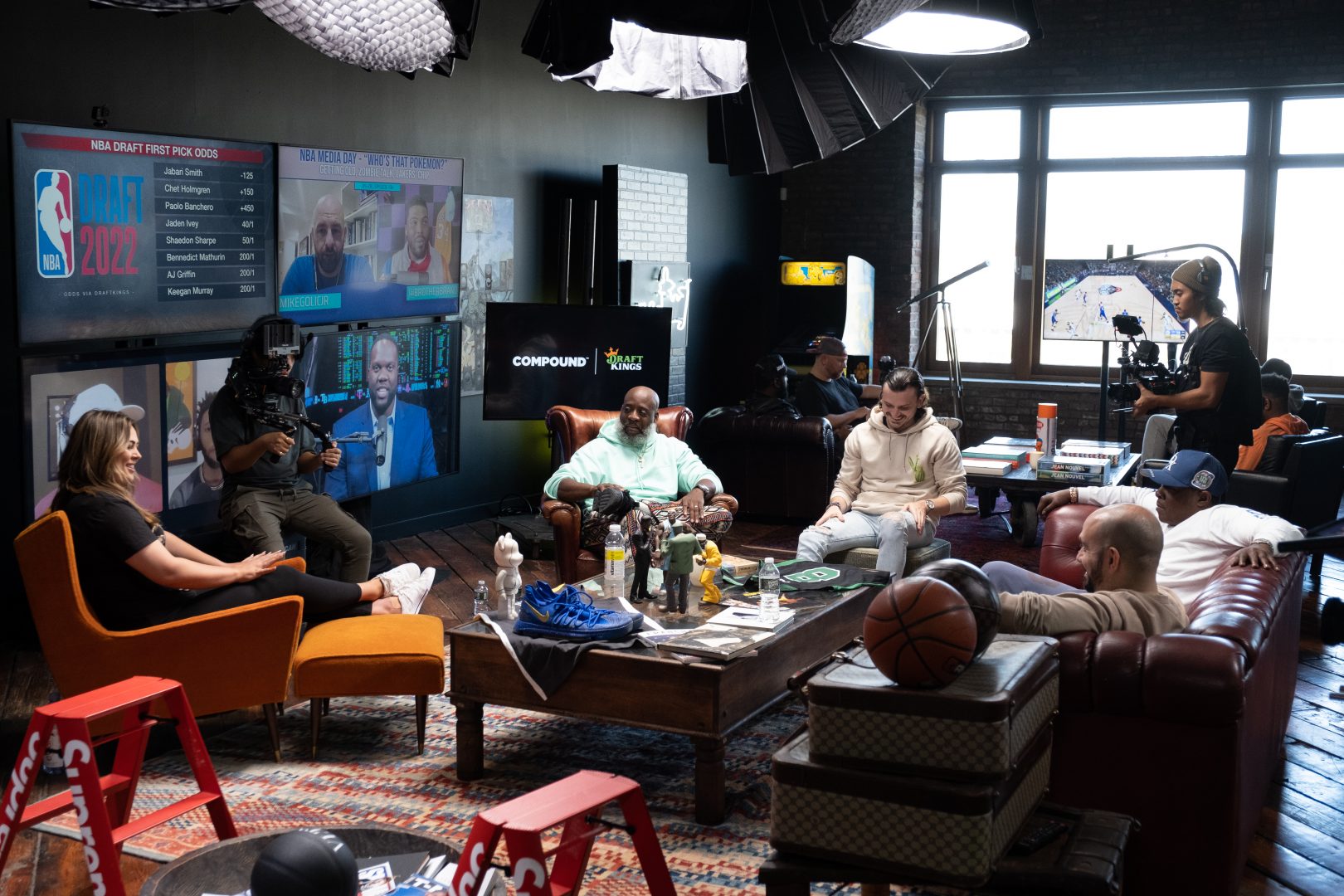 The last time we caught up with the man behind the 7, the same one who founded the AND1 mixtapes, he was quarantining in Mexico and designing impactful social justice-inspired t-shirts that were worn by players around the NBA from inside the Bubble in Orlando. At the time, The Compound was located in the Bronx, but since its relocation to Kings County, it's obvious that Set Free's initial vision for the space has reached a different magnitude. He's created a space entirely for artistic expression and curation, and nearly every square inch of the studio is, in his own words, a "living, breathing creative gallery,"—once you walk past the KG jersey, there's even a custom Star Wars-inspired wallpaper of Luke Skywalker that reads, Meanwhile back at The Compound, the battle continues, and with Yoda saying, "Do or Do Not. There is No Try!"
As we walk throughout the studio, and past a room still in construction that Set Free reveals is going to become a recording studio—the space feels like a sneak peek into his mind, passions and interests, from the work of art to the sports memorabilia and vintage antiques. Hanging up on one wall are stunning, black-and-white portraits of the late-DMX and The Lox—Jadakiss has also been featured in a recent episode of DraftKings' new The Starting Five series, which is filmed live in The Compound. In another corner of the room is a sophisticated-looking lounge area with microphones set up for podcasting, and a set of turntables on top of an antique, wooden chest—a nod to Set Free's DJing days. Not too far away is an antique barber chair that looks like it's from the early 1900s, down to the red leather and wood paneling. Wherever you turn, there's something to marvel at.
"A lot of art galleries, you can't touch anything, you don't feel like you are part of it," Set Free later says while sitting inside his office. "I wanted The Compound to be this living, wall of art that you can be a part of and it inspires you to create."
The Starting Five series is filmed, specifically, in the living room-type area with plush, brown leather couches that are perfect for not only kicking back, but debating the game, music and culture. It's here where Set Free has powerful conversations about basketball lifestyle with exclusive guests Jadakiss, former NBA star Baron Davis and streetball legend "Skip to My Lou." In a recent episode where the Yonkers music artist discusses one of his most special albums, you might notice that sitting on a coffee table are an assortment of memorabilia—from magazines (including a copy of the SLAM Presents Warriors special issue) to action figures.
When we stopped by The Compound in November, it appeared that Set Free had switched it up with works of art one could only imagine to see in person—from Kevin Durant's KD10 signature kicks, which he wore when he won his first NBA championship in 2017 (a gift to Set Free from KD), to the AND1 mixtapes in their original yellow, blue, brown and fire-engine red cassette boxes.
It's one thing, though, to see the mixtapes in person, but it's another to later hear from Set Free about how he thinks the game has evolved and is moving to its own beat.
"I just love seeing the game evolve with the new generation of young stars. [With the griddy dance], I don't think there was ever an NBA player that did a dance [like Ja Morant], [Stephen] Curry with the shimmy with the shoulders. It's exciting, it's like seeing two generations of the game being played. On one hand you got Ja Morant, Trae Young, Luka [Doncic], [Jayson] Tatum and [Jaylen] Brown and then you still have [James] Harden, [LeBron] James and Kawhi [Leonard]. Seeing these two worlds is incredible, and then with seeing the worlds you're also seeing the connection. One of the things I say is, [when we were growing up], everybody in the NBA wore high top sneakers. Now all the guys are wearing these low cuts, and they look incredible. LeBron even took his sons to the Nike meeting to design a sneaker with him. So, you know, you're seeing a generational culture clash that's really exciting. I'm seeing Ja dunking over veterans and I'm like, Oh my goodness. But then I'm seeing LeBron dunking on kids, and it's incredible. So, for me, just to see the older generation and the younger generation, with the music, fashion, with the style of play—it's been one of the most exciting years I've seen in a while."
When asked to describe the tempo of the game today, in relation to music, Set Free pauses and marvels at the thought. "Wow," he whispers, later adding: "Creatively, intensely fast. It's like some of the things I'm seeing, [I think when] Ja Morant went up [for a dunk], caught some contact in the air and changed it to a finger roll. … LeBron is still dunking like he's in his twenties, Tatum is going crazy, Zion, when he's playing, it's very intense, creative and it's fast."
Set Free isn't just an admirer of how the game is being played, but the culture of the game as a whole. When asked who stands out to him style-wise in the tunnel, he doesn't hesitate to name LeagueFits MVP Jordan Clarkson. "He's a star. … He puts it together right. I don't think it's about the brands, he wears high end [brands] and pieces nobody knows. You don't have to go to Paris anymore, just watch the beginning of Sportscenter."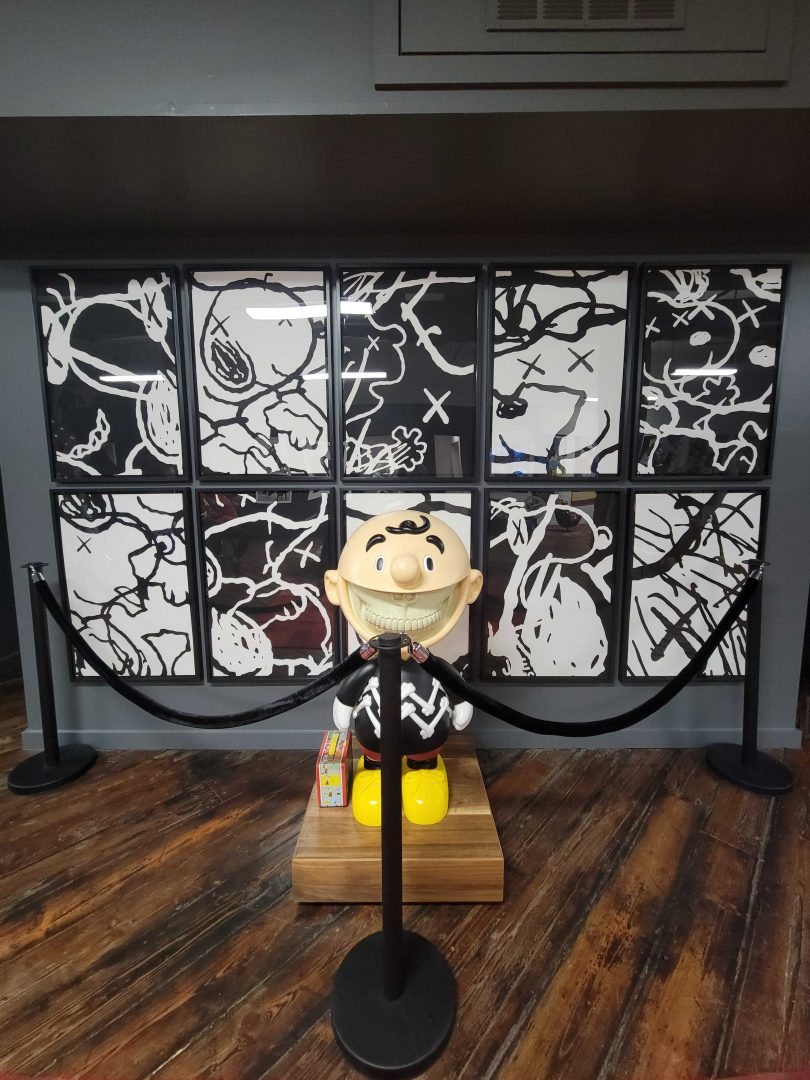 Other fashionable players around the League that he mentions include Jayson Tatum and James Harden, but when asked what he thinks about players walking the runway at New York and Paris Fashion Week, like Shai Gilgeous-Alexander, Set Free explains: "What happened is, [there] was a transition, though, from players sitting front row in Paris, and shoutouts to Virgil [Abloh], he kind of brought a lot of NBA players to his shows. The NBA players were always the model type—they're thin, slim, tall, the exact build of a model—so it was just a transition from them sitting in the front row to being on stage now. I always thought it was coming."
Nearly every answer from Set Free, whether it's about basketball, fashion, and hip-hop, is woven together through the lens of a passionate admirer of the culture. "For me, music is a beat that always never changes. No matter the artists, it always does something the same way. Basketball is the only thing with a genre of music connected. So, when you say basketball, you say hip-hop. If you say golf, you don't see music. Tennis, there's no music [there]. But it's always been this way [with basketball]. At one point it was Public Enemy that drove that beat and then Nas and Mobb Deep, it's still this same connection to me from Drake to Rick Ross at one point, Lil Wayne and Cash Money at [another] point.
"I mean, for me with the AND1 mixtape, it started with Common and Mos Def and Busta Rhymes, but now it's 2Chainz, Lil Baby, J Cole but it's still the same feeling now and which I'm happy about. Super happy about all the collaborations, the [DJ Khaled] album, NBA Youngboy, Griselda is one of my favorites. Of course, the legends of the Jadakiss's and Cam'rons, and all the "babys"—Lil Baby, DaBaby, I'm baby-ied out, in a good way…It's an exciting time in music [and] I love how the players embrace it. You know, you've seen them [wearing] in ear [headphones], over-ears coming through the tunnel, pregame, shootaround. You see them [mentioned] in lyrics, and even with the griddy-thing…I don't think music is going to leave the NBA, hip-hop is so connected [with it]. At one time it was movie stars like Jack Nicholson, Bill Murray, but now those [courtside] seats are filled by Jay-Z, Rick Ross and Lil Wayne."
Just as the game is changing, Set Free and The Compound are also constantly evolving, too. As a self-declared "artistic, cluttered minimalist," Set Free admits that when he first arrived at the space and it was empty, he could look at every blank wall and know exactly how many frames would fit.
"[When I walked in] and saw it empty, I literally [knew] every block where everything fits. I stood in the middle, and was like, five paintings fit there, three fit there, six on that wall. If you've noticed, every space is almost full. I'm going crazy because I'm waiting on tables for that space. For me, it's just art and math. Like that gray wall, ten frames is going to fit perfectly on that."
Like every artist, Set Free is rarely ever satisfied with the way things look in The Compound, and he's constantly been moving and changing the layout around. But like every visionary, he sees an opportunity to create something new and innovative. That's the future of The Compound.
"It's always evolving. But I think that's what keeps it fun. Like, usually [with] the last Compound [space No. 1], maybe twice a year, definitely maybe once, I would take all those 10 frames down, put them back in storage and go get new art and put it in that sport to keep [it] refreshing."
With his blessing, Set Free wraps up the interview by encouraging us to wander freely around the space and take it all in. To get close enough to really see every intricate detail of the art, the jerseys, the mixtapes and the NBA championship kicks. After all, The Compound is meant to capture all of your wildest, most creative curiosities.