Welcome to SLAM CLASSICS.
To celebrate #TBT, SLAM will be posting an old, iconic cover story on the website every Thursday.
SLAM 57, featuring Lamar Odom, Elton Brand and Darius Miles, was published in February of 2002.
—
Eric Piatkowski has no love for hip-hop.
"I'm not a fan at all," the Clippers swingman laughs. "I'm into more easy-listening sort of stuff: Dave Matthews, '70s stuff, James Taylor."
This should come as no surprise. Pike is 31 years old. He was born in Ohio, went to high school in South Dakota and spends his summers in Nebraska-none of which would be confused with the South Bronx. And yet he's surrounded by rap, his ears inundated with beats and rhymes. This is the curse of being a (relatively) old man on the youngest-and freshest-team in the NBA. "I'm outnumbered," Pike says of his place on a roster dominated by hip-hop loving kids. "I guess I need to say, I'm the oldest, this is what we're listening to. But I don't think they'd let me."
No, Eric, they probably wouldn't. The tone for the 2001-02 Los Angeles Clippers will be set, oncourt and off, by the supremely talented trio of Elton Brand, Lamar Odom and Darius Miles. Brand, the oldest of the three, will turn 23 in March. Odom is eight months younger, and Miles just turned 20. Generally speaking, these guys don't do James Taylor.
Still, while he'd no doubt prefer the soothing sounds of Seals & Crofts to that new Ghostface joint, Pike will happily trade control of the CD changer for what his teammates represent: success, now and for years to come. He's been with L.A.'s Other Team for each of his seven previous NBA seasons, during which time the Clips averaged 22 wins. Last year, with Brand still in Chicago and Miles just a rook, they won 31 games. This year? Do the math. Piatkowski has, and he likes how things add up.
"I've been around teams when there's a lot of guys who were just eating away at the team like a cancer," he says. "But everybody on this team has such a good attitude. It's a new attitude. It's the attitude of the fans, the management. Everybody knows we're going to be good."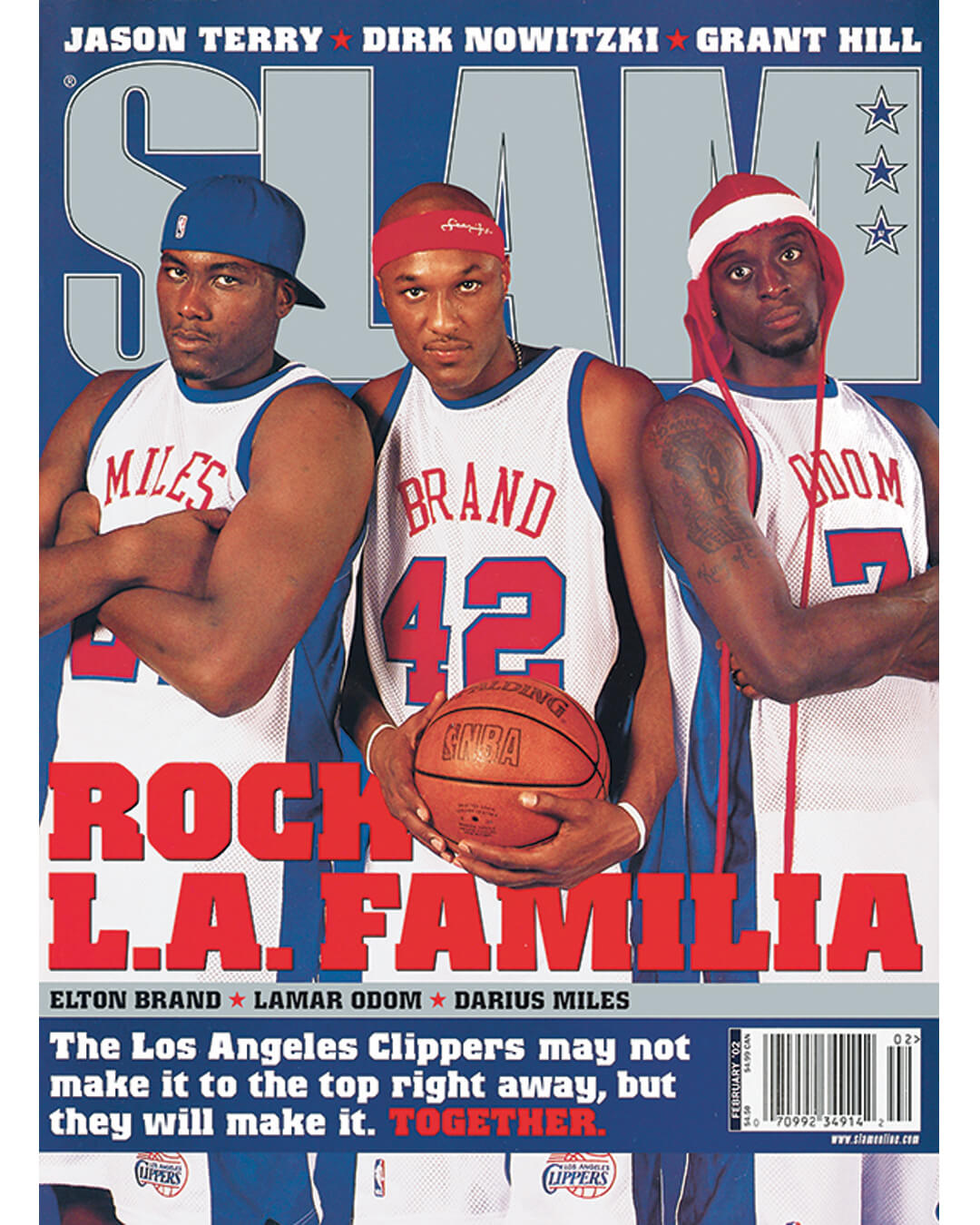 It comes as a statement of fact: "We the hip-hop team right now." So says Elton Brand, referring to the photos that accompany this story and, in a broader sense, to his team's sense of identity. It's preseason, and Elton's on the cell talking to SLAMabout the hopes and expectations connected to this squad. But first, he wants to clarify the image.
"Lamar came up with the idea," Brand says, crediting his fellow New York native. "Since this is for the cover, we wanted to wear the 'do rags, switch up the jerseys, everything. We definitely wanted to represent."
"It's nothing wrong with that," Odom adds. "We're of the hip-hop generation. We got a lot of style on this team."
No doubt. But what, exactly, does that style convey? He might be young, but Odom understands the question. Perfectly. "Perception is everything," he acknowledges, "and there's certain people that don't know." Like those jerseys. some will see it as clownin', a bunch of kids too busy having fun to focus on ball. The real message? "I guess that's just kind of subliminal," Lamar grins. "We're just gonna be a team."
Point being, it's not about the names on the back (or, uh, the front) of the jerseys. These Clippers are not out for self—as much fun as they're having together, why wouldn't they want the whole fam to succeed? Besides, if they need any reminders that team success is the sweetest, they need only look down the hall. When your home court lies in the shadow of another team's championship banners—and when you have yet to sniff a title of your own—priorities have a way of working themselves out.
Speaking of priorities…Meet Elton Brand. Player of the Year at Duke, No. 1 in the '99 Draft, two seasons of 20 and 10 wasted with the Bulls. We speak of priorities, because by the time last season ended, Elton's priority was getting the hell out of Chicago, and the Clippers' priority was getting better, right now. You know what happened next. "I was talking to my agent, David Falk, and he's trying to move and shake: 'Do you want to go to L.A.?" Brand says of the Draft Day trade that sent No. 2 pick Tyson Chandler to Chicago and freed Brand to come west. "I knew an hour or so before the draft. The next day, I was on a flight to L.A."
The first Clipper to hear the news was Corey Maggette, Brand's teammate on the Duke squad that made the '99 NCAA Final. "I was happy, man" Maggette Says. "He called me and said, 'You want me to be out there with you?' I said of course. Elton's my best friend."
He's also one of the best young power forwards in the L, something he proved in vain the past two years. Now, on a team loaded with athletic, outside-in types, Brand teams with still-developing 7-footer Michael Olowokandi to give the Clips a legitimate 1-2 punch in the post. "He gives us that big body inside, something we didn't have last year at that position," says second-year head coach Alvin Gentry. "He's a good team guy, and our guys respect him for what he's done."
Adds Odom: "He's going to bring consistency down low, and that's really important. He's gonna be our go-to man."
For the past two years, the phrase "go-to man" has generally applied to Odom. The cat whose size (6-10) and game (complete) made him the closest thing to Magic Johnson folks in LA. had seen since, well, Magic, Odom averaged 16.9 ppg, 7.8 rpg and 4.7 apg in his first two pro seasons. A small forward, he possesses an innate knack for leadership and dime distribution usually found in an All-Star pg. "I was given the leadership role 'cause I was the most vocal, even my first year," he says. "That was given to me 'cause of how I am, and me being me won't change."
Gentry agrees, saying, "I think Lamar is one of those guys everybody on this team respects. "But that vote of confidence comes with an addendum: "Being a leader entails everything, not just what you do on the court." The coach was referring to L.O.'s suspension last year for reportedly testing positive for marijuana, and six days into the new season—not long after Gentry uttered those words—Odom earned another suspension for again violating the League's drug policy. Quoted the day the news broke, Gentry called the situation "ridiculous." But the coach isn't giving young star. "He's a great kid and a great person," Gentry says.
The pairing with Brand should be good for L.O. on and off the court, chosen three spots apart in the '99 Draft, the former AAU teammates shared a history long before they ever linked up on the left coast. Both are young but already proven, both are good and getting better. They are the pillars upon which the Clippers' future will be built.
And then there's Darius Miles.
"I think I took the best pictures," Miles boasts when asked about the photo shoot. "There's something about me that stands out." A year and a half ago, the skinny-ass kid from East St. Louis was a SLAM high school All-American. Then he was the No. 3 pick in the '00 Draft. Then he was the Clips' starting two guard on opening night. Then he dunked his way into the Schick Rookie Game, and kept on dunking all the way to season averages of 9.4 points and 5.9 boards in just 26 minutes per. There's something about this kid, no doubt. And there's so much more we haven't seen.
"I think he can do a 'whole lot better," Maggette says of Miles. "He's already so explosive, and he runs the floor so well. He has a lot of stuff to improve on, but last year he showed a lot of what he can do."
D's to-do list is specific: "Shooting's my biggest thing," he says of a summer regimen that focused on extending his range—vital for a dude who shot 5.3 percent (yeah, that's a decimal point) from behind the arc as a rook. "I'm feeling it more and more every day."
The Clippers pretty much know what they're gonna get out of Lamar and Elton, but Darius—who will likely come off the bench most of the season is the wild card. Will he only be very good, a scary-athletic lane filler who gets 15 and 8 every night on hops and long arms alone? Or can he, with a little more time and a Iot more work on his J, become the sort of mini-KG the Clippers were praying for when they drafted him? Time, like they say, will tell. "I think he's made unbelievable strides," Gentry says. "He's got a long way to go, but I see him as a 20-year-old being a lot better than he was as a 19-year-old. That's a big thing."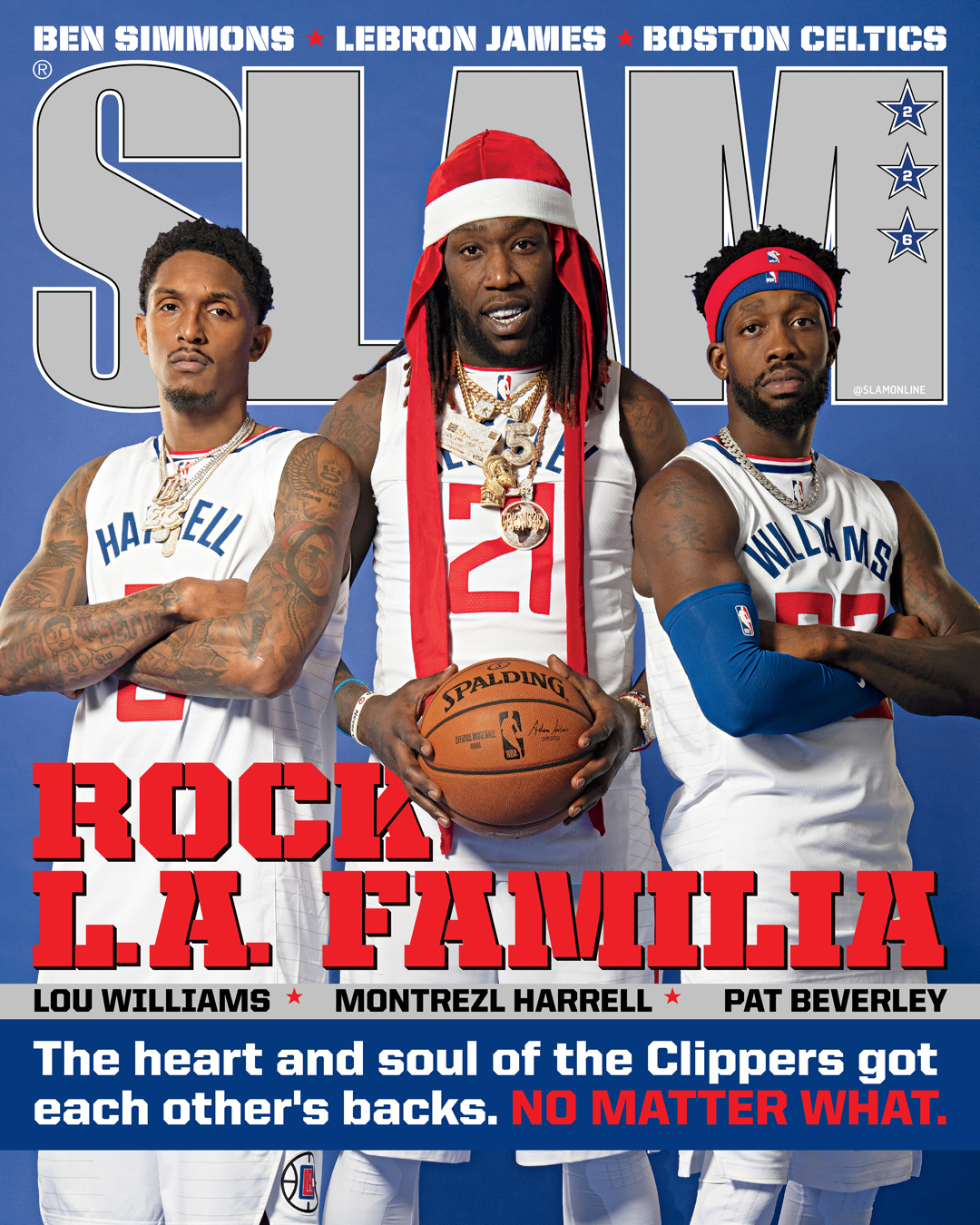 They can't escape the Lakers. They know that. But here's the thing: they ain't trying to. "They real cool." Darius says of those other Staples Center tenants. "We kick it with Shaq, we see Derek Fisher around, Rick Fox, they all holla at us. They show us love. I appreciate that."
That love is generally shown more offcourt than on. The Lakers won three out of four meetings last season, but the Clips didn't embarrass themselves against the once and future champs. The LAC dropped the first two games by five and 15 points, then forced OT in the third meeting. Finally, in Game 4 of the Season series, the Clips broke on through, bouncing the Lakers by 23. "It was like we shocked the world when we did that," Miles remembers. "If we make the playoffs, I would love to play the Lakers in the first round. The city would be live!"
Slow down, D. As Elton says, "They're the measuring stick, and they happen to be in the same building. That's what we should shoot for, but it's almost impossible to compare."
True enough, that comparison shit ain't really fair, and other than a mailing address, these teams don't have much in common. But as comparisons go, there's a better metaphor. Think Lakers…the Showtime version. Young, versatile and mad exciting, kinda like these Clips. Lamar's got Magic's spot on lock. And the rest? We just had to ask…
"I gotta be James Worthy, always stepping up in the Finals," Brand boldly states. "Just hitting the big shots, making the big steal, getting the big rebounds, everything." Alright- what about Darius? "He's real skinny like Michael Cooper, and he's got the ability to lock somebody down like Coop…but he really finishes on the break like Byron Scott, just dunking on everybody," Brand finally decides. "So he's like a combination."
"That's a great comparison," Odom agrees. "As for Elton, I gotta say he's like Worthy, or like a Bob McAdoo."
Miles, who knows Scott and Coop more as coaches than players, just laughs, "I guess so." Leave it Odom to clarify what matters. "We just want to bring back the excitement those guys had," L.O. says. "It's hard to be Magic and those guys, but if we can start making the playoffs, and taking it to the next level…" He doesn't finish the sentence. He doesn't really have to.
There's a lot this photo shoot didn't show, but you should know the names. It's the Clippers' supporting cast, and it's better than you think. "I think we got a legit nine, 10 people that could start," Miles boasts. "We got two starting fives, actually." Start with Piatkowski. His music tastes may not mesh with his teammates''—as Gentry adroitly observes, "I don't think Pike's been listening to Trick Daddy" —but the 6-6 veteran gunner is a perfect fit for a team otherwise short on experience and outside shooting. "I think I'm very valuable," says Pike, whose confidence is backed by his '00-01 averages of 10.6 ppg and 40 percent three-point shooting. "I think coaches would like to have a couple more guys like me."
They wouldn't mind having more like Jeff McInnis, the slept-on, fifth-year PG who led the L in assist-to-turnover ratio last season. "I felt at the end of last year, he was playing as well as almost any point guard in the League," Gentry says. "Ability-wise, he's shown he really belongs."
While he may not get much credit as a leader, McInnis embraces his role. "I'm kinda like the glue on this team—we got all this talent, and I got to keep it together," he says. "Basically, | just want to knock down the three and make the other point guard work." As for toiling in the shadow of his more hyped teammates, Mclnnis promises, "I like to be the guy who's overlooked. When we win games as a team, I'll get my due."
The expectations are a bit higher for Olowokandi, the No. 1 pick in the '98 Draft. Based on his three-year averages of 9.1 ppg and 7.4 rpg, the Nigerian-born big man has yet to justify that lofty selection. But, hearing his teammates big up his game, you get the impression that Kandi's best is yet to come. "He's one of the best centers in the League, I'm telling you…on the hush," Odom promises. "People got to remember, he didn't ask to get picked first. He played his way into that, but he's still developing."
Knowing he'll always be a bit behind on the learning curve, Olowokandi has worked hard to catch up. "I feel I've definitely put in the work," says Kandi, who, freed up to concentrate less on scoring and more on rebounding and defending, figures to benefit most from Brand's presence. "The toughest thing with him is trying to live up to all the expectations," Gentry says. "If he can continue to improve and keep working, he'll be fine."
Those, most likely, are your starters. After that, there's Darius, who will no doubt get his minutes. There's Maggette, who averaged 10 points and 4.2 boards per in just 19.7 mpg last season. There's 21-year-old guards Keyon Dooling and Quentin Richardson, both of whom have earned Gentry's praise. And there's backup center Sean Rooks, a co-captain with Brand and Odom and, at 32, the oldest player on the opening-day roster. "They're all guys we're real comfortable playing," Gentry says, "and some nights those guys will play an awful lot."
Which brings up what seems to be the coach's only real concern, with talented young cats like Maggette, Keyon and Q forced to battle for scarce minutes, Gentry knows young egos could get bruised. Maggette does his best to dead those worries, saying, "We'll do whatever coach feels he wants us to do." But Gentry will wait and see.
"Somewhere along the line, you're gonna have guys disappointed," he says. "But if we can keep this group together, and more than that, if they can accept their roles, I think this group can be very good." And that's what it comes down to: keeping this group together.
History may tell us to doubt Don Sterling and Elgin Baylor, to wonder if they'll pay to keep the All-Star-caliber talent they've acquired. But as Brand bluntly states, "It's on us. We have to give the owner a reason to keep us together. If we win games, get to the playoffs, they have to keep us together." Still, he's realistic. Like his coach and most of his teammates, Brand knows that in the still loaded West, the playoffs are a reach. They expect to improve this season, and if they can stay together when all those contracts start to come up at the end of this year, improve again the year after that, and the year after that, until, just maybe… like we said, the reminders are everywhere. All those banners hanging in their gym, the double-bling defending champs just down the hall. Like Elton said, the measuring stick. That's the ultimate goal, the long-term dream.
And the short term? Pay attention, y'all, because these kids can ball, and they'll have a lot of fun while they're doing it. It's Showtime 2K2, hip-hop basketball at the highest level. Enjoy.
—
Ryan Jones is a Contributing Editor at SLAM. Follow him on Twitter at @thefarmerjones.
Photos by Atiba Jefferson.