This week, we'll be unveiling the rest of our SLAM TOP 75 NBA Teams of All Time list, which is featured in an entire special issue dedicated to the best 75 individual season teams ever. To find out who else made it on the list, read here.
---
6. 1986-87 Los Angeles Lakers
Coach: Pat Riley
Record: 65-17
Roster: Kareem Abdul-Jabbar, Adrian Branch, Frank Brickowski, Michael Cooper, AC Green, Magic Johnson, Wes Matthews, Kurt Rambis, Byron Scott, Mike Smrek, Billy Thompson, Mychal Thompson, James Worthy
One of the greatest teams in Lakers history began and ended the regular season with losses. A truer representation of the Lakers' dominance came in the stretch of March and April, in which they won 21 of 22, a run that served as a statement of intent for the postseason. These guys were serious.
They were motivated, too. A year earlier, they'd missed the Finals for the first time in five years and watched as Larry Bird and the hated Celtics won their third title of the decade. They'd be in no mood to watch this time.
Magic Johnson was already a three-time NBA champion and two-time Finals MVP, but unlike his rival Bird, he had yet to win a regular-season MVP. He went out and put up numbers that would make it hard to give it to anyone else: a career-high 23.9 ppg and a League-high 12.2 apg, along with 6.3 rpg and 1.7 spg. Those numbers helped cover for the diminishing production of living legend Kareem Abdul-Jabbar, who, at age 39, still averaged 17.5 ppg.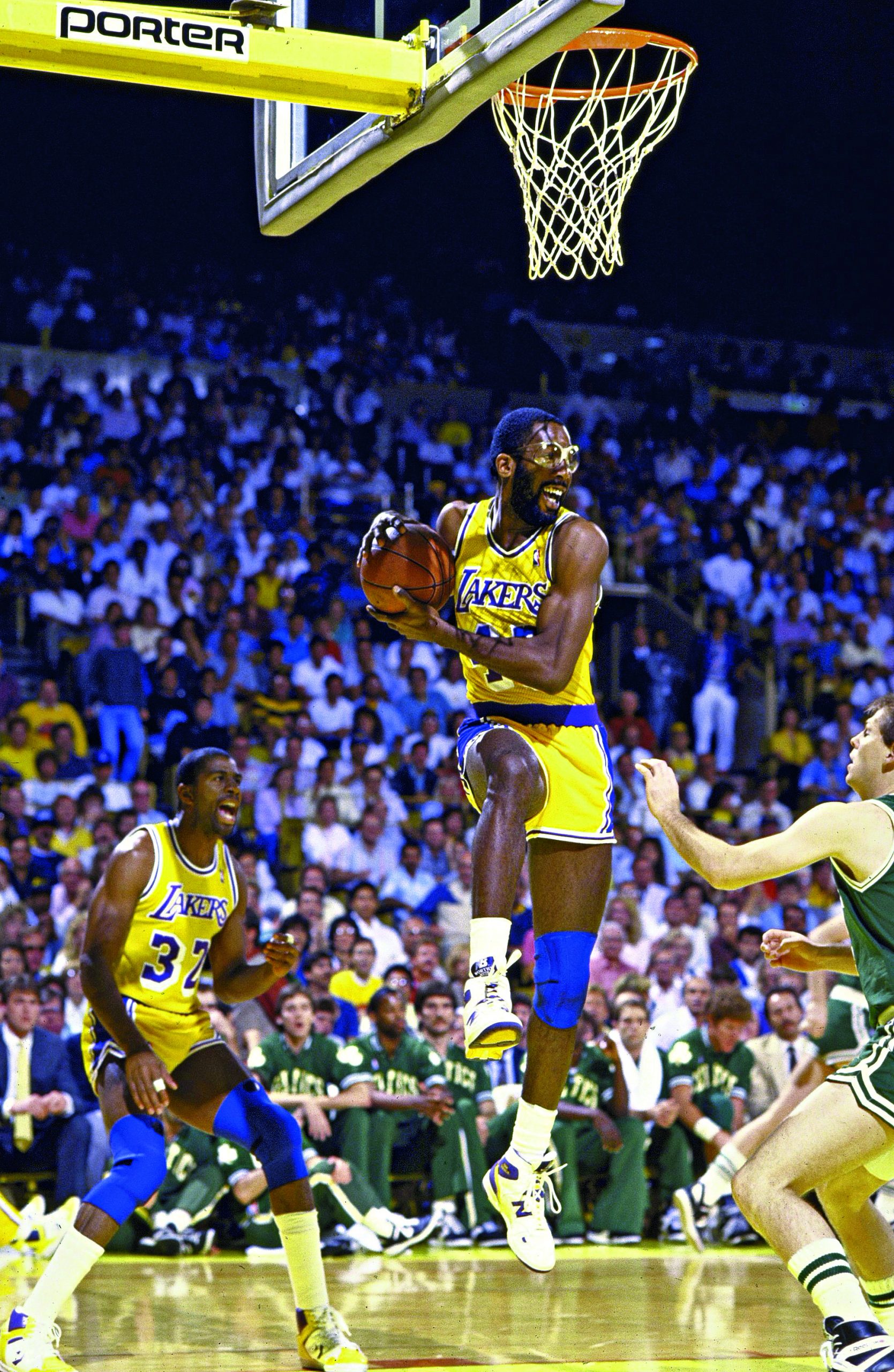 The rest of the Showtime squad was at or near its prime. James Worthy and Byron Scott were terrors running with Magic on the break, with Worthy averaging 19.4 ppg and Scott adding 17. Second-year forward AC Green was a famously weird stylistic fit on Hollywood's favorite squad, but his 10.8 ppg and 7.8 rpg spoke to his value in the paint. Vets like Michael Cooper, Mychal Thompson and Kurt Rambis personified the team's underrated defense and toughness.
After that dominant regular-season—they finished six games ahead of Boston and a full 10 games clear in the West—the Lakers looked basically untouchable through the first three rounds of the playoffs: 3-0 over Denver, 4-1 over Golden State, 4-0 over Seattle. It all set up the seemingly inevitable matchup with the Celtics, who'd needed seven games to get past Milwaukee and Detroit in the East. The Lakers had all the momentum, but they knew better than to take the Celtics lightly.
They did anything but, walloping Boston by a combined 32 points en route to a 2-0 lead before eventually taking a 3-2 lead back to Los Angeles for Game 6. Down 5 at the half, the Lakers blew the roof off the Forum with a 30-12 third quarter and cruised to victory behind a throwback 32-point effort from Kareem. But it was Magic who added another Finals MVP to his first regular-season trophy. In this moment, the League belonged to him.
---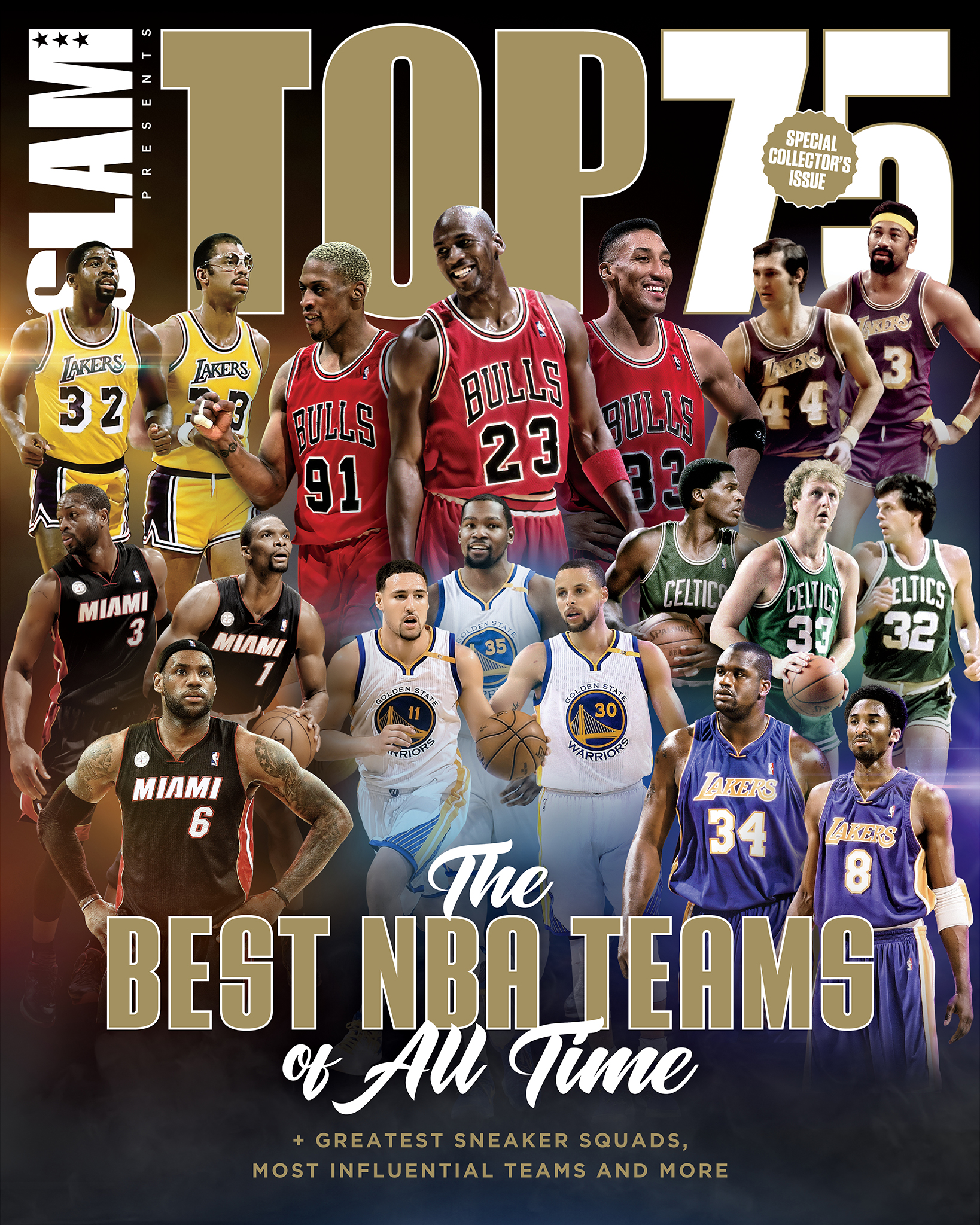 Get your copy of SLAM Presents TOP 75 NBA Teams Of All Time
Photos via Getty Images