We've dedicated an entire special issue,SLAM's TOP 75 NBA Teams of All Time, to ranking the best 75 individual season teams ever. This week, we're unveiling which squads made it on our top 10. To find out who else made it on the list, read here.
---
9. 2000-01 Los Angeles Lakers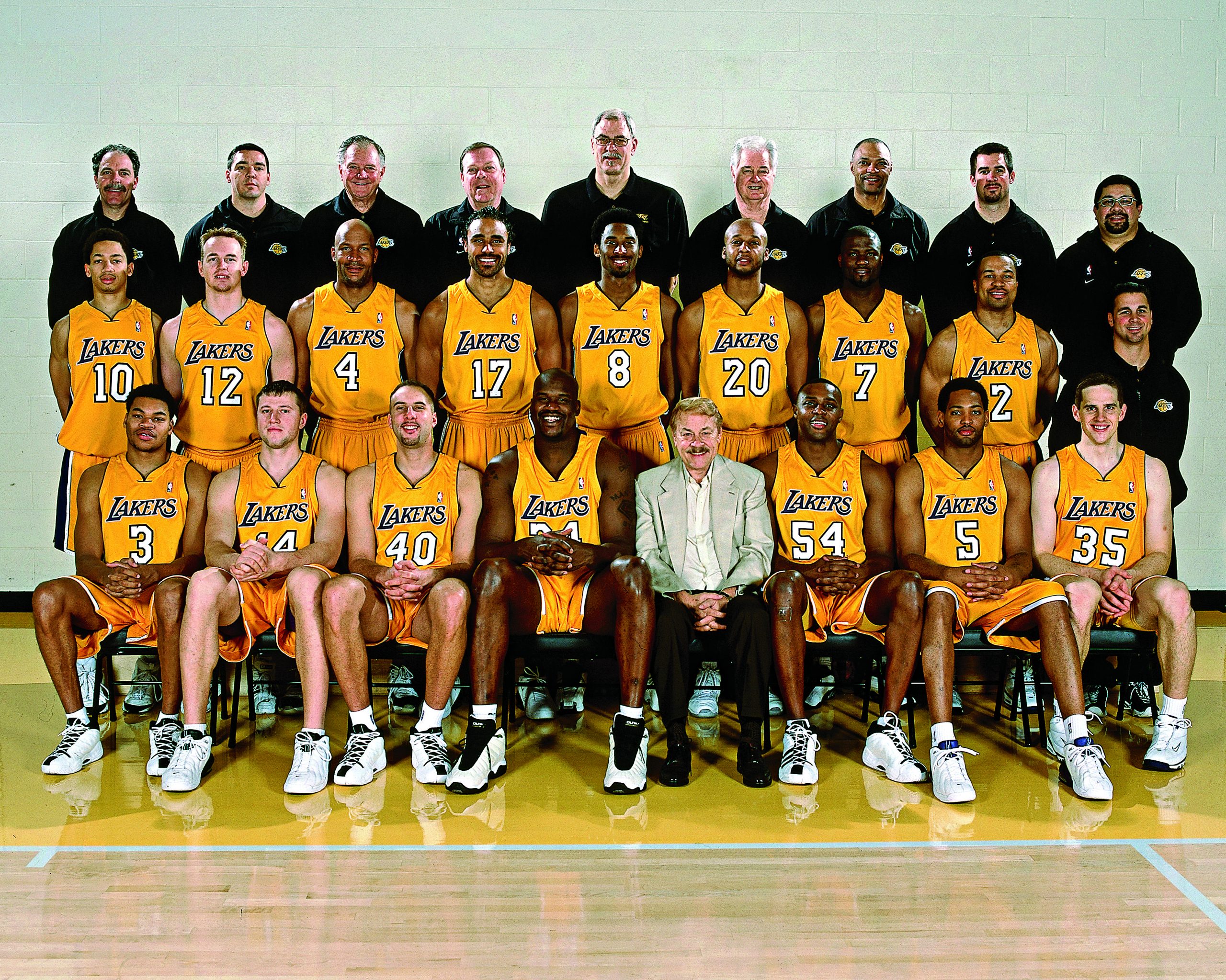 Coach: Phil Jackson
Record: 56-26
Roster: Kobe Bryant, Derek Fisher, Greg Foster, Rick Fox, Devean George, Horace Grant, Ron Harper, Robert Horry, Tyronn Lue, Mark Madsen, Stanislav Medvedenko, Shaquille O'Neal, Mike Penberthy, Isaiah Rider, Brian Shaw
It's easy to dismiss the '00-01 Lakers' 56 wins as "disappointing." That wasn't even the NBA's top win total.
But the true test of this team—and most great outfits—is the postseason. In that regard, there is a different number that matters.
One.
The Lakers lost just one game in the 2001 Playoffs, the Finals opener against Philadelphia. They swept their first three opponents, including San Antonio, which had the NBA's best record.
This was the middle championship of L.A.'s early 21st century three-peat, and it didn't come easy, despite the playoff dominance. The Lakers fought injuries, withstood some animosity between Shaquille O'Neal and Kobe Bryant and had to integrate some new faces (Isaiah Rider, Horace Grant) into a deep rotation that won eight straight to finish the regular season.
Things were not great between the two stars, as the Big Brother-Little Brother dynamic was no longer that palatable to Bryant. Coach Phil Jackson was able to keep things relatively zen, but it was clear that the two weren't too happy together. That led to some regular-season unease and a final record that doesn't really represent how good this team was.
Of course, O'Neal was overpowering. Still at the peak of his powers, he averaged 28.7 ppg and 12.7 rpg. He was even better in the Finals, when he won MVP. Not that Bryant was simply riding shotgun or anything. He scored 28.5 ppg, by far his best performance as a professional up to that moment. They may not have been lunch buddies off the court, and they feuded during the season about the breakdown of offensive opportunities, but when the ball was tossed up, they formed an unbeatable tandem.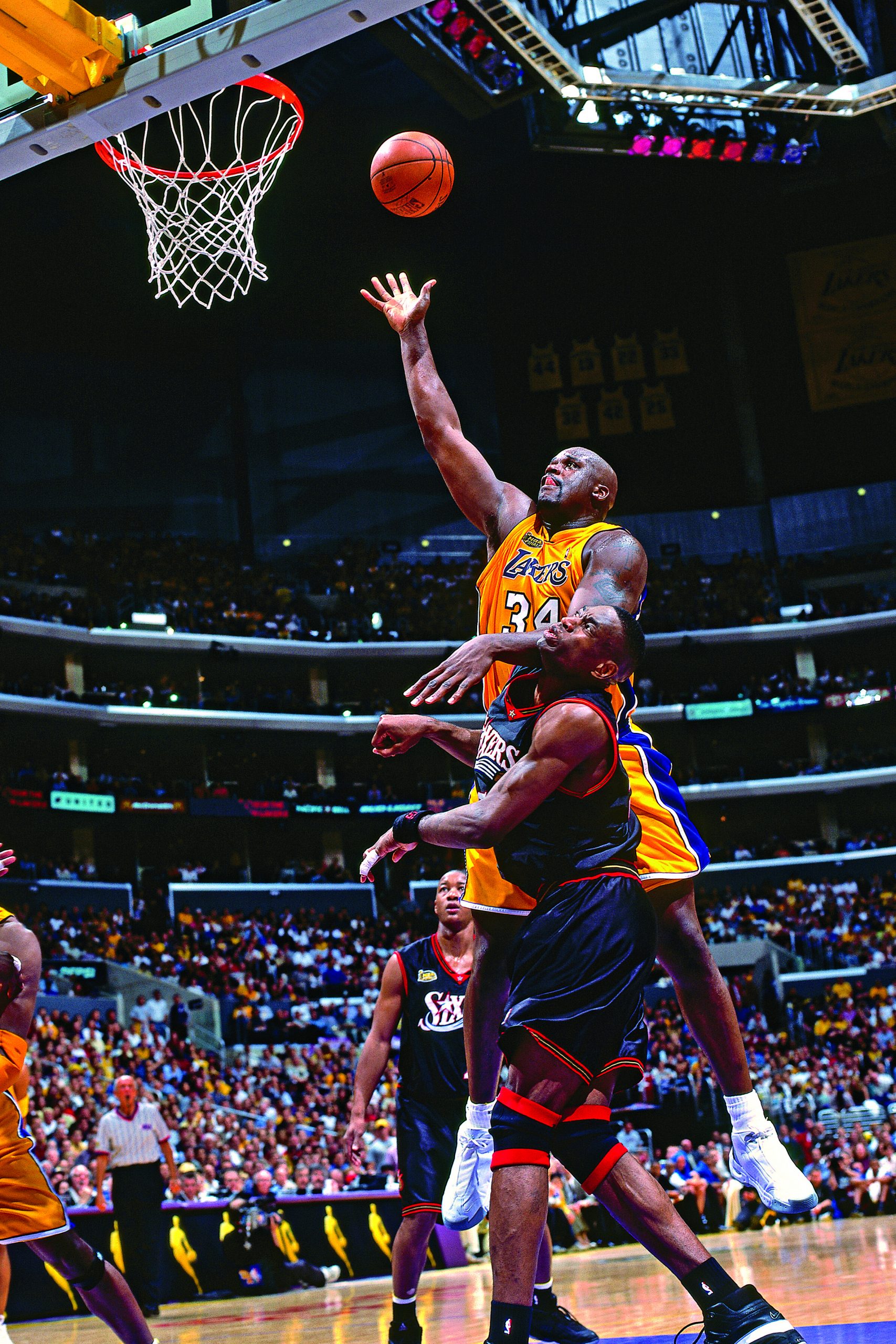 Perhaps the biggest reason why the team didn't approach 70 victories was the absence for 62 games of point guard Derek Fisher, who was recovering from a stress fracture in his right foot. Once he returned, the offense was more efficient, and the Lakers played better at the other end, too. Grant was a steady interior force, while Rick Fox provided his usual all-around assistance.
In the playoffs, L.A. swept away Portland, Sacramento and San Antonio, as the team crackled. And though Allen Iverson's 48 points in the Sixers' overtime win in Game 1 of the Finals gave Philly some hope, the Lakers crushed that ruthlessly over the next four games to complete the second title in their three-peat. There was more—of everything—to come in 2001-02.
---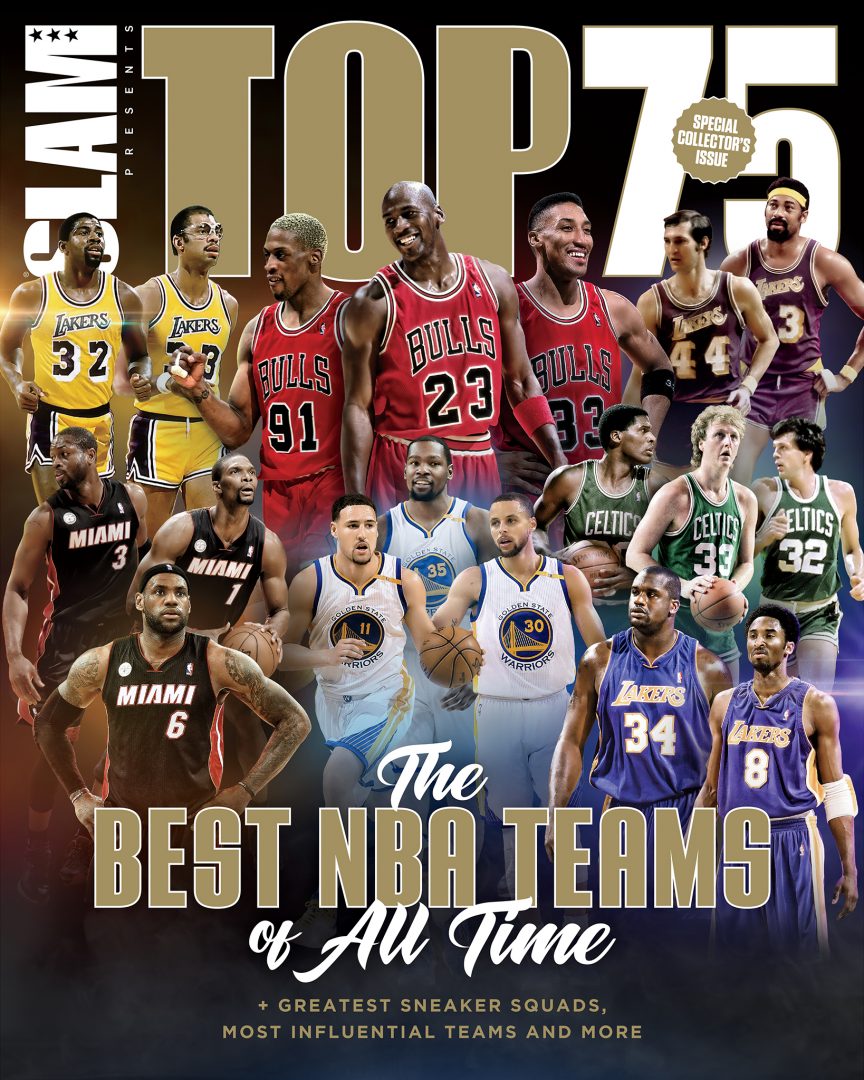 Get your copy of SLAM Presents TOP 75 NBA Teams Of All Time
Photos via Getty Images.