The Rebirth of Cool: Starting Lineup is Back with the First in a Series of NBA Action Figures
We've got an exclusive 32-page mini mag on Starting Lineup's New NBA Action Figures. Only available via pre-order. Shop here.
It was nearly 35 years ago when a new, first-of-its-kind line of sports collectibles landed on store shelves and changed, well, everything. A slight overstatement, perhaps, but for collectors and diehard sports fans, the arrival of the Starting Lineup brand really was a game-changer, an unprecedented way to express their fandom, scratch their collecting itch and rep the players whose games inspired them. The line quickly became iconic, and more than two decades later, the Starting Lineup brand remains just that—a classic, cultural reference point and a coveted collectible.
And now, to paraphrase one of the stars of the original Starting Lineup NBA run, "They're back."
After hinting at it last spring and summer, Hasbro this fall confirmed the return of Starting Lineup for a new generation of fans and collectors—and fittingly, the new line not only highlights the best and most dynamic players in today's NBA, but does so with cutting-edge technology that adds brand-new digital components and brings an almost unbelievable level of realism to play. The result? Once again, Starting Lineup has changed the game.
And while the brand will once again run across all the major sports leagues, it's the NBA's unequaled star power that will lead Starting Lineup's rebirth. "If you look at the history of the original line starting in 1988, one of the most iconic Starting Lineup figures was that '88 Michael Jordan," says Justin Spagnuolo, Director, Global Brand Strategy & Marketing for Hasbro. "The NBA just felt like the right way to go, and the League and the Players Association have been great partners in getting us there."
While everything about the new line nods to the brand's history, the line itself couldn't be more of the moment. Just look at that list of players: LeBron James. Stephen Curry. Giannis Antetokounmpo. Ja Morant. Luka Dončić. Joel Embiid. Jayson Tatum. Trae Young. An eight-man rotation you could put up against pretty much any lineup in NBA history, with a barrel full of championship rings, MVP awards and All-Star bids among them.
Now look closer, literally, at the players themselves. The level of detail, the accuracy, the video-game realism…it's crazy. And yes, that's very much by design. "For us, the player likeness is the No. 1 thing—that's been the Hasbro specialty, being as authentic to the player as possible," Spagnuolo says. "We know from a consumer standpoint, that's what the fans want, to be as lifelike as possible. To get that kind of likeness on a 6-inch figure is staggering."
As an example, Spagnuolo points to Ja Morant, the Memphis Grizzlies' all-everything, highlight-generating young guard. From his hair to kicks—literally, from head to toe—Morant's likeness is incredibly lifelike. Spagnuolo says that when Morant first unboxed his own Starting Lineup likeness, he was "blown away by how much it looks like him. It's all about that level of detail, and we've carried that across the board."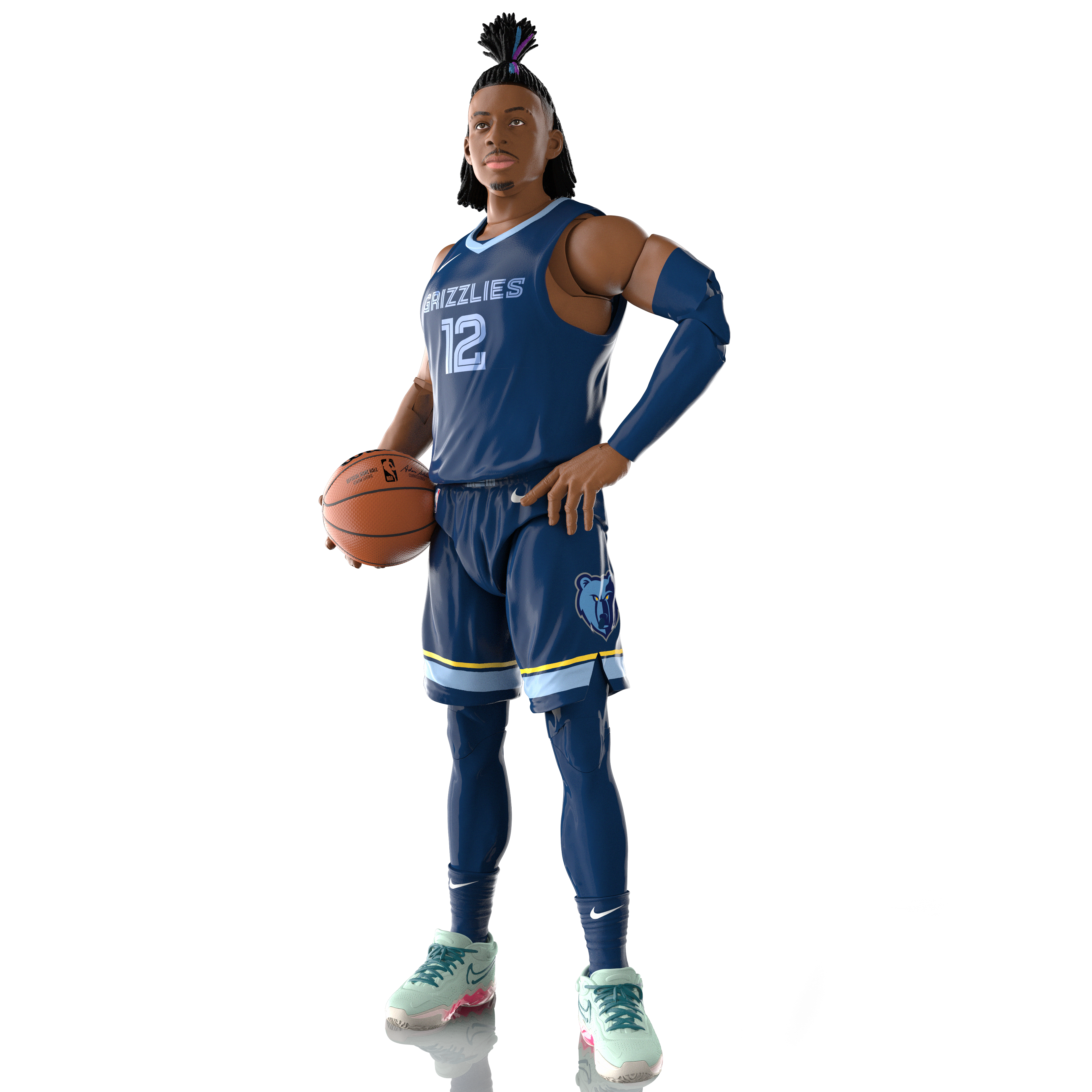 As one of the League's most exciting young players, Morant represents everything the new Starting Lineup is striving for: a signature look, a dynamic style of play and a game worthy of immortalizing. Beyond marveling at the detail of his own replica, Morant shared with the Starting Lineup team how much he appreciated being included in the line as "a sign of how hard I've worked." It's a message that resonates with the Starting Lineup creative team.
Of the full lineup, Spagnuolo notes the unique mix of personalities and skill sets they bring, and the range of up- and-coming stars to Hall of Fame-bound veterans.
"You've got guys like Ja, who's absolutely ridiculous and ready to take over, and then a global icon like LeBron James. We're just trying to cast the widest net and bring all these personalities to life."
Of course, it's not only the personalities and the game that have changed—this new generation of NBA superstars exists in a very different world than the original Starting Lineup run. That's reflected throughout the new line, from each player rocking highly detailed shoes that are accurate to brand, model and colorway—which the players themselves determined, of course—to relative heights that are realistic to scale, to articulation that allows fans to recreate signature poses and shots, from dunks to dribbles to jumpers. Then there are the accessories: two extra sets of hands to customize the action, a display base and flight stand, a Panini trading card and a link to a Panini NFT trading card. There will be much more to come in the resurgent Starting Lineup run, including more NBA players (hey, no spoilers), the recently announced NFL line, and…well, you'll just have to wait and see. But it feels appropriate that the NBA line is leading this return. In the same way that the greatness of today's stars, from LeBron to Luka to Ja, has been built on the foundation of Jordan and those who came before and after, there's a direct line running from those original Starting Lineup figures through the newly launched line. In both cases, they've evolved, taking the best of the past and lifting it to new heights.
As Spagnuolo puts it, "History is a big part of our story." Indeed, it's the combination of that rich history with next-level tech innovation and the NBA's biggest stars that makes the present and future of Starting Lineup so cool to be a part of.