Robert Horry has seven Championship rings. Michael Jordan has six.
All the same, no basketball fan in her right mind considers Horry to be greater than Jordan. Horry was a great complementary player, sure, but it was the all-timers around him who did the heavy lifting.
Imagine, though, Horry was considerably more talented, skilled and athletic—imagine his abilities resembled Kawhi Leonard's. In that case, he certainly would have played a bigger role in the titles his teams won, and he would have bagged a few NBA Finals MVPs himself.
Yet as good as Leonard has become, he's still not on par with Bird, Magic or LeBron in their primes. And even if a Leonard-level player had Horry-level hardware, he still doesn't surpass Jordan.
Why? Because Jordan's greatness doesn't come solely from the quantity of titles he won. It also comes from his individual exploits, the sheer consistency of the overwhelming dominance he displayed throughout every regular and postseason he played with the Chicago Bulls.
The point is worth remembering in the wake of Tuesday night, when the UConn women beat Syracuse to secure their fourth straight championship. The win further catapulted UConn superstar Breanna Stewart into rare air, prompting the question of whether she is the greatest player—man or woman—in the history of college basketball.
"Stewie" has proven to be as devastating at her level as Kawhi Leonard is at his, steadily crushing opponents' will with her 6-4 length, shooting range and versatility. On top of that, she was the best player on the only Division I women's team to lose only once in a three-season span and the only team to win four consecutive national titles. Oh, and she's also the only person to win four NCAA Tournament Most Outstanding Player awards.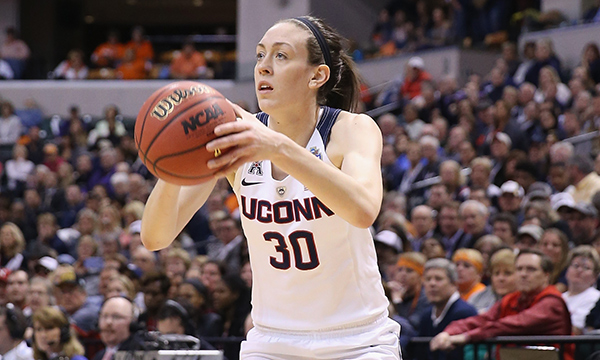 As great as Stewart was though, she's not the greatest college basketball player of all time. Other players—men and women—make stronger arguments despite winning fewer national titles.
Take Kareem Abdul-Jabbar, for example. For three straight seasons at UCLA, Abdul-Jabbar (aka Lew Alcindor) matched or one-upped Stewie in practically every category. The Bruins' prestige has dropped in recent years, to the point where their odds to win the 2017 NCAA Championship are on par with Vanderbilt's, but in the late 1960s UCLA was even more dominant than the UConn women are now. Abdul-Jabbar's Bruins won 98 percent of their games compared to 96.8 percent for Stewart's Huskies.
Both Abdul-Jabbar and Stewart won the Most Outstanding Player award every postseason they qualified for it. In the late 1960s, freshmen weren't allowed to play varsity, but had Abdul-Jabbar been eligible he likely would have won it as a freshman too.
Abdul-Jabbar separates himself from Stewart when it comes to individual statistics. He bore more of the burden for his team and delivered more often at a higher level. The fact Stewart averaged 10.3 rebounds and 19 points in national title games looks really impressive—until you compare that line to Abdul-Jabbar's title game averages: 18 rebounds and 30.3 points (on 70 percent shooting).
A side-by-side comparison of statistics from each player's first three seasons further confirms that Abdul-Jabbar is in a class of his own when it comes to mixing individual accomplishment and team success:
Year One

Year Two

Year Three

OK, so maybe bringing the men into it was a bit much.
In terms of women's college basketball only, how good is Stewart's G.O.A.T. case? Here nobody separates themselves like Abdul-Jabbar, but a few players still surpass her in important areas. USC legend Cheryl Miller, for instance, won two titles but was a vastly more dominant individual force. Her freshman season alone was a masterpiece, while Stewart's freshman year looked relatively pedestrian (more to come on this later).
Critically, Stewart is far from the consensus best player in the history of her own program. More insiders maintain that distinction belong with Diana Taurasi, whose Huskies won three titles from 2002-2004. Taurasi didn't have the benefit of playing with as many All-Americans as Stewart did, ESPN analyst Doris Burke points out to the Hartford Courant: "In Diana's final two seasons, so much of their success on those National Championships was driven by her. She had the ball in her hands for extended periods. She had the ball in her hands for the most important moments."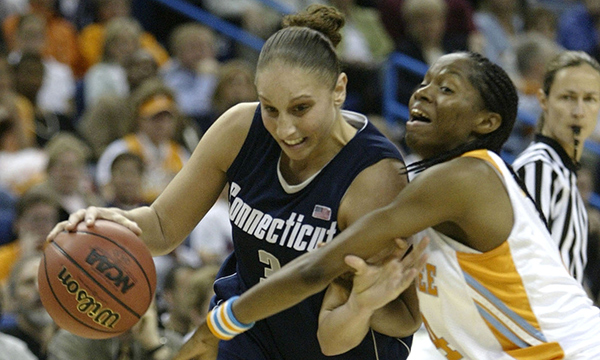 Burke continues: "She made the players around her be above the level that maybe they thought they could play at. In terms of the weight of responsibility and that certain something that certain athletes have to raise the level of the people around them, Diana didn't have Morgan Tuck and Moriah Jefferson, the next two best players in the country [after Stewart] in my estimation."
Taurasi had the luxury of those caliber of players in her sophomore year, but it was pretty much her show the next two seasons. Whereas Stewart et al rolled in as overwhelming favorites in practically every post-season game played later in her career, Taurasi's Huskies were an underdog in the semifinal against Texas her junior year. "We had no business winning that game," Connecticut coach Geno Auriemma told Zach Lowe. "She made everybody around her feel like they could do anything."
Comparing The Best of The Best
Freshman Year

Sophomore Year

Junior Year

Senior Year

Make no mistake about it: Whether surrounded by other All-Americans or not, Stewart is a great player. But her greatness doesn't transcend and overwhelm in the same way Michael Jordan did in the NBA, or Kareem Abdul-Jabbar or Cheryl Miller did in college. Hardly any players ever reach this level, so that shouldn't be an indictment against Stewart or take away from all that she has helped accomplish.
As Burke put in during Tuesday's title game broadcast, "After a rocky first year at Connecticut, Stewart has gone on to become the most decorated and most successful player in history."
Those two descriptions should be enough.
What about other all-time college greats like Bill Walton, Maya Moore, Brittney Griner, Sheryl Swoopes and Chamique Holdsclaw? See how they stack up to the above players here.