The L.A. Sparks have a chance to steal Game 1 of the 2017 WNBA Finals in Minnesota. Six seconds on the clock. Down 84-83, Candace Parker turns to her point guard Chelsea Gray during the timeout.
"I'm going to you," Parker says. "I got you."
Parker inbounds the ball to Gray, who pivots and drives left.  She gets to the left elbow and shoots a fadeaway over Seimone Augustus and Maya Moore.
Nylon. Ballgame.
"I had the mid-range game kind of flowing in that moment," says the 25-year-old. "So it was kind of in-rhythm and it didn't feel forced."
The shot is still fresh in her mind. Two weeks prior to our interview, Gray became the hero of Game 1, finishing with a career-high 27 points.
It's a moment she'll never forget. Just like on January 12, 2014, when Gray fractured her right kneecap.
A senior at Duke, Gray was returning to form after dislocating her right kneecap less than a year prior. Once considered a surefire lottery pick, she knew that re-injuring her knee could put her WNBA dreams in jeopardy.
"One minute, during my college season, I was like, Yeah, I can do this. I'ma play pro," Gray says. "And then the next minute, I was hurt for the next two years, and I didn't know that I was going to get the opportunity that I did.
"It just takes a toll on not only your body but your mindset," she explains. "You're just contemplating why you're doing this in the first place."
The NCAA denied her the opportunity to redshirt, so she entered her name into the 2014 WNBA Draft. Gray began to doubt her chances of getting drafted knowing she would have to sit out the season for rehab.
Not only was Gray surprised to hear her name called on draft night, but she was taken 11th overall by the Connecticut Sun. Coming off a league-worst 10-24 season, the Sun were beginning a rebuild and could afford to be patient with Gray's recovery.
After playing in Israel during the offseason, the Manteca, CA, native entered the 2015 season fully healthy.
But things did not go as planned.
Gray struggled off the bench. She gained weight. Her confidence steadily declined.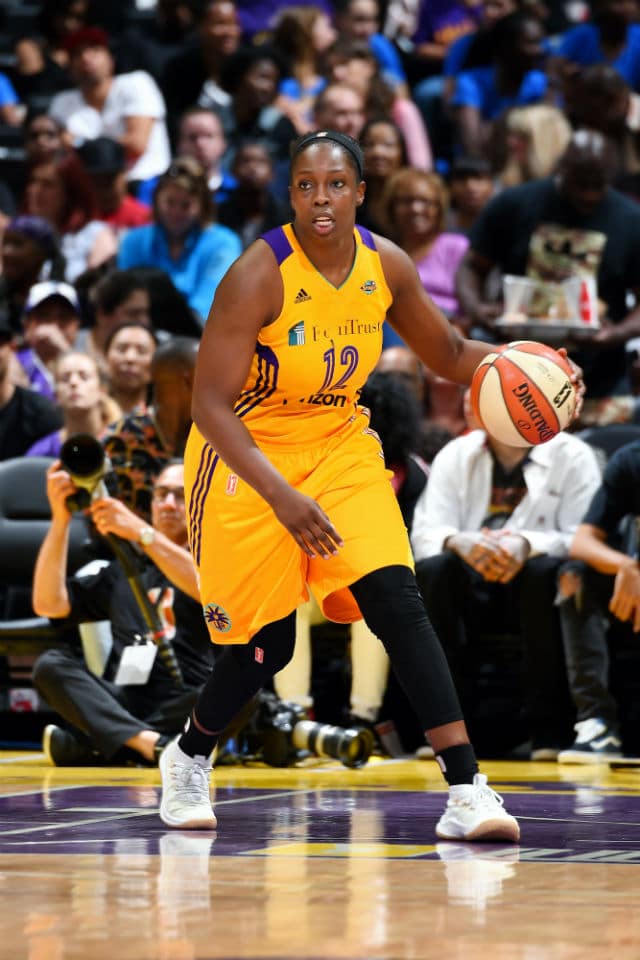 "You have so much time on your hands," Gray says. "I had a lot of people tell me that I had gained weight. I didn't know how to really go into my role on the team."
Determined not to make the same mistakes, Gray worked tirelessly overseas to get back into great shape. She was prepared to return to Connecticut when her agent called on draft night in 2016. She had been traded to the Sparks.
"She said that I was going to L.A., and I was excited. I mean, to be able to continue to play, but also I was going home. I was going back to California," she says. "So it was a blessing in disguise."
Gray studied how the Sparks' veterans worked at their craft. She picked the brain of All-Star point guard Kristi Toliver, who taught her the mentality it takes to be a elite-level floor general.
"Being around those veterans, it's a different level that you go to even in practice," she says. "And I think that's what really helped me and elevated my game both mentally and physically."
Toliver would sign with Washington in 2017 free agency, paving the way for Gray to become the starter. She was ready. Gray averaged all career-highs last season, including 14.8 points on 50.7 percent shooting with 4.4 assists.
Named an All-Star for the first time, she showcased her Showtime handle and passing ability among the game's brightest stars. And then, of course, she put the league on notice during the Finals, proving she could dominate the highest stage.
She still thinks about those devastating knee injuries in college, but she doesn't ruminate on those thoughts.
"I think it's OK to flash back on [injuries] as long as you move past it, and you're able to play without restraints or thinking of that," she says.
After taking a 2-1 series lead, the Sparks lost the final two games of the Finals in heartbreaking fashion.
But Gray will be coming back stronger next season. She always does.
—
Ryne Nelson is a Senior Editor at SLAM. Follow him on Twitter @slaman10.
Photos via Getty Images