Chloe Jackson remembers buying her first pair of Jordan's like it was yesterday. Classic white Air Jordan 5's in Retro Fire Red. The shoes embody the original Jumpman branding, white leather, with red, black and silver finishes. Jackson bought these Jordan's off years of saved allowances and money allocated for school lunches when she was in high school. But for Chloe Jackson, they aren't just a pair of Jordan's. They are the foray into her intersection of basketball, fashion, and culture. They are the lynchpin for her career as a fashion stylist for many basketball elites.
Jackson hails from Prince George County, a basketball mecca nestled outside of Washington D.C. Her upbringing was marked by admiration for Allen Iverson because of his on-court ball-handling and playmaking abilities in addition to his off-court swagger. He was The Answer on and off-the-court because of a willingness to truly and authentically dress his way. The oversized white t-shirts, flashy jewelry and bombastic aviators. Iverson, as many know, captivated fans while at Georgetown. Just thirty minutes away, Jackson knew she wanted the same sizzle that Iverson had. And that started with the work ethic on the court.
While at Riverdale Baptist High School, Jackson excelled as a shooting guard. She was named the Washington Post Girl's Basketball Player of the Year and ranked as the 19th best shooting guard nationally. She committed to North Carolina State but got injured just four games into the season. The frustrating start was an impetus for Jackson's transfer to LSU, where after two years hampered by injury and transfer regulations, Jackson starred in the SEC. By her sophomore year, she was second on the team in scoring with 13.1 points, and fourth in rebounding with 5.1 boards per game, and the following season she led the Tigers with 18.1 points and 4.7 rebounds per game.
She guided LSU to the NCAA Tournament but after losing in the first round, Jackson left searching for that next mountaintop: an NCAA championship. Jackson took what she calls a "leap of faith" and committed to play as a graduate transfer at Baylor.
"Making that move to Baylor was a huge leap of faith because you're going from a place where you're playing 40 minutes a game and the leading scorer on that team to being uncertain in your role on that new squad," Jackson says. " I believed in [Coach Mulkey's] plan and vision for me."
At Baylor, Jackson transitioned from shooting guard to point guard. She averaged 11.7 points and 5.3 assists per game for the Bears. Five years after leaving Maryland, Chloe Jackson was named the Most Outstanding Player of the NCAA Tournament, and left with a national championship in hand. She also had her Jordans, which were a staple piece for her road outfits as the Bears traversed the country.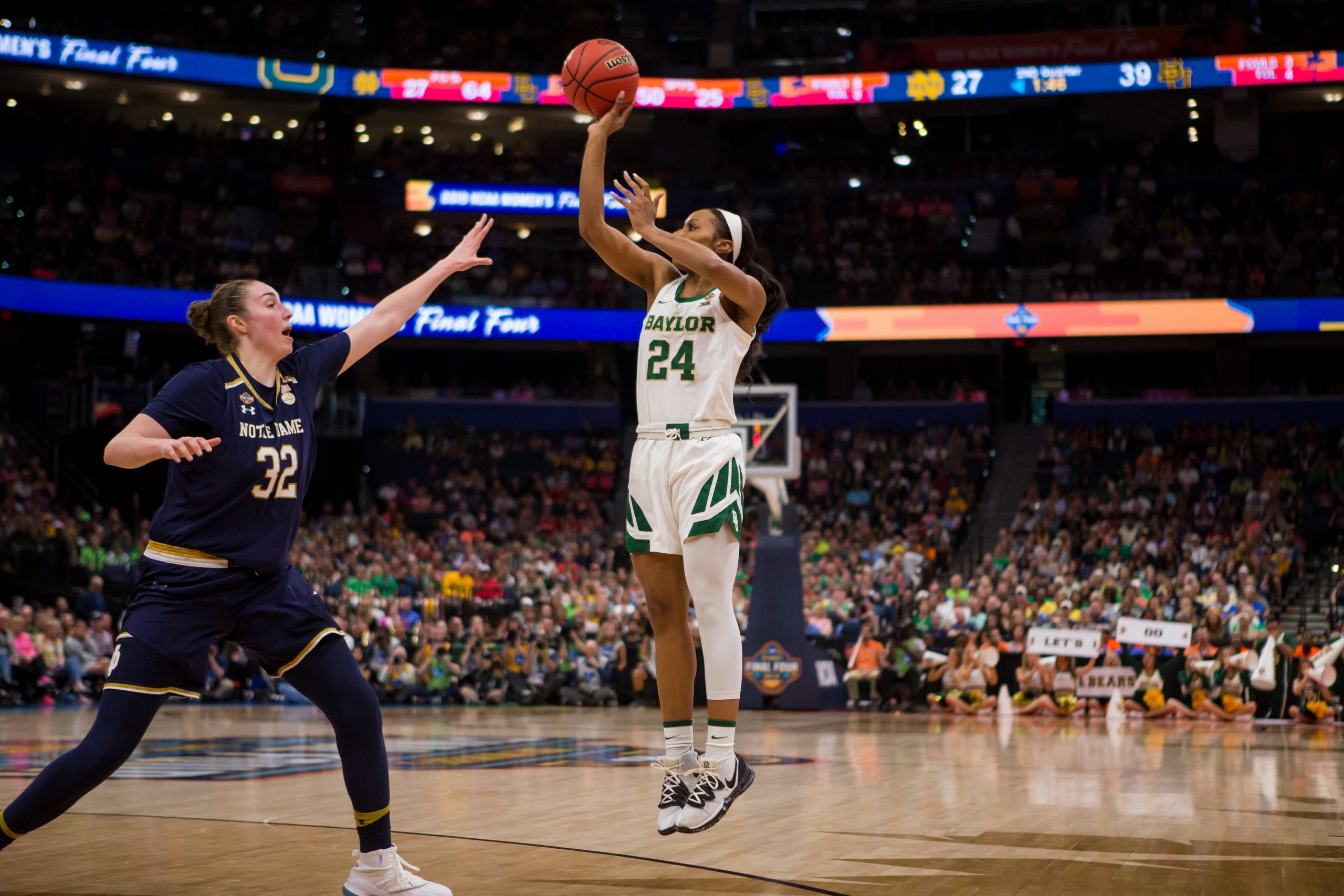 Jackson was drafted by the Chicago Sky in 2019 and gave WNBA training camp her utmost attention before deciding to hang up her shoes. She was still thinking about her Jordans. She was thinking about those road trips where Coach Mulkey would let her wear any sneakers, tuck her sweatpants into her Nike socks, or wear her favorite jewelry. Allen Iverson-style.
Jackson's winding basketball journey wasn't just marked by accolades, but a plethora of new friends along the way. Chelsea Nelson and Akela Maize from her class at NC State. They were a strong trio of teammates and roommates. Jackson attended Baylor teammate and current New York Liberty rookie Didi Richard's draft party in April. She had collected friends from Prince George County's basketball hotspots like the Lakers' Quinn Cook, as well as a following of 52.3k on Instagram not only for her hoop skills but for her style. As the days went by, Jackson continued to think about styling more frequently. She thought about her Jordans and love of fashion.
After that initial training camp season with the Chicago Sky, Jackson continued to research. She learned about A-list celebrities like Rihanna and Hailey Bieber and how stylists assisted them with their runway looks. She curated mood boards. She continued to thrift and rock graphic t-shirts, puffer coats, and a plethora of Air Forces. She dominated runways while playing overseas, wearing a slim-fit brown blazer, heels, and Kobe's in hand. These looks came to life on her Instagram feed because they were on display for all of her friends in the basketball community.
"It's so important to network," Jackson says. "I was able to make a lot of good connections while having the platform that I have."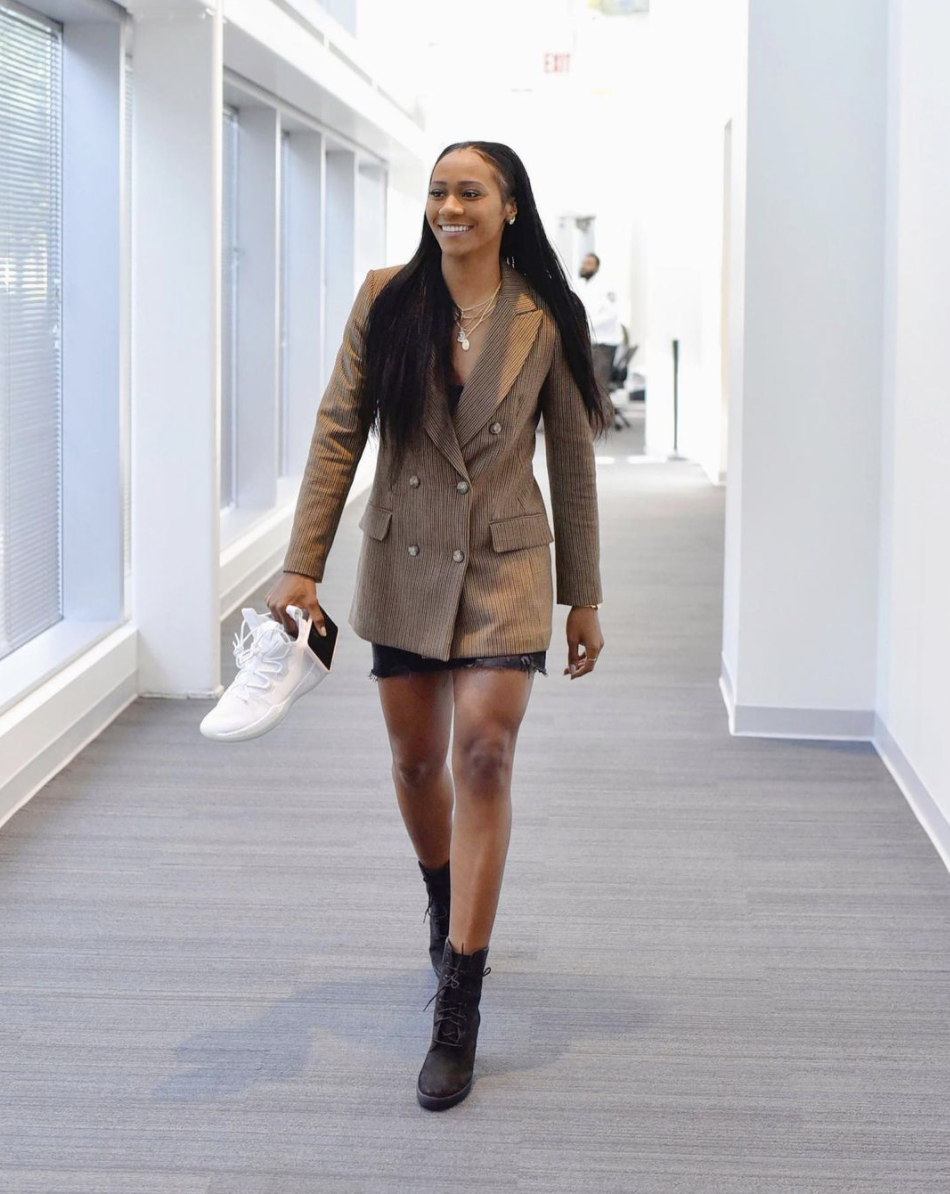 Players started to catch wind of Jackson's style, so she paid it forward. She asked if Cook and DeMar DeRozan would give her a "trial run" to showcase her styling abilities on a greater platform. They responded enthusiastically and in 2020 her looks were on full display as these two stars graced the runways. In particular, the case of DeRozan illustrates the attention to detail Jackson places when dressing different stars. She knew that Jackson prioritized comfort over sophistication in his runway looks.
"You can't go into it thinking you're going to dress DeMar DeRozan like Jordan Clarkson," Jackson says.
She dressed DeRozan in a white sweatshirt with a faded black print, Palm Angels joggers, socks with a pop art eagle and Air Forces. Compare this to on-air fits that Jackson has put together for the likes of Maria Taylor and Cari Champion, and there's a large variety in the types of looks Jackson can create. Whereas comfort is key for many NBA players, finesse and sophistication is something Jackson has learned to prioritize with on-air styles. Jackson must make sure Taylor or Champion's angles play well on TV whereas NBA players are likely to be shot in the tunnel. But regardless of the circumstance that Jackson is styling for, what sets her apart are her relatability and her authenticity.
Jackson finds fashion everywhere. Along with her mood boards, she is constantly cultivating ideas from her time overseas or even from the Zara or Urban Outfitters around the corner. For Jackson, there is no blueprint to style and she can find inspiration in gritty urban streets just as much as runways in Milan.
"You can wear all the brand names you want to wear and it can still be a bad outfit," Jackson says.
Along with her tried and true love for the intersection of basketball, fashion and culture, she's coupled these passions with business savvy. There is no detail worth overlooking when dressing the biggest stars of the game whether that be exact height measurements or the logistics required to ship clothes across the country.
While playing overseas in Poland, she got an Instagram message from another basketball legend who Jackson puts up there with favorite players like Allen Iverson—none other than Dwyane Wade. He connected Jackson with his stylist and has continued to check in with Jackson. And in December, Wade posted a photo on the 'gram of him on a boat with bleached blonde hair, a Rhude graphic t-shirt, and tie-dyed Supreme leggings, styled by Jackson. The post garnered over 94,000 likes, but at the end of the day, it's the relationships that matter the most to Jackson.
"Having [Wade] as a friend and mentor and later in the year being able to style him was a dream come true because that was one of the people I looked up to," Jackson says. "Styling him, it really came full circle."
Jackson's journey has taken her down countless roads and avenues from Waco to Poland to the NBA All-Star Game but no matter where they go, they always seem to lead back to the tunnel. Jackson will likely be the engineer behind your favorite player's next look, but in the back of her head, she will still be a high schooler geeking out over her first pair of Jordans. 
—
Photo credits via Getty Images and Chloe Jackson.