Debbie Ryan wanted to get into Dawn Staley's head. When splitting up her team for scrimmages, the former Virginia coach would group four starters plus the sixth, seventh and eighth player—and give Staley the third-stringers. The stacked squad envisioned a breezy victory; Staley saw an upset. From crossing over boys in Philly's inner-city playgrounds to twice tying for Virginia's top rebounding average at 5-6, the National Player of the Year in 1991 and '92 loved to show and prove.
"She would say, 'Oh, OK. I see what you're doing,'" Ryan says. "'Go ahead. We're still going to kick your ass.' And she never lost in four years. I kept track."
Staley has always been drawn to challenges. That's why the three-time Olympic Gold medalist and five-time WNBA All-Star sought to turn around a bottom-of-the-pack South Carolina program that finished 2-12 in SEC play in 2008-09 into a national contender. Few could have predicted that the Gamecocks would reach the Final Four last season, coming one point shy of reaching the National Championship game with a 66-65 loss to Notre Dame.
"I'm a builder," says Staley, who previously guided a struggling Temple program to six NCAA tourneys and four A-10 tournament crowns. "People said South Carolina couldn't compete at a high level, but I like to prove the naysayers wrong. We want to win a National Championship."
***
Shot clock violations. Travels. Fumbles. No. 2 South Carolina seemed to be handing out early Christmas gifts to unranked UCLA in an early season game in Westwood: 14 turnovers by halftime, 19 by the end of the third. Each seemed to stick a pin in Staley's heart. Her face grimaced into a scowl, her hand squashed a stat sheet.
"I think Dawn wishes sometimes she could be out there as a player," says Stanford coach Tara VanDerveer, Staley's former USA coach. "Because she could fix it."
Staley may no longer be a player, but she still moves like one. The floor general remained calm; if she seemed rattled, her troops would become rattled. The Gamecocks responded with a couple of scores and stops and escaped with a 68-65 victory over the Bruins.
"The one thing I can say about Dawn is she has the pulse of this team. Always. I think that's her point guard mentality," South Carolina associate head coach Lisa Boyer said after the game. "She knows what motivates them, what makes them tick."
But players didn't always know how to follow. When Staley arrived in 2008, the program hadn't reached the NCAA Tournament since '03. Players grew accustomed to double-digit losses and lopsided conference records. And here was a new coach, nourishing them with dreams of being the nation's team to beat?
"It took a lot of time for them to buy in," Staley says. "When you've never won, you've never been part of a winning culture, when you don't understand it from the outside, the touch and feel of winning? It's hard."
Staley worked to change her players' mentality. There was no other option than giving your all each possession—to each game, to each practice, to each class.
Players had to match Staley's intensity.
"Whether it was on the court in the biggest game of the Tournament, or if we were on the back of the bus playing cards, that competitiveness always came out. That's just who Dawn is," says Seattle Storm PG Sue Bird, Staley's former USA teammate. "I think when someone is that competitive, you gotta keep up. You gotta keep pace."
Staley also had to gain her players' trust. But that was her forte as a player—she knew that being a point guard was more than bringing the ball up the court. It was bringing people together.
She was both tough and tender, knowing when to push or give a hug. She could walk into a locker room and sense who was having a good or bad day. She could relate to a starter or reserve, a freshman or senior. She savored an assist over a point, able to whip a pass to anyone from anywhere on the floor.
"She just can reach out to people and get them to follow, and that takes a special person," says former Virginia teammate Tammi Reiss, now an assistant coach at Syracuse. "Not many people have that quality. You think of male counterparts like Magic Johnson or Michael Jordan, special people that people just follow. Dawn, on the female side, is that person."
"That's what makes her the best point guard to ever play the game," Reiss continues. "Because she can lead a team and they follow. She knows where to take them."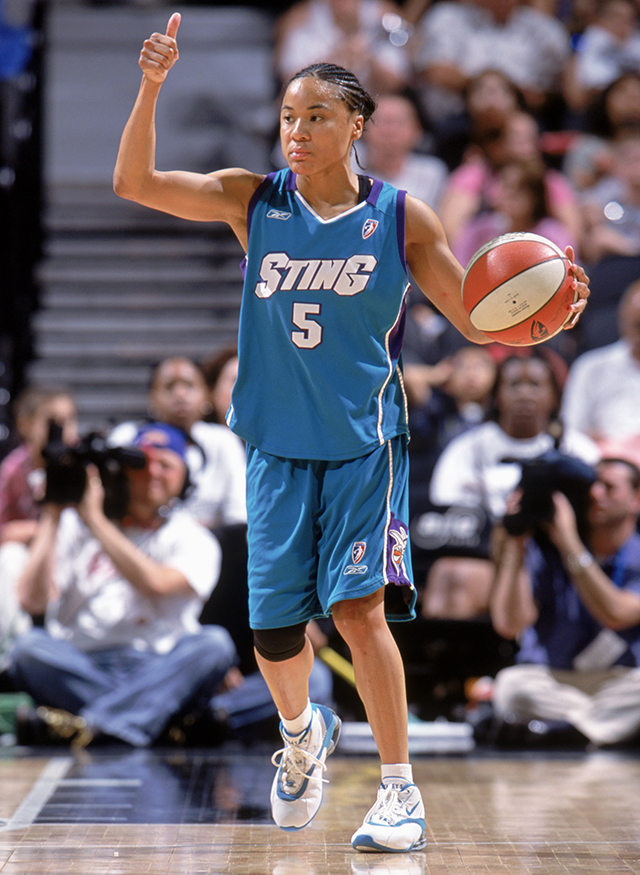 The South Carolina players began to follow, and so did the wins. After finishing 11th, seventh and fifth in the SEC, the Gamecocks broke through to the Sweet 16 in 2012. The team reached the second round in '13 and the Sweet 16 in '14 before reaching its first-ever Final Four in '15.
The people of Columbia, SC, came along, too. South Carolina sold more than 11,000 season tickets this season, up from 2,315 in 2012-13. The Gamecocks led all of Division I—including Connecticut, Notre Dame and Tennessee—in average attendance last season at 12,293 fans per game.
"We've seen South Carolina when it felt like there was two people in the arena, and you could hear [Staley] in timeouts," sophomore forward A'ja Wilson said. "Now you go from us sitting in the timeouts and we can barely hear her because the fans and the support system is just amazing."
Led by the scoring prowess of senior All-American guard Tiffany Mitchell, and the frontcourt duo of Wilson and junior Alaina Coates controlling the paint, the No. 3-ranked Gamecocks are 24-1 as we go to press (the one blemish coming against—who else?—UConn). They are now one of the teams being chased. "A couple years ago we probably could have that mentality of the underdog. We can't have that mentality at all," Mitchell said. "We can't take any plays off. As soon as we do, there's going to be somebody that's going to try to knock us down."
No one wants to win a national title more than Staley, who led Virginia to three Final Fours only to come up short each time. After the Cavaliers' 3-point overtime loss to Tennessee in the '91 national title game, Staley watched the game tape for multiple days thereafter, memorizing each error and vowing a different outcome in the future.
It still gnaws at her. But now she has more than four years to finish the job.
"It's the only and biggest void I haven't gotten in my career that I really, really, wanted," says Staley, who joined Baylor coach Kim Mulkey as one of two women to reach the Final Four as both a player and head coach. "It's drives me. We're close. It's a sour taste left in our mouth, from a possession here or there that could have gotten us to the national title game. We saw how close we came. That lesson—that's how small the margin of error is to winning or losing. So that's our challenge."
—
Top image via South Carolina Athletics, second image via Getty