Washington Mystics guard Ivory Latta is one of the most prolific three-point shooters in WNBA history. So it isn't surprising that she found herself in unfamiliar territory during her first game playing with Elena Delle Donne during DC's opener in mid-May against the San Antonio Stars. Namely: She's never been that wide open.
"No, no, no, and I have to get used to that," Latta says, with a smile that suggests she's not going to mind the process. "I'm so used to somebody running at me. And a couple of times I caught the ball, looked around, and, Oh shoot, I'm wide open! What? And then a teammate shouting, Shoot it! Well, OK!"
Latta's experience was hardly unique. And it's vital to understand that the acquisition of Delle Donne does more than just give the Mystics the hope of reaching the highest level the franchise ever has in its checkered history. The Mystics now have an opportunity to reinvent the offensive ceiling for WNBA teams.
"It feels and seems new and different," Delle Donne says of the Washington attack while sitting on the bench as the crowd, heavily influenced by Delaware residents who traveled a short distance to watch the Wilmington native, files into the Verizon Center before a game. "I'm used to having that set called, so this is new and different. It's very much what Geno [Auriemma] had us doing with USA Basketball. So you need to have that high IQ, trust in your teammates. I think there's going to be some growing pains, but once we get it, I think it's going to be really hard to defend."
The biggest reason for this is Delle Donne, of course. She is 6-5 and shoots with elegance and efficiency. And her size, frame and dazzling array of moves, either in the post, penetrating down the lane or simply shooting over people in the midrange, make her impossible to stop.
From the time Chicago took her with the second pick in the 2013 Draft, the Sky's game plan revolved around Delle Donne's offense, most effectively during a 2014 run to the WNBA Finals. In 2015, the Sky posted the best offensive rating in the League, and Delle Donne posted a player efficiency rating of 32.75—the third-best single season total in the history of the WNBA—en route to MVP honors. So even before she forced her way to Washington this offseason by threatening to sit out the upcoming season if she was not dealt, Delle Donne had been an offensive force the League had never seen.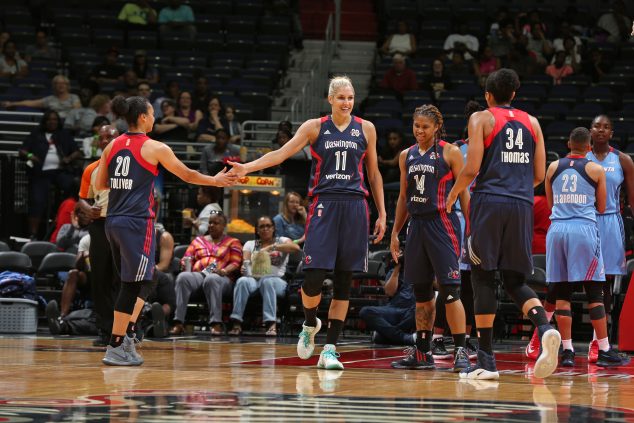 There simply isn't a weakness in her offensive game. She can score from anywhere, against any defender. Foul her, and she sinks free throws at a 93.8 percent clip, best in League history (Mystics head coach Mike Thibault says there is a $25 fine for any player who commits a lane violation when she's at the line). Her strength and handle make reaching in a foolish endeavor, anyway—her 6.2 turnover percentage is also, yes, the best in League history.
And the aesthetics of it all are just remarkable. Watching her drag two, three defenders with her down the lane as she goes to the basket is an exercise in absurdity. She's playing a different game than everybody else.
In 2016, 15 WNBA players had at least 30 possessions in isolation, per Synergy. EDD finished with 1.206 points per possession, by far the best in that situation of anyone in the League. She had 97 such possessions. The next highest total? Atlanta Dream forward Angel McCoughtry at 64.
Delle Donne simply had to carry her Sky team offensively, one heavy lift at a time.
"I don't think it was good for her game to be put in—Hey, go to the elbow in the fourth quarter and try to score every time down or we can't win," Thibault says of Delle Donne's time in Chicago. "Now she knows if she gets double-teamed, and she swings the ball, there are going to be people who can make shots. And she knows the ball will come back around. If you give the ball up, it's not going to die in someone's hands. It'll come back."
But it doesn't have to—that's the remarkable thing about the roster Thibault's built around her. Consider that three of the top four three-point shooters from last season all play for Washington now. Emma Meesseman, a top-20 player in her own right, led the League with 44.8 percent. Delle Donne was third, at 42.6 percent. And Kristi Toliver, the combo guard who helped the L.A. Sparks to a 2016 title, shot 42.4 percent.
Those stats are eye-popping in isolation. But consider that each of the three did this while playing on separate teams. Now, after Delle Donne and Toliver joined Meesseman in Washington, all three are on the floor at once, spacing, creating impossible choices for opposing defenses to make.
"I mean, there were moments where Elena was inside, and there was nobody," Meesseman recalls after the opener. "And we're going to have to get used to that. Because everybody can shoot, everybody can drive. So it's amazing that there are so many options."
It's something fans will appreciate once in the door, but the person who will bring them there is Delle Donne. The reality is that despite 20 years in the League, the Mystics have never broken through either on the court or in the crowded DC sports landscape. A pair of decades without a WNBA Finals appearance is part of the reason why, but only a part.
The franchise, at long last, has a marketable star to build around, an undisputed giant of the game. An Olympian, a former MVP and someone in the prime of her career. Moreover, in Delle Donne, the Mystics have a Nike athlete and someone with the understanding of how the branding game works. She's represented by a well-respected agency; she's worked closely with The Players' Tribune; she can rattle off the marketing statistics and challenges the WNBA faces more easily than the League's own marketing department.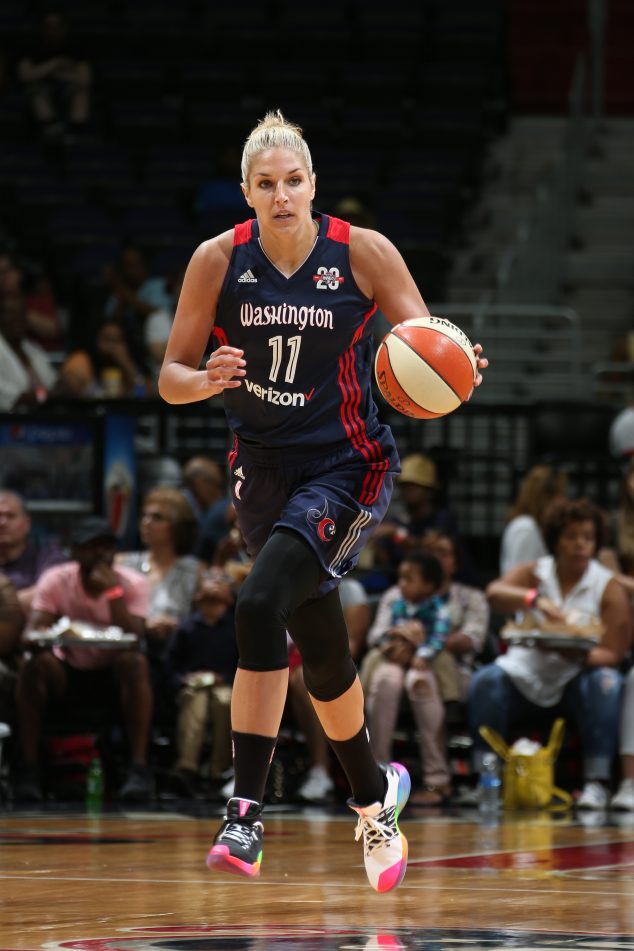 Delle Donne is sufficiently talented enough to force DC to take notice of her, and savvy enough to take advantage when it does.
And that's without taking home court advantage into account. Emma Meesseman is a great player, but former Vice President Joe Biden didn't take the time to write her a letter, the way he did to Delle Donne when the Mystics acquired her. Part of that is their shared Delaware roots.
"I knew the Delaware faithful would travel," she says. "Mother's Day, doesn't matter, that's my crew, my family. I mean, literally a home game. Delaware doesn't care that it's two hours—it's a home game."
But the accomplishments Delle Donne has piled up by age 27 are the primary reason for all the attention.
Now, she has a supporting cast to help her reach what she said is her foremost goal: a WNBA title. As Meesseman said, these are multi-faceted offensive talents, particularly Meesseman and guard Tayler Hill. The court awareness of the group has already made quick work of the concern in some corners that the team lacked a true point guard. In their first game, seven players collected assists, and Meesseman, essentially playing the 4 most of the time, led the team.
"Their basketball IQ is so high," Delle Donne says about her teammates. "Kristi will see things and make a quick alteration in the middle of a play, and it makes such a difference. So to be able to play with people like that is super exciting. Coach doesn't really have us running set offenses. He is just putting us in places and making reads."
There is another side to the game, of course, and that's at the defensive end. Thibault is of two minds about it. He's been pleased by how quickly the Mystics are catching on to his defensive scheme and believes it will all come together eventually. But he also believes to contend for a championship, the Mystics cannot simply outshoot opponents. Since 2010, every WNBA champion has finished in the League's top-three in defensive efficiency.
Thibault said that Delle Donne and Meesseman will share rim-protection duties. EDD regularly ranks top-10 in the League in block percentage, though Thibault said he doesn't want to waste her energy by consistently forcing her to guard physical centers. He's convinced that collectively, it will be enough, and it has to be.
"I think we've still got to be a top half of the League defensive team," Thibault says. "I don't think you win in the pressure of playoff games if you don't have that mentality. It helps to have more weapons on offense, but you need to have a field goal percentage difference between offense and defense if you're going to be that team."
There is a model that argues otherwise: Diana Taurasi's '09 Mercury managed to land last in the League defensively, but deployed four three-point shooters at 40 percent or better (Taurasi, Tangela Smith, Temeka Johnson and Penny Taylor) en route to a trophy. Whether that can work in a league where both Minnesota and Los Angeles perform at elite levels on both ends, no one can say, though it seems unlikely.
But like Taurasi in her prime, the Mystics have a featured star to call for the ball in big moments. And she isn't alone.
"When you have four, five people on your team that aren't afraid of the moment, then you've made that transition," Thibault says. "I don't think you'd have Elena here without others who already weren't afraid of the moment. Tayler's not afraid of the moment, Kristi's not afraid of the moment, Ivory's not afraid of the moment. They're willing to take big shots and live with the consequences."
The postgame locker room after the 89-74 win over San Antonio was as giddy as you'll see, a group that believes its ready to do what no DC team ever has: reach the WNBA Finals, let alone win it. The Mystics scored more than 88 just five times last season, and Thibault and his team rightly believe their first game was a mere baseline, not close to the peak this group can reach.
Still, in action, as her fianceè, father, brother, niece and collection of Delaware natives who think of her as family all watched, Elena Delle Donne was feeling like she'd put herself precisely where she wanted to be.
"I knew this team had great chemistry, but when you get here and you feel it and you experience it, it's even better than what I had imagined," Delle Donne says. "It's so fun to play with so much talent and so many options and never feel like you truly have to force because that next pass is better than forcing something. It's exactly what I was hoping for and even more."
—
Howard Megdal is a contributor to SLAM. Follow him on Twitter @howardmegdal.
Photos via Getty Images
444