Elizabeth Williams' WNBA career didn't start out quite like she hoped it would. Williams was originally projected to be the first overall pick in the 2015 WNBA Draft until underclassmen Jewell Loyd and Amanda Zahui B. declared themselves eligible for the draft. The Duke graduate was selected fourth overall by the Connecticut Sun, but joined a young team marred with injuries and an unbalanced roster.
Williams averaged 3.3 points and 3.2 rebounds per game in her rookie campaign and the Sun finished the season with the worst record in the Eastern Conference (15-19).
In early February, Williams was traded to the Atlanta Dream for the rights to the fourth overall pick in the 2016 WNBA Draft. Connecticut would select Rachel Banham out of Minnesota who suffered a season ending knee injury after playing just fifteen games.
Meanwhile the 23-year-old center is blossoming into the player she was projected to be. Williams is averaging 11.9 points per game, 7.6 rebounds (seventh in the WNBA), 2.9 offensive rebounds (second) and 2.6 blocks (second).
Atlanta finds itself in the midst of a fight for playoff positioning with just a few games left. Currently in fourth place, the Atlanta Dream believe that they can make a fourth trip back to the WNBA Finals due to the scoring of Angel McCoughtry, head coach Michael Cooper's championship experience, and Williams' defensive presence.
SLAM: What would you say are the major differences between your rookie season and sophomore season?
Elizabeth Williams: Oooh [laughs]. It's different in every way. I'm just playing with a lot more confidence and just playing a lot more, too. That helps in getting my confidence—playing a lot. I think going overseas (Turkey) and getting that experience also helped as far as playing against really good players and getting myself ready for coming to Atlanta.
SLAM: How did you feel when you first heard you were traded to Atlanta?
EW: I was pretty excited. It was a good opportunity for me. Things in Connecticut just weren't working out the way that Connecticut saw it and the way that I saw it. I was looking forward to coming here, playing for Coop, and playing this style of basketball and it's worked out well.
SLAM: You're second in the league in blocks and your team is second as well. Would you say you're the anchor of the team's defense?
EW: Yeah, I'd say so. My job in there is to be a big presence, block shots and alter shots. Coop is a big defensive guy, so for me to be in there and be that presence is huge for us.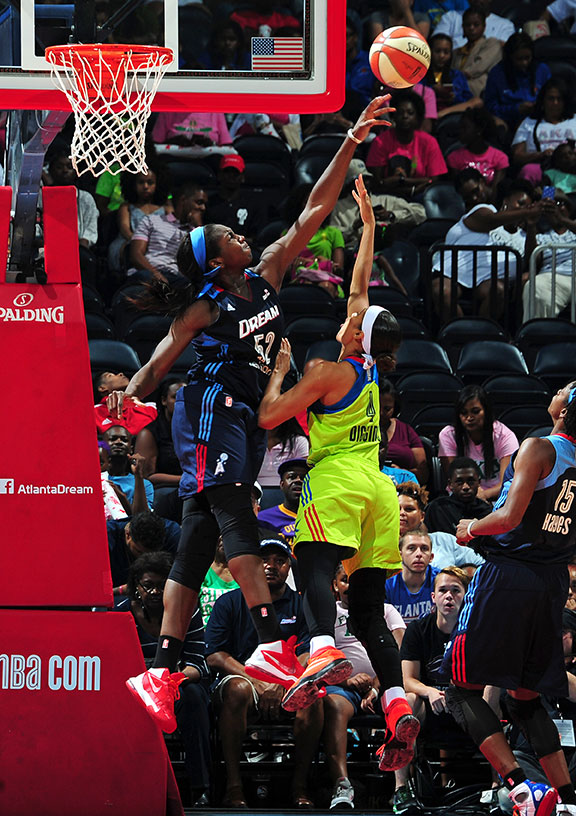 SLAM: You're also second in the league in offensive rebounding. Is giving your team second chances more technique or more hustle?
EW: It's a little bit of both because if you don't pursue the ball, you're just not gonna get it. Technique in a sense that you have to kind of anticipate where shots are falling off, but I'd say it's a little bit of both.
SLAM: How does your role change with Sancho Lyttle being out with an injury?
EW: Yeah, Sancho's a vet. Any time a vet is out it's hard. And then from that 4-spot we just kind of have to get used to having different people there. Sometimes Angel will be there; sometimes I'll be at the 4. We're just trying to adjust in different ways.
SLAM: The rookie Bria Holmes is a natural 3, but has had to play some 4 as well. Talk about the start that she's had.
EW: Oh man, I'm just so excited for her, even the rest of this season and moving forward. She's a really good player and she works hard. I think that she can do a whole lot of things. It's awesome when she's at the 3 and she comes in for Angel and there is still that spark with her coming off the bench. If she starts, she still just does her thing.
SLAM: What was your schedule like during the Olympic break?
EW: We got that first week or so off. I started in L.A. playing with the Select Team where we scrimmaged the Senior Team. Then I went home and got a nice little break—a mental break and a physical break. We all came back to Atlanta and were working out doing a lot of drills, offense, defense, just to get back into the flow.
SLAM: You're in the running for the Most Improved Player. Would winning that award be important to you?
EW: I'm not as much worried about the award as how well the team does. It would mean more if our team wins a championship or gets to the Finals. That's kind of my focus right now.
SLAM: Your team is five games behind New York and you're neck and neck with Indiana and Chicago. What's the goal for this team heading into the playoffs?
EW: I think first of all to solidify the 4-spot and maybe sneak into the third or second spot. I think the only way to be first is if L.A. loses all their games, which isn't gonna happen. The goal is for us to solidify and keep the momentum going from before the break and continue to get those wins.