Much was made of the way Gonzaga thrived in an underdog's role in this year's NCAA Tournament. The Zags, a No. 11 seed and an at-large bid for the first time in three years, took down sixth-seeded George Washington and third-seeded Oregon State (on the Beavers' home court to boot) in thrilling fashion at the Corvallis subregional.
Those two victories in tow, the GU women equaled the men's team's tally of eight NCAA Tournament victories as a double-digit seed.
They earned a trip home for the regional, a date with No. 2 Tennessee on tap last Saturday at the Spokane Arena—the site where, four years ago, Courtney Vandersloot thrilled the nation, leading the Zags past Louisville and to the cusp of the Final Four.
Elle Tinkle, a junior on this year's Gonzaga team, remembers watching that run as a high schooler. She also recalls two years ago, when Gonzaga had another chance to play at the Spokane Arena for an NCAA Tournament regional, only to fall to Iowa State in the first round. That 2012-13 Gonzaga team had 10 underclassmen, Tinkle included. The way they've grown into veteran contributors is part of what made this season so special.
Against George Washington and Oregon State, Tinkle couldn't think of one player who didn't make an impact. True freshman point guard Emma Stach dropped 6 assists in the first round against George Washington. Redshirt freshman post and budding star Emma Wolfram had 17 points against Oregon State in Round of 32. Tinkle? She finished with 14 points, 7 rebounds (5 offensive), 3 assists and a steal in a team-high 33 minutes against the Beavers.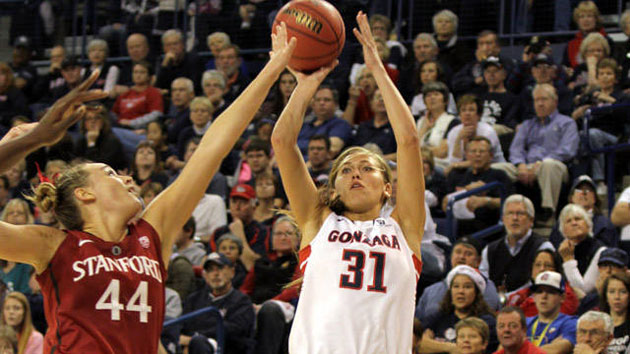 "For us to go in (to Gill Coliseum) and play as well as we did was pretty unbelievable," Tinkle says. "We were on another level."
It's also the tide against which they've traveled. And to illustrate that, a certain backstory needs be addressed. Last spring, Kelly Graves, Gonzaga's head coach for the past 14 years, left for the same position at Oregon. Since first taking the job, Graves had built the Bulldogs into a reputable national power. Now, the popular narrative heralded the end of an era. At the very least, a step down from a lofty pedestal.
So, when one marvels at the Zags' seamless invocation of an underdog's edge in the first rounds of this year's Tournament, consider: They'd worked a chip on to their shoulders months before the start of the season. They wanted to prove people wrong.
Upon finding that Graves was headed to Eugene, OR, a group of returning Gonzaga players came together. Who did they want for their next head coach? Who could keep this great run going? Lisa Fortier, a Gonzaga assistant for the past seven seasons, quickly emerged as the frontrunner. "A bunch of us vouched for Lisa," says Tinkle. "She knows this program. She recruited the majority of us, and developed us into the players we want to be. That background made us want to play for her."
All those rumblings of a fall? Gonzaga entered the Sweet Sixteen with a 26-7 record. For the seventh consecutive season, it crested 25 wins and earned an NCAA Tournament bid. Each of its losses in '14-15 came to a team that made either the NCAA or WNIT fields. "We kind of knew there were going to be a lot of people who disregarded us as a team," says Tinkle. "But the expectations people had for us didn't match what we expected ourselves."
This success is due in no small part to Tinkle, who blossomed into the Zags' most dynamic force. In the offseason, Tinkle had spoken with Fortier about expanding her role. As a freshman and sophomore, she'd been a defensive stopper, known best for her rebounding.
Through the first five games of '14-15, Tinkle was a key reserve, averaging 5.2 points and 4.4 rebounds in 20.4 minutes. Then, senior forward and starter Lindsay Sherbert hurt her knee. Granted a start against local rival Eastern Washington in the very next game, Tinkle hit a game-winner.
She's been sensational since. Her 29.1 minutes per game ranked second on the team behind senior Sunny Greinacher. She posted 11.7 points, and bumped that tally up to 14.9 points in conference play, which led the squad. She finished second in steals, third in blocks and rebounds—one of those players with a hand in every key statistical category.
After losing to BYU in the West Coast Conference tournament semifinals, Gonzaga was on the proverbial bubble for Selection Monday. Once they discovered they'd earned a bid, motivation flowed. "We kept saying, if we got another chance to play, we'd take full advantage of it," says Tinkle.
The fans were ready, standing in droves for tickets. A palpable buzz permeated campus. There's nothing quite like March.
Tinkle's parents were in the crowd on Saturday afternoon, including dad Wayne, who just finished an impressive first season as head coach of the Oregon State men's basketball team. He was also on hand at Gill Coliseum last weekend, cheering on Elle. Her younger brother, Tres, a prized recruit headed to OSU next season, is on spring break. He was at the Spokane Arena, too.
"The support we have is pretty amazing," Tinkle says, noting that even when Gonzaga goes on the road, their fans often outnumber those of the host. "It's special now, to be able to come back and play in front of our fans."
***
Spokane Arena was certainly special, last Saturday afternoon. The decibel level reached that of a rock concert, and most of those 8,686 fans in attendance were pulling for the Zags. They went downright raucous as they watched Gonzaga pull to a 17-point lead with just over 6 minutes to play. They shared in the profound disappointment as the Bulldogs were unable to weather Tennessee's vaunted full-court pressure, eventually losing by 4 in OT.
Seniors Sunny Greinacher (24 points) and Keani Albanez (20) were sensational. Next season, they'll have graduated. That means Tinkle will have to help shepherd this team into the next stage of its journey.
Considering her grit against the Lady Vols—it was Tinkle's awareness that allowed her to step up to Tennessee center Bashaara Graves at the end of regulation and force the miss that sent the game to OT. (Tinkle was credited with a blocked shot, but this was all about positioning.) Along with all the skill, that's the type of play Gonzaga has become known for.
"I love these players, and the way that they fought for each other and fought for us as a staff," Fortier told reporters afterward.
No reason to think next year will be any different.
Photo courtesy of Chris Oertell
102