Days begin for Kelsey Minato at 0600, sharp. She piles out of bed and heads off to breakfast formation with her company comprising 150 cadets. Before 7 a.m. has hit, 36 of these companies have spilled out into the early morning mist of West Point, NY, Minato's own company is C4 Cowboys. She lives and works with them during the academic year.
"It's kind of confusing to explain," Minato says to a SLAM writer, unfamiliar with this particular scene. (To sum up: four regiments, 36 companies, 150 cadets in each.)
Minato is a junior at Army, or in West Point jargon, a "second class." She also happens to be one of the most dynamic guards in college basketball.
But long before she hits the court, she's wolfing down a meal before the first class of the day begins at 7:30. These studies, many of which concern her environmental science major, might run until 3:30 p.m., with only a brief break for lunch in between. Then, it's off to practice, which runs 'til 6 or 6:30, at which point it's off to dinner and back to her room for homework, which she will complete by 11:30. Lights out, head to bed, get ready to do it all again.
"It's a pretty busy day," says Minato, "so you gotta learn to manage your time."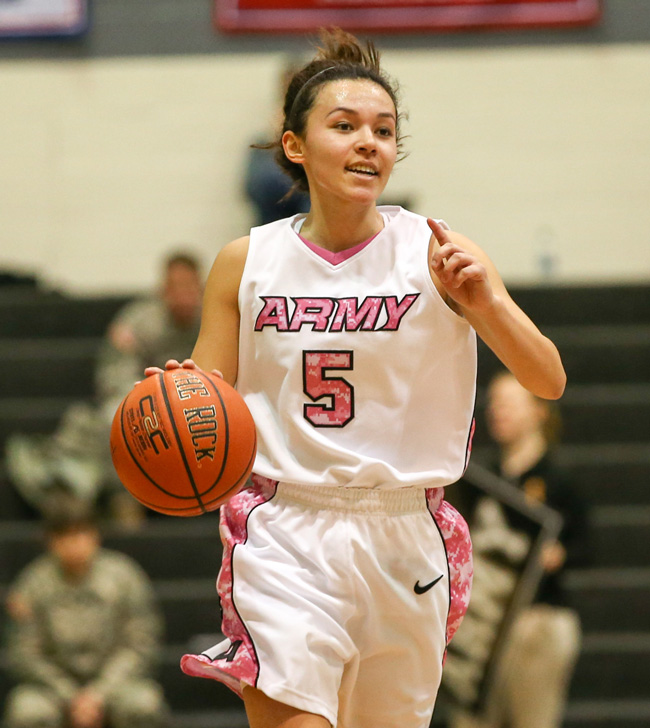 For three years, Minato has donned her other uniform and used 40 minutes (well, she's actually averaged a measly 37.6 minutes per game for her career) to assert her status as perhaps the preeminent force in Patriot League conference history. The 5-8 guard has been named conference player of the year in each of her first two seasons. She's the odds-on favorite to be named a third time in a row.
Since the start of her sophomore season, Minato has averaged 22.2 points while hitting 46 percent from the floor, 43 percent from three and 91 percent from the line. She boards up, provides assists and nabs steals. Quite consistently, too—she's 11th all-time for Army in terms of dimes dished.
It took Minato just 59 games—see: February of her sophomore season—to reach 1,000 points for her career. Fastest it's ever been done in the program's 38-year history. In a 50-46 come-from-behind win on the road over Bucknell on February 15, Minato scored 22 points—and played all 40 minutes for the second game in a row and 12th time in 2014-15.
That marked her 73rd consecutive game scoring in double digits (a conference record). She currently clocks in at third in the program's all-time scoring ranks, and grows ever closer to the top mark. She's posted 49 points in a game, last season against Holy Cross.
She even took down Steph Curry in a three-point shooting contest last summer, when Team USA stopped by campus for a training session ahead of the FIBA World Championships. Coach K, himself a West Point grad, declared Minato the victor after noticing that Curry had…stepped over his respective stripe a few too many times.
"She's probably had to do too much for us," says Army head coach Dave Magarity. "I coached Rik Smits for three years (at Marist), and he was the No. 2 pick in the '88 NBA Draft. That's probably the only player I'd compare Minato to in terms of consistent production, efficiency and play."
Minato fell upon the school rather late by Army's recruitment standards, which are among the nation's most stringent. Recruiting classes wrap quite early for Magarity, but with Minato still uncommitted by December of her senior year at Huntington Beach (CA) High, Magarity decided to make a push. Minato received an e-mail with the Black Knight logo, but she sat on it for a few weeks, not quite sure what to make of it.
But there is a strong current of military service that runs through the Minato family, and as she began to research the school, she noticed opportunities unfolding. Magarity was able to scout Minato with his entire staff during a trip to Arizona State, which coincided with Minato's participation in the Nike Tournament of Champions tournament, in Phoenix. Soon, she was headed to West Point for a visit. She loved the campus and the way the team fit together.
"Not only was the family history a big factor, but I'd be going to a place I could be challenged physically, mentally and emotionally, going after a really unique experience I know I couldn't find anywhere else," says Minato.
Magarity compares West Point to the Ivy League, and in terms of academic rigor, it's fitting. Then, there are the physical requirements: exacting fitness tests on top of athletic requirements.
"There's so much that goes into this place that people don't understand," says Magarity. "To see what's expected of these players, it's remarkable. But they're different. They're focused. They have a big picture. Kelsey knew that she would have to lead and command people after graduation."
Minato describes her collegiate experience so far: challenging, rewarding, satisfying. Upon graduation, she will be commissioned as a second lieutenant into the U.S. Army. Following a five-year commitment, she'll have the choice to stay on as a captain in the service.
"There have been moments where I've been overwhelmed, but there's a reason why we have to take so many classes here. West Point piles a ton of stuff on us because they want us to learn how to operate under stress and pressure and still be an effective leader. I've hated those moments, but it's a good learning experience to learn to juggle responsibilities, even when you're not in the most ideal conditions," says Minato.
There's something about going through it with teammates who share in each stage of the mental and physical rigors. "It's not just a team—you're with girls who have gone through the same experience as you," says Minato. "There's a lot of people willing to help. It's just a matter of seeking them out."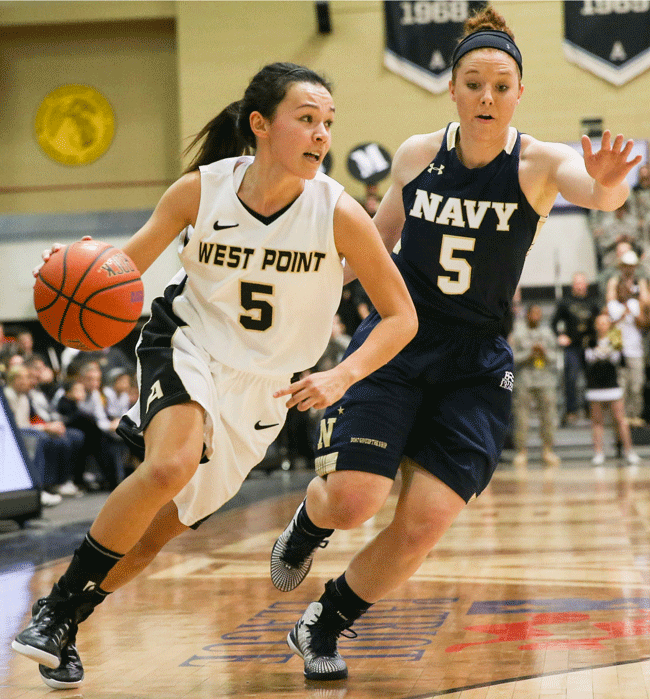 Minato's consistency has been providential for Army during an injury-plagued season. After a 1-3 start in league, the Black Knights have rattled off 10 straight wins for an 19-5 record. At 11-3, they're just a game behind American in the Patriot League standings. The emergence of a solid supporting cast around Minato has helped spur the recent surge.
"My responsibility, not only as a point guard but as a team captain, is to make sure everyone stays focused," says Minato. "We've focused upon coming together as a team, bouncing back from adversity and just playing basketball. That's all it comes down to."
She's been to an NIT, but she wants another NCAA tournament berth like the one last season. And she wants to advance in the field. Playing at this rate, why not? Speaking of performance, here's the scary thing.
"She can get better," says Magarity. "I'm always busting her chops about it."
Photos courtesy of Army Women's Basketball