Kelsey Mitchell strictly hoops in LeBrons. And she has a very good reason for doing so.
"I started wearing LeBrons when I was in 8th or 9th grade off and on a lot," Mitchell says. "But then I had broke my foot. And the doctor just recommended a shoe with a lot of sole in it that had a lot of support, so I chose LeBrons.
"And I've been wearing it ever since."
Mitchell's feet have remained injury-free. And what she's accomplished while wearing the King's line has been nothing short of legendary.

As a high school senior, the 5-8 point guard laced up the LeBron X GS "Total Crimson" as she led Princeton (OH) to a Division-I state championship.
At Ohio State, Mitchell, in the LeBron 12, became the first freshman to lead the nation in scoring (24.9 ppg).
And just this past March, Mitchell became the No. 2 all-time leading scorer in NCAA history (3,402 points) while rocking the "Red Stardust" Soldier 11.
A lefty with devastating quickness and uncanny scoring ability, Mitchell learned the game while playing with and against her twin brothers who are four years older.
Her dad, who was a high school basketball coach at the time, let her work out with the JV team after school. There, she learned her signature aggressive style of attacking defenses and pushing the ball downhill in transition.
Her mother braided her hair in straight cornrows—essentially disguising Mitchell as a boy—so she wouldn't get caught playing on an all-boys Ohio Flames AAU squad.
A consummate gym rat, Mitchell even found a way to get in a workout on the day of the 2018 WNBA Draft. LeBron himself would approve.
Mitchell signed with Nike after the Indiana Fever selected her No. 2 overall in April. With Mitchell wearing the Swoosh all the way back through high school, the partnership is as authentic as it gets.
Mitchell says the LeBron 15 is "hands down" her favorite sneaker she wore this past season. The rookie has stunted in some vaunted colorways—including the "Air Max 95," "Bright Crimson" and "New Heights"—but her PEs have drawn the most attention.
She debuted her first LeBron 15 PE—featuring a grey upper, yellow-spotted midsole and red Swoosh around the heel—in just her fourth game as a pro against the Mystics. She put the league on notice during the game, hanging a 25-piece with 5 treys.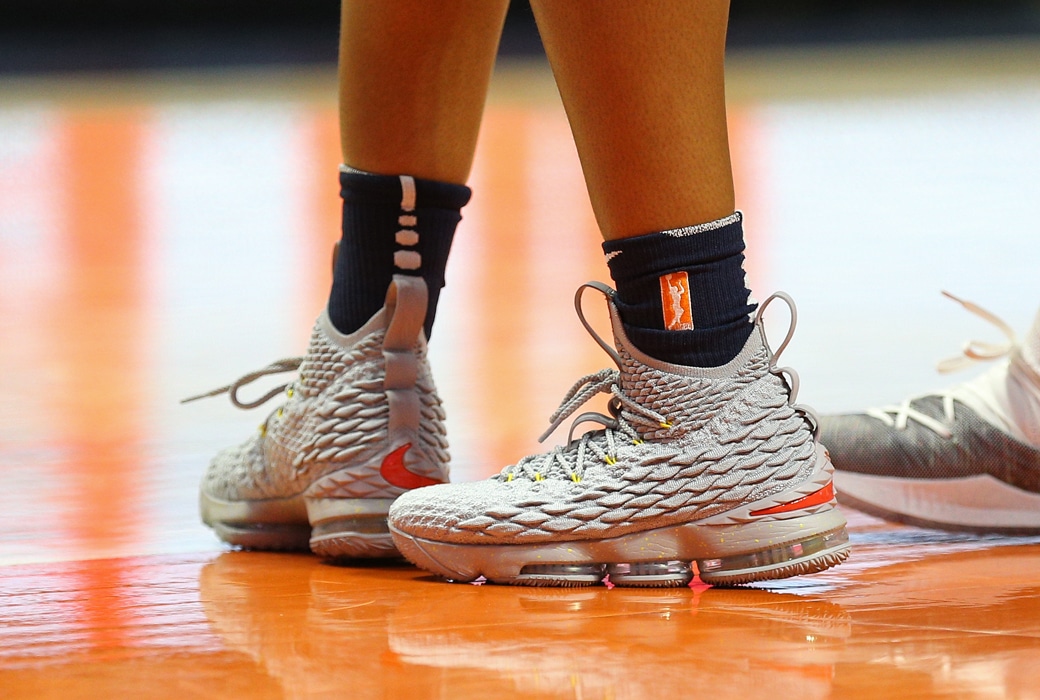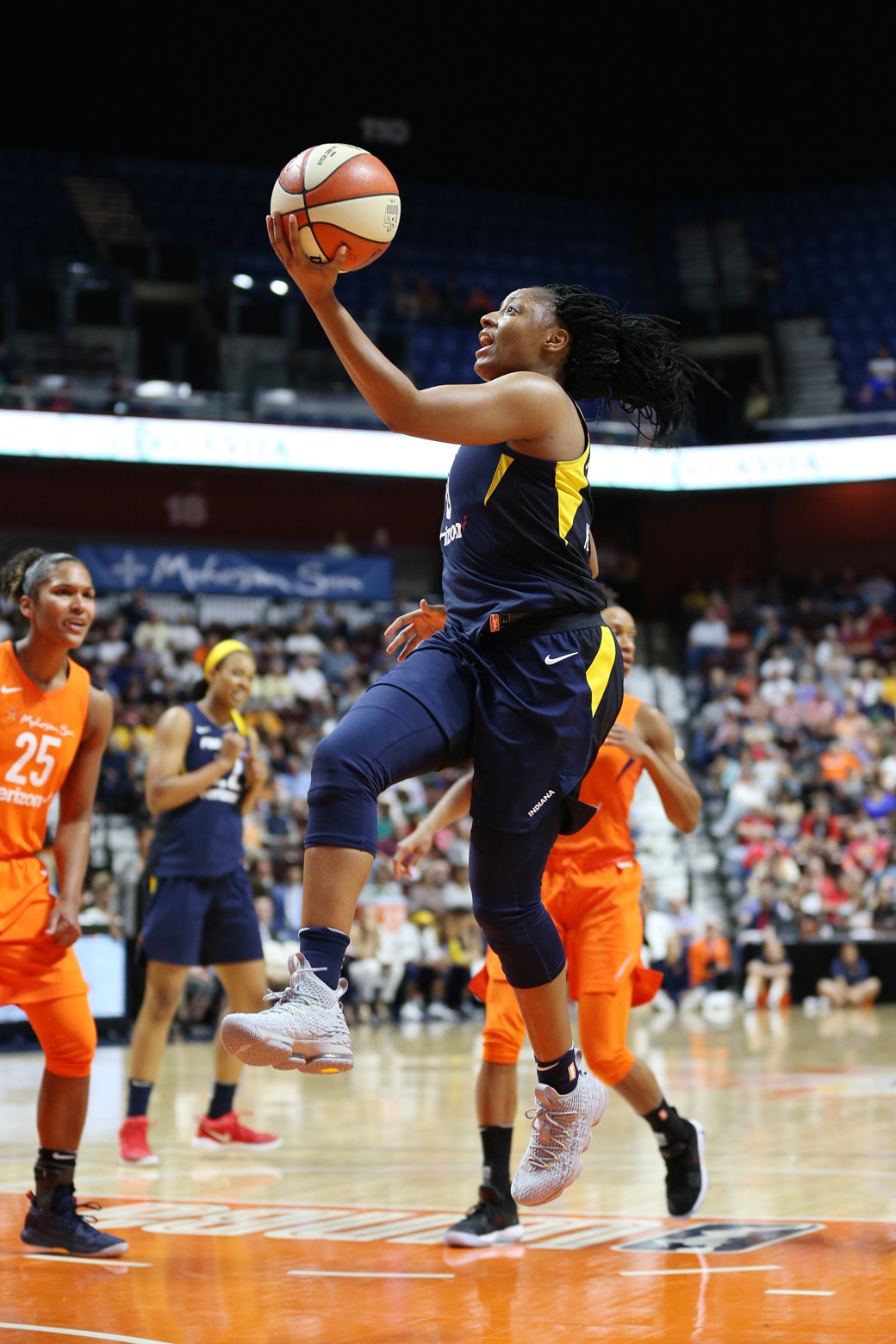 Reserved and down to earth, Mitchell lights up when she recalls seeing her LeBron PEs for the first time.
"I was in a hotel room, and [Nike marketing manager] Ilene [Hauser] was like, We got something really special for you," Mitchell says. "And she showed me. I was like, These are dope. I was just so happy."
Nike brought her another surprise before the Three-Point Contest—a pair of all-red LeBron 15 "Ohio State" PEs that rep the Ohio native's roots.
Mitchell's Soldier 11s have also gotten the PE treatment. She dropped a team-high 20 points off the bench against the L.A. Sparks while rocking a grey Soldier 11 PE with yellow bottom straps.
While she's generally not into retros, Mitchell mixed things up throughout the 2018 season by digging into her growing collection.
Talk of a July slump ended as she recorded 26 points, 5 boards and 3 dimes against the Seattle Storm just before All-Star break. The heat on her feet? A black pair of the LeBron 12 EXT "Rubber City."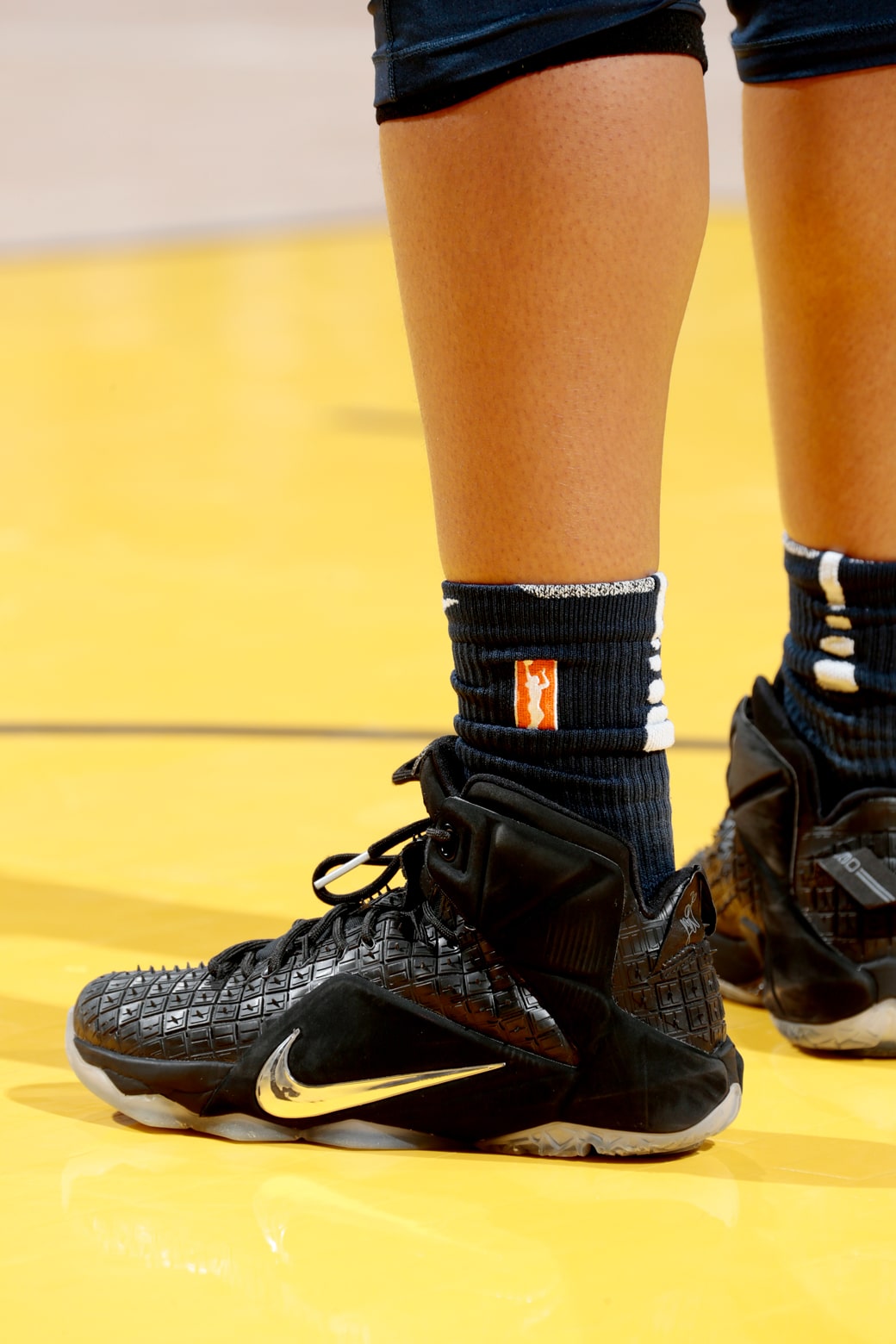 Off the court, Mitchell keeps things relaxed when it comes Nike's lifestyle offerings. Most recently the point guard has been rocking VaporMax, the Air Jordan 11 Low and the Epic React.
While her off-court style might change over the years, Mitchell will almost certainly be wearing LeBrons on the court for a long time. They've done pretty damn well by her thus far.
"When it comes to different colors that he provides, it's always a [fresh] color," she says. "The support on the bottom of my foot, he never steers me wrong in that area. His shoe is just overall amazing. It always has been."
—
Ryne Nelson is a Senior Editor at SLAM. Follow him on Twitter @slaman10.
Photos via Getty.