Kelsey Plum was second-guessing her commitment.
University of Washington head coach Kevin McGuff had abruptly left for Ohio State, leaving Plum unsure if she was going to stay or re-open her recruiting.
The unannounced departure rankled the entire program, including leading scorer Jazmine Davis.
Davis had built a friendship with Plum during Kelsey's recruitment, and was one of the first people Plum reached out to after the news broke.
"Kelsey called me, and she said, 'There's talk about you leaving, what's going on?'" Davis recalls. "I told Kelsey, It depends on who the coach is. If it's [Mike Neighbors], I'm staying.
"She said, 'I'll stay if you stay.' And I said, OK, we have a deal. If I stay, then you bring your butt over here immediately and let's get to work."
With Davis' promise, Plum then sent a very similar message to Neighbors.
"She sent me a text message saying, 'You stay, I stay,'" remembers Neighbors. "It's a picture I have framed on my desk and one I'll have until they put me in the ground."
Sure enough, Neighbors was named Washington's next head coach, Plum honored her commitment and Davis returned for her junior season.
Crisis averted.
Plum arrived on campus that summer and started learning the offense and studying film of Pac-12 opponents. In between summer classes, she spent four or five hours with Neighbors each day preparing for their respective freshman seasons.
Then something else totally unexpected happened: The coaching staff named Plum a team captain. Her tireless work ethic, confidence and obvious talent notwithstanding, Kelsey's new teammates did not all take to the decision kindly.
"When she first stepped into the captain role as a freshman, she kind of immediately went into, like, an I-need-to-take-over type of mode," Davis says. "Coming in as a freshman, I don't think you really want to do that with people you don't know that well yet."
Plum was thrown into the fire. She was playing big minutes and there are those who say she rubbed some of her teammates the wrong way at times. Some initial struggles would have been expected, but Plum defied expectations. She averaged over 20 points her freshman season, by the end of which she had earned the respect and admiration of everyone on the roster.
It was around the summer heading into her sophomore season that Davis gave Kelsey a Samoan name.
Davis, whose mother is Samoan, began calling Kelsey, "Toa," meaning "Warrior."
The name proved to be an apt one, as Kelsey improved each season and the accolades continued to roll in.
A Cinderella Final Four run as a junior. Breaking a 16-year women's college basketball scoring record as a senior. A sweep of the NCAA's POY awards. The first overall pick in the 2017 WNBA Draft. The kind of success that players can only dream about.
"She's a warrior, and she's going to carry that in the league," Davis says. "She's going to be a force to be reckoned with."
 "There's no way I'm doubting her. If she wants it, she'll probably get it done." —Terri Bamford, La Jolla Country Day head coach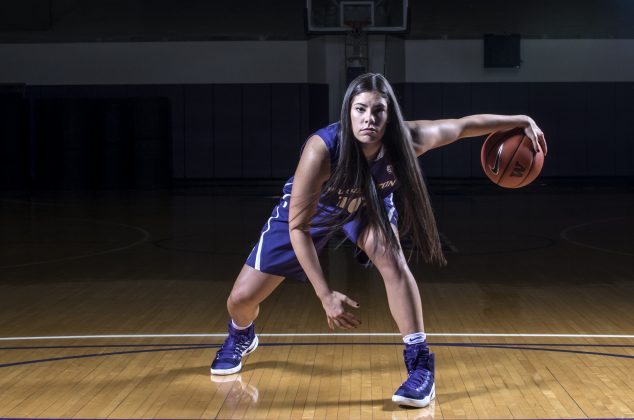 Growing up in a family of athletes, Plum had competition ingrained in every aspect of her daily life. The youngest of three sisters, Kelsey grew up in a household where it wasn't uncommon to see people boxing out for their dinner and holding free-throw contests in the backyard for chores.
"I was raised in an environment and a family where if you wanted something, you needed to go get it," Kelsey says. "No one's going to hand it to you."
In third grade, Kelsey would hoist twos, threes and free throws, aiming for 50/40/90 shooting splits. If she didn't hit the right percentage, she would keep shooting until she hit the goal.
In her earliest organized basketball games, her father Jim would only play Kelsey in the first half. Even then, she would score too often and steal the rock almost every time down the court. She would pass the ball and hit her teammates in the face, and Kelsey would get mad at them for not catching the ball.
As Kelsey reached middle school, she developed what she now calls a "false confidence." Playing for the San Diego Sol AAU team, her game was predicated on fearless drives to the basket. Always with her left hand.
"She always knew how to score," says Terri Bamford, who runs the rival Wiggins Waves and is the head coach at La Jolla Country Day (CA) High School. "She could get to the rim, and she was super, super aggressive. Always really confident."
During her eighth grade year, Kelsey's team went up against Bamford's team in the championship game of a Nike Skills Camp, "and she killed us," Bamford laughs.
So when Bamford received a call before Kelsey's freshman year of high school, saying that she was accepted into La Jolla, the head coach celebrated.
"I looked up and said, There's a God above."
"When Kelsey came in, she came in like a boxer. She just wanted to beat up the best person and be the best." —Berry Randle, La Jolla Country Day assistant coach
Kelsey used to track her progress and write down her goals in a notebook her mother gave her.
"I wrote everything down religiously," she says. "It's funny looking at it now, but I wrote daily goals, weekly goals, monthly goals. I know that it's scientifically proven that if you write down the things that you want, you have a higher chance of getting them. That was always a big thing when I was growing up."
What were some of those goals? The big ones early on included MVP of the McDonald's All-American Game, college player of the year and playing for Team USA. And it wasn't just talk. She had a plan.
With the help of her parents, she was almost surgical in organizing her days. Wake up at 5 a.m. Be out the door by 5:20. Work out from 6-7:30 before classes start at 8 a.m. Her mother packed meals and snacks for the day. After practice in the afternoon, Kelsey would do skills work for up to an hour afterward. She'd get home around 8 p.m., eat and head to bed. Rinse and repeat.
"I got into a routine and I was able to get comfortable with my routine," she says, "and I think that's when you're able to make progress—when you're in a rhythm."
La Jolla assistant coach Berry Randle might regret it now, but when he famously challenged his team to put in extra hours to work on their game, he had no idea that Kelsey would take the challenge to another level.
Says Randle, "I would say something like, You don't want to be in the gym as much as I'm willing to be in the gym with you. But Kelsey is not the type of person you want to make that statement to. If anyone has ever called my bluff, it's been her."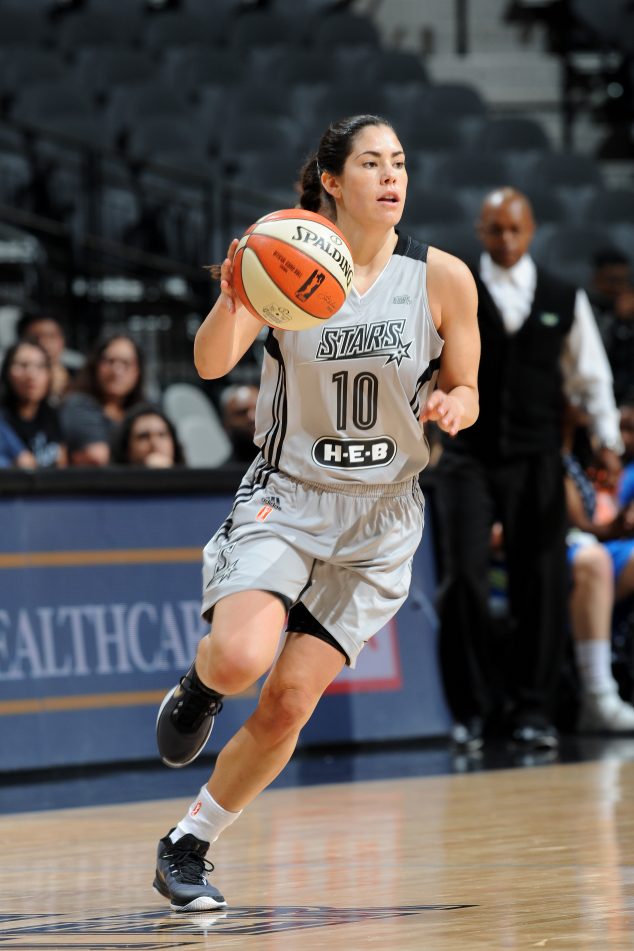 A former overseas pro himself, Randle saw that Kelsey would often pick up her dribble on the baseline and get stuck. So they worked on "escape moves" like up-and-unders, fakes and pivots for those situations. They spent countless hours perfecting misdirection dribbles, step-aways, pull-ups and floaters. She'd even try to pull off moves in a game the very next day.
They developed a routine of ending the workouts by pointing to a banner of Candice Wiggins, a La Jolla alumna, former college player of the year at Stanford and eight-year WNBA veteran.
"It was just kind of a reminder. Like, That's the goal. That's the goal. It's going to happen. It's going to get there," Plum recalls.
"I cannot make this up. She asked me, 'Do you think I can be top-three?' I said, Yeah for sure. And she said, 'I want to go first pick.'"—Davis
Speaking her goals into existence worked well in high school. Plum led La Jolla to a state championship as a junior, was named a McDonald's All-American and even played with Breanna Stewart and Moriah Jefferson on the U19 USA Basketball team that won gold in Lithuania.
While the WNBA Draft was still several years away, Kelsey never lacked confidence in her ability on the court.
"She told me, 'I want to be No. 1. I want to win everything,'" Davis recalls. "There'd be some games, if she was kind of in a funk, she'd say, 'Tell me something to get me out of this funk. I'm not playing well.'
"I said, Well, you want to go No. 1. Playing like that, you ain't nothin'. And she would go out there and all of a sudden in the second half…20 points, 30 points."
The 5-8 guard's scoring increased from 20.9 ppg as a freshman to 22.6 ppg as a sophomore, but Plum was still deferring to Davis on many possessions.
When Davis graduated as Washington's all-time leading scorer, Neighbors and his staff told Kelsey that she needed to take an even larger role in the offense to account for the loss of scoring. She would have to orchestrate the offense for the entire game and take tougher shots as the focal point of every defense's game plan. It would be a tall order, but Kelsey went back to the lab to prepare.
"We hear kids say, 'I'm a gym rat' a lot as college coaches, but very few times do kids deliver," Neighbors says. "And she over-delivered. She will forever be the standard of a gym rat in my programs."
Plum returned in better shape than ever and averaged a career-high 25.9 points in a junior season highlighted by a surprise run to the Final Four. Her WNBA dreams were within her grasp after the improbable run.
Coach Neighbors got a call from the WNBA after the Final Four, saying they heard rumors Kelsey was declaring for the 2016 draft. Kelsey was on a flight, and Neighbors sweated bullets for about five hours until she called to say she would be back for another run at the title.
Plum came back at her most unstoppable and most efficient during her senior season. In addition to leading the nation in scoring at 31.7 ppg, Plum set women's all-time records for free-throws made (912), points scored in a season (1,109) and career points (3,527).
She broke Jackie Stiles' 16-year-old scoring record during Washington's final regular-season game against Utah. With her family, Bamford and Randle in the audience, Kelsey reeled off 27 straight points in the second half on her way to a scintillating 57-point performance.
"I think it was like an out-of-body experience," Randle says. "It's kind of like she's there but she's watching the game herself. When she started getting closer and closer, every point she made, you could see people around holding their breath."
It took Plum a handful more games than Stiles to reach the latter's record, but Plum did it with a couple hundred more assists while playing in a more competitive conference.
"She could easily have [broken the scoring record] by her junior year," says Davis. "But she was definitely team-oriented and getting everybody involved and knowing when to take over the game."
"We called it the Kelsey Principle. When you heard a ball bouncing, you assumed it was Kelsey."—Neighbors
The prolific scoring ability is one thing, but a big part of Plum's appeal to teams on the professional level was a track record of lifting her teams to new heights.
Even still, after going No. 1 in the 2017 WNBA Draft to the San Antonio Stars, Kelsey was faced with questions about her fit with guards Moriah Jefferson and Kayla McBride in the backcourt.
She wouldn't have it any other way.
"She feeds off all of that," Davis says. "When she first came to Washington as a McDonald's All-American, people still disrespected her game. She's not fast enough. She plays no D. People were always trying to nitpick her game. And now look at her."
Rest assured, Plum is working tirelessly to prepare herself to succeed at the next level.
San Antonio, there's a new gym rat in town.
—
Ryne Nelson is a Senior Editor at SLAM. Follow him on Twitter @slaman10.
Photos via the University of Washington and Getty Images