Layshia Clarendon is winning.
Coming off a career season in 2017, the Atlanta Dream point guard is checking off major career goals like clockwork.
Over the past 12 months, she's been named an All-Star, participated in Team USA training camp and provided color commentary for the Pac-12 network.
And she's making a difference in the community by championing important social issues.
As people across the world celebrate International Women's Day on March 8, Clarendon continues to fight for equality and inclusion for all women.
Talented and aware, Clarendon is one of the strongest voices in sports.
In a recent conversation with SLAM, Clarendon offered insight into important issues both on the court and off.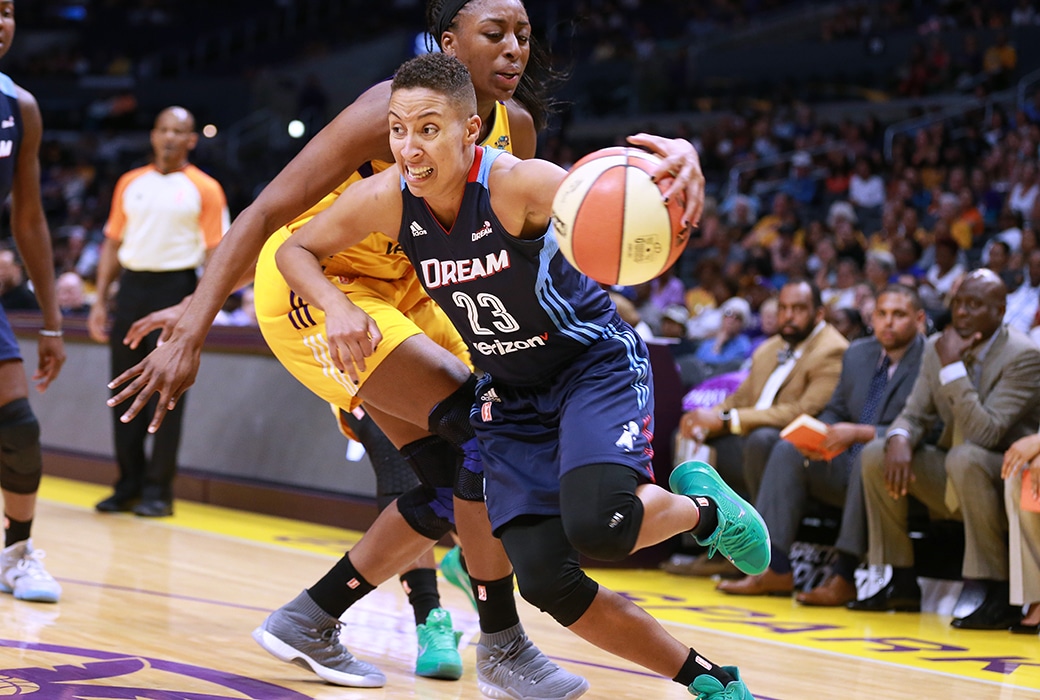 SLAM: The Dream added a lot of talent and a new coach. How quickly do you think this team can come together as a unit?
Layshia Clarendon: I think chemistry is the hardest thing to being a successful team. If you look at the Minnesota Lynx and the best teams in sports history, it all comes down to chemistry. I think that will be the big question early on.
I've played with Jessica Breland before. I've played against Renee Montgomery and I've talked to her. Those are two great additions that won't really cause any problems. I think we'll get along great.
And getting Angel [McCoughtry] back. I think it's just going to be how quickly our team can gel. I think (head coach) Nicki [Collen], from my conversations with her, is going to do a good job laying a foundation for everybody and then moving forward.
I've played with Elizabeth [Williams] before. I've played with Tiffany [Hayes]. Angel's coming back, and we've got some new players like Brittney Sykes.
So I think the question will be chemistry, and I think we have a good opportunity there. It's just how quickly can you gel?
SLAM: When you hear Coach Collen say she wants to be the fastest team in the League, that's got to be music to this team's ears, right?
LC: Definitely. I think she's a smart basketball mind, but she's not going to come in and try to make us into a grind-it-out, half-court team. But I do think she's going to make us be a better half-court execution team.
I think playing to our strengths with our speed. We were already one of the fastest teams last year. But the problem was if we weren't getting out in transition and scoring easily, we struggled a little bit more. I think she's going to bring that good balance for us.
We definitely have the horses to play great defense and then get out and just shove the ball down people's throat. It's just adding that second layer of complexity. Because once you start playing really good teams who aren't going to turn the ball over or you can't always get a stop on, it's going to be like can you execute and can you have that second and third layer of scoring.
SLAM: The WNBA has been incredibly united. Perhaps no more so than last season when nearly every team supported Black Lives Matter. How was the League able to organize so effectively?
LC: I think we have a lot of people who are socially active. I think that's where it starts–with people who want to be involved and care about these issues and who are kind of pushing the envelope forward.
Nneka [Ogwumike] and myself and people on the executive committee and player reps across every team, we did start a group text. It was last year, I think. A WhatsApp text that kind of got everybody.
Our League is only 144 players, so we did have the opportunity to have everyone on one WhatsApp message. It was a literally a players-only, anyone can have these conversations. We did have a lot of back-and-forth dialogue that sometimes was exhausting about the Black Lives Matter movement.
Some people had people in the police academy and some people had family members who had faced police brutality. But we had this space that was almost like an open forum to have conversations and say, 'Why do you want to want to do the shirts?' Or, 'Why not?
Obviously, Minnesota came out leading with the Dallas Five on their shirt and the "Change Starts With Us" slogan. It definitely is through that WhatsApp text. It's been a really great form of communication because athletes do not check their emails, so that's a really hard space to get people to talk back and forth. And it's just hard to have dialogue over email versus a live-updating WhatsApp group.
SLAM: What's been talked about in the WhatsApp group recently?
LC: We've been talking about our CBA, which could be up at the end of this year. We would have to opt-in or out. So we've started having conversations about our CBA. That's a really important issue that's not necessarily directly related to social activism. But it is because we're talking about pay equity and all these different issues with that. That's kind of the hottest topic right now.
A lot of times people will share articles in there. So just kind of drop an article and say like, 'This is what's going on.' Or as far as dialogue, ask a question with an article. I just shared the Michael Silver article last night. Elizabeth Williams before that shared an article about the US Hockey team winning gold and the need for more government subsidies on the women's side for sports. Because they subsidize the NFL arenas and you see a lot of tax breaks with that stuff.
You just don't think the women's side gets subsidized, but that they do through that. That's a question, like, 'OK, how can we find a way to pour money into the women's side?'
Stuff like those articles will often get shared.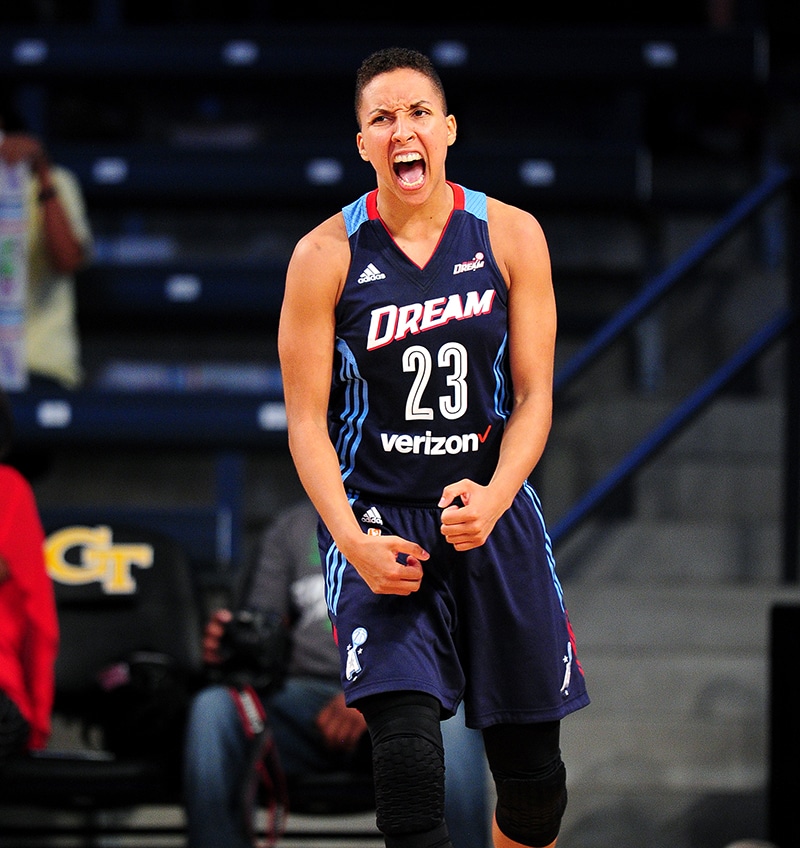 SLAM: I know you watched the Oscars. Best actress Frances McDormand championed the "inclusion rider," a clause that requires the cast and crew be diverse in order to retain an actor. Is that something that resonates with WNBA players?
LC: It definitely resonated with me. I had never heard the term. At first, my family was looking at each other in the room like, 'Inclusion riders?'
So we hopped on Twitter and people were asking the same question, like, 'What does this mean?' And then my wife finally found it, and she read that out loud and was like, 'Wow, if every man took the time to put that in his contract—like, I'm not going to work unless this film is diverse—that'd make so much sense.'
We haven't talked about it in the group text, but in my own personal life, I said it this morning. I was like, Two words: Inclusion rider. How she kind of dropped the mic. That really stuck out to me.
We see disparities in every workforce across the board. That's just another way that we're seeing women step up in that. Seeing Frances' speech gave me life and power to just keep fighting.
SLAM: After being named an All-Star last season, has that given you a new platform to push for issues you're passionate about?
LC: I think it has. I think having that on your resume is a big deal. Every time I've done broadcasting this year—I do it for the Pac-12 network as a color analyst—my other partner has introduced me like, 'WNBA All-Star, Layshia Clarendon is my partner here.' You just can just see the notoriety of adding that big accomplishment to your resume. My social media has grown some too, so I think it does help.
The next goal for me would be Olympian, not just for the title, but for the experience and the dream that I have in terms of that. I think when you do perform that way—which I'm always so focused on performance every single day—it does increase your platform.
It's a win-win because I work really hard. I want to be the best. And it does increase your ability to help change.
https://www.instagram.com/p/BfENXqlha-Y/
SLAM: What do you think of the Fox News anchor's "Just shut up and dribble" comments directed at not just LeBron, but basketball players in general?
LC: At first, I was like c'mon Fox News, I can't give this any of my attention, but I'll answer the question [laughs]. Because it's so much propaganda, not even a legitimate argument.
Why do you have a reason to speak up? You have a political platform because someone gave you a microphone on television. We have the same opportunity. Don't even get me started.
I thought that was what athletes often get, and I think it's a way to try and silence us and take our power away. We are public figures, and we do have a public platform that in and of itself is political, and it can be as political as you want it to be.
I think to try and silence us and be like, 'Shut up and dribble that ball,' I think it scares people how much athletes speak up now and realizing how much power we have. I think the NFL protest really scared a lot of people.
It was comical. Ridiculous. The next Fox News propaganda. I was like, Wait, this is political or is, like, a skit when I first saw it.
SLAM: International Women's Day is today. What are you planning for the day and what does it mean to you?
LC: February was Black History Month, so I was like, Whoo, that's me. And then I was like, Oh, March is Women's History Month, so double win there. I'm a black woman—I'm just winning all of February and March.
I was researching a little bit about International Women's Day. Because I've known and celebrated it in the past. I was looking back to some of the history, dating to the early 1900's that was pretty cool.
Just to be united. Women's causes are universal across the board, and it's really sad that we've had to fight for so long and we're still fighting. It also gives you a sense of solidarity knowing that this is a global fight, and that people across the world and the country are fighting for this.
I'll be doing probably something with Google on that day. They're releasing some of their search statistics for the year, so that's a way I kind of celebrate it. And then working out, kind of like I normally do.
SLAM: What's a book that you've read recently that you'd recommend?
LC: I recently read The Hate U Give, and that's a pretty popular one right now. It's by Angie Thomas. I'd recommend that one.
SLAM: Is there anything else you'd like to add?
LC: The only thing I just always wish the fight, and especially with any social fight, is that the movement has to be intersectional.
For example, recognizing trans women on International Women's Day. And Black women, Latina women, every type of woman. The movement can't be singular-minded. It has to be intersectional or we all don't win.
RELATED:
Chiney Ogwumike on Black History Month and Why The WNBA Remains Politically Active