When you think of CHSAA (Catholic High School Athletic Association) basketball in New York, the first schools that come to mind are usually the likes of Christ the King (Lamar Odom, Speedy Claxton, Erick Barkley, Sue Bird, Tina Charles, Chamique Holdsclaw), Bishop Loughlin (Mark Jackson, Curtis Sumpter, Jayvaughn Pinkston) and Archbishop Molloy (Kenny Anderson, Kenny Smith, Russ Smith).
Smaller schools like Monsignor Scanlan High School, located in The Bronx, NY, either do not come to mind right away or have been forgotten by many high school basketball fans altogether. However, lately two students have put the Crusaders' girls basketball team back on the map.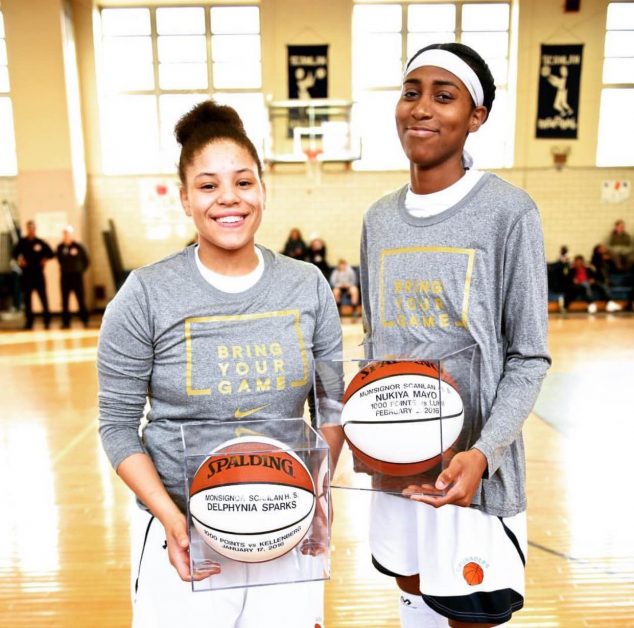 Nukiya Mayo (right) and Delphynia Sparks (left) have teamed up to bring back the Scanlan program to the conversation. Mayo, a senior, has already accepted a basketball scholarship to Towson University and is slated to arrive in the fall. Never one to sell herself short, Mayo already has set high goals for her 2016-17 season at Towson.
"I feel like I'm going to be the 2016-17 CAA Rookie of the year," says Mayo. She becomes the first Division I signee from Scanlan in almost 15 years, since current Scanlan assistant Athletic Director Mercedes Dukes signed on to play with the Red Storm of St. John's back in 2002. Dukes is also currently the assistant coach of the girls' basketball team at Scanlan, and has nothing but high praise for Mayo.
"The last four years have been a roller coaster," says Coach Dukes of the team. "But what I see happening is the kids that are coming in and recognizing what we're doing understand it, it's ridiculous. They're putting us in the same sentence with Christ the King, with [Archbishop] Molloy."
Dukes, being a former All-New York State and All-CHSAA team member, is excited to see the once forgotten program have some life back into it and is even more excited to see Mayo lead the way.
Mayo's excellence comes both on and off the court. Aside from being an excellent shot blocker and rebounder on the hardwood, Mayo also scores high grades in the classroom, serving as a member of the school's National Honor Society chapter. Even more interesting is that she did not play basketball prior to coming to high school, yet has become such a dominant player in a short period of time.
"My first year here, she was a freshman," head coach Tom Catalanotto says. "And she couldn't even dribble the ball. We just worked with her, and even freshman year she had an awful year. She wasn't really a factor."
Nonetheless, hard work and diligence would prove to pay off for her, as Mayo eventually worked her way into becoming the centerpiece of the team.
Mayo (#11 Blue, below) hasn't put the Crusaders back on the map on her own though.
Delphynia Sparks (#21 Blue, above), still only a junior, is an offensive nightmare for most of her opponents. Making her even more prolific is that scoring is not her only strong attribute. In a game against St. Joseph by the Sea on January 5th, Sparks put up a game-high of 28 points to go along with 15 rebounds and two assists. Serving as Scanlan's premiere sharpshooter, she does her damage from all over the floor, whether it is behind the arc, a midrange jumper or a head fake followed by a strong drive to the basket.
Despite being all business when she is on the court, she can usually be found all smiles at any other times, joking with her teammates and looking to spread positive energy.
"Del has so much going on in her life, but she comes here with a smile on her face every day," coach Catalanotto says of his star guard. "I admire that because she has a tough situation at home and you would never know it when you look at her."
The game has served as an outlet for Sparks and she is most happy when on the court.
"I always loved it," says Sparks, who has been playing organized basketball since she was eight years old. "My dad said I always had a ball in my crib when I was baby."
Sparks and Mayo have proven to be a duo to be reckoned with. Their body language and interactions both on and off the court would have you thinking they were sisters by blood and not by ball.
Mayo has managed to dunk only once in her lifetime, which took place in a practice off a pass from none other than Sparks herself. Both surpassed the 1,000 career-point milestone in the past month. Even coach Catalanotto recognizes the inevitable strength and chemistry the two form.
"The two of them remind me of KD and Westbrook, they're in tune and have a feel for each other," says coach. "They don't even have to make eye contact [on the court]."
With a 17-7 record and ranked 8th in NYC in the recent MSG Varsity rankings, the dynamic duo hopes to finish off the season just as strong as they have started it, especially Mayo, who looks to walk across the stage in June at Scanlan with a lasting impression.
(Photo Credit: Joe Fenelon) 
250