Sending a superstar a tweet has a rare chance of getting noticed, let alone receiving a reply. So what exactly causes a little kid to send a 140-character-or-less snippet to her favorite athlete, her role model, the woman she wants to be when she grows up?
Hope, maybe?
Hope her favorite player will give her tweet the time of day, maybe not a reply, but at least a glance for two seconds, just long enough to read her message? Hope the sideline picture she requested via Twitter will maybe—just maybe—be remembered in the mind of her idol either before or after her game tonight? Hope she can adequately convey with a limited number of letters, punctuation marks and spaces how much she loves her role model and is inspired by her each day?
Messages like that are what the Baylor Lady Bear superstar Nina Davis (@NinaBena_13) loves the most about basketball.
"You get the different emails or you get the different notifications on Twitter, and you see the little kids that are looking up to you and saying you're their role model or they want to be just like you," the Memphis native says. "It's crazy, because to me, I'm still a normal person. I do everything just like everyone else. I have fears, I cry, but the simple fact you can inspire someone or help them make their dreams come true is a cool thing when it comes to basketball."
A college student who likes watching movies, shopping, hanging out with her friends and playing ball. Yeah, sure, Nina Davis is a normal person.
But what isn't so normal about her—what's extraordinary—is what she does on the court. If you have your eyes on or near the ball, you have your eyes on or near Davis.
On defense, the 5-11 Davis chases loose balls and tracks down rebounds at a rate of 6.1 boards per game. That's something she's been good at ever since she got started with basketball, playing on an all-boys recreational team as a 4-year-old tyke.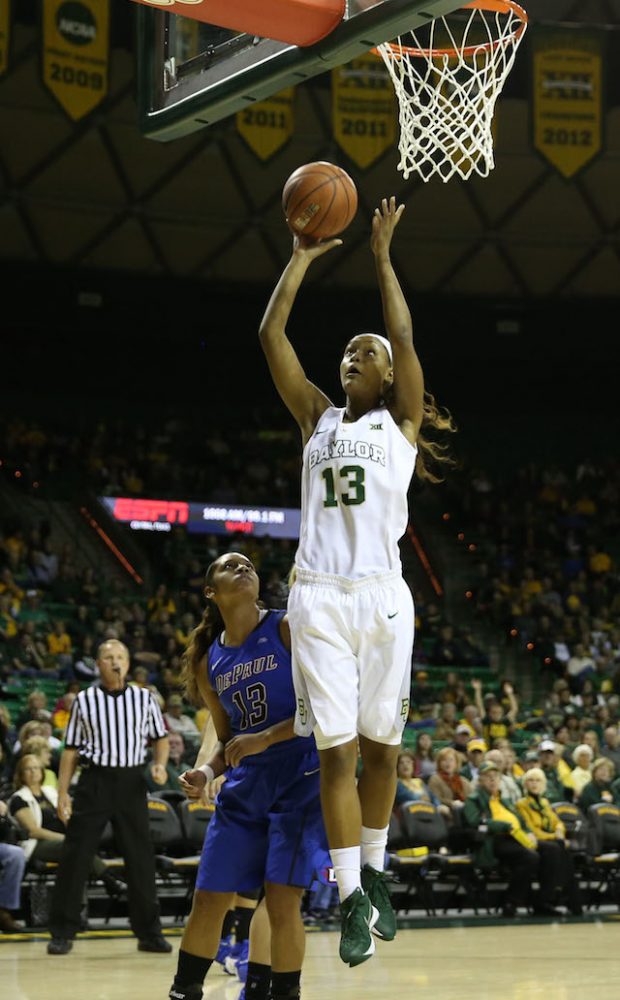 On offense, the undersized forward is Baylor's leading scorer, with 16.3 points per contest on 54.8 percent shooting. Her shot has a unique, unusual look but it goes in the hole.
"I never went to a shooting coach and never had anyone tell me the proper way to shoot. I just kept shooting [my] way, and then it started to go in," Davis says.
Look at old scouting reports from her high school days in Tennessee and even beyond, and Davis' shot is called "awkward," "unorthodox" and even "ugly." But whatever the descriptions used to label her shooting form, only one word actually matters: buckets.
"I got to different levels, and I've been to so many coaches. They all pretty much told me the same thing: 'If it works, you're not gonna change it.' And here I am today," Davis says.
From her backyard basketball court matchups with her older brother to being the only girl on her rec center's all-boys team. From her AAU girls squad to a high school championship. Big 12 Freshman of the Year in 2014. Big 12 Player of the Year in 2015. Big 12 Champion. Yes, here Nina Davis is today.
And we're pretty sure she'll be here tomorrow, too.
Davis says she hopes to chase more conference championships, more tournament championships, and the coveted NCAA title, all while improving her complete game to become a top 10-pick in the WNBA draft at the end of her collegiate run.
"In five years or so, I hope I'm playing on a WNBA team [and] able to say, 'Mama, I made it!' Be able to live comfortably and provide for my family, be able to give money back to charities and live the dream I always dreamed."
Then after Davis is done playing on the hardwood, she still wants to be near it, working as a sports broadcaster. Remember, if you have your eyes on or near the ball, you have your eyes on or near Nina Davis. That, like her shot, isn't likely to change.
Her drive to be successful, her desire to keep her teammates happy, and her appreciation of her fans' tweets and emails isn't likely to change, either.
"When you're in the spotlight, you can get so caught up…and you can forget there's people looking up to you," Davis says. "Whenever I can, I try to get back to them and say thank you to let 'em know I do see it, and I do realize they're looking up to me."
Hey, you hear that, little kid? Your tweets aren't going unnoticed—just like the talents of your superstar role model.
—
Photos: Chris Jones Photography