I am learning how to be more half-full than half-empty
There is power in your tongue
So I eat positive affirmations for breakfast
The serenity prayer for lunch
And patience for dinner
And I work hard
Harder than I ever have in my entire life
And I do this
Even when ego tells me it's not worth it
When pride says you're better than this
I am learning what patience is
How faith doesn't just exist in good times
And that everyone's moment comes
The question is, will I be ready?
-Imani Boyette
Imani Boyette is quite the athlete. She's the first Texas Longhorn to finish her career with over 1,000 points, 1,000 rebounds and 200 blocks. In her four years at Texas, Boyette averaged 10.8 points, 8.2 rebounds and 2.4 blocks. She was named the 2016 Big 12 Co-Defensive Player of the Year.
It came as no surprise when the Chicago Sky selected Boyette with the 10th overall pick in the 2016 WNBA Draft. After holding out for the first half of the 2015 season, center Sylvia Fowles was traded to the Minnesota Lynx where she would go on to win the 2015 WNBA championship and was named Finals MVP. Meanwhile in Chicago, a once solid defensive squad plummeted to 11th best in the league in 2016. The absence of Fowles changed the entire identity of the Chicago Sky.
The 6-7 Boyette could be the long-term solution to fill the void left by Fowles. Boyette is a natural athlete with an extremely high ceiling and an impressive athletic lineage. Boyette's mother Pamela McGee is a two-time NCAA champion at USC, a 1984 Olympic gold medalist, and was the second overall pick in the 1997 WNBA draft. Her father Kevin Stafford played professionally overseas; her aunts Paula McGee and Trisha Stafford-Odom also played professionally. Her big brother JaVale McGee plays center for the NBA's Dallas Mavericks, and her husband Paul Boyette Jr is a defensive lineman for the Texas Longhorns.
Imani's hoop heritage is impressive but she's more than just an athlete. Boyette's been open about her battle with depression, which led to three suicide attempts in her youth. Telling her story and expressing herself through poetry not only helps Boyette, but it also helps others, too. In April, Boyette was named the winner of the 2016 JJ "Jake" Pickle Citizenship Award at the University of Texas for raising awareness for mental health and giving back to the community. Her mission is not only to help impact the Chicago Sky; it's to help make an impact on people's lives.
I'm proud of my love. Of my ability to give and receive love despite my past. Don't let circumstance take that from you – thats your gift.

— Imani McGee-Stafford (@imanitrishawn_) May 3, 2016
Boyette's start in Chicago has been typical for a rookie. In Chicago's home opener against the Connecticut Sun, Boyette played 8 minutes, put up 4 points and grabbed 5 rebounds. In a road game against Atlanta she played just 2 minutes, committed 2 fouls and a turnover. Against the championship-contending Sparks and Lynx, Boyette received a couple of DNP-CDs.
It's difficult for any player to go from being the focal point in college to playing situational minutes in the pros, but Imani Boyette is well aware that with hard work, patience and positivity, her moment will come.
SLAM: How did it feel on draft night when you heard you were coming to Chicago?
Imani Boyette: It was great. I really just wanted to play for somebody that was excited about me. (Sky coach) Pokey [Chatman] was super excited about me. I had only talked to two coaches before the draft. I talked to Dallas, but it was more so at the end—right before the draft. In terms of in preparation, I had only talked to San Antonio and Chicago, both teams that probably weren't going to take me [laughs]. I was just chillin'. Dallas would have been perfect, but they already told me that if Aerial [Powers] was still on the board, they were taking her. I wasn't shocked. Pokey was super-excited about me from the jump. She was like, "Tell people you're a terrible person so I can draft you! Whatever you gotta do stay on the board!" For bragging rights you want to go somewhere higher, but this is a great situation for me. I ain't really trippin'.
SLAM: Did Pokey tell you what she wants from you and what your role is on the team?
IB: Yeah. I actually talked to her last night, just kind of picking her brain to see how I was doing. She told me from jump, "We're focusing on defense this season. We really need a defensive stopper. We need somebody to rebound, consistently do that on the defensive end, and shut people down." She said, "That's what I want you to do—play defense. We can work on your offense—we're going to be good with that. We'll figure that out." I'm just playing and being myself.
SLAM: So what part of your game are you working on the most right now? Would that be offense?
IB: People don't think I'm an offensive player, but I also came from a system that didn't need me to be so. I'll drop 25 or 20 every now and then, but I didn't really need to be that player in college, nor was I necessarily allowed to be that player in college, so I kind of just chilled. Here I don't need to score. The first week of training camp nobody knew I could shoot. They were like, "Who knew she could shoot?" I'm really just working on being good at one thing. That was the biggest thing I learned during the draft process. I asked every coach I talked to what they were looking for and Coach Hughes in San Antonio said, "If you're good at this, be good at this every day." So I'm trying to be good at rebounding and playing defense every day. I'm focused on that—doing something consistently solid every day.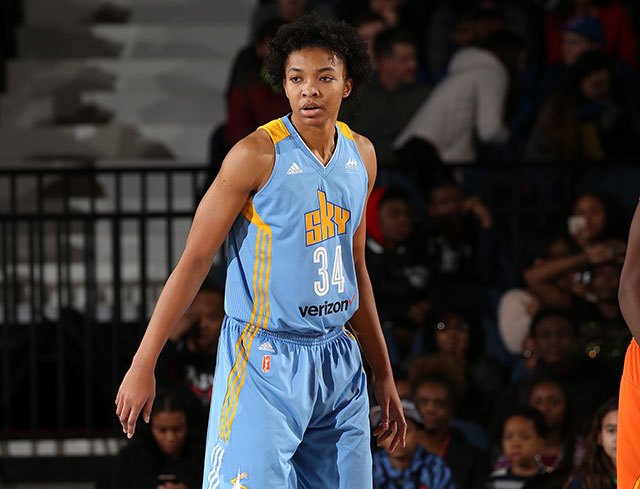 SLAM: What advice have you gotten from your brother and your mom about transitioning to the pro game?
IB: My mom spoke mainly about self-discipline and self-motivation. She was like, "You gotta go get it 'cause ain't nobody making you do nothing no more." In college you got a safety net. They can't cut your scholarship in the middle of the year. Here you don't have a safety net. If you don't show up you go home. It's just about being motivated and doing it yourself. My brother was kind of chill. He said to soak in draft day because as soon as it's over you're going to work. He was like, "Have fun, be excited about this moment but after that it's work so you gotta get it."
SLAM: How was your first training camp?
IB: Tiring [laughs]. It's an adjustment. It's not necessarily harder than my college practices, because we just did way too much. It's more intense. Everything is very much isolated. You can't take your rep for granted. In college, you kind of float through because you know you're going to be there for four hours so you might as well figure it out. "Let me not kill myself in this first hour because I have three more hours of practice!" We did two and a half on a good day. You know you have a long practice so you try to pace yourself. Here, you don't do that—worst-case scenario, I'm going two fifteen but really I'm trying to get a spot. I'm trying to make sure I'm playing. In college I was gonna play. Eventually you're going to come back to me. I got benched a couple of times but eventually they came back to me. Here I'm trying to get that 10 minutes and make the most of it [laughs]. Here the intensity level is different. On defense everything is a lot faster. The game is faster. In college I knew where I needed to be. It was slow motion—it was really easy for me. So adjusting to the speed of this game and knowing how to be in position and figure it out is probably my thing right now.
SLAM: Have any of the vets taken you under their wing and shown you the ropes?
IB: I don't know if any particular person has, but everybody is very supportive, inclusive and helpful, which is something that surprised me. I was sure people would be like, "You're trying to take my spot, I ain't messing with you." I thought people were going to be shady like that because it's a business, but that's not the environment of this team at all. Everybody is like, "While you're here we need you to be here. We need to get better every day. I don't care if that means telling you what you need to be doing to be better." That's just how the environment is. It's been very helpful. Everybody has been telling me what I need to do and vice versa.
SLAM: You've been open about your past issues with depression and how you've dealt with it. Why is it important for you to make your story public?
IB: I think it's important for me just because I was given a platform to do so. First and foremost, silence is the biggest killer of everything. When you put silence on those people in those situations who are already struggling, it makes it worse. When you don't have anybody to talk to you feel isolated, and you feel alone, all those things kind of spiral out of control. In terms of sexual abuse, I think the biggest problem is education because we're too scared to tell our children what's OK and what's not, so when things happen we don't know what's wrong. I didn't know I was abused because I didn't know what sex was. I didn't know what was OK and what wasn't. I didn't know those boundaries because I never had that conversation. Had I known those boundaries maybe I could have spoken up sooner? For me, I talk about it because I want people to say, "Oh wow, let me go talk to my child," or "Let me look at suicide and mental health a little differently now." We have a terrible stigmatization of mental health as a society, which makes these things worse. We only show people jumping off cliffs. We only show people running around naked. Even with the Delonte West situation, he's been crying for help for a long time and people ain't paid attention because he had all this money or whatever.
For me I wanted to show the in-between. I'm nowhere near where I want to be—I'm not a finished product yet. I just want people to see where I used to be and where I'm going because as a society we don't show people the progress. We put on this face like we're perfect and half the time people just need to know, "Yo, I don't got no money today either," or "I get you, I need to pay my bills, too," or, "Sometimes I feel lonely, too." We all have these same human issues that we choose not to talk about and the people that really need to hear it don't, so they think that they're isolated. When I was depressed and going through abuse, I thought I was the only one in the world that ever had this problem. I didn't know that there were other people. When I started doing poetry, that was when I kind of figured out it wasn't an isolated story. My story is not an anomaly. A lot of people have these same stories. I think the more we talk about it the more we can prevent it, and the more we can figure out how to finish it.
SLAM: What's your goal for your rookie season?
IB: I have really lofty goals, so I won't say them out loud, but just like I said earlier about consistency, whatever I do I need to do it every day. If my role is running the floor every time I get on the court, that's my role. I need to be OK with my role and not necessarily being on the stat sheet. I need to figure out what I can contribute that makes an impact. Right now that might just be coming in, sprinting, and making people tired [laughs]. That might be my role right now sprinting the floor, getting a couple of rebounds here and there, catching the ball if they pass it to me, occupying, things that are probably not going to be on the stat sheet. That might just be my role for now. So being OK with my role and figuring out what that is, is something I can do every day. That's kind of what I want to do now. Hopefully by the end of the season I'm in the Rookie Team conversation, but for now that's what I'm focusing on.
202