With nearly two weeks of the 2016 WNBA season in the books, the Los Angeles Sparks sit atop the league with a 4-0 record. One of two remaining undefeated teams in the W—the other being defending champion Minnesota Lynx—the Sparks came out of the gate running.
L.A. leads the WNBA in scoring at 91.3 points per game. At the same time, the Sparks boast the stingiest defense, giving up a league-best 71.3 points per game. Los Angeles leads the league in three-point percentage (37.1 percent) and is the best at guarding the three, forcing opponents into 23.3 percent shooting from long range.
The most astonishing stat is the 19.5 turnovers forced a game by the Sparks. Of their four victories, three straight wins have come on the road. Los Angeles is beating teams by an average of 20.5 points and they're doing it with defense.
The catalyst for L.A.'s Doberman defense is Nneka Ogwumike. The fifth-year forward from Stanford is the unsung hero of the Sparks. While Candace Parker is the face of the Sparks, Ogwumike is the heart and soul of the team.
In the Sparks' nationally televised 93-80 win over the Chicago Sky, reigning league MVP Elena Delle Donne was held to 4 points in the half and finished the game with 8 points on 4-14 shooting.
When Candace Parker was asked how her team was able to shut down Delle Donne, her reply was simply, "Nneka Ogwumike."
SLAM: What's been the recipe for your team's current winning streak?
Nneka Ogwumike: [Laughs] We're throwing a lot of things in the pot right now. When it comes to what we wanna do out there, we start with defense. That's kind of our identity right now. We want to make it very difficult for everyone. We want to pressure the ball and we want to not give them second chances. That's something that we pride ourselves on. We take defense personally.
SLAM: Your team is leading the league in turnovers forced. Was that the team's emphasis in training camp?
NO: I wasn't in training camp so… It's been an emphasis since I got around. I think we have the perfect personnel for that. We also have a lot of good help-side. You can't pressure if you can't rely on your teammates behind you.
SLAM: Is there something different about this season compared to previous seasons for you?
NO: Yeah. I think that we're a bit more established earlier on. We have most of our pieces in order from the beginning. In previous seasons, we've dealt with injuries, late arrivals, national teams, and this year everyone is here.
SLAM: Do you feel like you guys are overlooked with all the attention going to Minnesota and Phoenix?
NO: I don't know about any attention [laughs]. I don't pay attention to what other people say besides the people in this locker room.
SLAM: Talk about the play of Candace. She continues to do what she does and add on to her legacy.
NO: Candace is a beast. She can do everything. We try to make it clear though that she doesn't have to do everything. We just tell her to do what she does and we'll supplement her, complement her, and make things easier for her. She's going to get a lot attention on the court, so we have to be able to take care of what we need to take care of.
SLAM: She credited you with setting the defensive tone tonight with the job you did guarding Elena Delle Donne. Do you consider yourself the defensive anchor for this squad?
NO: I think I'm a part of an anchor triad—me, AB (Alana Beard) and Essence [Carson]. We're considered the stoppers, so on any given night we all could or individually have a defensive assignment. Tonight it weighed a little bit more on me.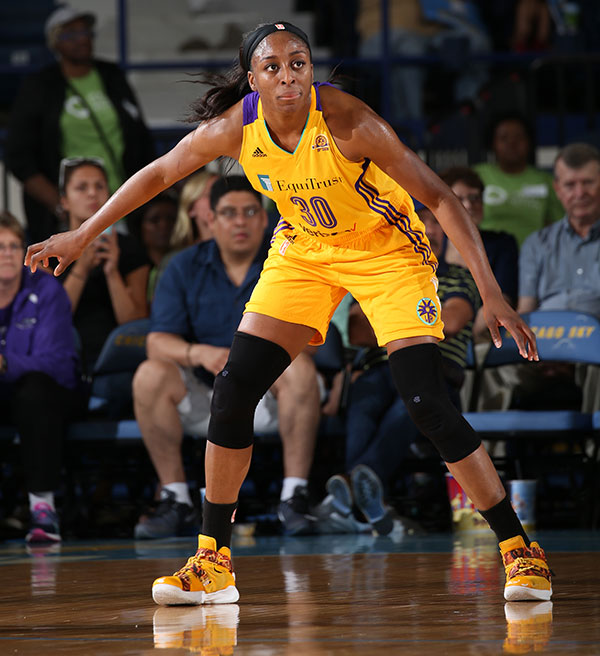 SLAM: What's your opinion on the change in the playoff structure?
NO: It's interesting. I think we'll probably know more closer to when the season ends how people kind of feel about it. It's different. I'm only in my fifth year in, so it might become the norm for me [laughs].
SLAM: You're playing against your sister Chiney soon, what's it like playing against her?
NO: It's fun, it's fun.
SLAM: Is it more physical than a normal game?
NO: No, no. I'm physical every night. It's fun because how often do you get to say you play against your sis, let alone try and beat each other? We're competitive, but we're not demonstrative. We want the best for each other, but we're going to compete. It's nice to be able to compete against someone that I consider my best friend.
SLAM: That's awesome.
NO: Thank you.
SLAM: What's your personal goal for this season?
NO: Actually, my personal goal is something that Coach highlighted a week ago. He said we have to try and at least win each series. With the new set up we play everybody three times and we play San Antonio four times. So we gotta go 2-1 and 3-0 in most series' and with San Antonio, try to go 3-1 or 4-0.