Sheryl Swoopes single-handedly defines first. Not only was she the first and only player, male or female, to score as many as 47 points in an NCAA Championship game while at Texas Tech, she also became the first player signed to the WNBA when the league started in 1997. At the same time, the Brownfield, TX, native didn't stop trailblazing, signing a deal as the first woman to have a signature shoe with Nike, the Air Swoopes.
Yet even with four WNBA championships, three Olympic Gold medals and three WNBA MVPs, her on-court achievements didn't rival her biggest highlight off the hardwood: her most rewarding first, the birth of her son, Jordan. "Honestly, to be able to have a career doing something I love and for him to be able to share those memories and those moments with me," Swoopes says, "and now to see him grow up to be a fine young man, without a doubt by far that is my greatest accomplishment."
Swoopes and her husband at the time personally asked Michael Jordan for his permission to name their son after him. However, in 1997, with the dawn of the WNBA, when female basketball players were viewed as athletes first and women second, a backlash made Swoopes question if she had to ask permission to start a family. "I felt like I was letting a lot of people down because there was a lot of hype around the WNBA starting," she says. "It was scary because I didn't know how people were going to react, how people were going to handle it, or what the WNBA was going to do. Probably more than that, How was I going to handle it and how was I going to be able to come back from it? I had a lot of different emotions going through my mind, through my body. I looked at it as another challenge—it was a matter of me figuring out what I had to do to come back stronger."
Swoopes did indeed come back stronger, only six weeks after giving birth to Jordan, even breastfeeding at halftime during games. She finished the last third of her rookie season and helped the Houston Comets to their first of four consecutive WNBA titles. Her comeback opened the door for players to have children and not wait until the end of their career to have families. The WNBA turned a perceived negative into a positive, using her pregnancy to promote a family-centric focus of the league.
With her career underway, Swoopes quickly came into her own, becoming the star everyone anticipated. She formed an unstoppable big three with Cynthia Cooper and Tina Thompson, a four-year dynasty that couldn't be slowed until after Cooper's retirement in 2000. Yet as the team's dominance waned, Swoopes' ascent to superstardom grew. During the Comets' last championship season, she not only led the league in scoring with 20.7 ppg but was also named Defensive POY. She was fittingly named the league's Most Valuable Player, solidifying herself as the best player in the league on both sides of the ball,
As a wing player, Swoopes' ability to score, defend and will to win drew the obvious comparisons, as many referred to her as the "female Michael Jordan." "I don't know, 'cause I don't say that," she says about the comparison. "I think the biggest thing we have in common is we're both competitors. We hate to lose no matter what we're doing. Whether that's basketball, bowling, fishing, golf…I don't golf, but whatever it is, I'm a competitor. I think I was born that way. I like to win and I absolutely hate to lose."
That drive, performance and fervor for women's basketball is what earned her a signature deal with Nike, one that Swoopes cherishes. "Even to this day, it's still a little overwhelming," she says. "I remember walking into Lady Foot Locker in Lubbock, TX, and seeing the shipment of the first Air Swoopes come in and I just cried. Growing up the way I grew up, not having a lot. Seeing all the struggles that my mom went through, the hard work I put into it, that's every little girl's dream come true. It was like, Wow, these things are really happening to me. Those are things that until I die will be things that will always be special to me."
But the Air Swoopes was not just a scaled down, smaller shoe in feminine colorways—it was a shoe designed and engineered to the specifics of her needs. Lead designer Marni Garber crafted the shoe to meet Swoopes' demands and fit her personality. With a total of seven different models over her career, the sneaker wasn't exclusively coveted by women, as men tried to get their hands on larger sizes. But which one was her favorite? "I think the first is always special because it's just that," Swoopes says. "It was very basic. I didn't want a lot of design and didn't want a lot of color. I'm a very simple kind of girl and I wanted my shoe to reflect that. But each shoe got better, there was always a different detail in it, but it always represented myself."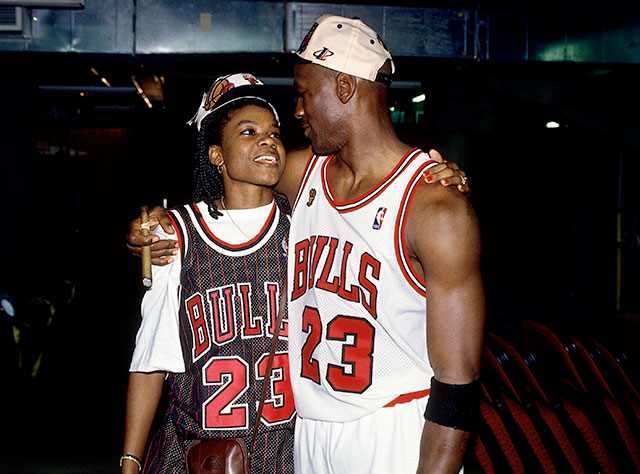 The MJ comparisons didn't end there, as Swoopes returned to the game following a hiatus at age 40. After nine injury-free seasons in Houston, she was forced to miss all but three games the following campaign after tearing her ACL and the lateral meniscus cartilage in her left knee. She signed with the Seattle Storm the next year and after only averaging 7.1 ppg, she was waived in the offseason. Missing 2009 and 2010 without a contract or any interest in playing, many thought Swoopes' career had come to a close. However, the six-time WNBA All-Star had different intentions and signed with the Tulsa Shock for the 2011 season. "I really looked at myself as more of a role player and a mentor," she says. "I came to Tulsa, who were just going into their second year, and they had a lot of young players. So I really looked at my role as being more of a teacher, but I still wanted to compete. That's something I try to teach my players now, [that] in order to be successful everyone has to have a role on the team, everyone has to be able to and willing to accept that role and embrace that role whatever it is."
Now in her second year as the head coach of the Loyola University Lady Ramblers, Swoopes has had to recognize her role as well. In her first year, she lost two starters to season-ending injuries and has yet to get the team to .500. "For me it's been easy. I know my record doesn't show it and like I said from the beginning, I hate to lose, but I knew without a doubt that when I made the decision to get into coaching that I was ready for it. The biggest thing I had to learn was patience. I never came in expecting my players to be me, to do the things I did as a player. The only thing I ask from them every single day is to compete and play. It's been a challenge, without a doubt. Every single day I learn new things about myself, about my players, about coaching. I learned very quickly being a head coach is about 20 percent coaching and 80 percent everything else. The everything else, that's a challenge."
While Swoopes is facing the challenges of her new coaching career, Jordan, her pride and joy, is starting on his own, committing to her alma mater of Texas Tech on a basketball scholarship next season. As a mother, coach and role model she teaches to the best of her ability, but sometimes the student surpasses the teacher. "I think we played one-on-one about five years ago and he finally beat me—he better be able to beat me now!" Swoopes laughs. "Some of the things I've seen him do remind me of myself. When I saw him play a few weeks ago, I was amazed and I still am, but at the same time, I think Jordan understands that going to college and playing on the next level is going to be a completely different ball game. But I think he's doing all the right things to prepare himself."
That type of preparation is what readied Swoopes for all of the firsts and experiences she endured throughout her career. For all the Michael Jordan comparison talk, is she the greatest female basketball player of all time? "I think the things I was able to do for the game of women's basketball, not just on the court, but off the court, would put me up there with the greatest," she says. "I'm not one to sit here and talk about myself like that. I think what I did for the game of women's basketball, for the period of time I played, I think it's pretty special."
While that debate may never rest, one thing remains certain: If you look up the word "first" in a dictionary for women's basketball, Sheryl Swoopes' picture will be the first thing you'd see.
Duane Watson is a SLAM contributor. Follow him on Twitter @DuaneWatson.
252