Brittney Griner, Elena Delle Donne and Skylar Diggins are in front of the lens once again. They are, without question, the 3 To See. Draft picks Nos. 1, 2 and 3. They came into the WNBA with unprecedented hype. Now, they're living up to it.
"Can we smile?" Diggins asks. The typical game face doesn't seem appropriate right now. The gym at the Boys & Girls Republic in Manhattan's Lower East Side has been cleared out for the afternoon photo shoot. They're geared out in Nike Training apparel with matching pairs of the Zoom Solider VIII, KD 7 and Kobe 9 EM. They're smiling from ear to ear.
Entering their crucial third season in the league, Griner, Delle Donne and Diggins are now undisputed leaders of their franchises and the faces of the WNBA. They're providing the blueprint for the league, which is heading in a healthy direction with its stars becoming more visible and outspoken than ever before.
Rewind just about two years ago, and the WNBA was spiraling down the wrong path with low television ratings and stars sitting out entire seasons with injury. The WNBA desperately needed to change its identity.
Enter three players—different on every level, but perfect complements to one other—who were set to join the league in the 2013 draft. Products of the social media boom, these college All-Americans already boasted a greater online presence than the WNBA itself.
In the first of several savvy moves, the WNBA extended its broadcast agreement with ESPN through 2022. A new logo was unveiled as part of a complete rebranding of the league. Then came the marketing campaign that prominently featured Griner, Delle Donne and Diggins as the "3 To See."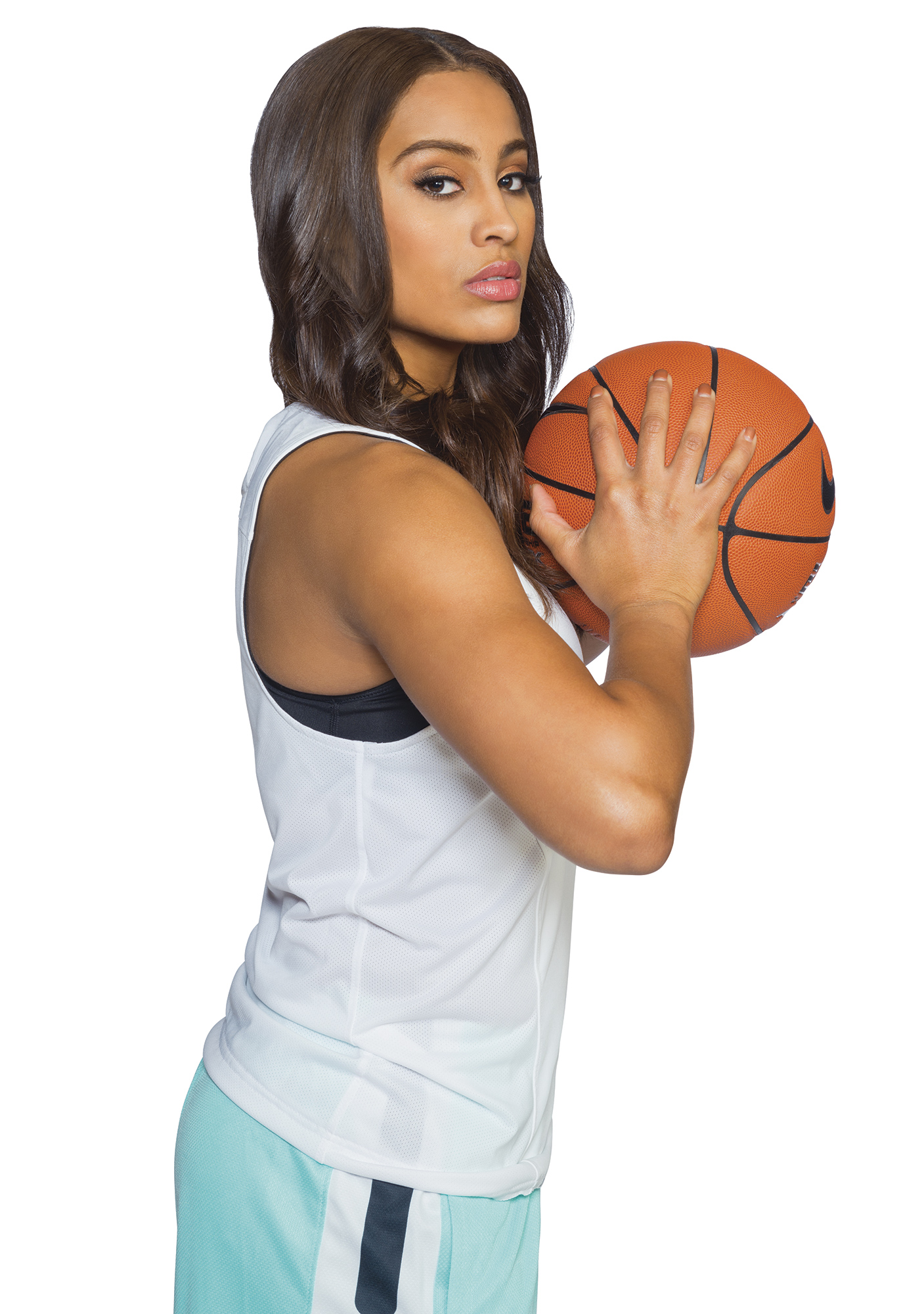 Perhaps a bit corny, but in no way contrived, the campaign highlighted three of the most talented and accomplished players to ever join the WNBA—let alone all in one year.
Griner led Baylor to the 2012 National Championship, was a two-time POY and is generally regarded as a game-changing talent. Delle Donne led mid-major Delaware to the Sweet Sixteen in 2013 while leading the nation in scoring as a junior. Diggins led Notre Dame to the Final Four in three consecutive seasons.
Through the countless appearances and off-the-court obligations, the trio became like family in the weeks leading up to the first game of their professional careers.
Two years now removed, and it's clear that Griner, Delle Donne and Diggins have lived up to their lofty billing. And they've managed to do it in their own way.
Griner's impact has been, without exaggeration, comparable to that of Shaquille O'Neal's during his prime. "Brittney completely changes the game when she's on the floor," Delle Donne says. "That length of hers and being able to move the way she can is something special. You don't see it very often."
At a legit 6-8, Griner towers over the competition and moves with agility and precision. She draws double- and triple-teams in the post and has added a floor-stretching mid-range shot.
A never-ending wingspan allows Griner to swat any shot in her vicinity and easily collect rebounds off the rim. She ranked second in the league in 2014 in total win shares—an estimate of wins contributed by a player—and first overall in defensive win shares (wins produced by defense alone). And unlike the Diesel, don't think about intentionally fouling her—BG makes 80.2 percent of her free throws.
Dunking, however, is what Griner first became known for, and remains so to this day. She has no problem throwing it down—sometimes multiple times per game.
Simply put, Griner's dominant two-way game (did we mention she led the WNBA in blocks during her first two seasons?) makes her a force the likes of which the league has never seen.
She was arguably the most important player in the 2014 playoffs, as the Mercury beat the defending champion Lynx en route to a 3-0 sweep of the Chicago Sky in the WNBA finals.
But that's really only half of why Griner is a paradigm-changing star. Her social impact as being an openly gay athlete has caused the league to rethink its own image. Will its motto be, "We Got Next" or "We Keep It 100"?
When Griner announced her engagement to Tulsa Shock All-Star Glory Johnson during the 2014 season, the WNBA didn't even acknowledge the groundbreaking news. In her autobiography, In My Skin, Griner has no problem calling out the W for misrepresenting its players and ignoring its core fan base.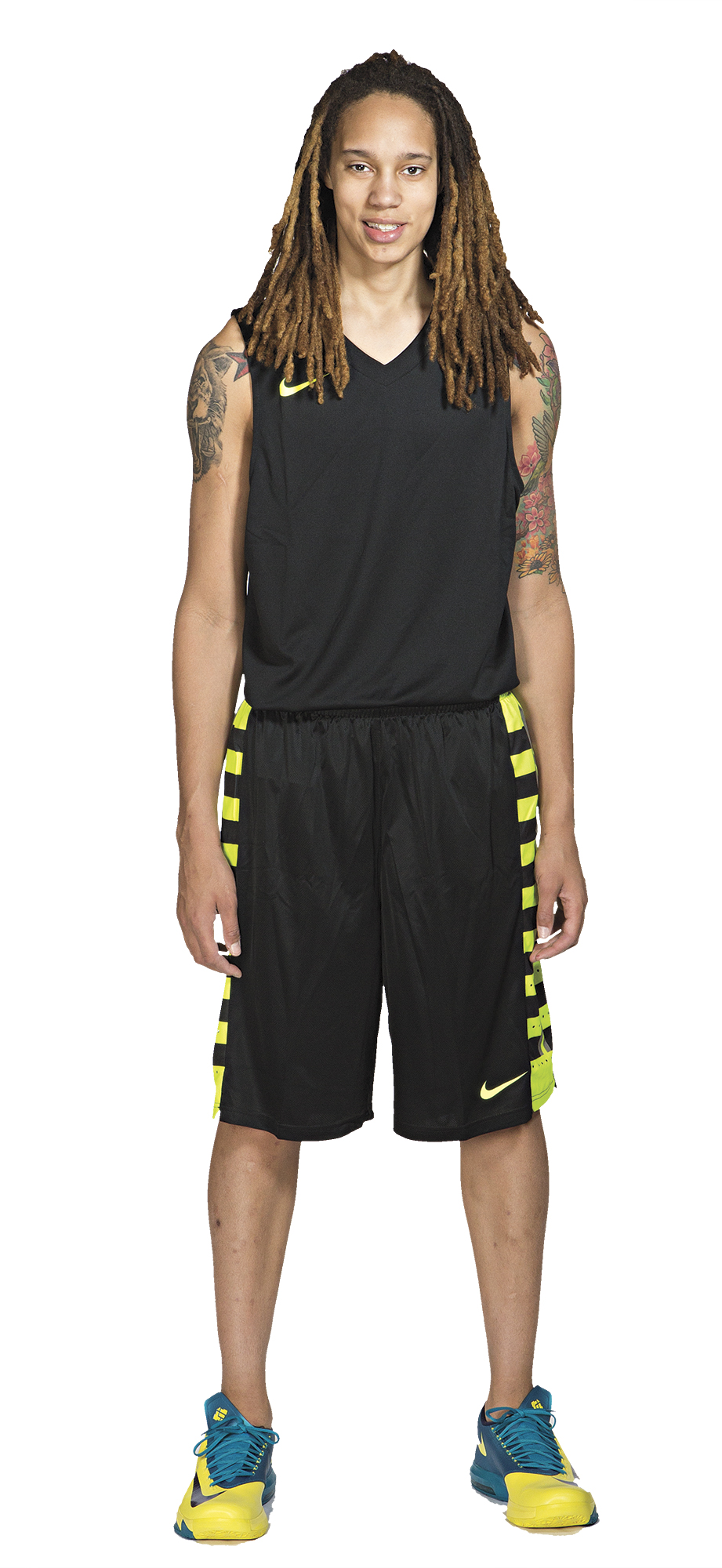 "If we want to be edgier, we should focus more on finding clever ways to embrace the people who are more likely to attend our games, like the LGBT community, which has always been an important part of our audience," Griner explains.
Fresh off a WNBA championship and a Gold medal at the FIBA World Cup, Griner played in China's WCBA for the second straight season. Like most WNBA veterans, Griner now spends her offseason competing overseas. Whether it's at home or overseas, Griner stays true to two things: "I care about hooping, and I care about winning," she says.
As strange as it seems, Griner has yet to display her full offensive arsenal as a member of the Mercury. An incredibly unselfish teammate, Griner played a complementary role to one of the game's all-time greatest scorers in Diana Taurasi during her first two seasons.
But with Taurasi sitting out the 2015 campaign, an MVP-type season is expected out of Griner. She averaged over 23 points on 60 percent shooting during her final two seasons at Baylor, so the Mercury center should have no problem filling it up.
"Brittney's definitely continuing to improve," Delle Donne says. "I think that's a big reason why she goes overseas—just to continue to get touches and continue to get better and play in game situations."
Delle Donne and Diggins, however, have decided to keep their talents stateside—at least for the time being. The WNBA has offered them a platform to become lead endorsers of brands like Nike Women.
"It's a blessing for Nike to pick me to almost be the face of the training realm among so many amazing athletes," Diggins says. "I'm just trying to continue to keep getting in the gym and keep working. Building my brand as far as what I'm doing on the court. Because it has to match."
Diggins will probably never get used to seeing herself on posters in sporting goods stores around the world. She's still amazed by the Nike Training Club app, which features personally tailored workouts from Diggins herself.
"It's like, Wow, I'm really global now, which is always a goal," Diggins says. "For an athlete, you want to be out there; you want to be known not just to your American fans but fans all over the world who are fans of the WNBA and just basketball in general."
Diggins' magnetic personality has earned her celebrity off the court (need we say more about her hundreds of thousands of Twitter and IG followers?), but her game deserved all the attention during the 2014 season. After a disappointing rookie campaign, Diggins put together a stellar second season that amounted to the biggest single-season improvement in league history. Averaging 20.1 points and 5 assists on the year, Diggins cruised to a First-Team All-WNBA selection, started in the All-Star Game and easily won the Most Improved Player award.
Following the season, Diggins was expected to compete with USA Basketball in the FIBA World Cup. But she surprisingly missed the final cut and was sent home after traveling with the team to Paris for an exhibition.
"It was just something that really humbled me, that, You made a great jump through your second year, but you still have a lot of work to do," Diggins says. "So I took it in that sense—as a positive as far as to never become complacent, to never be satisfied where you're at. But to continue to raise the bar."
For the 5-9 guard, wins are the ultimate currency—and her Tulsa Shock deposited precious little in the bank during a 12-22 season in 2014. But with the No. 2 overall pick in the upcoming draft and a talented backcourt, the Shock have every reason to be optimistic about making the playoffs in 2015.
Diggins thrives when she's in the open court and attacking the rim—two things the fast-paced Shock offense allowed her to show last season. Her strength and craftiness allow her to get into the lane at will. Diggins, along with fellow lefty guard Odyssey Sims, got to the line a combined 10.7 times per contest—the most of any backcourt in the WNBA last season.
"People have a lot of talk about us being one of the best backcourts in the league," Diggins says.
Diggins watches tape of James Harden, another southpaw with a penchant for attacking the paint: "People know he's going left, but they still can't stop it," she says.
To make the playoffs, Tulsa needs to patch up a porous defense that ranked dead last in points allowed per possession and add shooters to spread the floor for Diggins and Sims' deadly drives to the hoop.
Delle Donne has enjoyed a much different level of team success with the Chicago Sky. During her rookie season, EDD led Chicago to a 24-10 record and the franchise's first playoff appearance in 2013 before falling to the defending champion Indiana Fever in the conference semis. She averaged an unreal 18.1 points, 5.6 rebounds and 1.8 blocks while shooting 43.8 percent on three-pointers and 92.9 percent from the line en route to unanimous Rookie of the Year honors.
Her unique physical profile (6-5, with reach for days), skill set (endless range, solid post game and handle) and high basketball IQ allows her to make the game look all too easy. She's a rare type of player who can drop 30 within the flow of a game or single-handedly lead a team to victory in crunch time.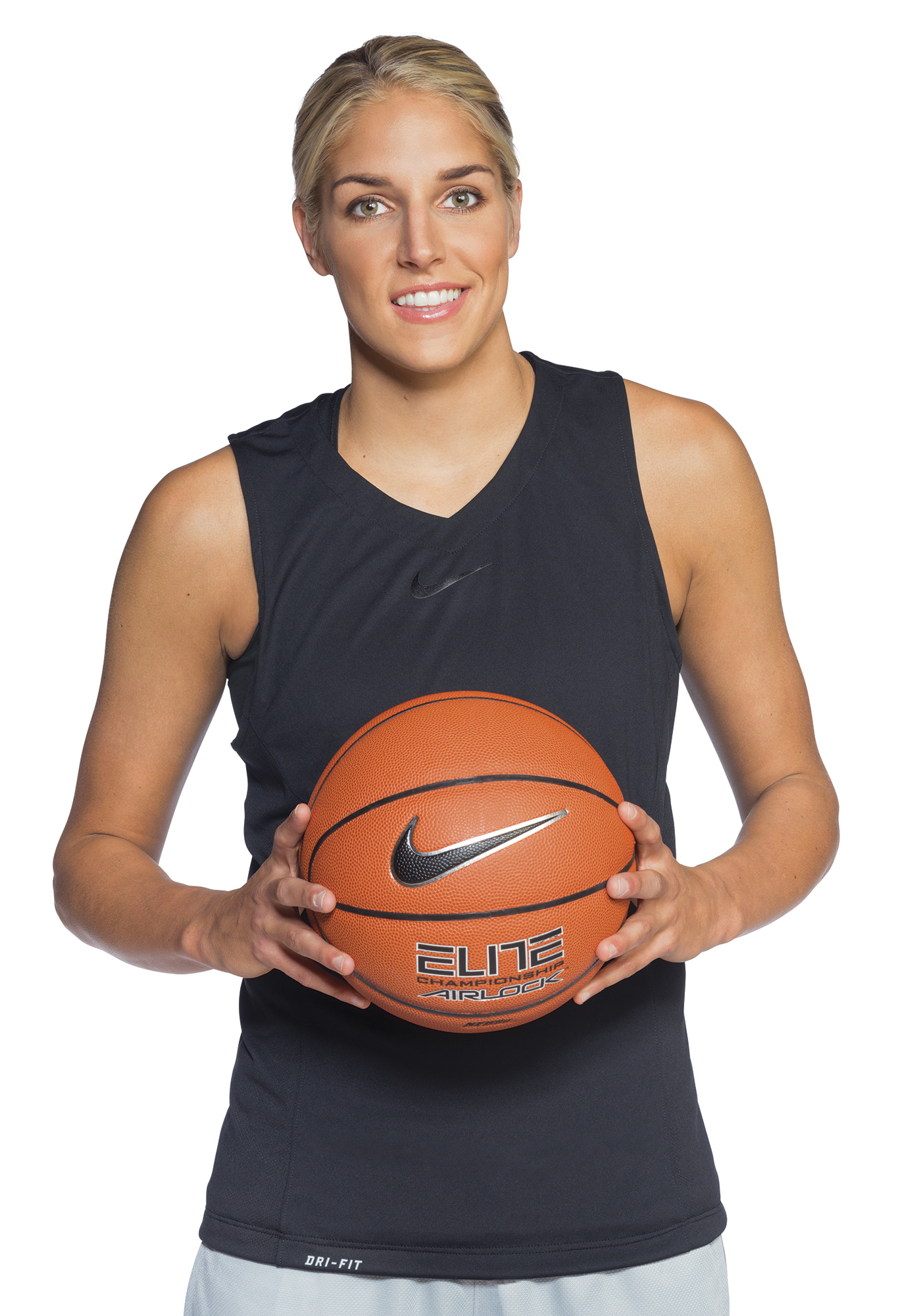 She's an impossible matchup, with the speed to take bigger players off the dribble and smaller players in the post. Her shot is deadly from anywhere within 30 feet of the hoop, and she's near automatic from the charity stripe.
With Delle Donne coming off a historic rookie season, the Sky were the early favorites to win the East last season. But complications with Lyme disease and a lower back injury caused EDD to miss a significant portion of the season.
Delle Donne returned to the lineup just in time for the postseason, and the Sky miraculously limped to the WNBA finals despite having the worst regular-season record of any team in the playoffs. Once in the finals, however, Chicago didn't stand a chance without their star at full strength, and were easily swept 3-0 by the Phoenix Mercury.
"I've been fighting [Lyme disease] for five years," Delle Donne says. "Right now, there's no cure for chronic Lyme, so it's just kind of continue the treatment and hope one day for a cure."
EDD's healthy perspective is in part due to the resiliency of her older sister, Lizzie, who has cerebral palsy and is blind and deaf. The fight that her sister exhibits every day puts basketball into a perspective few can comprehend.
Despite her rare gifts for the game, Delle Donne's humility is her defining characteristic. There has perhaps never been a more down-to-earth superstar.
"I'm doing a lot better," Delle Donne says during the cover shoot. "I've been staying up on my Lyme disease treatment a lot better this offseason. Working on my back, strengthening my core and it's really been helping me a lot. So huge improvement so far."
It's encouraging progress for the Delaware native who knows as well as anyone that we don't control the cards we're dealt. This offseason is all about staying healthy during the 2015 season.
She knows that the Sky have a chance to do something special in 2015 with new All-Star running mate Cappie Pondexter. The Sky acquired the dynamic scoring guard for Epiphanny Prince in a mid-February trade. A Chicago native, Pondexter brings the team much-need veteran leadership and championship pedigree.
"I'm sure once we all get to Chicago and have [our team] meeting, we'll set some goals," says Delle Donne, careful not to make any predictions. "We'll have to work really hard to get to the playoffs and then continue to push forward from there."
Television ratings during the 2014 playoffs were up 90 percent from the previous season, with single-game viewership hitting a six-year crescendo during Game 2 of the Mercury-Lynx Western Conference finals.
Its audience is growing, but the league still stubbornly tries to market to mainstream male sports fans who have little interest. The WNBA even pitched using smaller and tighter uniforms to players, who universally shut the idea down in 2013. "We care more about comfort on the court than sex appeal," Griner says.
To its credit, the league acknowledged LGBT Pride for the first time in 2014, launching a Pride Month and a WNBA Pride website. Eighteen seasons in, it was about time.
As the talent level continues to grow along with the fan base, the WNBA has other issues to address in order to solidify its legitimacy. With the regular season currently spanning just three short months, the WNBA is treated as a second priority for players who earn a living in overseas leagues.  Case in point: The sport's biggest star of the past decade, Diana Taurasi, announced that she will sit out the upcoming 2015 season due to a contractual agreement with her team in Russia, UMMC.
Cut it however you like—losing the reigning Finals MVP is an ugly headline for the league. If the WNBA wants all of its stars to play, it has to offer players incentives to stay at home.
The league is slowly coming to understand this, as evidenced by the introduction of a "time off bonus" (albeit a minimal one) in its recent CBA. By giving players a choice to take time off, or perhaps not feel the need to play year-round, the WNBA has shown a willingness to change. It's time to take action, and there couldn't be a better group of stars leading the way.
The 3 To See have arrived just in time.
—
Ryne Nelson is a Senior Editor at SLAM. Follow him on Twitter @slaman10.
603