Dallas Wings forward Glory Johnson moved from Jonesboro, AR, to Knoxville, TN, where she became a star for the Tennessee Lady Volunteers and learned from the legendary Pat Summitt. Now in her fifth WNBA season, Johnson has a chance to be a WNBA All-Star  for a third time. We caught up with Glory to ask her about her childhood, and learning under Summitt.
SLAM: How were you introduced to basketball?
Glory Johnson: Both my parents worked. They both had two jobs. And so after school, my mom and dad wanted us to try different sports, and basketball was the first one that I was introduced to. It was fun for me, and my sister was doing it, so I for sure wanted to try to do it.
SLAM: What kind of perspective did growing up the child of Nigerian parents give you?
GJ: [Laughs] They were really, really, really strict. It wasn't as easy to do a lot of things because they always wanted us in the library or studying. Even me playing basketball was a little bit different for my dad because he was so focused on studying. My mom loves that I play sports. She came to every game. So it was really good because I had the best of both worlds. I had the mindset that I needed to be focused on academics, and I also had the mindset that I needed to take my sports seriously.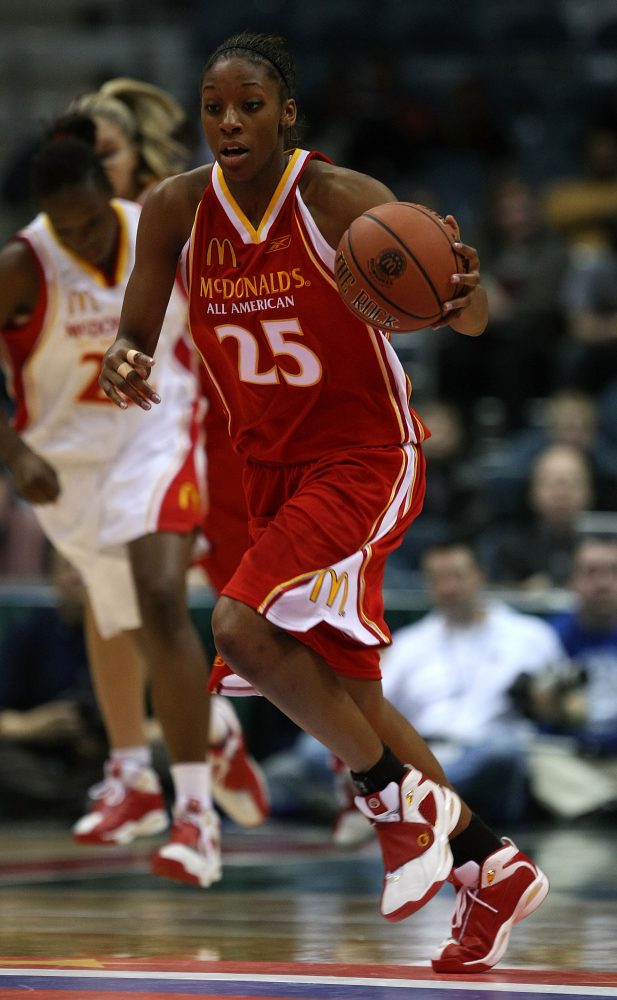 SLAM: Was it difficult adjusting to life in Knoxville?
GJ: It was at first. I was coming from Jonesboro, AR—a little small place not a lot of people know about. I moved in the sixth grade and being a basketball player put me in the popular crowd. The first thing I noticed was that they used curse words. I didn't do that at that age.
SLAM: So did you start to curse?
GJ: Being around my sisters, and having other friends that didn't do what the popular athletes were doing, I told myself, Just because I'm one of the popular athletes doesn't mean that I have to be doing the same things that they're doing. And I never did. I never conformed to that. I stayed true to myself in that aspect.
SLAM: What's the community of young basketball players like in Knoxville?
GJ: It's big with men and women because of how popular the University of Tennessee's basketball program is. Sports in general in Knoxville is a big deal. But they take a lot of pride in their basketball and their football. But for women, basketball hands down.
SLAM: How impactful was it to have Pat Summitt in the community?
GJ: Pat and [current Tennessee head coach] Holly Warlick have held their camp for young children and teenagers up all the way through high school, right before college. So just being able to have access to some stuff like that right within your city is a big deal.
SLAM: Have you noticed a difference in the way girls view basketball in other areas compared to Knoxville?
I go to a lot of different cities that don't have the access to that. I spoke to a little girl the other day, and she was like, "I can't play basketball because girls don't play basketball." I was like, What? Who told you that? And she was like, "I don't know any girls that play basketball." That doesn't happen in Knoxville.
—
Ryne Nelson is a Senior Editor at SLAM. Follow him on Twitter @slaman10.
Photos via Getty Images
378