2017 has been a unique year for Sue Bird to say the least. Lingering knee issues prevented Bird from playing at the start of the season. She acted as the host for the 2017 WNBA All-Star Game in Seattle. Storm head coach Jenny Boucek was fired after a 10-16 start. Bird's relationship with Megan Rapinoe of the US Women's National Soccer Team became national news. And she became the WNBA's all-time assist leader.
Such is life.
The roller coaster regular season is over and the second season is about to begin. The Seattle Storm will travel to Phoenix to take on the Mercury in a single elimination first round match up to kick off the WNBA Playoffs tonight on ESPN2.
Interim Storm coach Gary Kloppenburg is optimistic about his teams' chances. "One thing with the one game playoff is it's one game," Kloppenburg told SLAM. "You can play well and beat somebody. You just don't know what could happen, so we're going down there to give it our best shot."
"They're very good, especially at home," Kloppenburg said of the Mercury. "Obviously [Brittney] Griner is such a difficult match up for everybody so we have to try to mix things up with her. Obviously [Diana] Taurasi is the other one that you've got to get into her and cut down her touches.
"They're very good. It will be an uphill battle. I know we're probably not favorites but we've got nothing to lose. We're going down there to see what we've got."
Coach Kloppenburg knows that his team will go only as far as its captain Sue Bird leads them. "She's such a calming influence and she's been through a lot of wars when you look back at her career," Kloppenburg said of the ten-time WNBA All-Star. "That experience going into the playoffs is going to be big."
Sue Bird is a first ballot Hall of Famer. She's won two New York state high school championships, two NCAA titles at UConn, two WNBA championships with the Seattle Storm, nearly ten league championships in Europe, and four Olympic Gold medals as a member of USA Basketball.
From being the first pick in the 2002 WNBA Draft to now, Bird has represented the W well. She's the epitome of a winner and always does so with class and grace. Bird's legacy is one that's set in stone, but the 36 year old is not quite done writing her story.
SLAM: You guys have lost a few games in a row down the stretch, what's the Storm's confidence level like heading into the playoffs?
Sue Bird: I actually think we're feeling pretty good right now even though we lost three coming into the final game [the Storm defeated the Chicago Sky on Sunday—Ed.]. All were winnable games, all were very tight, all came down to the last one or two possessions, and the last game was an overtime game. We understand in this league it can be tough. You're not always going to win every close game. Unfortunately we had dropped those, but we're playing well enough to win games.
SLAM: The core of your team is so young. How have Jewell Lloyd and Breanna Stewart grown over the past few seasons?
SB: Yeah, it's only been three seasons for Jewell and two for Stewie, but you can see it. They are starting to take more ownership of the team. When Jewell was a rookie and when Stewie was a rookie last year they had a tendency to kind of sit back and see where they fit in. But now you can see they're taking more charge.
SLAM: How do you feel the team responded to the midseason coaching change?
SB: I think we responded well. I think we understand that a coaching change is a reflection of how the season's going and we're the ones on the court playing. I think as players we understood that we needed to wake up as well. Klop's come in and has done a great job of leading us. We only had eight games left at that point and we were just looking at it as an eight game season. We did enough to get in the playoffs, we're happy with that, and anything can happen.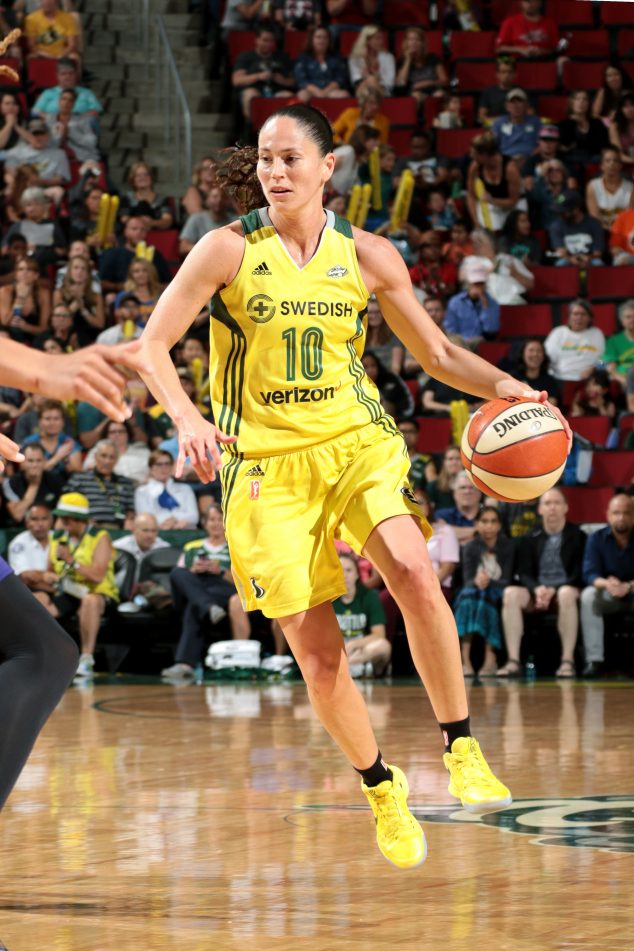 SLAM: Speaking of playoffs, you've struggled against Phoenix a little this season. What will it take to pull off the upset on the road and advance in the playoffs?
SB: It's just one game. I'm sure we're going to watch a lot of film and look at some of the things that worked against them and some of the things that didn't. We lost to them at home and we beat them at their place so it's a little backwards—it's not the usual. Even both times that we lost to them, particularly the most recent one, it was a close game. That was a game that we lost that came down to the end. We understand that they're a very good team, they've got two superstar players that their offense is run through, so like I said, we're going to watch a lot of film and try to come up with something to beat 'em. It's their home court so it's going to be tough.
SLAM: What does it mean to you to be the WNBA's all-time assist leader?
SB: In every way it's a reflection of a long career. One in which there's been longevity there, consistency there, but also it's assists so you need some amazing players around you at the same time. I've been really fortunate to play as long as I have and be surrounded by some great players.
SLAM: I know you're not done playing, but do you ever sit back and think about the championships, the all-star games, and Gold medals and say, 'Damn, I've had a hell of a career?'
SB: Only when I'm asked do I have those moments of reflection. I do feel fortunate; I do feel lucky that I've played on the teams that I played on and won the championships and whatnot that I've been able to do. Whatever day I do retire, whether it's tomorrow, in a year, in eight years, or 30 years I know I'll be able to look back on my career and know that I'll have no regrets.
—
Photos via Getty Images.
841