Hard work and perspective. That's how Sugar Rodgers went from DNP-CDs as a rookie to having one of the most prolific three-point shooting campaigns in WNBA history.
Rodgers broke out last season as a full-time starter for the New York Liberty, hitting a franchise record 86 three-pointers.
"I just waited so long for an opportunity, and I got it," Rodgers says. "I took full advantage of my opportunity because I knew what I was capable of."
Basketball helped Rodgers escape the drugs and crime of her hometown of Suffolk, VA. She endured the deaths of her mother, uncle, nephew and father. The incarceration of two siblings. The seizure of her house. Homelessness throughout high school.
Her jersey number is a tribute to her mother, who passed away from lupus in 2005.
"I wear No. 14 because my mom passed away on July 14, and also the coincidence of me getting drafted 14th (in 2013)," Rodgers says.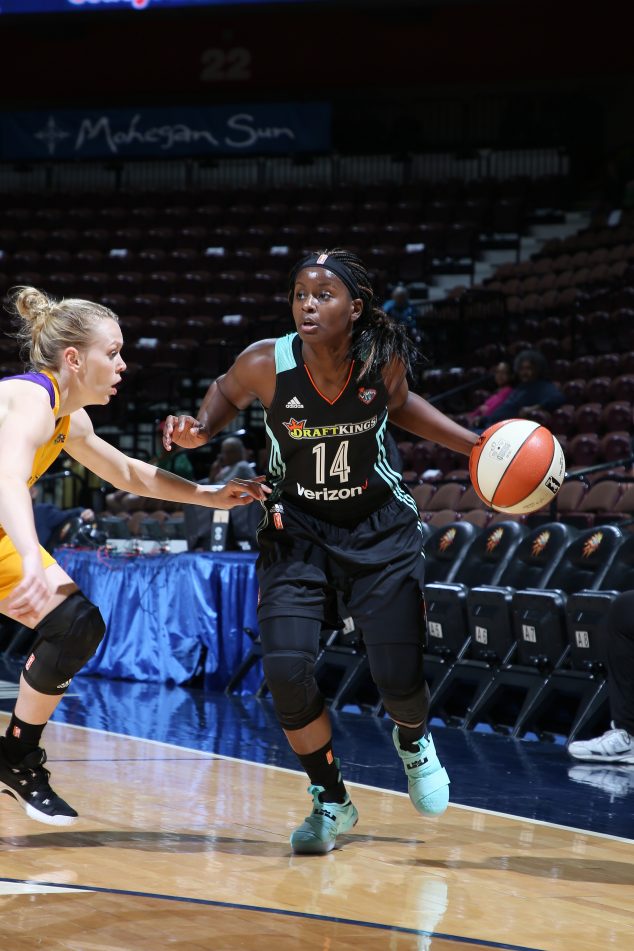 A four-time All-Big East First Team selection who holds Georgetown school records in points (2,518), threes (346) and steals (326), Rodgers sat on the bench her rookie season with the Lynx as Minnesota captured the 2013 WNBA title.
Minnesota then shipped the 5-9 shooting guard to New York for the right to swap draft picks with the Liberty. Rodgers started just five games over the following two seasons before putting up career-highs in every statistical category last year (14.5 ppg, 3.7 rpg, 2.4 apg, 1.1 spg).
Still, she's not satisfied. With the harsh realities of her hometown serving as constant motivation to keep improving her game, Rodgers can't forget the treacherous road she took to get to the WNBA.
"I look at myself like I'm one step away from being back there," Rodgers explains. "I try my best to keep going forward so that I don't go back to those things."
Related
Mo' Money – Moriah Jefferson is ready to build on her rookie year.
The Sun Also Rises – Already a star in the Bahamas, Jonquel Jones is about to blow in the WNBA.
—
Ryne Nelson is a Senior Editor at SLAM. Follow @slaman10.
Photos via Getty Images