The Connecticut Sun were 14-20 last season, marking the fourth straight season the team failed to make the playoffs. So head coach Curt Miller hit the lab and put together the franchise's best season since 2012, which should ultimately end with the Sun in the postseason.
"No one's gonna outwork him," Sun assistant coach Steve Smith says. "He's a tireless worker. But he has a true passion for coaching. It's not really work, it just comes natural to him."
The Sun have the third best record in the WNBA, sitting at a comfortable 19-10. Miller's making use of a talented roster of young players, led by first-time All-Stars Jonquel Jones, Jasmine Thomas and Alyssa Thomas.
"Coach Miller has the philosophy that he brought to the organization–championships are won in the locker room. It begins with character first," Smith says. "He's done a great job of implementing all of that and getting the players to buy into it."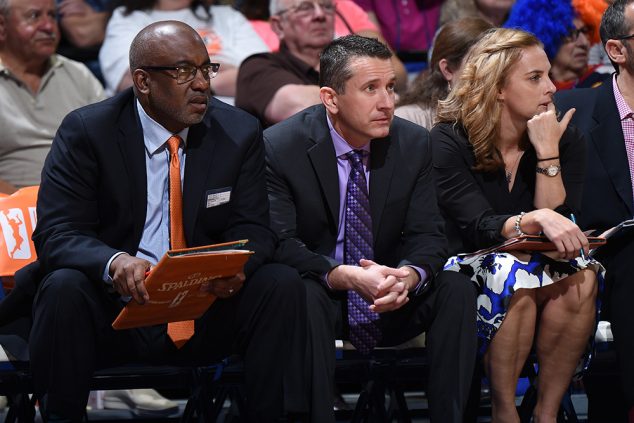 Across the country, the Minnesota Lynx have also gotten their players to buy in. Head coach Cheryl Reeve's best ability, according to her long-time assistant Shelley Patterson, is getting through to their roster.
"She helps the players to believe in themselves, no matter what's happening in the media, no matter what people are saying," Patterson says. "The literature on us is that we're old, we're slow, we shouldn't be where we are right now. But one of the things she does well is make them believe in themselves. Inspire them to do more than they think they can. That's what good teachers do. That's who she is."
Like the Sun, the Lynx are currently on fire. However, unlike the Sun, the Lynx have had consistent greatness for the last eight years. Patterson traces that back to Coach Reeve.
"One of the things that's impressive, for seven seasons, we've won 20-plus games," Patterson says. "You have to be very creative to be able to motivate players like that every single season. Every single motivational speech she gives is something different. In eight seasons, I have not heard her say the same thing twice. Our players, they just weigh on her every word."
Reeve has found the winning formula. She's got the Lynx atop the league, yet again, with a 22-6 record. It's become the norm in Minnesota. Since Reeve and Patterson have been on-staff, the Lynx have captured three championships. They're trying to avenge last season's close loss in Game 5 of the Finals against Los Angeles.
"When you've been in a marriage, if you will, with most of the core players for eight seasons now, you have to change some things," Patterson continues. "You can't always be the same. But at the same time, you also have to keep things exciting. That's just like any kind of relationship. Most marriages don't last eight years without something being different and having to bring about change. Making it exciting, making the words that you say continue to motivate you year in and year out."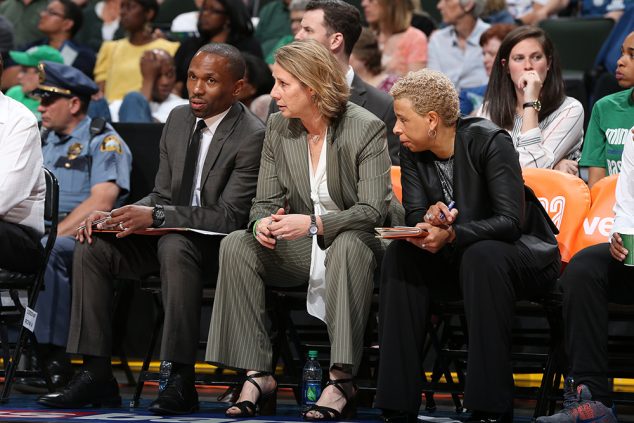 Reeve and Patterson have faced new challenges in 2017. Even though Sylvia Fowles is playing like an MVP candidate, and even though Maya Moore and Seimone Augustus are still devastating on the wing, Rebekkah Brunson and Lindsay Whalen have missed games with injury.
Coach Miller's also missing one of the key players on his roster. Chiney Ogwumike, the 2014 Rookie of the Year, hasn't played at all this season due to an Achilles injury. It's the second time she's missed an entire campaign— she sat all of 2015 after undergoing microfracture surgery in her right knee.
Smith says that Coach Miller's been able to replace some of what Ogwumike, a high-basketball IQ player, brings to the table.
"He's very, very talented," Smith says. "One of the most talented coaches I've ever had the pleasure of coaching with. In terms of the complete approach to the game, being able to anticipate what opponents are going to do, being able to put our players in position to have success, being able to have the foresight to, anticipate the gameplan that really makes it difficult for opponents to have success against us."
More often than not, it's the Lynx and the Sun that are having success against their opponents this season. With Reeve's steady winning and Miller's upstart youngsters, it's also more likely than not that the Coach of the Year trophy's ending up in either Minnesota or Connecticut.
—
Max Resetar is an Associate Editor at SLAM. Follow him on Twitter @maxresetar.