On the surface, Pineland, TX, and New York City don't have many similarities. One is the largest metropolitan center in the United States, nicknamed the city that never sleeps. The other is nestled away in rural east Texas, with a population of less than 900 people.
What the cities have in common, though, are people who respect the value of hard work. They love to grind, as Teresa Weatherspoon says.
That worker's mentality brought success along every stop of Weatherspoon's basketball journey: from her years growing up in Pineland to becoming an All-Star for the New York Liberty.
Affectionately known as "Spoon" by fans, she is beloved for her pure energy and passion. She now works as the director of player development with the Liberty.
SLAM recently spoke with the Hall of Famer about her early playing days, pioneering the WNBA and her upcoming appearance at the NBA Store in Manhattan.
SLAM: You said you fell in love with playing defense in college at Louisiana Tech. That got me thinking… What was your game like before college?
Teresa Weatherspoon: I was fortunate enough to have a coach who taught me the game at a very early age and gave me an understanding of how important it was to be that two-way basketball player. Being able to score offensively and want to guard the best defensively, and be good at it. Not just guard them and allow them to do whatever they want to do, but to be good at wanting to stop people defensively. I had that mindset even as a kid playing high school basketball because of my coach. My coach was a very good teacher and gave me a great understanding of the game. Of course, in high school, I scored the ball with tremendous ease. That was the easy part of the game for me. I wanted to find a difficult grind, and defense is a difficult grind. So that was added to my game. Rebounding. All those came easy to me. So defensively, I wanted to get better. I wanted to guard everyone who was the best, and that's what my coach brought into my game—guarding the ones who were the best.
My energy was always the way it is. My energy will never change because I love what I do. I'm passionate about what I do, so that was very simple for me. But moving to the college level, things change. Especially being a playmaker, you have to get everybody involved. The first thing that you do is to distribute, to facilitate, to make sure everybody around you is better. So I still wanted to guard the best player. I wanted to defend the best player. I wanted to harass people. I wanted to make it difficult for you to score. I wanted you to never want to see me defensively. That was my mindset. And I played for a coach who said, "If you can't play defense, you will not see time on this team." So it changed my mentality. I'm going to make sure as a playmaker, I facilitate and get everybody involved. I will inject myself offensively when necessary. But defensively, I want to be the best. I was learning under the best as well.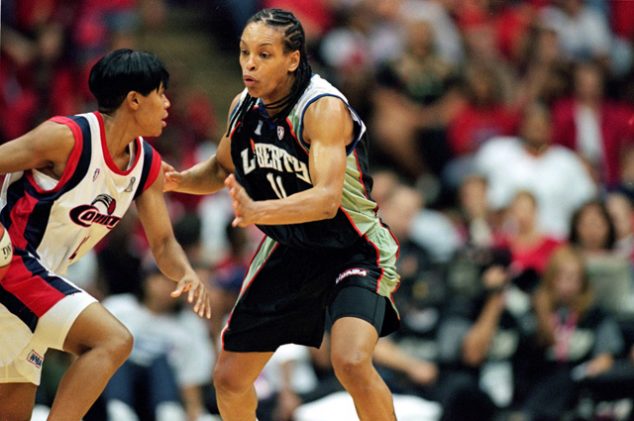 SLAM: Was there a player you modeled yourself after defensively?
TW: Everything I learned in the game, I learned from my family. I'm the baby of six, and I'm from a very athletic family, so I learned a lot from my family. As I was traveling a lot with my high school coach, giving me an idea of where I might want to go to school, what fit me going to each university, my coach was from the University of Texas. And I had a chance to watch the Lady Longhorns play quite a bit because she had played at the University of Texas. And I saw a young lady by the name of Esoleta Whaley. Esoleta Whaley was the point guard of that team during that time for the Longhorns, and she was an amazing defensive basketball player. Amazing. I saw her quite a few times put her hands behind her back and move her feet and stop people. That's how good she was. And I just watched her foundation. And when I watched her foundation, I picked it up and carried it for the rest of my life defensively.
SLAM: Karl Malone actually helped recruit you to Louisiana Tech. Did you become friends right away? How did that relationship grow?
TW: Karl Malone is a country boy, right? And I'm a country girl. We were in a country area, so we were kind of a fit. He was a mommy's baby, I was a mommy's baby. And when I got there of course he was helping with the recruitment of it all. And we became just instant friends, telling me about the university, how he wanted to come to the university and why he did. It was very interesting to me. Of course, watching him play, everybody knew he was going to be an NBA player. He was just that good. And when he spoke to me about the university and how good the university was as far as people really wanting the best for you, I kind of really gave it a positive look. The university was so rich with their tradition, you wanted to be a part of that. He's been my friend from that day until right this very minute. We're still great friends.
SLAM: Louisiana Tech had a great history of Final Fours and National Championship games. Did you feel any pressure coming in, and if so, how did you get past that?
TW: The great thing is I had great coaching when I was in high school. I really knew the game very well because I played the 1, 2, 3, 4 and the 5. That's high school basketball. So I really understood the game very well. So when I got to Louisiana Tech, it was not pressure for me, it was a challenge for me. I always want to be challenged. It was a challenge for me to make sure that I knew that I fit in at that level of basketball. When I got there, a young lady by the name of Pam Gant was a senior at the time, and I was a freshman. She took me under her wing, and we just decided that we were going to do this thing together. She just really taught me a lot about what it was like to be a Lady Techster. When you walk out of the building and go into class, you know how important you are to that university and how everyone treated you like a rock star. So it was really about how you conducted yourself on and off the floor, which was fine with me because with the way I was raised at home, I knew how to conduct myself. When I got to Louisiana Tech, I had great leadership in Pam Gant and how she took me under her wing and helped me to understand the Lady Techster way.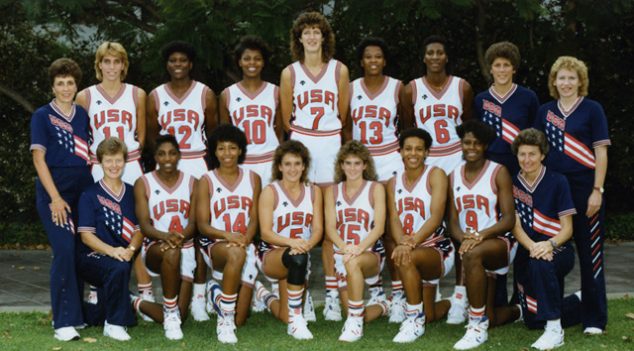 SLAM: Your career at Louisana Tech ended on a super high note with a National Championship in 1988. What struck me was that, on the day after you won the title, you were already practicing for the Olympic trails. How big of a goal was it for you to make the Olympic roster?
TW: It was very big for me. My senior year with Louisiana Tech was a very interesting year for me because [head coach Leon] Barmore had said to me, "There's nothing out there that you can't accomplish if you want it bad enough." And he knew my work ethic. He knew that I wanted these things tremendously bad because I wanted to be the best, and he knew that's how I conducted myself daily. I wanted to have the greatest practices every day. I wanted to always compete and challenge everybody around me every day. I wanted to make everybody better every day. I wanted to be a well-rounded person and a well-rounded basketball player. And he said to me, "There's no reason why you should not be an All-American, that we should not win the National Championship, that you should not be on that Olympic team, and all the other things will come your way. There's no reason that shouldn't happen. If it doesn't happen, just look at you." And I worked even harder. And he was probably the hardest on me my senior year than ever before. He was hard my freshman, sophomore, junior year, but he was probably even harder my senior year because he knew what was lying ahead for me to accomplish. It was just an amazing, amazing, amazing year for me during that time.
SLAM: After you won Gold at the 1988 Olympics, you went to play professionally in the Italian League. Initially, did you have to adjust to the style of play?
No. The only thing where the adjustment had to come was being away from home. That's where the adjustment was. The sacrifice was tremendous. As far as the game of basketball, it was no different. Of course, you might walk in and there might be a couple rules that might be a little different, but that was about it. Or the structure of how they conduct themselves as an organization. Or the philosophies of the coach. But other than that, it was basketball. It was another level, and you understood that you take your game to another level. That was a given.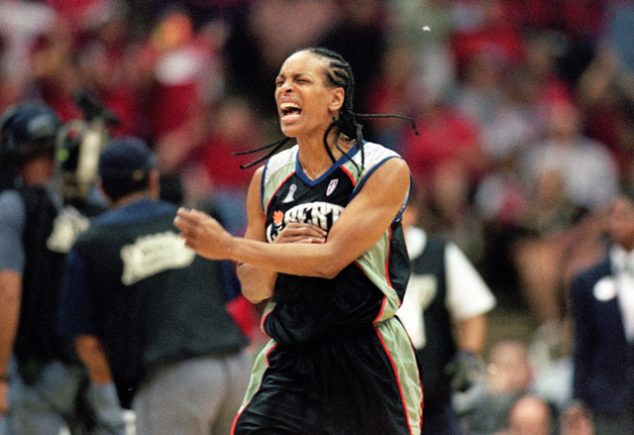 SLAM: Things worked out almost perfectly in that you were an All-Star in Italy and later won championships in Russia. You accomplished everything you could accomplish over there. Then the WNBA forms, and it was just another challenge for you…
TW: Absolutely, now here comes another challenge. Now here comes another time where you get into the gym and you better yourself because here comes an extra challenge. Playing on the Russian team, people just don't understand, those players were absolutely amazing. We had played them in the '92 Olympic games, and the team we lost to is the team that I went to play with in Russia at CSKA [Moscow]. I looked on this team, and there's girls that I played against in the Olympics and they beat us. So that was an issue No. 1 right there. And practices where truly elevated because, Medina Dixon and I were the first to play over there, so we were still angry. We were still trying to beat them because they beat us. And they were still trying to beat us down to let us know that they beat us. So it was competition every single day. It was a challenge every single day there playing with the Russian team at CSKA, which was a tremendous experience because they work hard. They were all about who I am. What I like. The hard work every single day. The expectations were high every single day of the team and of each other. The demands, holding each other accountable, being disciplined every single day. It was just that way. And then the WNBA comes into existence, and here we are playing against the best every day, every night. That was another challenge. Another challenge to get back into the gym and try to find another way to elevate the game.
SLAM: And how lucky was it that you ended up in New York of all places?
TW: Man, I tell you that wasn't even luck, that was a blessing. At first, everyone was saying, "You're going to be allocated to play in Texas because you're a Texan." And I was like, OK, OK, and so that's all I heard. My call comes and says, "Alongside Rebecca Lobo is Teresa Weatherspoon with the New York Liberty." And I'm like, What?! Wait a minute, let me think about this for a minute because this is crazy. No way am I going to New York City. The grind is real here, and I love to grind. Whatever it takes, I'm going to grind. I'm going to grind to get it done. And that's what the city is about. They will grind all the time to get it done because they're believers. If you can play here, you can play anywhere. I'll tell anybody that. If your shoulders are broad enough to play here, you can perform anywhere. And to play in Madison Square Garden, not only did I want them to know that I was a basketball player, but want them to know that I'm an entertainer. When you come in here, I'm going to entertain you. You might be having the worst day of your life, but when you leave, you'll have the best day of your life because that girl out there, man, something's wrong with her. She gets crazy about what she does.
SLAM: And that passion is evident even now when you're working with players as the Liberty's director of player development. Is this the most content you've been during your coaching career?
TW: No, I can't say that because anything that I do, I'm not content. I don't even like to use that word. I'm happy with everything that I do because wherever I am, I'm all there. I give everything that I have. Even when I was at Louisiana Tech as the head coach there, it was an amazing experience. That wasn't anything but growth and development for me as well as for the young ladies that I had an opportunity to coach. All of it is growth and development. And it was absolutely a great experience for me, and I was all there with that. And coming here, I'm still doing the same thing. I'm still given an opportunity to coach, but I'm doing it in a different way. I get to coach individuals to show them what they can do and how they can do it. I don't just show them what they can do, I show them how. I help them think and see things a little bit differently. Understanding angles of the game, the importance of where you are on the floor, and why it's important. I like to give the "whys" for them to understand. And yes, I'm going to do it with just as much passion as I do anything else. Because if I can't do that, there's no need in me doing it.
SLAM: You're going to be at the NBA Store today. What's going on there?
TW: I'm just there to have fun with everybody that's in the building. I'll have a little meet and greet. Have fun with them, talk with them, just mingle with everybody that's there. Because that's who I am. They allow me to be who I am. There's never a script when I'm around, it's just, Spoon be you. Allow me to mingle around in the room, to touch and talk to people because that's who I am. I want people to understand that I'm a person. I'm a person first. I want people to touch me, feel me, and know that I'm a person. And just have some fun because this is an Olympic year. And we'll be rooting on our ladies to win that thing. And that's what's going to be important: for us to just have fun and root on USA.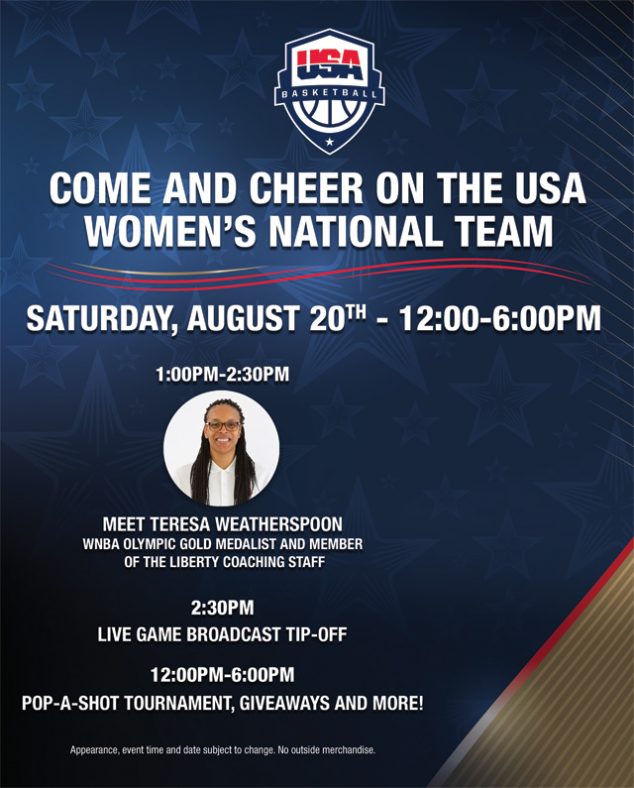 Photos via Getty Images and USA Basketball