The WNBA's 20th season is set for a collision course in October. With this season marking the first time that the W's playoff seeding will be determined purely by record, and not conference, two of the best teams of all time are staring down the barrel at each other, just waiting for the Finals to come around.
The defending champion Minnesota Lynx have exploded to a 12-0 record. The Los Angeles Sparks are hot on their trail, standing at 11-0. After ten or more games, these are the only two professional sports teams in the history of America to be undefeated. Go ahead and count 'em off. That includes the NBA, NFL, MLB and NHL.
The Lynx and the Sparks are all set to tango this afternoon, 3:30 EST on NBA TV, when someone is going home with a loss. The historical context of this moment isn't lost on the Sparks' three-time All-Star, Nneka Ogwumike.
"In this 20th season, celebrating how far the WNBA has got, this is remarkable for two teams to be doing something like this," Ogwumike says.
"We're doing something that no other professional sports league has done," Lynx head coach Cheryl Reeve says. "That's fun. Both LA and Minnesota, we understand playing each other, whether we're playing tiddlywinks or spoons. Whatever it is, whatever time the game is, wherever the game's being played, we just really enjoy the competition of playing a quality team like LA.
"I'm envious of our players," Coach Reeve continues. "This is the time that I'd love roll back the clock and being able to put my shoes on and get out there and play."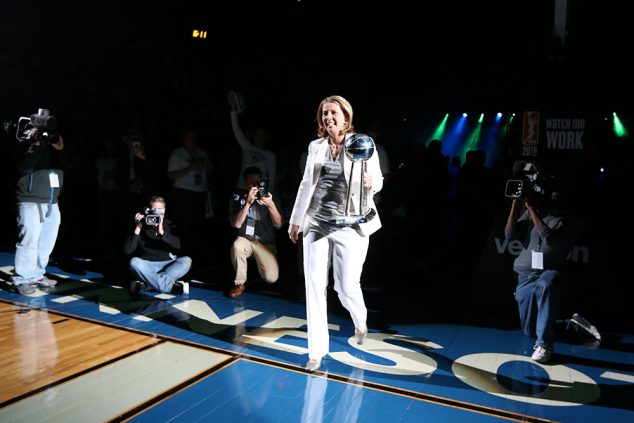 Both squads, of course, are consistently harping on the fact that today's matchup won't win them a chip. But it will help them get there.
"We don't look too far down the line," Sparks head coach Brian Agler says. "We know we can't win a championship today. We won't win a championship tomorrow. But we can take a step forward each and every day. If we move in that right, positive direction, we'll be in the position that we should be at the end of the season."
The Lynx have been moving in a positive direction for five years now. They've won three championships since Maya Moore got drafted back in 2011. Coach Reeve knows that today's game is just a single moment in a season full of pressure-packed games.
"We don't look up," Coach Reeve says. "We stay in the moment. When we win a game, we don't go, 'Ok, now our record is this.' We just don't do that. We put everything we have into a moment and when that moment is done, we fold it up, put it away and move onto the next moment. This team is exceptional at doing that. People ask why we've been good for so long. That is probably the most understated thing."
The Sparks are trying to win their first title since 2002, when Lisa Leslie was still the most dominant player in the game. This is their deepest team since that '02 run, which capped off a pair of consecutive titles. Not only are Ogwumike and Agler aware of what today's battle means for the team, but they're aware of what the future holds for this stacked squad.
"We have a combination of people that could start," Ogwumike says. "That's what's so special about our team. Everybody understands that it's not about who starts a game and it's not necessarily is about who's expected to score the most points. It can be anybody's night on any given night."
"They keep things in perspective and they understand the bigger picture," Coach Agler says about his selfless bench. "They know the next game could be their night, so they're always ready to play."
Both the Lynx and Sparks are more than ready to play today. It'll be the first of three regular season matchups between them and almost certainly a Finals preview. All-world, all-everything Maya Moore knows tomorrow is about more than just a game.
"You look back and realize, wow, this was a big moment," the four-time All-Star and former MVP says. "This is gonna be such a fun game. All the bigness of tomorrow is gonna result in it being an exciting game. Maybe I'll take some time later to figure out how this moment comes together with WNBA history or my history."