The night of February 9, 2015 is an absolutely frigid one in Storrs, CT, but that hasn't stopped 10,167 students, alums and local fans from packing the Harry A. Gampel Pavilion to watch UConn's women's basketball squad take on South Carolina in what is set to be a battle of the No. 1-ranked Gamecocks and the No. 2 Huskies—a matchup expected to be a close-fought showdown between the two best teams in the NCAA.
And the pre-game atmosphere, for what it's worth, matches the hype. ESPN2 cameras are everywhere, as the network's Doris Burke sits courtside scribbling notes to herself while preparing for the broadcast. The student section is bumping, rolling through cheer after cheer and looking exactly like the crazed group of college students they very much are. A row of media members—including out-of-town folks from the New York Times, Boston Globe and this magazine—stretches across the side of the court.
There's one problem, though: This game ain't no close-fought showdown. Truthfully, it's not much of a showdown at all.
Halfway through the first half, the Huskies bust it open with a few threes and a bunch of defensive stops, gaining an 8-point edge that quickly becomes (and never leaves) double digits. Lanky UConn forward Breanna Stewart (22 points, 8 boards, 5 blocks) seems to do whatever she wants to, while her frontcourt counterpart Kaleena Mosqueda-Lewis (23 points, 4 assists) dominates from the perimeter. The Huskies win 87-62.
"As if we needed more proof this is the basketball capital of the world," Coach Geno Auriemma said, on court after the game, "we just proved that."
What South Carolina, and many others around the nation, learned on this night was a simple, indisputable fact: When it comes to women's college basketball, the Connecticut Huskies are the best of the best. And they aren't going to be pumping the brakes anytime soon.
The beginning of the program's now-legendary status can be traced to the mid-'80s, when an Italy-born, PA-bred man named Luigi Auriemma took over as coach of the Huskies. Auriemma started as an assistant in high school, then was an assistant at St. Joseph's and Virginia before earning the leading job in Storrs in 1985. At the time, UConn's women's squad wasn't known for much; meanwhile, the school's men's team, still pre-Jim Calhoun, was solid if unspectacular, having earned several Tourney berths throughout the '50s, '60s and '70s.
The women's team boasted a 12-15 record in '85-86, and from there, it climbed up the ranks, elevator style: 14-13 in '86-87, 17-11 in '87-88, 24-6 and a Tourney bid in '88-89. And by 1991, led by forward Kerry Bascom, the group made the Final Four, losing 61-55 to Virginia.
The success of that group led to the recruitment and subsequent arrival of Rebecca Lobo, a center from Massachussets. And in 1995, Lobo led the UConn team that put the program on the map, permanently. Lobo's Huskies finished the season undefeated, 35-0, defeating Tennessee in the final to take home the National Championship.
The chip put the Huskies on the map, but more importantly, it established Storrs as a hot spot for those looking to take their careers to the next level.
"It took us 10 years to win a National Championship, and in those 10 years I don't think we had a kid playing for us that was [from] outside the northeast, from Boston to DC," Auriemma says. "Then after that, you know."
Indeed. And once the recruiting doors swung open, so did UConn's success. They went to the Final Four in '96, the Elite 8 in '97 and '98, the Sweet Sixteen in '99, and then in 2000, behind star PG Sue Bird, they won another title, knocking off Tennessee in a 71-52 blowout.
There wasn't a lot of losing after that. The team reached the Final Four every season from '01-04, and then again from '08-present. They went undefeated in 2002 and won a Championship with what may be the best starting five of all time: Bird, Swin Cash, Asjha Jones, Tamika Williams and Diana Taurasi. Taurasi led the group to another Championship in '03 after her star teammates graduated—and then another one in '04. (Taurasi's decision to leave sunny California and attend UConn in ever-frigid Storrs is perhaps as great a coup as Auriemma has ever managed.)
A few "down"—in the sense that they didn't win National Championships—years in the mid-'00s followed, but the arrival of Maya Moore in '07 quickly changed that. The Huskies lost in the Final Four in '08, then won it all in both '09 and '10, both years in which the squad didn't lose a single game. They finally lost a contest in '10-11—ending their insane 90-game winning streak, obviously a record—falling to Stanford on December 30, 2010, and then fell short of a Championship that season, too, losing to Notre Dame in the Final Four.
In the following couple of years, a few now-familiar names showed up: Mosqueda-Lewis and Kiah Stokes, and then Breanna Stewart, Morgan Tuck and Moriah Jefferson. And, like clockwork, Championships followed, in 2013 and 2014.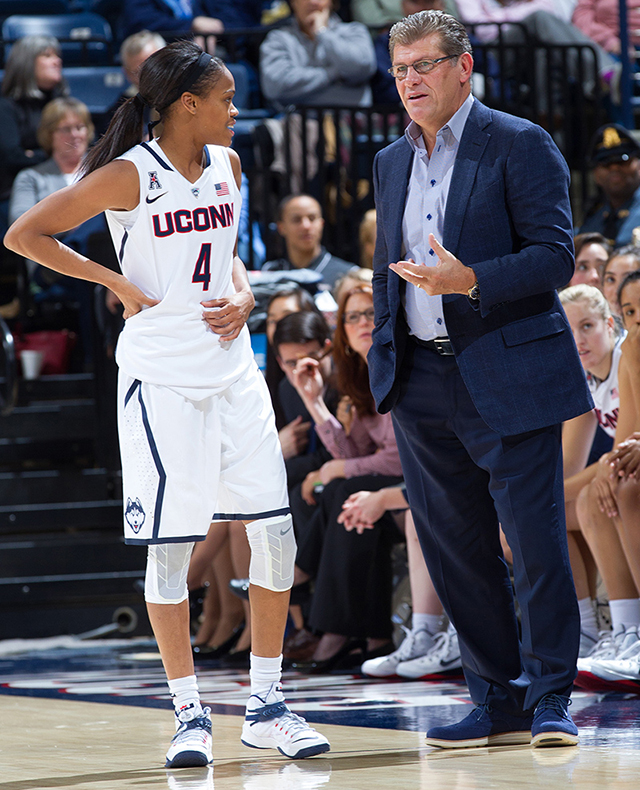 To recap: In almost three decades, Auriemma's Huskies racked up nine titles, 15 Final Four appearances and featured countless players who have gone on to greatness in the WNBA and overseas. Asked about his team's on-court success, Auriemma is quick to deflect the praise: "You know when your scheme really, really works? When you've got good players."
And the current Huskies seem poised for yet another Championship—or, at the very least, a run that ends close to one more. They washed Dayton 91-70 Monday night to earn a trip to this year's Final Four.
Stewart, known simply to her coaches and fans as "Stewie," is the reigning AP POY and Naismith Trophy Winner, and is the team's pulse, constantly chirping at her teammates and exuding leadership during games on both the court and the bench. She averages 17.0 points and 6.6 rebounds per game. When she steps to the free-throw line against South Carolina, chants of "Let's go Stewie!" and "I love you, Stewie!" rain down.
Mosqueda-Lewis (13.9 ppg, 4.2 rpg) leads the team in minutes played, which, per Auriemma, isn't much of a coincidence. "I never want to take her out," he says. "I know that in three possessions, she can blow the game open. You can feel it, when she gets it going like that."
Then there's Jefferson, the incredibly vocal, ever-active junior PG, and Stokes, a senior center. Freshmen Kia Nurse and Gabby Williams get their share of minutes, and will be expected to take over as leaders once the upperclassmen move on.
Which is all to say: The perennially contending Huskies aren't going anywhere. As long as Auriemma is at the helm—his current contract lasts through the '17-18 season—top recruits will flock to Storrs.
Speaking of, back at Gampel after the UConn-SC bout, Auriemma is asked about the possibility that the Gamecocks could evolve into a powerhouse like the Huskies. Under coach Dawn Staley, who gained control of the Gamecocks in 2008, the team has reached the Tourney in '12, '13 and '14 and reached the Sweet Sixteen in '12 and '14.
"It's the same formula for everybody, I really believe that," Auriemma says. "You to have a school that wants to be in that situation, and then you have to have a coach that understands what it's going to take to be in that situation, and then your recruiting base has to be national."
A simple formula, and one the Huskies mastered: The school invested in a smart coach; that coach was patient and built the program up until it was able to win on a national level; then the program/coach flipped that success into recruiting dominance.
"You can't just win a couple games and then say, OK, we're gonna get the best player in California," he continues. "That takes time. But once you start recruiting outside your area, then all of a sudden, the perception of your program changes. Your team starts to take on a different kind of aura, because kids from all over the country want to play, and they're coming there for one reason: to win."
Adam Figman is a Senior Editor at SLAM. Follow him on Twitter @afigman.