December 26, 1964. The day after Christmas. On the NBA schedule that day was a regular-season game for the defending NBA champions, the Boston Celtics, against the St. Louis Hawks.
Coach Red Auerbach replaced the injured Tommy Heinsohn in the starting lineup with Willie Naulls. Starting with Naulls were Bill Russell, Sam Jones, KC Jones and Tom "Satch " Sanders.
Nobody thought it was a big deal until a few weeks later when the press realized it was the first time an NBA team had started five African-American players.
"First of all, I had no idea that I started five black players until a writer pointed it out to me a few weeks later," said Auerbach. "It didn't make a difference to me what color any of my players were. I was putting the five best players out on the court so that we could win."
To the Brooklyn born and bred Auerbach, a son of an Eastern European dad and an American-born mom, it was simply a coaching decision to give his team the best chance of winning. One of the most successful coaches ever in any sport, Auerbach was one of sports' original equal opportunity managers.
In the 1950 NBA Draft, Auerbach selected Chuck Cooper, making Cooper the first black player to be picked in an NBA Draft.
And in 1966, Auerbach, upon retiring from coaching, named Bill Russell player-coach of the Celtics. Russell became the first African-American coach in any of the major American professional sports.
Auerbach did it because he felt it was the best move for the Celtics. He wanted to motivate Russell to keep playing at a high level. Auerbach knew that the one person for sure for whom Russell could play, was Russell.
The Celtics did more than just win 11 Championships in 13 seasons from 1957 to 1969. Their style of play became synonymous with the game itself. But more on that in a minute.
Auerbach knew what it took to have a winning team. It had nothing to do with skin color. Geno Auriemma, the coach of the UConn (aka University of Connecticut) women's basketball knows what it takes to have a winning team. And it's not about gender.
If you've never watched a women's basketball game, a good place to start is this Sunday. The gold standard in women's college basketball, UConn, will be playing Oregon State in the semi-finals of the NCAA Tournament.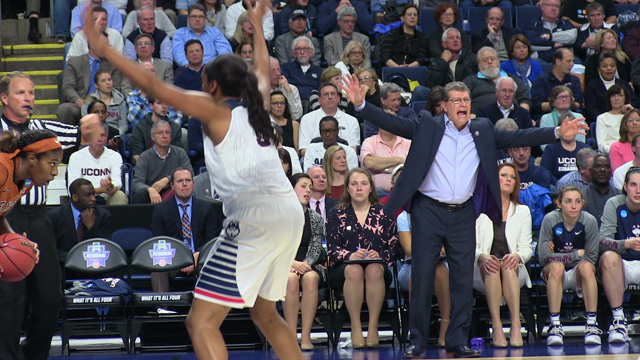 If you dig the way the San Antonio Spurs of the NBA play basketball, watch this game.
If you're too young to have watched the Celtics and the UCLA Bruins play in the 1960s, and have heard about their greatness and want to get a better idea what those basketball dynasties were all about, watch this game.
If you're not a basketball fan and are willing to try to understand why basketball is more than just sport and can transcend the cultural and political differences in society that divide people, watch this game.
And, if you're a basketball fan who has seen UConn play and knows all about UConn, but like most of us, sometimes takes for granted the good things and good people in your life—well you know the rest.
The UConn Huskies are striving for a record fourth straight women's basketball NCAA Championship. They have won 73 games in a row, dating back to last season.
Their closest game this season was against Maryland in the Maggie Dixon Classic at Madison Square Garden in late December, when Maryland was just four points down with 68 seconds left in the game.
Coach Geno Auriemma has led UConn to 10 NCAA Championships since 1995. He started coaching at UConn in 1985.
By winning a championship this year, Auriemma would surpass the legendary UCLA men's basketball coach John Wooden for having coached the most NCAA basketball championships.
Does Mt. Rushmore have room for sculpting four faces of basketball coaches? If so, Auriemma would be alongside Auerbach, Wooden and Phil Jackson as the four who have won either the most NBA or collegiate championships.
Like the Celtics and UCLA Bruins in the 1960s, this UConn team epitomizes teamwork and unselfishness. And like those teams, they have a number of greatly talented players.
But great players alone do not guaranty victory as big egos and selfish play typically lead to teammates not helping each other on the court. The best teams are the ones where everyone can contribute and where players help bring out the best in each other.
It's a thing of beauty to watch this UConn team pass the ball, share the ball, as each player moves around the court, rarely standing still. There are no exemptions for the unglamorous dirty work of rebounding, getting back quickly on defense, and playing defense.
This UConn team is focused with a steely resolve. The communication among players is evident. And above and beyond the unselfishness and the teamwork, the players are in sync with each other.
It's easy to get lost in a game by just watching the player with the ball. But something else caught my eye one night watching a UConn game on TV this season.
As the opposing team was bringing the ball up court, the five UConn players, each guarding their own opposing player, seemed to be moving in unison with each other. It was a sublime sight.
Don't get me wrong, great individual performances are treasured. Basketball goes back to the 1890s, and yet amazing originality and creativity in individual play exist today.
Stephen Curry's long-distance runaround shooting (OK, that was a nod to the band Yes) and quick change-of-direction dribbling. Russell Westbrook's driving to the hoop as if he was a car that suddenly could fly up and out over the traffic. The sleight-of-hand ball fakes, the laser-like panoramic vision to spot an open man, and the seemingly geometrically impossible angled passes of Rajon Rondo.
But teamwork in the game of basketball can be instructive in the game of life. An example to show people how to get along and help each other, so as to prevent their differences from unnecessarily dividing them.
The 1960s was a decade in which people in America had tremendous and vehement disagreements as to the existing social and political norms. It was a decade marked by the civil rights movement, the feminist movement, the counterculture, the sexual revolution, the Vietnam War, and the generation gap.
Basketball could not solve those disagreements. But the best teams in basketball in the '60s were a constant. The Boston Celtics won nine Championships in 10 years. The UCLA Bruins won five Championships in six years from 1964 through 1969. In a decade where the status quo was in flux, the best in the game of basketball endured.
Unselfishness, teamwork, inclusivity and hard work—among the very talented and the less talented players of the same team—hallmarks of the Celtics and UCLA—are still universal lessons.
Why the urgency to watch UConn now?
Like a long-running hit Broadway play whose ensemble changes through the years, the cast of this UConn team will change dramatically when this season is over. Even great and long running plays with the same director can have differences in performances as actors come and go. Sometimes those differences are pronounced, for better or worse, sometimes they are nuanced, appreciated only by the trained observer.
At the end of this college basketball season, at least two of UConn's seniors, All-American guard Moriah Jefferson and All-American forward Breanna Stewart will be off to start their post-undergraduate careers.
Stewart is the likely first overall pick in the WNBA draft. And Jefferson should be a fairly high draft pick. A third senior, All-American forward Morgan Tuck still has one more year of basketball eligibility, but it is possible she will enter the WNBA draft instead of coming back to school.
I won't attempt to predict what will happen to this successful, long-running basketball program next year. And I'll leave it to the dedicated and passionate UConn fans to rank the relative greatness of UConn's 10 championship teams.
But you don't have to be a UConn fan to appreciate this current team of ballplayers for not only their success, but for how they have played the game.
This past Monday night, UConn advanced to the Final Four of the NCAA Tournament with a win over the University of Texas, 86-65, who came into the game 31-4 and ranked seventh in the nation.
UConn scored 31 field goals with 24 being assisted. Point guard and floor general Jefferson had 9 assists. Forwards Tuck and Stewart had 6 and 5, respectively. Texas tried different defenses, and UConn kept answering with player and ball movement.
In front of a packed house of almost all UConn fans loudly rooting for the Huskies, the Texas Longhorns fought to the bitter end. They did not back down an inch to the bigger Huskies. They played tough and hard and they played to win. They had 10 steals with 14 of their points coming off UConn turnovers. They got up and down the court quickly with no let up and no sign of thinking they could not win.
With 3:39 left in the first half, Texas trailed by eight, but UConn closed the first half strongly, taking a 15-point lead.
Early in the third quarter, UConn widened its lead to 21 points, but Texas came back and hit three three-point shots in a row for a 9-0 run in about a two-minute span bringing the UConn lead down to 12 points. But that was the closest they would come. UConn ended the third quarter ahead by 19. Another big run did not materialize for Texas, but as the game went on, you thought they were capable of it.
At the post-game press conference, the pain of the end of a magnificent season was evident in the faces and in the words of Texas coach Karen Aston. You could also see that hurt in the players sitting with her, Ariel Atkins, Imani Boyette and Lashann Higgs. And it hurt to watch them in pain. They came to win and although they respected the greatness of UConn, it was of no solace.
Senior center Boyette who just had played her last game for the Longhorns, choked up and through tears said, "Honestly, like, I can never repay the University of Texas. I love this university, and I'm just so blessed to be able to represent them."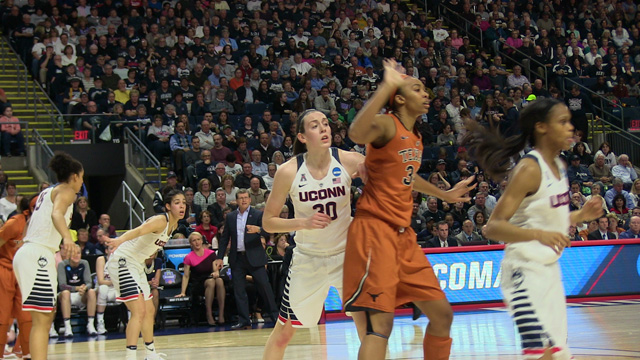 For those of us who did not know her, she gave us a window into her soul. It was a touching moment I won't soon forget. I later learned about the difficulties she has overcome in life to thrive on and off the court. I'm glad to have seen her play and learn about her inspiring life.
On Sunday, the 32-4 Oregon State, will try to dethrone UConn. They knocked off a terrific Baylor team in a very close Elite Eight game to get to the Final Four for the first time in its program's history. They are the Pac-12 regular season co-champions and the Pac-12 tournament champions.
Oregon State is battle tested. The Pac-12 sent five teams to the NCAA Tournament. Four of those teams are ranked in the top 13, not including the University of Washington team that has also made the Final Four. Stanford made the Elite Eight. In December, Oregon State lost close games to Notre Dame and Tennessee.
After the Texas game, Coach Auriemma was asked about how much longer he would coach. No definitive answer there.
A day before the game, he was asked to comment about a tweet from a Boston sportswriter disparaging the worthiness of watching such a good UConn team play. He was probably burning inside. But Coach Auriemma thoughtfully commented and his answers were intelligent and temperate, yet pointed.
If and when Auriemma retires, he should consider being the leading advocate for equality for women in sports, be it for playing, coaching and administrative opportunities, equal pay and media coverage. It might be the start of another long-running hit show.
Don't forget to watch the UConn-Oregon State game this Sunday!
Photos courtesy of Andy Lipton.