The WNBA's regular season wrapped up last night. The League's new playoff format has given the New York Liberty eight days between games, which gives the W's third best team time to get some much deserved rest while they wait for the winner of the Atlanta and Seattle one-game playoff.
With a 21-13 record, the Liberty ran through opponents, surrendering a few late-season losses because of injury and fatigue. But aside from a slow finish, the Liberty were dominant. They used a healthy dose of ferocious guard play and mixed it with an MVP-caliber campaign from Queens native Tina Charles.
Charles led the League in scoring and rebounding per game this year, joining legends Chamique Holdscaw and Lauren Jackson as the only women in WNBA history to do so. Wilt Chamberlain, Bob Pettit and Neil Johnson are the only NBA players to accomplish that. Let that sink in.
Charles' post game is certifiably the best on the planet. She's full of jump-hooks, fadeaways, counter moves and is capable of scoring with either hand. She's even started shooting threes, connecting on 7-17 triples since the Olympic break.
With Charles' constant scoring and rebounding, the Liberty's guard core stepped up to this season, providing teams with a pick-your-poison decision. Veterans Tanisha Wright and Shavonte Zellous were huge in helping youngins Brittany Boyd and Sugar Rodgers establish the team as a legit multidimensional threat.
They found Charles for easy looks on the regular, completely understanding who this team belongs to. Yet they all stepped up at key moments, ready to prove no moment was too big. All four of them play with the same I'm-better-than-you attitude. When head coach Bill Laimbeer put their games together—Boyd driving the lane, Wright bullying other guards, Zellous dishing, Rodgers drilling threes—he discovered a winning formula.
The Liberty players and coaches keep it loose. They know where they've been and understand where they're trying to go. Between the coaching staff and the players, there's almost too much experience for them to walk away without hardware this year.
Assistant coaches Katie Smith and Teresa Weatherspoon were named to the Top-20 WNBA Players list earlier this summer. Smith has two WNBA 'chips and three Olympic Golds. Weatherspoon has her own Olympic Gold. Laimbeer is a two-time NBA champion as a player and a three-time WNBA Champion as a coach. Swin Cash has three rings and Wright, Zellous and Rodgers all have one each.
They almost reached the top last year, with most of the same players. They lost in the Conference Finals to Indiana, but have regrouped this year to put on an even more impressive showing.
These days, Madison Square Garden is full of championship expectations, ones that are real. Now in her fourth season, Rodgers says the team understands their responsibility to go all the way. She also says Liberty still have room to grow.
"We feel like we haven't reached our peak yet," she says.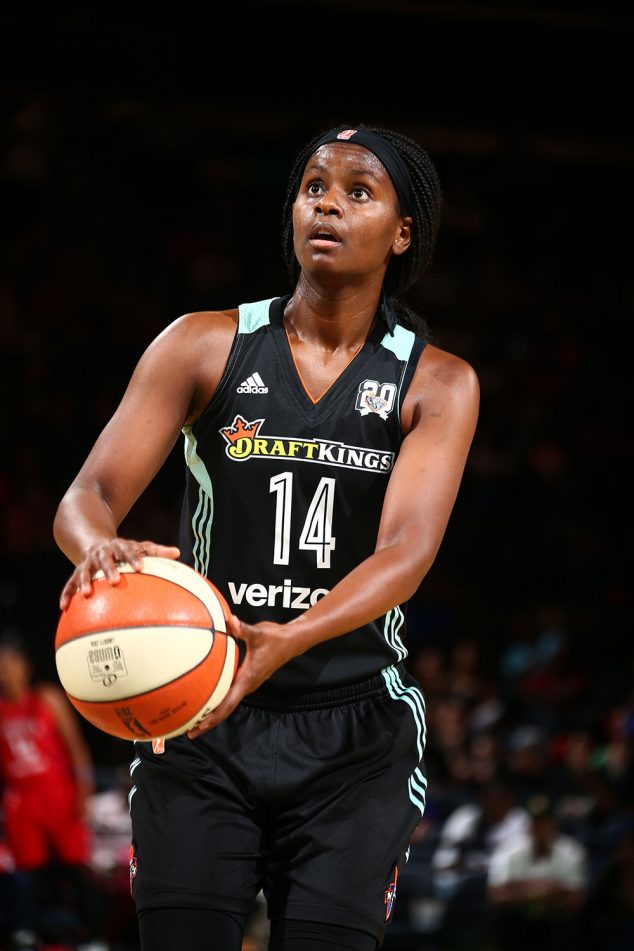 Their peak might included finding consistency in performance, the only thing lacking in the final weeks of the 2016 season. Blame it on fatigue, blame it on boredom. With the playoffs here, though, Rodgers won't let there won't be any lack in focus.
"It takes hard work," Rodgers says about winning it all. "Details to everything. Just doing the little things. The little things are what's gonna win us a championship."
If you look closely enough, you can see the Liberty waiting. Waiting for September 24, when they have the chance to start their championship journey. They're over there, in the back, studying, watching, learning, getting ready to dominate.
Getting ready for their moment.
"We need to bring a championship back here," Rodgers says. "It would be unbelievable to win one for New York."