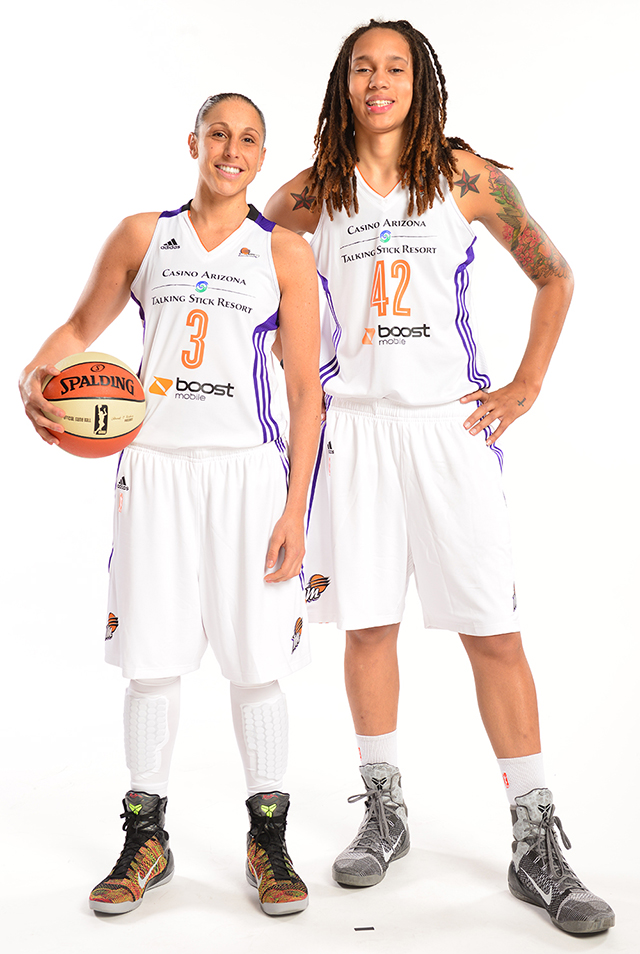 Back in 1996, there were those who believed "Macarena" had more legs than the WNBA, but you win a free game of Trivial Pursuit if you can name the band that did that song—meanwhile, 20 years later, the WNBA is still in business.
Sure, the league has gone through growing pains, but it's carved out its own niche in the sporting world, and proven that 5,000-plus people will pay cold hard cash to watch women play basketball on hot summer evenings. There are 12 teams now, and while there are still issues (the Olympics interrupt the season every four years, for one) and transient franchises (the Tulsa Shock are now the Dallas Wings), the basketball is better than ever. Oh, and NBA followers should pay enough attention to see how the new Playoff format works: instead of four teams qualifying from each conference, it will just be the top eight teams by winning percentage moving on at season's end. If it works as well as many hope, the odds will go up that the NBA will make the same move in the near future.
In honor of that new format, the teams are listed in predicted order of finish, from one to 12, with last year's regular-season record and overall position in parentheses.
Phoenix Mercury (20-14, tied for 4th)
If it were 2006 instead of 2016, adding Diana Taurasi and Penny Taylor to a team that went 20-14 would basically concede the WNBA title to Phoenix—but even at 34 and 35, respectively, the Taurasi-Taylor one-two punch will be a formidable addition to an already strong team. If the Mercury's many veterans perform even close to their capabilities, and Brittney Griner continues to be a force of nature in the paint, Phoenix will be very hard to beat.
Minnesota Lynx (22-12, 2nd)
For the Champion Lynx, age is just a number—but you have to wonder when all those 30-somethings on the Minnesota roster will start to break down. Seimone Augustus, the third youngest of the starters at 32, missed 18 games, but otherwise the Lynx stayed healthy. And healthy, they were clearly the best in the league. But can Lindsay Whalen (34), Rebekkah Brunson (34), Sylvia Fowles (30) and new reserve Jia Perkins (34) dodge time's bullets one more summer?
Los Angeles Sparks (14-20, 10th)
The Sparks planned to solve their problems on the wing by trading for gunner Riquna Williams, but she then tore her Achilles tendon. Plan B was then instituted, trading for point guard Chelsea Gray, who will allow Kristi Toliver to play the 2, but Alana Beard is going to have to play heavy minutes at small forward—or Coach Brian Agler will have to go big with three post players (Candace Parker, Nneka Ogwumike and Jantel Lavender) in the game at the same time.
Chicago Sky (21-13, 3rd)
Elena Delle Donne is one of the best players in the world, and there was a time when Cappie Pondexter was in that conversation, too. Pondexter, though, is 33 now, and Brazil Olympian Erika de Souza is 34, and how much those two—who may recall that Los Del Rio recorded "Macarena"—have left will determine how far Chicago can go.
Washington Mystics (18-16, tied for 6th)
In an age of look-at-me middling talents, 23-year-old Emma Meesseman is an anomaly: She's one of the best young players in the world, but critics complain she avoids the spotlight. At 6-4, Meesseman needs to be the star in Washington so the role players have room to play those roles—and maybe this will be the year she takes center stage. If not, it will be another early playoff exit for the Mystics.
New York Liberty (23-11, 1st)
With Epiphanny Prince out until after the Olympics—if she comes back at all—the Liberty need newcomers Shavonte Zellous and Lindsey Harding to step up. Tina Charles anchors the frontcourt, but coach Bill Laimbeer has to find some more offense until (or whether) Prince returns. If second-year players Brittany Boyd and Kiah Stokes score consistently, though, New York could be a dark-horse contender for the title.
Dallas Wings (18-16, tied for 6th)
Skylar Diggins returns from an ACL injury to join Odyssey Sims in one of the league's most exciting backcourts, and Glory Johnson returns from a soap-opera relationship with Brittney Griner (with twins), so look for the relocated Tulsa Shock to give Dallas fans plenty to talk about in year one. But someone—rookie Aerial Powers, perhaps—needs to take charge at small forward.
Connecticut Sun (15-19, tied for 8th)
There's justifiable optimism in out-of-the-way Uncasville, as a healthy Chiney Ogwumike and solid Kelsey Bone give the Sun a powerful presence in the paint. Connecticut sees Morgan Tuck as the WNBA version of Draymond Green, and if a shooter emerges on the wing, the Sun could be a menace.
Indiana Fever (20-14, tied for 4th)
The focus will be on Tamika Catchings' final year, but along with keeping Catchings healthy, Indiana needs Erlana Larkins in peak form, too. Another big question is how well Briann January recovers from microfracture knee surgery—without her, it's Shenise Johnson and lots of uncertainty in the Fever backcourt.
Atlanta Dream (15-19, tie for 8th)
It starts with the Angel everyone loves to hate, but after her, the drop-off is steep; there are too many unknowns for a return to the glory days of back-to-back trips to the WNBA Finals. McCoughtry is one of the elite, no doubt, but Shoni Schimmel needs to be in good enough shape to play 32 effective minutes every night and someone (first-round draft pick Bria Holmes?) needs to surprise.
Seattle Storm (10-24, 11th)
After four years of playing with the best at her level, Breanna Stewart will recall her days at Cicero North High, when she was pretty much the whole show. Sure, Crystal Langhorne is a solid player, and Jewell Loyd showed promise as a rookie, but Sue Bird is a shadow of the great player she was, and no one else can score. Put it all together, and Stewart will likely lose four times as many games (20, or more) in a 34-game summer as she did in her four years at UConn (five).
San Antonio Stars (8-26, 12th)
The Stars were the worst team in the league last year, and their best player, Danielle Robinson, will miss this season with a torn Achilles. Second-leading scorer Jia Perkins was inexplicably handed to Minnesota for some spare change, and third-leading scorer Sophia Young-Malcolm retired. Kayla McBride (38.2 percent from the field last year) and rookie Moriah Jefferson must carry the load in 2016, but they probably won't be able to carry it very far.
—
Photo via Getty Images