It's a risk for any professional sports team to draft an athlete. But how about taking a top player who has sustained a major injury and won't be available to play until next season, if at all? It's a leap of faith, to say the least, and it doesn't always work out.
Some WNBA franchises have taken the gamble, however, to find it has paid off—and sometimes, in spades.
In many cases, good athletes are more than worth the wait.
Early 2014 wasn't kind to two of the college game's top seniors.
In January, Duke point guard Chelsea Gray tore her ACL. During an NCAA Tournament Elite Eight game that April, Notre Dame forward Natalie Achonwa incurred the same injury. But come WNBA draft time, both went in the first round, as originally projected: Achonwa to Indiana with the ninth pick and Gray to Connecticut at 11.
Achonwa had contemplated sitting out the draft and waiting until the following year, but after talking to WNBA representatives, she decided to throw her hat in. Being chosen in Round 1 caught her off guard.
"I had a lot of emotions, but I was honestly shocked, and I was excited," Achnowa said. "I couldn't believe there was a team willing to take a chance on me."
Gray was similarly taken aback.
"I was surprised when I got the call to go to the draft, and when I heard my name, it was unbelievable," Gray said. "It was definitely a blessing for a team to be able to have that faith in me to rehab for a year and come back the next year."
Achonwa rehabilitated at Notre Dame, where she was also the director of operations for women's basketball that season. The following February, she reported to nearby Indianapolis to begin preparations for her WNBA rookie year. Gray completed her recovery in time to play in Israel during the winter, where her confidence grew.
Both athletes established themselves as solid reserves for their teams in their rookie seasons that summer, with Achonwa starting 17 games for Indiana.
Kelly Krauskopf, who has been the Fever general manager since the organization was founded in 2000, said she took a calculated risk in choosing Achonwa in the first round.
"We knew we wouldn't be able to get her in the second round, and we could afford to wait because we didn't need a post player that year," Krauskopf said. "I was looking at our roster and our salary cap three years out, and at the depth of our roster."
Achonwa has turned out to be a great fit for a team that is close enough to her former college to draw Notre Dame fans to games at times. Krauskopf is satisfied.
"It has paid off," she said of the wait for Achonwa.
Sun vice president and GM Chris Sienko said the franchise was in a good position last year to be able to draft Gray.
"We had multiple draft picks in the first round, and we used that one knowing she would have been a top-five player if healthy," he said. "We thought it was good insurance for the future to have a quality player like Chelsea."
In contemplating drafting Gray, Sienko's only hesitation was whether or not she would be ready by the next year. So he did his research.
"We had spoken many times with one of her former coaches, (Duke assistant coach) Al Brown, and he had a lot of positive things to say," Sienko said. "And when we watched her games, it was clear that when she was healthy, she was a very capable player."
So successful was her return, that the Sun traded her to the Los Angeles Sparks on draft day this year.
"She was one of our most consistent players, but there were some greater needs for the long-term that had to be considered," Sienko said. "Trading Gray was a necessary part of addressing those needs. She is a great person and we wish her well."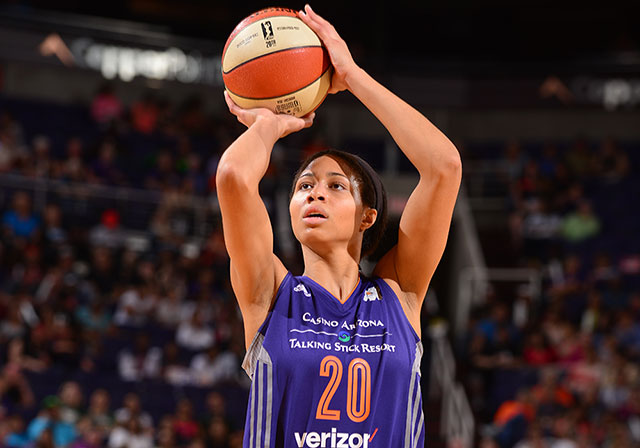 Last year the Phoenix Mercury decided to take a risk of their own by drafting Tennessee center Isabelle Harrison in the first round, with the 12th pick of the first round. A prolific scorer and defender, Harrison had torn her ACL in February.
Mercury general manager Jim Pitman said he was looking at the big picture for the organization in deciding to select Harrison.
"We didn't have to draft for right then, but for the future," Pitman said. "Izzy was a top-three or four pick before she went down. To get someone at 12 with her value was big for us."
Phoenix did their research on Harrison, to make sure she was a good investment.
"Obviously we needed to know about her injury, what university was doing the surgery, and what kind of person we're talking about," he said. "Are they going to be diligent, are they willing to work hard to reach that goal?"
The organization did the same kind of investigation this spring before drafting Oregon forward Jillian Alleyne 20th overall. They checked up on Alleyne, who was projected as a top-five pick before tearing her ACL in February. They also flew her to Phoenix last month to see how her rehab is going.
"We've been fortunate to have high-quality young women, and we knew both of them would be incredibly diligent in doing their rehab," Pitman said. "That's the most important thing. Value is important, but if you have a player who doesn't want to be great or who doesn't want to work, then it's not good value."
Harrison said being drafted in the first round by the Mercury made her want to work even harder to recover from injury.
"I started off with four hours of rehab every day, and slowly there was more and more I could do," she said. "It made me re-appreciate playing basketball. Something I love was taken away; that's my motivation now."
Harrison has been a solid reserve for Phoenix, which struggled to find rhythm at the beginning of the season. Sienko said she has proven herself.
"Izzy has exceeded my expectations," he said. "She hadn't played for 12 months, and now to see her playing at the level she has been, her athleticism is as good as ever. She's not afraid on the court and is not afraid of contact."
Alleyne, who broke several school and Pac-12 conference records before her injury, seems set to follow in the footsteps of her predecessors. She acknowledged that rehabilitation is "arduous," but is maintaining her usual positive attitude throughout the process. Like Harrison, she has a new appreciation for the game. Like Achonwa, she is staying at school to heal.
"The plan is to do all of my rehab here at the University of Oregon, and by December I should be back to playing basketball," Alleyne said. "Then, depending upon how my knee and body feels, I can go overseas and play to get my legs back under me before Mercury training camp next year."
"Or I can stay, rest, and continue to develop my game and stay with the team here at Oregon. It all boils down to how my knee and body are feeling in December."
— Jillian Alleyne (@SuperrJaay) June 16, 2016
Alleyne keeps herself going by focusing on her larger goals.
"The way I motivate myself is to remind myself of what the big pictures is, and that's getting back to playing and preparing myself for training camp next year," she said. "What also keeps me motivated is God, my family, friends and supporters."
"I know this is a chapter in my storybook, and I'm motivated to overcome this!"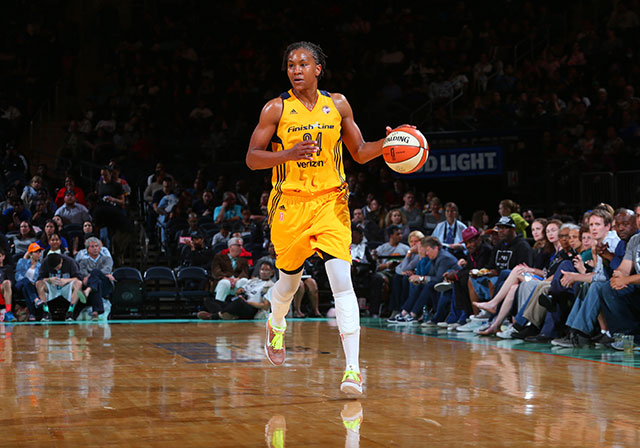 The WNBA has a tremendous precedent in a drafted, injured player making a successful comeback.
In 2001, the one-year-old expansion teams Seattle Storm and Indiana Fever had the first and third picks, respectively, in the draft. Tennessee four-year All-American Tamika Catchings was projected to be the No. 1 pick until halfway through her senior year, when she tore her ACL in a game.
When draft time came, the Storm chose Australian star center Lauren Jackson. The Fever snapped up Catchings, and waited for her to rehabilitate from not only the ACL injury but a torn meniscus. Then in 2002, it was Catchings' time.
She was Rookie of the Year that season, and went on to win Defensive Player of the Year an unprecedented five times. Catchings has been league MVP, Finals MVP, and she guided the Fever to a Championship in 2012. She has averaged 16.7 points, 7.5 rebounds, 3.2 assists and 2.4 steals per game during her career—all 15 years of which have been spent with the Fever. When she retires at the end of this season, she will be the only WNBA player to have spent as long as of a career with one franchise.
Catchings is the WNBA's all-time steals leader, ranks second all-time in both scoring and rebounds, and is sixth in assists and 11th in blocks. She will make her fourth trip to the Olympics this summer, and she inspires her entire team year after year with her work ethic. Besides being the team leader and mentor, Catchings became the face of the Indiana franchise, an ambassador for the WNBA, and a sterling example of good character.
Krauskopf acknowledged that drafting Catchings was a roll of the dice. When it was time for their pick, they had the choice of either Catchings or the highly touted All-American from Southwest Missouri State, Jackie Stiles.
"We were a new franchise, and that was only our second draft," Krauskopf said. "It was obviously about building long-term success, and we ended up taking this injured player from Tennessee who was out of sight, out of mind for many other teams. We were hedging a bet."
But Krauskopf was confident because she had done plenty of research on Catchings, and knew that her work ethic was second to none.
"You have to do your homework," Krauskopf said. "I knew much more about her than that she had a torn ACL."
Catchings, typically, takes the philosophical view of having to wait for her league debut.
"It ended up being a blessing in disguise, because I could sit outside the game that year and see how much it was evolving," she said. "I was also able to work out during the offseason and get focused on what I needed to do. I was so determined to get back."
Catchings said it is important when facing injury to maintain an optimistic outlook and keep working.
"You've got to focus on the support system around you, and keep your head up," Catchings said. "The minute you begin to have a pity party for yourself, it's over."
Ironically, Catchings was able to bestow this advice on Achonwa, when Indiana drafted her, and on Harrison, as a fellow Tennessee alumni. Both found her support invaluable.
"Tamika was one of the first people that contacted me after [the injury] happened," Harrison said. "She continued to talk to me, and encouraged me. She's a true mentor."
But though there have been several examples of success in drafting injured athletes, it doesn't always work out in the player's favor.
Last year the Los Angeles Sparks took Central Michigan forward Crystal Bradford with the seventh pick in the draft, and then had to wait for her rehabilitation from a torn meniscus. She played in 16 games, averaging 2.7 points.
This season, however, Bradford was cut in training camp. She went home to Michigan, where she is training and preparing for overseas play this winter. She plans to give the WNBA another shot next summer.
"I wasn't what they were looking for, but I am absolutely capable of being a pro," Bradford said. "In being with the Sparks, I got a taste of how it works. I get it now."
Pitman said drafting an injured player is something the Mercury would consider again.
"There's no question, if it's something that can help us long term, we're willing to take that risk," he said.