Throughout Women's History Month, SLAM and WSLAM spotlighted different women around the game who are breaking barriers, elevating the game and continuing to empower others. Not only were we celebrating women throughout March, but we'll continue to do so today and every other day.
We recently caught up with WNBA standout DeWanna Bonner to learn more about how she's been able to balance motherhood and her pro hoops career simultaneously. In 2017, the two-time WNBA champion gave birth to twins, and only a year later, she made her second All-Star appearance. In this Q&A, we talked with Bonner about how she made the transition from motherhood back to hoops and what the 12-year-veteran expects going into this upcoming season with the Connecticut Sun.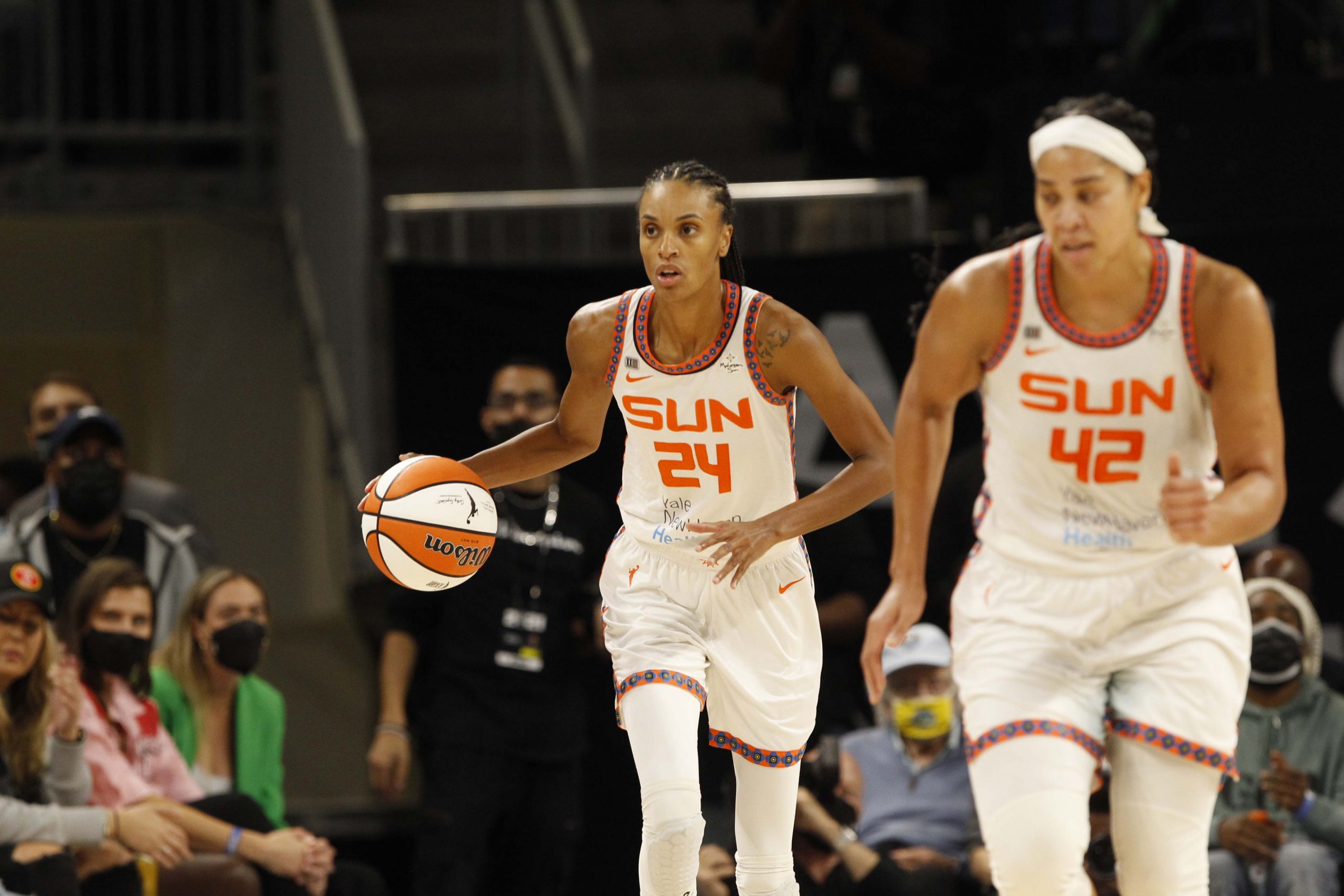 WSLAM: How's overseas play been this year for CBK Mersin Yenisehir?
DeWanna Bonner: I didn't get here until January. I decided to take the first half off and only play a couple months because I wanted to be with [four-year-old twin daughters, Cali and Demi]. I'm pretty much wrapping up my career overseas pretty soon because it's been hard for me these last two times to leave. Basketball-wise, it's been amazing. This organization is great, one of the top organizations in Europe, so that's been pretty cool.
WSLAM: I'm a twin as well. I have to ask how giving birth to Cali and Demi was.
DB: Cali was born first. She came out around probably 20 minutes, and Demi was two hours later. They were born at 34 weeks and were very chunky and healthy babies. Now they are two totally different human beings. Demi is into baby dolls and Cali is into skateboards and playing basketball or soccer. It's crazy to see how they grow up so differently. Demi says, "Mom, I'm going to be a cheerleader for Cali."
WSLAM: Was it always in the cards for you to give birth personally?
DB: I was married to Candace [Dupree] and after we got married, that was the next step. Actually, when I got pregnant, I was like, "Oh my God, I'm pregnant!" It's probably one of the hardest things I've ever done… giving birth to twins and turning around and starting training to play basketball. I didn't have a trainer. I just did everything on my own. I played my way back into shape. I felt like I never played basketball a day in my life. I couldn't jump. I lost all my hips. Building that up was my biggest focus.
WSLAM: What's co-parenting been like for you?
DB: Candace didn't play overseas this year so it worked out perfectly. The girls can be in Florida with her. As of right now, she's not playing WNBA, so it's working out perfectly, and I can play and they have someone at home. This is the first time one of us have been playing and one of us has been at home.
WSLAM: Did giving birth to them and returning to the WNBA give you a whole new outlook on basketball?
DB: I think it made me understand I'm not going to have this forever. That was the first time basketball was taken away from me and I couldn't play. I'm gonna love this with everything I have because it's not going to last forever. I know the feeling of having it for nine months and not being able to play. I actually went through a whole WNBA season and I had to watch on TV and it was really tough.
WSLAM: What do Cali and Demi know about your career?
DB: They were there last year with me in Connecticut. They know I'm playing but they're more into the mascot. "What's Blaze doing?" When I do lose a game, it's the same loving spirit. I come off the court and nothing changes from them. I can play the worst game of my life and they still love me as a mom.
WSLAM: Have they asked you any funny questions?
DB: Cali called me one day and said, "I'm not going to school today. I'm coming to Turkey." I said, "You're doing what?" They don't know quite where Turkey is but they know I'm here. They know I'm playing basketball…I'll ask Cali, "Can you drive and see us?" And she'll say, "No we have to fly!"
WSLAM: You have two WNBA championships under your belt (2009, 2014) and four All-Star awards (2015, 2018, 2019, 2021). What are you most proud of?
DB: Now being a mom, I would say coming back and playing the way I have been playing. I didn't think I'd get back to the level I was before. Before I got pregnant, I was competing at a very high level. I had competed for a Euro League Championship, playing against the great Diana Taurasi and lost by three points. I felt like I was at the peak of my game so when I got pregnant, I thought, "Is this the right choice? Is this the right decision?" Then when I came back, I made the All-Star Game that year.
WSLAM: What helped you to rebound in 2018 after giving birth?
DB: When I came back to Phoenix, I was playing with the greats. Diana Taurasi. Brittney Griner. When you come back to an organization like that, you're expected to be at a standard, so I was going to fight back to get to that same level. They're dependent on me like I was dependent on them. Just coming back and knowing what kind of player I needed to be to help the team kept me motivated for sure.
WSLAM: Can you talk about that transition from the Phoenix Mercury to the Connecticut Sun?
DB: I spent ten years in Phoenix. I felt like I had my own identity but when you think of Phoenix, you think of Diana Taurasi, Brittney Griner, so I think that was my time to step out and see how much I've grown. Connecticut was an opportunity that presented itself in free agency. Every team wanted me to come to their team but I just liked the chemistry Connecticut had. They were that close to winning a championship that year. We're still working on it but I definitely want to bring the first championship to Connecticut.
WSLAM: What's pushing you this upcoming season with Connecticut?
DB: I want to win a championship in Connecticut. We're really, really close as a team. I think that'll top my career off and I'll probably be done.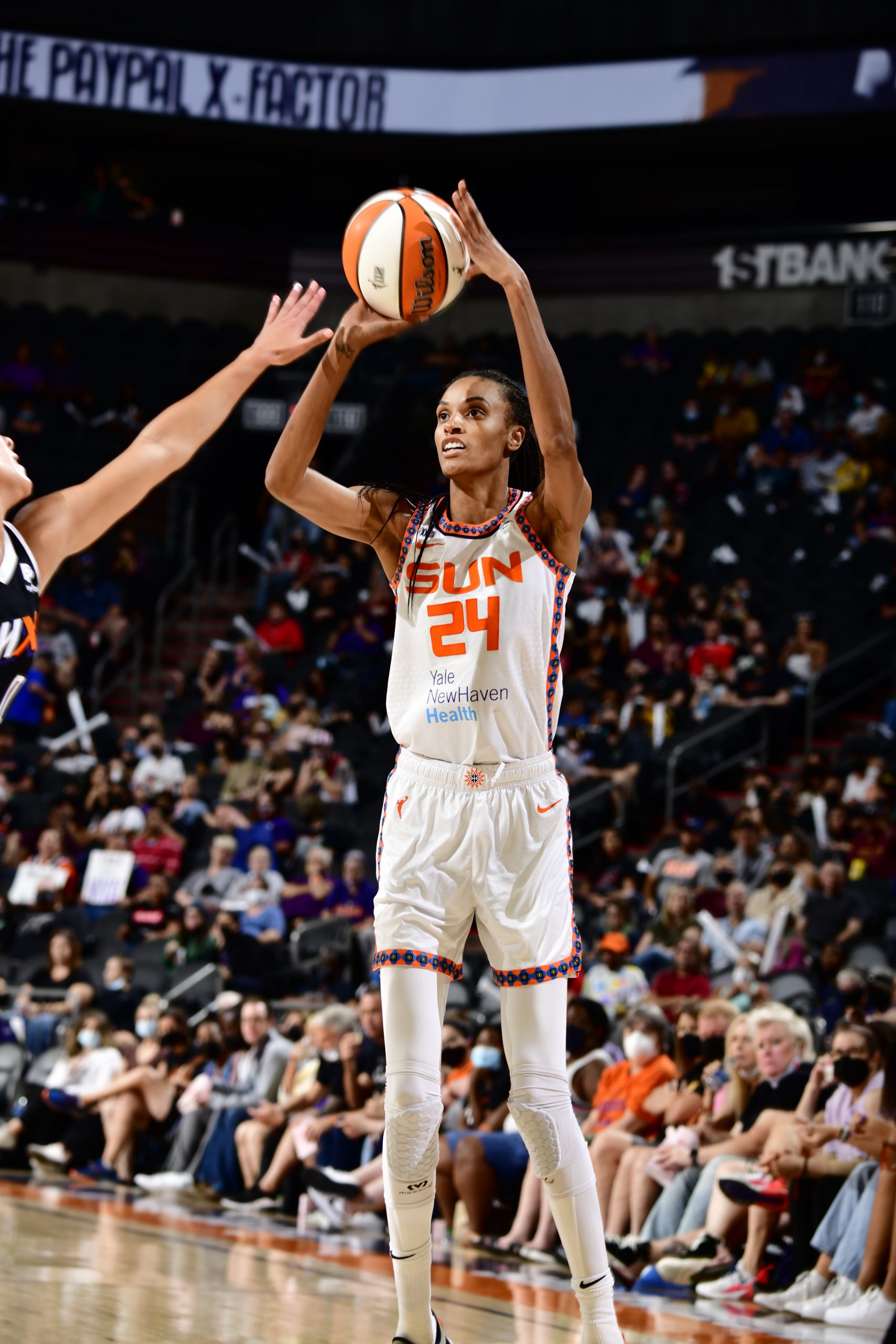 WSLAM: What's different about this team for you?
DB: The youthfulness for me. When I was in Phoenix, Leilani had a kid. Diana had Leo at the time. Everyone would go to practice and go home to be with their families or loved ones. Here, they all want to hang out, laugh and go party. This is fun again. Not that I didn't have fun in Phoenix, it was more like we were grown adults.
WSLAM: What's your relationship with your sister [Erica McCall] like?
DB: Now that we're both in the WNBA, we talk and bounce ideas off each other. Her path is so different from mine. Of course I was drafted, been on the same team for ten years, and she's been on different teams. In the bubble, she changed teams over and over. She looked up to me and I admired her. She still has this great personality. She just plays a role and I don't know how many people can have that strength and the mindset to do that. I think I admire her a little bit more but she always says she admires me.
WSLAM: When Cali and Demi look at you now, what do you want them to see?
DB: I don't know if I want them to look at me as someone who was a good athlete or a good basketball player. A loving mom is the only thing that can come to my mind. I'm a confident, "be you," type of person. I hope one day I give them that same confidence. As far as being an athlete or anything like that, I don't know if I want them to feel that way because sometimes I feel like when kids have parents who played basketball, they get that pressure. Basketball is my happy place. If it was to be their own happy place, I'd want them to find their own paths.
WSLAM: I hear you're pursuing teaching in your free time, too!
DB: I only have one class left! Then I'll officially have my master's in education. I'm pretty excited about that. I've been pursuing it my whole time overseas. I actually want to coach but I want to coach basketball for young children. I feel like that's the part we're missing—especially for girls. I don't think they get the same proper guidance that a little boy would get.
---
Photos via Getty Images.