Tap! Tap! Tap!
All day long, a young Donovan Mitchell would jump up towards the archway that separated his family's living room from their dining room at their house in Elmsford, NY, slapping the wall at the highest point he could reach.
Tap! Tap! Tap!
"You're dirtying up my walls!" Nicole Mitchell, Donovan's mother, would yell at him.
A decade-plus later, Nicole sat courtside as Donovan flew through the air time and time again en route to a 2018 Slam Dunk Contest victory in Los Angeles. He leapt over his little sister Jordan, along with comedian Kevin Hart and Hart's son. He re-enacted a classic Vince Carter dunk—while wearing a Vinsanity jersey, no less. He tossed two alley-oops off the backboard to himself. Nicole was amazed by his ability to soar, but not surprised—she's been watching him practice for that moment for a while.
"Whether he had so much energy that he had to jump up and down or he knew [jumping in the living room] is how he could get up closer towards the rim, he's been working on that vertical for quite some time now," she says. "It paid off."
It's been a theme as of late—years of hard work paying off all at once for the 21-year-old rookie. He was drafted last June by the Utah Jazz, a franchise that played in a city he had visited for the first time during his predraft workout. Then he started the season relatively slowly, averaging 9.4 points through the first seven games of his career. "I was just focusing on all the wrong things," he says.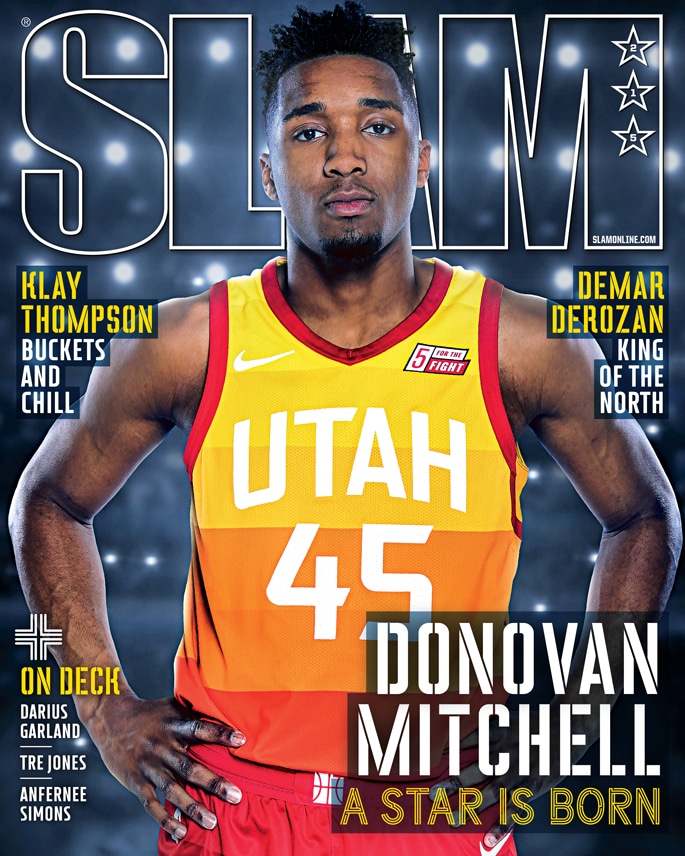 He speaks from the middle of the court in an empty Vivint Smart Arena, where the Jazz play, on an off day in late February. Cameras roll in front of him, and off to the side the lighting for his first magazine cover is being set up. "I'm a selfless player, and I was focused on, like, Who are the Rookie of the Year candidates? Who is scoring this? Who is doing that? Instead of worrying about what we're doing here."
Conversations with veterans like Thabo Sefolosha—who recommended that Donovan simply turn off his cell phone (gasp) during moments of stress—helped him get on track pretty quickly, though. He scored in the 20s in a bunch of games through November, and then on December 1, with his sister's name penned on his sneakers, he dropped a cool 41 points in a home win over the New Orleans Pelicans.
And that was just the beginning. He topped 24 points eight more times in the month of December, combining high-flying dunks with a silky three-point shot and a knack for moving the ball effectively and getting his teammates involved. With star guard Gordon Hayward having bolted for Boston the previous summer, the Jazz had been a popular bottom-of-the-standings preseason pick, an organization many expected would tank away this season to load up for a 2019-and-beyond approach. Instead, as 2018 hit, Mitchell was averaging close to 20 a game and the Jazz were pushing for a playoff spot in the ever-competitive and absurdly deep Western Conference.
"On December 1 is when I was like, Man, I can do this," he says. "I was like, I can play at this level and compete.
"Every game there's something that I do that makes me be like, Man!" he continues. "Even when I score, sometimes—I don't know how to explain it. I'm making these shots that a year ago I wouldn't come close to making."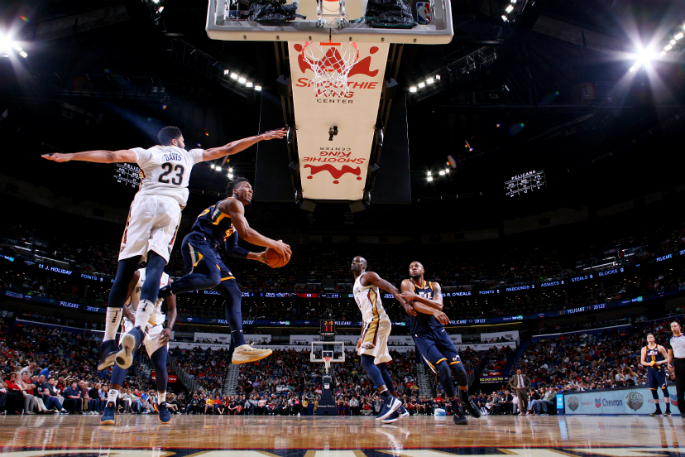 The breakout didn't slow down when the new year hit. Spida—as he was nicknamed by a teammate's father as a kid because of us his spider-esque long arms—dropped 35 and 34 in January and kicked off February with a 40-point, 6-assist, 5-rebound performance against the Suns. He also threw down a few poster dunks and led the Jazz on an 11-game winning streak that stretched from late-January through most of February. At least locally, sales of his jersey went through the roof. (A team staffer told SLAM the organization hasn't seen jerseys move at the rate they have recently since the Stockton-Malone days.) In late December, he made an appearance at a Stance Socks store at a mall just outside of Salt Lake City, and the 1,100-person line to grab a photo or autograph wrapped through the entire mall and around the block outside.
The momentum kept rolling at February's All-Star Weekend in Los Angeles. There was that amazing Dunk Contest, plus the Rising Stars Game, where he started and threw down a self-alley-oop off the backboard during a fast break. CAA, the agency that represents Mitchell, set him up with a jam-packed schedule of events and signings for fans, which he appeared at, one after the next, with his mother and sister by his side at all hours of the day.
When we catch up with him in Utah, Donovan spends a lot of time talking about his family. They guided him through the process, but more than that, they made sacrifices to make sure he was able to take advantage of every opportunity. Nicole and Jordan traveled with Donovan to every tournament he participated in as a kid and every game he played in that they could possibly get to. "My mom wouldn't hang out with her friends because she's taking me to a tournament, or my sister wouldn't be able to go on vacation with some of her friends because she's with me," Donovan says. "I never take stuff like that for granted."
Since 1999 Donovan's father has worked for the New York Mets (he's currently the Director of Player Relations and Community Engagement), and growing up Spida was as enamored with baseball as he was basketball. As the now-commonly-told story goes, DM injured his wrist playing high school baseball, forcing him to miss the subsequent AAU basketball season. Sidelined and frustrated, Donovan learned that A.) the ability to play sports can be taken away at the snap of a finger and B.) that basketball was his future, and that if he was going to commit to it, he needed to ditch all other pursuits. He decided to go all in on hoops and never looked back.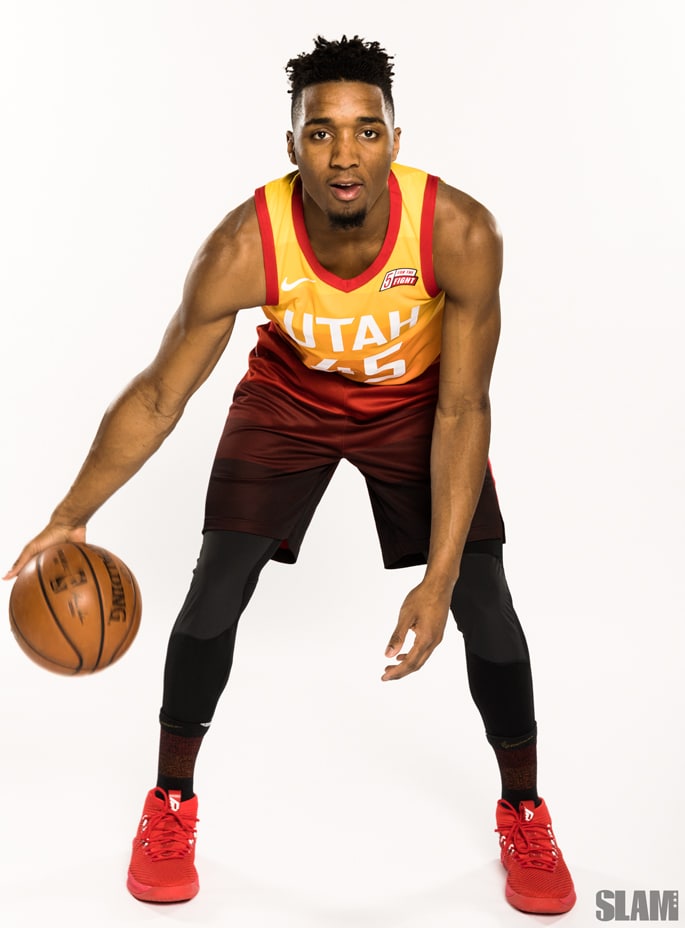 During his junior and senior years of high school he attended Brewster Academy in Wolfeboro, NH, where he became a coveted top-30 prospect with his choice of D-1 college options. "I thought, Jackpot, we've got a good education ahead of us," Nicole says. She was right, but didn't realize that that education wouldn't need to last long. He went to Louisville University and was decent (at best) his freshman year, but returned to his family's new home in Connecticut after the school year ended and worked his ass off to get better. That summer, "[Donovan] would take the train all the way to 42nd Street and walk to the building where we'd workout," says Chris Brickley, a personal trainer now known for the popular Black Ops summer pick-up games he runs in NYC. Brickley had also played at Louisville and was close with then-Louisville coach Rick Pitino, and had trained with Donovan before his freshman year of college, too.
Donovan's sophomore year changed everything. He averaged 15.6 ppg (more than double his previous season's scoring numbers), plus 4.9 rebounds, 2.7 dimes and 2.1 steals per game. The story's circulated plenty by now, but Mitchell famously paid for himself to travel to and workout in L.A. after the season ended (to retain his NCAA eligibility if he decided not to enter the League), then trained with NBA superstars Chris Paul and Paul George, who wisely advised him that of course he should declare for the draft. "He was trippin'," Chris Paul says. "Me and him did a little shooting game, and he won. We played some 1-on-1. I just told him it's a decision he has to make with his family, but I knew he was ready to play."
The rest happened fast. He declared, went through team workouts, was selected by the Nuggets at 13th overall and subsequently traded to the Jazz for Trey Lyles and the 24th overall pick. Twelve days later, he watched as 2017 All-Star Gordon Hayward announced that he'd be shipping off to Boston, leaving Jazz fans unsure of what the coming season held. They had some nice pieces—Rudy Gobert is a 25-year-old All-Defensive First Team stud, Ricky Rubio is a solid pass-first point guard, and there were some reliable role players like Derrick Favors, Joe Ingles and Rodney Hood (before a mid-season trade sent him to Cleveland) in tow. It'd be relatively standard, though, for a team coming off the loss of its one All-Star to fill out the roster with inexperienced up-and-comers, give them big minutes and prepare for the top of the 2018 lottery.
"I think it's a credit to the organization and the tradition that we have," Mitchell says, "[that] we really want to go out there and try to make the playoffs. We've structured our lineup to go and do that."
Part of that structure was giving lots of playing time to the aforementioned group of vets, though the coaching staff still puts Donovan front and center, regularly starting him as a shooting guard who shifts over to point once Rubio subs out. He averages over 33 minutes per game (third in the NBA among rookies) and has a usage rate higher than guys like Kemba Walker and CP3. Which is to say that he's been thrown into the fire, and he's responded like he was 1,000 percent ready for it.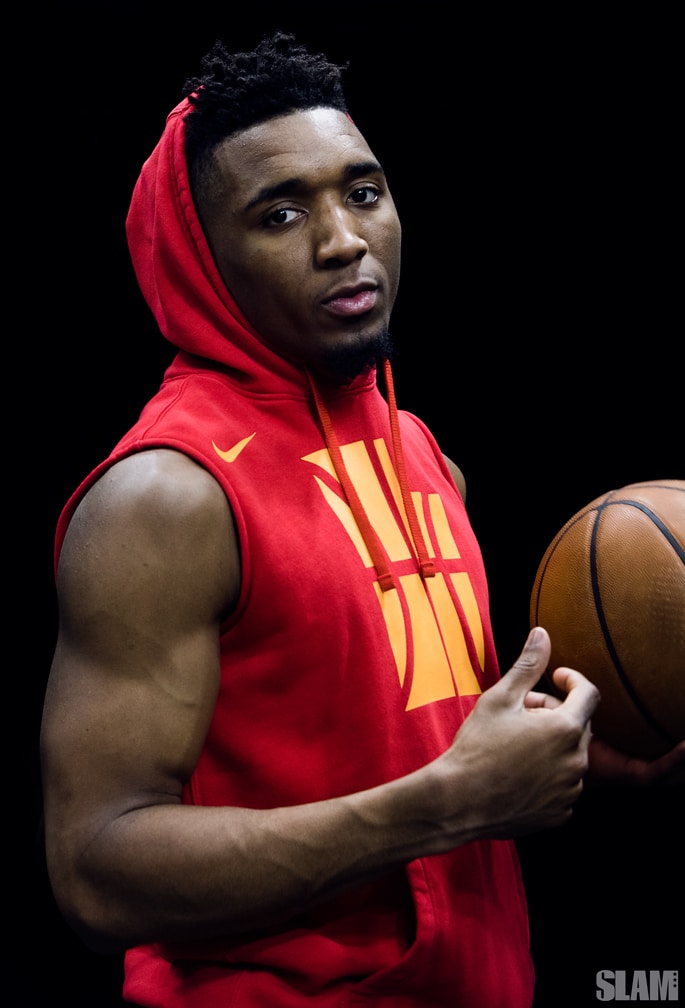 Brickley hasn't been shocked. He watched Donovan participate in those Black Ops runs with NBA-level talent last summer, where he held his own. "Everyone knew," Brickley says. "It hasn't been a surprise. Everyone that was in the runs, from JR [Smith], to Devin Booker, to CJ [McCollum], they've seen how good the kid is. He was doing that all summer—he was dominating. So I really wasn't surprised when I saw what he was doing, because I saw him do it in the summer versus elite NBA guys."
"I never expected to be here," Mitchell admits. But he mentions repeatedly that he refuses to let the newfound fame change him. "Breaking my wrist [in high school] allowed me to see that this isn't a given. This can be taken away at any moment. The minute you let all this get to your head is the minute all of this stops."
On February 26, the night before Mitchell's SLAM cover shoot, the Jazz host the Rockets in SLC. From press row, even a cursory look around and it's clear: Donovan Mitchell is officially this franchise's headliner. No. 45 MITCHELL jerseys (he chose the number to honor his favorite player's iconic baseball career, switching up the usual form of MJ worship) don't just dot the stands—they flood them. His face is featured on promo materials and perpetually displayed on the arena's strikingly massive Jumbotron.
The Jazz flash constant potential, as does Donovan individually. Once or twice, as he has seemingly a couple dozen times this season, he splits two defenders, finds a crack in the lane and rises up for a forceful dunk. He often plays relatively low to the ground—dribbling close to the hardwood and weaving through taller defenders by maintaining his handle while crouching down—but when he extends up and rises for a dunk, he flies higher than you'd expect he's capable of, even for an athletic NBA player.
And yet the Rockets are the hottest team in the NBA, and at the moment Chris Paul and James Harden are simply too good. Towards the end of the first half, the rook drives on CP3, who displays vet-like poise by waiting until DM is just a little off-balance then rips the ball away from him as an unsteady Mitchell crashes to the floor. The Rockets wind up with a 96-85 victory, extending their impressive winning streak to 13, and the Jazz fall to 31-30 on the season. Since then, Mitchell's team has gone 9-1,  holding the No. 8 seed in a competitive Western Conference as this story went live.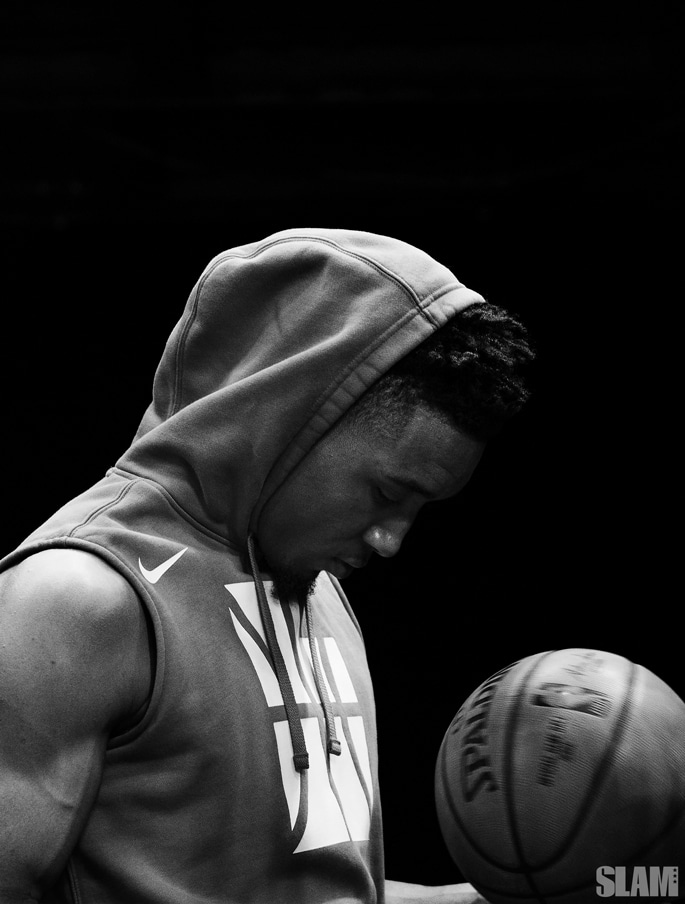 Mitchell's averages of 19.9 points, 3.7 rebounds, 3.6 assists and 1.4 steals have put him neck and neck in the Rookie of the Year race with Philadelphia Sixers do-everything dynamo Ben Simmons, though Mitchell says, "I can care less [about the award]. The biggest thing right now is making a playoff push. I really love competing. I don't wanna be at home watching it, saying, Man, we should be there."
If the team does slide into the postseason, it'll be largely because Utah coach Quin Snyder gave his star rookie the reps that any young NBA player craves upon entering the League, and Mitchell then turned those reps into quick results. "A lot of guys have to come in this league and sit and watch and learn," Paul says. "He's dealing with a coach that's letting him play, which is really great. Watch when the game starts slowing down for him. He's only getting started."
"Coming in, people didn't say I had that high of a ceiling," Mitchell adds. "Obviously I've seen that their feelings have changed. I really don't base it off what other people say I can or can't be. It's a matter of how much I wanna work.
"I think I can be as good as I allow myself to be."
It's early yet, but so far that is pretty damn good.
—
Adam Figman is the Editor-in-Chief at SLAM. Follow him on Twitter @afigman.
Portraits by Ryan Young; action photos courtesy of Getty Images
Video by Christian Quezada