In December of '91, a cultural revolution of baggy shorts, bald heads and black socks stormed onto the collegiate basketball scene. Chris Webber, Jalen Rose, Juwan Howard, Ray Jackson and Jimmy King made up one of the greatest recruiting classes in college basketball history.
An extension of the '80s Hoya paranoia and Jerry Tarkanian's UNLV teams, The Fab Five seamlessly stitched their high-flying playground style into the mainstream fabric of collegiate basketball.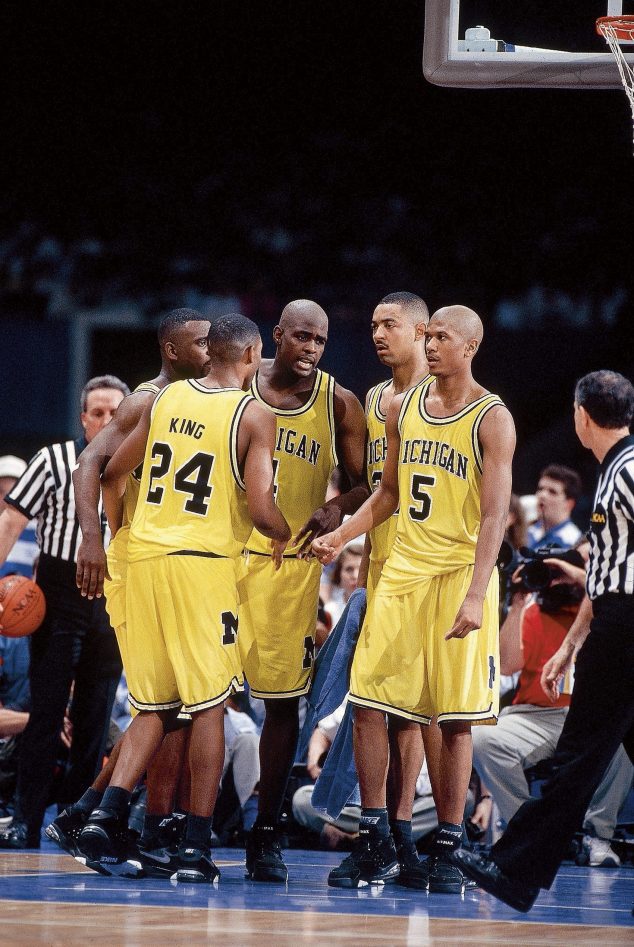 In honor of their revolutionary, flashy playmaking and exuberant celebrations that shook the basketball world, 19nine is debuting their new line of collegiate retro basketball shorts with the 1991-92 and 1992-93 Michigan Wolverine teams.
Since 2011, 19nine has been capturing the emotions, essence and nostalgia of America's favorite college teams. Now, they're adding one of the most controversial and entertaining squads in history to their ever-growing throwback collegiate apparel line.
The phrase "shock the world" was uttered regularly during the 1991-92 season that saw the five freshmen lead Michigan to a 24-9 record and No. 15 national ranking. As a No. 6 seed in the NCAA tournament, the Wolverines sent No. 1 seeded Big Ten champs and rivals Ohio State packing back to Columbus, advancing to the Final Four. The five freshmen culminated their first captivating season in a matchup with Duke, donning their classic solid navy uniforms, with the Michigan M dangling brightly in maize just above their knees.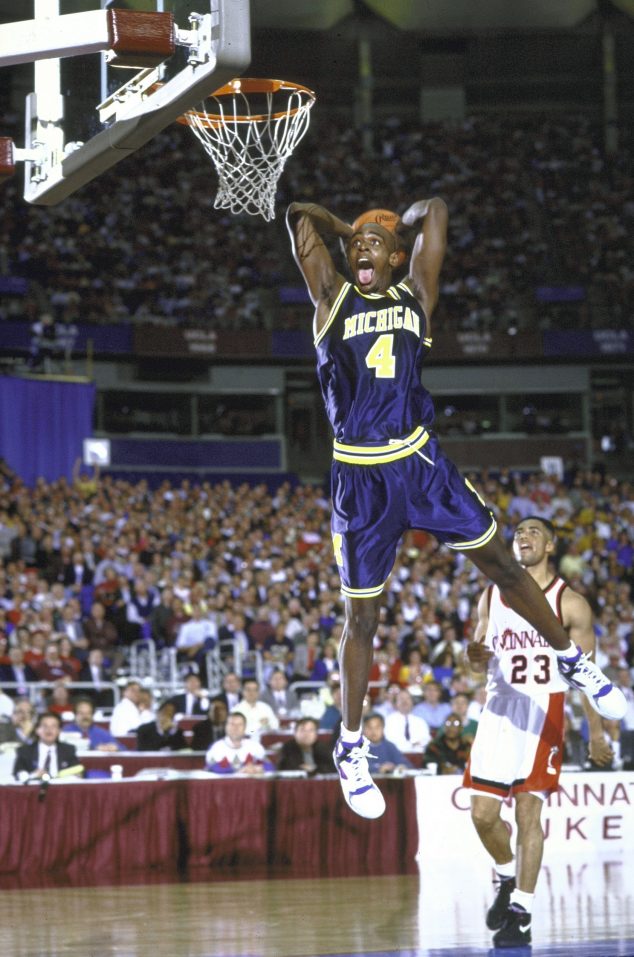 The Final Four was filled to the brim with talent: senior star forward Christian Laettner and heady junior Bobby Hurley, the sensational Grant Hill, Bob Knight's Hoosiers and Cincinnati's feisty guard Nick Van Exel. Yet the all-freshman starting five were all anyone wanted to talk about.
After losing to Duke in the national championship the previous year, the Fab Five returned on a mission, resulting in a 26-4 regular-season record and a No. 1 seed in the 1993 NCAA tournament. The bright maize shorts from the '93 season elicit a unique flurry of emotions and nostalgia for hoop fans, including the final 19 seconds of the game against North Carolina that saw Chris Webber call the infamous timeout.
What ended in heartbreak has been memorialized as one of the greatest basketball teams of all time; a team that was bigger than basketball. Fueled by the freshmens' attitude and swagger on the court, the latest drop by 19nine captures the hype, greatness and excitement that surrounded the Fab Five.
---
The '91-92 Michigan "Fab Five" Shorts by 19nine are available now on SLAMgoods.com. Shop here.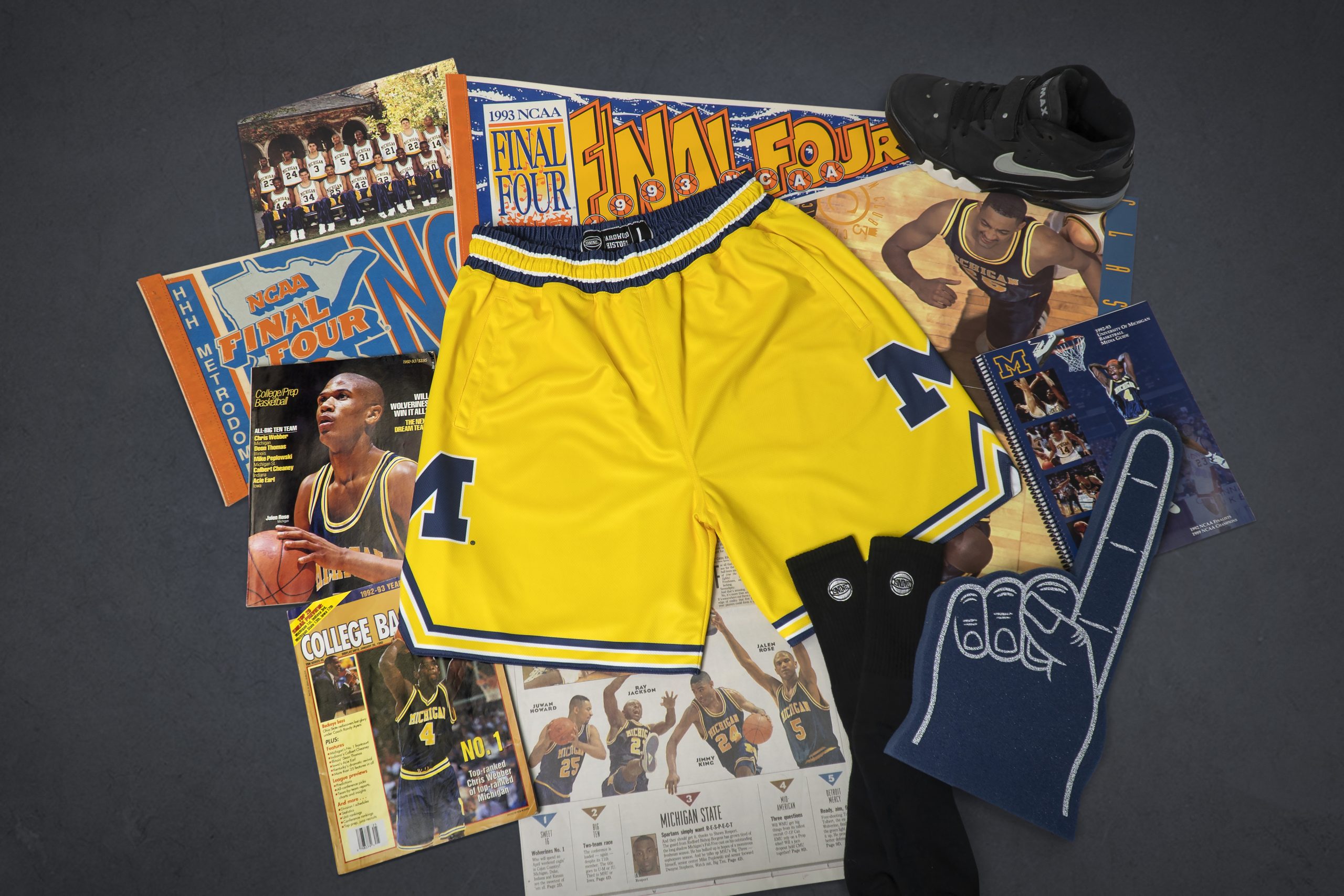 Action photos via Getty Images.
[Correction: The original version of this article read, "In February of '91." The 1991-92 NCAA regular season started in December.]