We'll have to wait until Sunday night to see Wizards star PG John Wall in action at All-Star Weekend. The NBA announced earlier today that Wall is out for the Taco Bell Skills Challenge, and that Rockets PG Patrick Beverley will replace him.
Wall's had a sprained ankle as well as a cold and migraines for the last week now. This move is probably just so he can be healthy for the All-Star Game—and for Washington, during the second half of the year.
Beverley, who has averaged 10.7 points, 4.2 rebounds and 3.2 assists this season , will take his place in the dribbling, passing and shooting contest. He'll be joined by All-Stars Jimmy Butler, Jeff Teague, and Kyle Lowry. Defending champ Trey Burke, Michael Carter-Williams, Brandon Knight and Isaiah Thomas are also participating.
Here is the head-to-head format the Skills Challenge is taking on this year: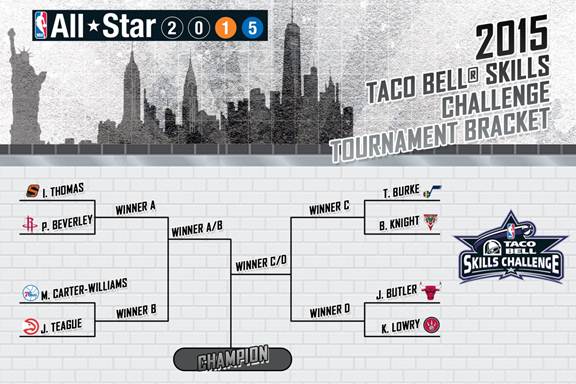 Who you got?