It's the last week of 2017 when Bol Bol touches down in Las Vegas on a Wednesday afternoon after spending the last couple of days in Atlanta hanging out with friends. Being that his Findlay Prep squad has the week off thanks to the holiday break, the 18-year-old has used this time to catch up with old pals.
As the 7-1 center steps out of the back seat of a sedan and onto the blacktop of Horizon Crest Park in Henderson, a town about 16 miles southeast of Vegas, he has a brimming grin when asked about his holiday trip to the Peach State.
He wasn't catching up with just any friends. He was out of town chillin' with Migos, with whom he's built a bond over the past year.
"I met Migos in 2016 at ComplexCon," Bol recalls. "I saw them walking in the room, and then I just followed them, and then I asked for a picture. They knew who I was. And then from there we just became friends. Our friendship got better because they're also friends with my good friend Shareef [O'Neal]. We all just hang out, go to the gym and stuff like that."
If you're one of Bol's almost half a million Instagram followers, then you've likely seen him post photos and videos with not only Migos but also Playboi Carti, Lil Uzi Vert, PnB Rock and Lil Yachty. He's essentially become your favorite rapper's favorite hoops prospect.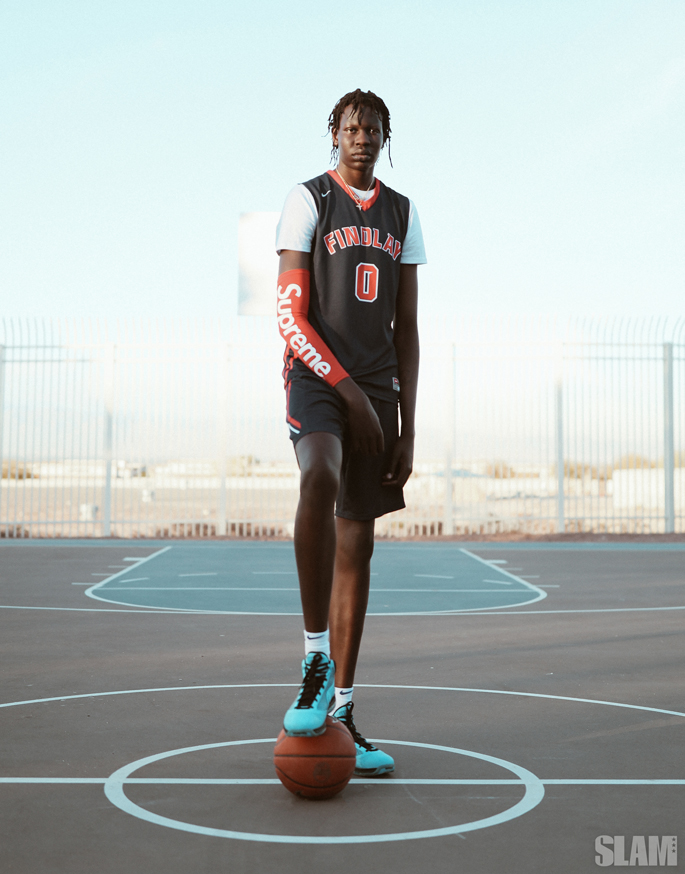 "Honestly, I never thought that [our friendship] would get that far. I thought it'd just be a picture and move on," says Bol, who credits Migos for the relationships he's built with the aforementioned hip-hop stars. "I've been in the studio with PnB Rock and also Lil Yachty. Being around them when they're making music is pretty cool because you get to hear the songs before they come out—like months before they come out. Or sometimes you hear songs that will never come out."
Bol is the son of late NBA legend Manute Bol, who is still tied for the all-time record for tallest NBA player at 7-7 and is heralded for his humanitarian efforts and activism in his native Sudan. Manute played for four NBA teams throughout his 10-year career in the League, ranks second all-time in career blocks per game and is 15th overall in total career blocks.
Bol Bol was 10 years old when Manute passed away but clearly recalls the effect that his dad had on others.
"Growing up seeing how people saw my dad made me realize how great of a person he was," Bol says. "The best advice my dad gave me was [to] never give up and always have a strong heart."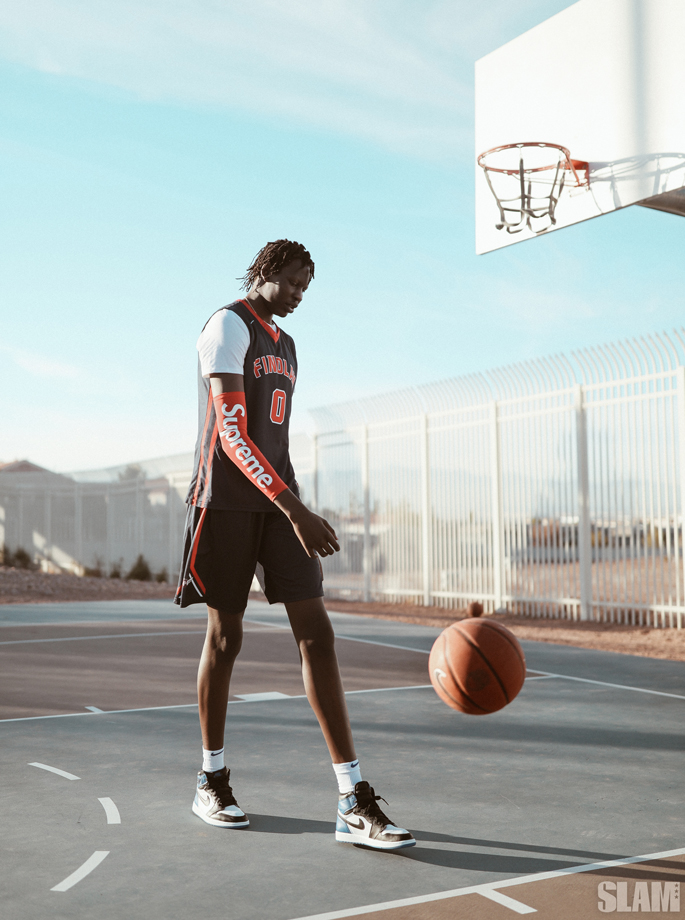 With a 7-8 wingspan, impressive agility for his size and an ever-extending jumper, Bol has emerged as a top-3 nationally ranked recruit in the Class of 2018. Last November, he committed to Oregon after also seriously considering Kentucky.
Bol says he's ready to separate himself from the pack and appears poised to prove wrong anyone who still isn't quite sold just yet.
"Some of the bad comments I look back to is like, You're good 'cause you're tall, or, People only know about you because your dad played in the NBA," he says. "The lazy comments—stuff like that. That motivates me."
—
SLAM 214 hits newsstands next week!
—
Franklyn Calle is an Associate Editor at SLAM. Follow him on Twitter @FrankieC7.
Portraits by Joseph L. Sherman.